[ Posted Thursday, November 1st, 2012 – 16:54 UTC ]
Obama Steadily Gains, But Is It Enough?
Welcome to an extremely abbreviated version of our monthly Obama Poll Watch column. The reason for such unexpected brevity is due to election season, of course, and being snowed under by everything else that's going on.
These charts, we strenuously remind everyone, are not connected to the election. Well, at best, only nebulously connected. Once again, these are the numbers for Barack Obama's average job approval as president, not a matchup of him as a candidate in any way.
Having said all of that, let's get right to the charts: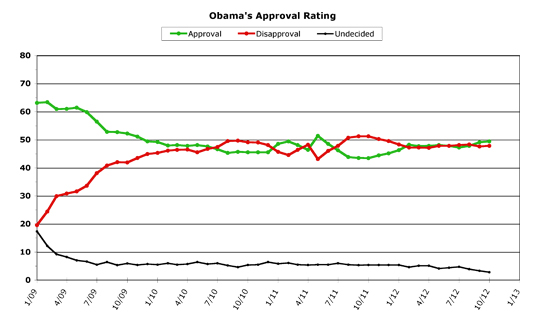 [Click on graph to see larger-scale version.]
October, 2012
October was debate month, and -- surprise! -- it didn't affect his job approval numbers much, if at all. In either direction, really. Obama's job approval rating hardly fluctuated at all throughout all three debates, continuing his trend upward but at a more modest rate.
Obama's average, for the month of October, was strong 49.4 percent, up 0.3 percent from last month's posting. This is significant, because it is the first time Obama has posted two consecutive months above 49.0 percent since January of 2010, at the very tail end of his "honeymoon" period. Even his "Bin Laden bounce" didn't last into the following month, even though it was higher than where Obama stands now.
The curious thing was that Obama's disapproval rating also ticked slightly upwards, to 47.8 percent, up 0.2 percent for the month. This is where the election shows an influence, because the number of "undecided" responses hit an astounding record low of only 2.8 percent (it's never been below 3.0 percent and has only fallen below 4.0 percent in the previous two months -- a more normal range is between 5.0 and 6.0 percent). People are getting off the sidelines, but they seem to be breaking slightly for Obama rather than against, at this point.
Obama finished the month "above water" by 1.6 percent, higher than he's seen since the Bin Laden bounce.
Overall Trends
The overall trend for Obama is still good, but not fantastic. First, let's take a look at the detail chart of the past year or so: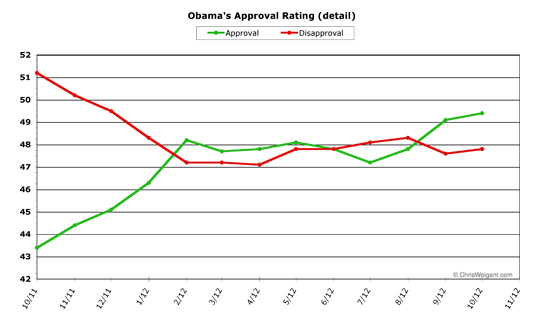 [Click on graph to see larger-scale version.]
Taken as a yearly period, Obama has had a very good previous 12 months. His approval rate is up a respectable 6.0 percent from where it stood in October of 2011. This is the best "year" that Obama's yet had as president, it bears mentioning.
But when pundits use the measure of job approval as a yardstick to try to measure chances for re-election, normally the bar is set at 50.0 percent. Above this, re-election is seen as a fairly sure thing. Below this, your chances decrease rapidly.
But Obama's was scraping that 50.0 ceiling at the end of the month, and if it weren't for a few outlier polls right before the end, would likely have at least topped it once in the daily averages. As it was, he ended the month at 49.8 percent average daily approval, which is pretty darn close to 50.0. He also ended the month on an upswing, but that was again due to the outlier dip he had just experienced.
Looking just as far ahead as election day, there are two things which could influence polling over the next few days: the unemployment number released tomorrow, and the public's reaction to Obama's response to Hurricane Sandy. The unemployment number could cause public opinion to quiver up or down, depending on what it is, but the Sandy response is a definite plus for the president, as he continues to do what Mitt Romney cannot currently do: look presidential in response to a crisis. This is no knock on Romney (I'm not saying Romney's not capable of it, in other words), merely pointing out that the trappings of office always help the incumbent in photo op situations.
So it's a pretty safe bet that Obama will hold onto the gains he's made in approval over the past three months, at least until election day. But he will be right on the edge, between 49.0 and 50.0 percent -- instead of in what's considered safe territory. This is a much better position than he's been in all year, but it remains to be seen whether it's enough or not.
Perversely, if Obama is defeated, his approval numbers will likely go up, as the American public, once the election is over, often gives an outgoing president a boost, in anticipation of the new guy coming in. So next month's trend will probably be more influenced by the election than any other factor.
One last time, we're going to take a look at the most interesting pair up between Obama's approval numbers and the past president he currently tracks closest to. At times throughout his term, Obama has matched Clinton, Reagan, and Carter; but as we near the finish line for campaign 2012, Obama's approval is almost exactly what George W. Bush held in 2004 at the same point: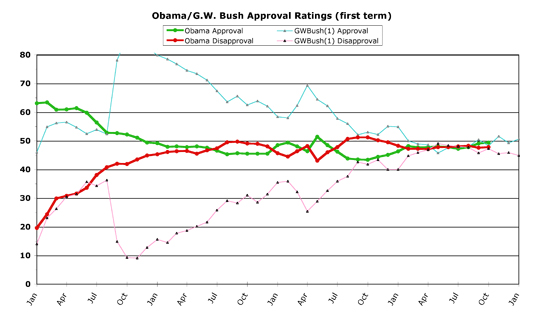 [Click on graph to see larger-scale version.]
Bush's approval right before the 2004 election was 48.3, and his disapproval was 47.3. Obama's approval right now bests Bush's by 1.1 percent.
Which leads to our final thought: George W. Bush won re-election, even with polling in almost exactly the same territory Obama is now in. This is no guarantee, but it certainly is interesting.
[Obama Poll Watch Data:]
Sources And Methodology
ObamaPollWatch.com is an admittedly amateur effort, but we do try to stay professional when it comes to revealing our sources and methodology. All our source data comes from RealClearPolitics.com; specifically from their daily presidential approval ratings "poll of polls" graphic page. We take their daily numbers, log them, and then average each month's data into a single number -- which is then shown on our monthly charts here (a "poll of polls of polls," if you will...). You can read a much-more detailed explanation of our source data and methodology on our "About Obama Poll Watch" page, if you're interested.
Questions or comments? Use the Email Chris page to drop me a private note.
Column Archives
[Sep 12], [Aug 12], [Jul 12], [Jun 12], [May 12], [Apr 12], [Mar 12], [Feb 12], [Jan 12], [Dec 11], [Nov 11], [Oct 11], [Sep 11], [Aug 11], [Jul 11], [Jun 11], [May 11], [Apr 11], [Mar 11], [Feb 11], [Jan 11], [Dec 10], [Nov 10], [Oct 10], [Sep 10], [Aug 10], [Jul 10], [Jun 10], [May 10], [Apr 10], [Mar 10], [Feb 10], [Jan 10], [Dec 09], [Nov 09], [Oct 09], [Sep 09], [Aug 09], [Jul 09], [Jun 09], [May 09], [Apr 09], [Mar 09]
Obama's All-Time Statistics
Monthly
Highest Monthly Approval -- 2/09 -- 63.4%
Lowest Monthly Approval -- 10/11 -- 43.4%
Highest Monthly Disapproval -- 9/11, 10/11 -- 51.2%
Lowest Monthly Disapproval -- 1/09 -- 19.6%
Daily
Highest Daily Approval -- 2/15/09 -- 65.5%
Lowest Daily Approval -- 10/9/11 -- 42.0%
Highest Daily Disapproval -- 8/30/11 -- 53.2%
Lowest Daily Disapproval -- 1/29/09 -- 19.3%
Obama's Raw Monthly Data
[All-time high in bold, all-time low underlined.]
Month -- (Approval / Disapproval / Undecided)
10/12 -- 49.4 / 47.8 / 2.8
09/12 -- 49.1 / 47.6 / 3.3
08/12 -- 47.8 / 48.3 / 3.9
07/12 -- 47.2 / 48.1 / 4.7
06/12 -- 47.8 / 47.8 / 4.4
05/12 -- 48.1 / 47.8 / 4.1
04/12 -- 47.8 / 47.1 / 5.1
03/12 -- 47.7 / 47.2 / 5.1
02/12 -- 48.2 / 47.2 / 4.6
01/12 -- 46.3 / 48.3 / 5.4
12/11 -- 45.1 / 49.5 / 5.4
11/11 -- 44.4 / 50.2 / 5.4
10/11 -- 43.4 / 51.2 / 5.4
09/11 -- 43.5 / 51.2 / 5.3
08/11 -- 43.8 / 50.7 / 5.5
07/11 -- 46.2 / 47.8 / 6.0
06/11 -- 48.5 / 46.0 / 5.5
05/11 -- 51.4 / 43.1 / 5.5
04/11 -- 46.4 / 48.2 / 5.4
03/11 -- 48.1 / 46.4 / 5.5
02/11 -- 49.4 / 44.5 / 6.1
01/11 -- 48.5 / 45.7 / 5.8
12/10 -- 45.5 / 48.1 / 6.4
11/10 -- 45.5 / 49.0 / 5.5
10/10 -- 45.5 / 49.1 / 5.4
09/10 -- 45.7 / 49.7 / 4.6
08/10 -- 45.3 / 49.5 / 5.2
07/10 -- 46.6 / 47.4 / 6.0
06/10 -- 47.6 / 46.7 / 5.7
05/10 -- 48.1 / 45.5 / 6.4
04/10 -- 47.8 / 46.5 / 5.7
03/10 -- 48.1 / 46.4 / 5.5
02/10 -- 47.9 / 46.1 / 6.0
01/10 -- 49.2 / 45.3 / 5.5
12/09 -- 49.4 / 44.9 / 5.7
11/09 -- 51.1 / 43.5 / 5.4
10/09 -- 52.2 / 41.9 / 5.9
09/09 -- 52.7 / 42.0 / 5.3
08/09 -- 52.8 / 40.8 / 6.4
07/09 -- 56.4 / 38.1 / 5.5
06/09 -- 59.8 / 33.6 / 6.6
05/09 -- 61.4 / 31.6 / 7.0
04/09 -- 61.0 / 30.8 / 8.2
03/09 -- 60.9 / 29.9 / 9.2
02/09 -- 63.4 / 24.4 / 12.2
01/09 -- 63.1 / 19.6 / 17.3
-- Chris Weigant
Follow Chris on Twitter: @ChrisWeigant