[ Posted Tuesday, July 3rd, 2012 – 16:27 UTC ]
Absolutely even
Before we begin here, a quick program note is in order. Astute readers will note that today is Tuesday. These columns usually run on Mondays or Wednesdays, and are thus posted on Huffington Post and Business Insider as well. But, for the next five months we're phasing out widespread coverage of this column, and phasing in our Electoral Math series in its place. Because the presidential election will be the overwhelming story from now until Election Day, the head-to-head polling between Mitt Romney and Barack Obama will be much more pertinent and newsworthy than our monthly look at how Obama is doing in the "job approval" polling. We don't want to overwhelm and confuse people by running too many charts, to put it another way. During this period, the ObamaPollWatch.com site will host both column series, so you can look there for the most recent of either. And, every month, we'll still be running the Obama Poll Watch columns, it'll just be on Tuesdays and Thursdays, that's all.
With that out of the way, let's take a look at how Barack Obama is doing in the job approval category. For the first time ever, we have an exact tie, at 47.8 percent. Here's the chart: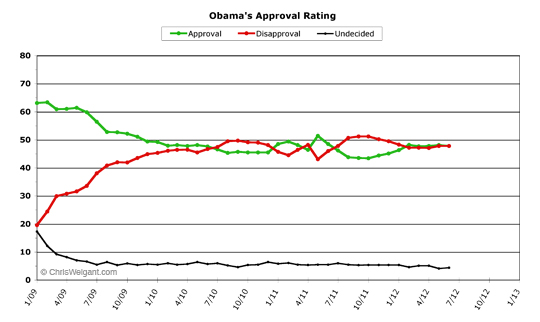 [Click on graph to see larger-scale version.]
June, 2012
June was an eventful month for Barack Obama, politically. The unemployment number rose at the beginning of the month, for the first time in a long time. Obama made a big announcement on immigration policy, and he largely won two major Supreme Court battles towards the end of the month. His Attorney General was charged with contempt of Congress (the first cabinet member ever to be thus charged), and the price of gasoline steadily came down, even though it is summer, as the threat of war with Iran fades. At the very end of the month, Obama scored a legislative victory by keeping student loan rates low for another year.
All of this meant virtually nothing for Obama in the polls. There were minor daily fluctuations, but throughout the month Obama's numbers stayed so close to exactly even that the "lead" (whether Obama's daily approval average beat, tied, or was beaten by his daily disapproval average) changed six times. He started the month barely ahead, he ended the month barely ahead, and the fluctuations were tiny throughout the whole month, and centered on the turnover point. To put it another way, a month-long tie.
Obama's monthly average approval rating fell three-tenths of a percent this month, to wind up at 47.8 percent. His monthly average disapproval didn't budge at all, and stayed exactly the same -- also at 47.8 percent. For the first month since taking office, Obama finished the month exactly tied.
Overall Trends
I've used the joke before, here, but the last few months of poll watching have reminded me of Steve Martin's character in L.A. Story, a television weatherman for Southern California, who ends one of his reports with: "Our next weather report will be in four days."
The joke, of course, is that Los Angeles doesn't get "weather," but instead has "a climate," making day-to-day tracking pointless.
You can see what I'm talking about in detail, below. I created this chart in Obama's second year in office, because the changes in polling became so tiny, the chart's scale had to be expanded to even see the minute fluctuations. However, I never thought that I'd face the same problem with the detail chart. But just look at the last five months' worth of data: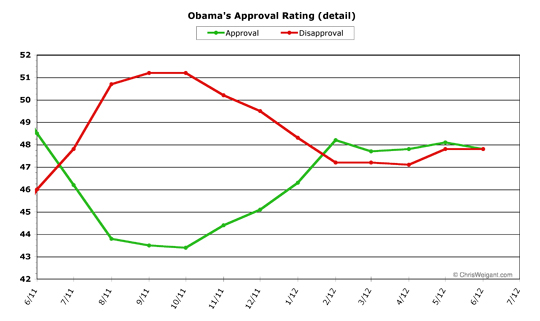 [Click on graph to see larger-scale version.]
You can barely see the movement, even on this exploded scale. From February until June, Obama's approval rating stays within a half a percentage point. His disapproval fluctuates less than three-quarters of a point. That is remarkable stability, especially for an election year.
Unfortunately for Obama, it is still over two percentage points shy of having a majority of the American public approve of his job performance -- the magic 50 percent mark that would make his re-election a whole lot easier. Also unfortunately, the trends, tiny though they may be, don't seem especially good. The amount Obama's numbers fell by in June was the same as he had gained the previous month, which puts his back where he was two months ago, while his disapproval number held on to gains made during the same period.
July doesn't seem to have a whole lot of big political news scheduled, except out on the campaign trail perhaps. This Friday's unemployment numbers may indeed set the political tone for the entire month. No huge legislative battles loom which could either help or hurt the president. Which (to end where we began) might mean that the election polling is going to be far more significant next month than Obama's job approval numbers.
[Obama Poll Watch Data:]
Sources And Methodology
ObamaPollWatch.com is an admittedly amateur effort, but we do try to stay professional when it comes to revealing our sources and methodology. All our source data comes from RealClearPolitics.com; specifically from their daily presidential approval ratings "poll of polls" graphic page. We take their daily numbers, log them, and then average each month's data into a single number -- which is then shown on our monthly charts here (a "poll of polls of polls," if you will...). You can read a much-more detailed explanation of our source data and methodology on our "About Obama Poll Watch" page, if you're interested.
Questions or comments? Use the Email Chris page to drop me a private note.
Column Archives
[Jun 12], [Apr 12], [Mar 12], [Feb 12], [Jan 12], [Dec 11], [Nov 11], [Oct 11], [Sep 11], [Aug 11], [Jul 11], [Jun 11], [May 11], [Apr 11], [Mar 11], [Feb 11], [Jan 11], [Dec 10], [Nov 10], [Oct 10], [Sep 10], [Aug 10], [Jul 10], [Jun 10], [May 10], [Apr 10], [Mar 10], [Feb 10], [Jan 10], [Dec 09], [Nov 09], [Oct 09], [Sep 09], [Aug 09], [Jul 09], [Jun 09], [May 09], [Apr 09], [Mar 09]
Obama's All-Time Statistics
Monthly
Highest Monthly Approval -- 2/09 -- 63.4%
Lowest Monthly Approval -- 10/11 -- 43.4%
Highest Monthly Disapproval -- 9/11, 10/11 -- 51.2%
Lowest Monthly Disapproval -- 1/09 -- 19.6%
Daily
Highest Daily Approval -- 2/15/09 -- 65.5%
Lowest Daily Approval -- 10/9/11 -- 42.0%
Highest Daily Disapproval -- 8/30/11 -- 53.2%
Lowest Daily Disapproval -- 1/29/09 -- 19.3%
Obama's Raw Monthly Data
[All-time high in bold, all-time low underlined.]
Month -- (Approval / Disapproval / Undecided)
06/12 -- 47.8 / 47.8 / 4.4
05/12 -- 48.1 / 47.8 / 4.1
04/12 -- 47.8 / 47.1 / 5.1
03/12 -- 47.7 / 47.2 / 5.1
02/12 -- 48.2 / 47.2 / 4.6
01/12 -- 46.3 / 48.3 / 5.4
12/11 -- 45.1 / 49.5 / 5.4
11/11 -- 44.4 / 50.2 / 5.4
10/11 -- 43.4 / 51.2 / 5.4
09/11 -- 43.5 / 51.2 / 5.3
08/11 -- 43.8 / 50.7 / 5.5
07/11 -- 46.2 / 47.8 / 6.0
06/11 -- 48.5 / 46.0 / 5.5
05/11 -- 51.4 / 43.1 / 5.5
04/11 -- 46.4 / 48.2 / 5.4
03/11 -- 48.1 / 46.4 / 5.5
02/11 -- 49.4 / 44.5 / 6.1
01/11 -- 48.5 / 45.7 / 5.8
12/10 -- 45.5 / 48.1 / 6.4
11/10 -- 45.5 / 49.0 / 5.5
10/10 -- 45.5 / 49.1 / 5.4
09/10 -- 45.7 / 49.7 / 4.6
08/10 -- 45.3 / 49.5 / 5.2
07/10 -- 46.6 / 47.4 / 6.0
06/10 -- 47.6 / 46.7 / 5.7
05/10 -- 48.1 / 45.5 / 6.4
04/10 -- 47.8 / 46.5 / 5.7
03/10 -- 48.1 / 46.4 / 5.5
02/10 -- 47.9 / 46.1 / 6.0
01/10 -- 49.2 / 45.3 / 5.5
12/09 -- 49.4 / 44.9 / 5.7
11/09 -- 51.1 / 43.5 / 5.4
10/09 -- 52.2 / 41.9 / 5.9
09/09 -- 52.7 / 42.0 / 5.3
08/09 -- 52.8 / 40.8 / 6.4
07/09 -- 56.4 / 38.1 / 5.5
06/09 -- 59.8 / 33.6 / 6.6
05/09 -- 61.4 / 31.6 / 7.0
04/09 -- 61.0 / 30.8 / 8.2
03/09 -- 60.9 / 29.9 / 9.2
02/09 -- 63.4 / 24.4 / 12.2
01/09 -- 63.1 / 19.6 / 17.3
-- Chris Weigant
Follow Chris on Twitter: @ChrisWeigant