[ Posted Thursday, October 6th, 2011 – 15:49 UTC ]
Slowing the slide
[Before we get started here, a quick program note is in order. Today's column is both late, and shorter than usual. We apologize for both, but it's been both a busy week and a busy day here. That's not much of an excuse, but it'll have to do for now.]
Barack Obama's poll numbers in September were not good. In fact, they were pretty bad. Obama fans looking for good news will have to be content with the fact that at least Obama seems to be slowing the trend of his dropping numbers somewhat. This isn't exactly a turnaround for him, but September was a lot less of a drastic change than the three months which preceded it.
Let's get right to the chart, to see what I'm talking about here: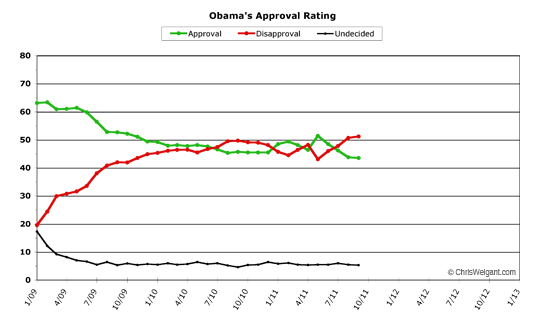 [Click on graph to see larger-scale version.]
September, 2011
September was an eventful month, and Obama very obviously began launching his 2012 campaign during it all. The public hasn't reacted much at all to this change in operating style, and this September followed the pattern of the previous two Septembers for Obama -- stopping the drop in the polls he experiences every August, but only to the point of maintaining a new floor for his numbers -- rather than actually turning them around.
Obama ended the month with a 43.5 percent job approval rating, and a 51.2 percent disapproval rating. This was (for the second straight month) both a new all-time low for approval and a new all-time high for disapproval.
Overall Trends
While none of this sounds very good, the silver lining is that Obama only slipped 0.3 percent in average monthly approval last month (after three solid months of dropping over two whole points per month), and his disapproval only rose by half a point (after two rises of 2.9 percent and one of 1.8 percent in the previous three months). As I said, this is not exactly great news, but it does show Obama maintaining roughly the level where he entered the month. On September first, Obama posted a daily average of 43.6 percent approval, and 51.4 percent disapproval -- almost exactly what his monthly average numbers turned out to be.
For the daily average, Obama's numbers stayed pretty steady as well, with his approval number only changing within a 1.5 point range, and his disapproval numbers staying within a single point. This was actually the most stable his numbers have ever been for a full month, by far.
Obama's numbers went through a slow fluctuation all month long, rising slightly mid-month, but then falling back again to end the month. The last day of the month, in fact, Obama posted a new daily low for approval of 42.5 percent. However, his daily disapproval numbers were better than the all-time high he set last month by a minimum of one-and-a-half points all month long. Not much in the way of good news, but like I said, Obama fans have to take what they can get this month.
Obama enters October without any clear trend. His numbers could very easily remain stable at the new low he's set, fall faster, or even turn around and start rising. An early indication of what to expect may come tomorrow morning, when September's unemployment numbers are released.
[Obama Poll Watch Data:]
Sources And Methodology
ObamaPollWatch.com is an admittedly amateur effort, but we do try to stay professional when it comes to revealing our sources and methodology. All our source data comes from RealClearPolitics.com; specifically from their daily presidential approval ratings "poll of polls" graphic page. We take their daily numbers, log them, and then average each month's data into a single number -- which is then shown on our monthly charts here (a "poll of polls of polls," if you will...). You can read a much-more detailed explanation of our source data and methodology on our "About Obama Poll Watch" page, if you're interested.
Questions or comments? Use the Email Chris page to drop me a private note.
Column Archives
[Aug 11], [Jul 11], [Jun 11], [May 11], [Apr 11], [Mar 11], [Feb 11], [Jan 11], [Dec 10], [Nov 10], [Oct 10], [Sep 10], [Aug 10], [Jul 10], [Jun 10], [May 10], [Apr 10], [Mar 10], [Feb 10], [Jan 10], [Dec 09], [Nov 09], [Oct 09], [Sep 09], [Aug 09], [Jul 09], [Jun 09], [May 09], [Apr 09], [Mar 09]
Obama's All-Time Statistics
Monthly
Highest Monthly Approval -- 2/09 -- 63.4%
Lowest Monthly Approval -- 9/11 -- 43.5%
Highest Monthly Disapproval -- 9/11 -- 51.2%
Lowest Monthly Disapproval -- 1/09 -- 19.6%
Daily
Highest Daily Approval -- 2/15/09 -- 65.5%
Lowest Daily Approval -- 9/30/11 -- 42.5%
Highest Daily Disapproval -- 8/30/11 -- 53.2%
Lowest Daily Disapproval -- 1/29/09 -- 19.3%
Obama's Raw Monthly Data
[All-time high in bold, all-time low underlined.]
Month -- (Approval / Disapproval / Undecided)
09/11 -- 43.5 / 51.2 / 5.3
08/11 -- 43.8 / 50.7 / 5.5
07/11 -- 46.2 / 47.8 / 6.0
06/11 -- 48.5 / 46.0 / 5.5
05/11 -- 51.4 / 43.1 / 5.5
04/11 -- 46.4 / 48.2 / 5.4
03/11 -- 48.1 / 46.4 / 5.5
02/11 -- 49.4 / 44.5 / 6.1
01/11 -- 48.5 / 45.7 / 5.8
12/10 -- 45.5 / 48.1 / 6.4
11/10 -- 45.5 / 49.0 / 5.5
10/10 -- 45.5 / 49.1 / 5.4
09/10 -- 45.7 / 49.7 / 4.6
08/10 -- 45.3 / 49.5 / 5.2
07/10 -- 46.6 / 47.4 / 6.0
06/10 -- 47.6 / 46.7 / 5.7
05/10 -- 48.1 / 45.5 / 6.4
04/10 -- 47.8 / 46.5 / 5.7
03/10 -- 48.1 / 46.4 / 5.5
02/10 -- 47.9 / 46.1 / 6.0
01/10 -- 49.2 / 45.3 / 5.5
12/09 -- 49.4 / 44.9 / 5.7
11/09 -- 51.1 / 43.5 / 5.4
10/09 -- 52.2 / 41.9 / 5.9
09/09 -- 52.7 / 42.0 / 5.3
08/09 -- 52.8 / 40.8 / 6.4
07/09 -- 56.4 / 38.1 / 5.5
06/09 -- 59.8 / 33.6 / 6.6
05/09 -- 61.4 / 31.6 / 7.0
04/09 -- 61.0 / 30.8 / 8.2
03/09 -- 60.9 / 29.9 / 9.2
02/09 -- 63.4 / 24.4 / 12.2
01/09 -- 63.1 / 19.6 / 17.3
-- Chris Weigant
Follow Chris on Twitter: @ChrisWeigant