[ Posted Friday, April 2nd, 2010 – 16:56 UTC ]
Some of you may be wondering at this moment: "Hey, Chris, where's the Friday Talking Points?" Since Congress is off on vacation this week, and since it's been a fairly quiet week on the political front, we decided to give FTP the week off as well. This may add to the confusion yesterday's April Fool article created, for which we sincerely apologize. Tune in next week when our regular Friday roundup resumes its normal schedule. Today, instead, we're going to feature our monthly "Obama Poll Watch" column, which takes a look back at last month's poll numbers for President Obama.
Unhealthy Bounce
Fans of Obama have been wondering "Where's the bounce?" for the past week or so. Signing health reform into law was one of the biggest issues Obama campaigned on, so everyone was looking for a healthy bounce in Obama's poll numbers after it passed. This bounce has either failed to materialize yet, or is so gradual it likely won't end up being called a "bounce." A few more weeks of polling will likely resolve this open question, one way or the other.
But Obama's approval numbers did manage to rise this month, which stops a nine-month slide downwards. He may have bottomed out, in other words. But this gain was modest indeed, only two-tenths of a percent, so it can't really be said that his numbers are improving much, at least not yet.
But let's take a look at the chart for March before we get into these numbers. Afterward, we continue looking back at past presidents' approval numbers, with John F. Kennedy's very impressive graph. Charts for all presidents back to Kennedy, and comparisons to Obama's numbers, are always available at the ObamaPollWatch.com site. But enough site plugging, let's take a look at last month's Obama chart:
[Click on graph to see larger-scale version.]
March 2010
It's likely that the health reform debate went on for so long, with so many twists and turns, that the American public had already made its mind up on the issue, meaning actual passage of the bill didn't change the numbers as much as they might have, had the process been shorter. The only movement was at the margins, in other words.
April may prove to be a good month for the president, however, since he's got a treaty signing lined up with Russia, and since the unemployment picture is looking a bit brighter. If Obama manages to get some sort of jobs bill passed, and joins in the battle over Wall Street reform with a passion, then he's got a good chance of building his numbers back up again in the upcoming month.
In March, Obama chalked up a 48.1 percent approval rating, up 0.2 percent from February. This is only the fourth time in his presidency that he has moved this number upwards, so even though the gain is a small one, it is still notable. At the same time, however, his disapproval number climbed 0.3 percent to an all-time high of 46.4 percent. Both the gains in approval and disapproval came from undecideds making up their minds.
Overall Trends
Obama's daily numbers charted a somewhat strange course this month. For the first two-thirds of the month, his approval was fairly high (in the 48-49 percent range), but then took a big dip right when the health reform bill passed and was signed. For the first time ever, his approval rating was below his disapproval rating for three days, hitting a low on the twentieth of the month, at 47.2 approval versus 47.8 disapproval. But, while this was an all-time daily high for disapproval, once the bill passed, Obama's numbers started to recover somewhat, and he ended the month on an upswing (48.6 approval, 46.3 disapproval).
All of this translates into a rise to 48.1 percent average approval for the month, and a 46.4 percent disapproval. Or, to put it another way, not much of a bounce at all. But you have to consider that health reform didn't pass until the month was nearing its end, which means next month may be more instructive.
At the very least, Obama has indeed stopped his slide, at least for the time being. But for the second month in a row, his approval number average never got above 50 percent for even one day. And Obama set a new daily all-time high for disapproval (47.8 percent) and a new all-time daily low in approval (47.0 percent), within one day of each other.
Still, while the numbers probably aren't exactly making anyone in the White House jump up and cheer, if Obama can sustain the uptick in the graph (and build upon it next month), this could be seen as a significant turning point for the president's poll numbers. As always, time will tell. For now, remaining cautiously optimistic is probably the best way to look at the situation.
Obama v. John F. Kennedy
We continue our series of looking back at previous presidents this month by taking a look at J.F.K.'s numbers (we've only got a few more months to go in this backwards-looking series, I should mention, as F.D.R. is really the first president where public polling data is available). Let's take a look at Kennedy's impressive chart: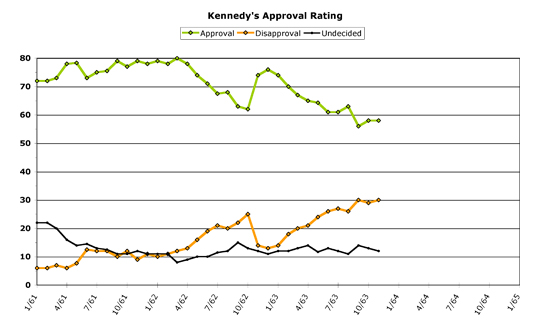 [Click on graphs to see larger-scale versions.]
Kennedy's numbers, to be blunt, are hard to beat. John Fitzgerald Kennedy enjoyed one of the longest and strongest waves of public approval of any modern president. It wasn't until a year and a half into his term that his poll numbers sank below 70 percent, which is a gold-standard achievement for any president. During this period, his disapproval rate was beneath 20 percent, and for the most part, below "undecided," which is truly stunning.
Kennedy's approval numbers did slide to just above 60 percent, but then he got a major bounce in the polls for his handling of the Cuban Missile Crisis, in late 1962. This bounce lasted almost a full year. It wasn't until just before his tragic assassination that his poll numbers dropped below 60 percent. Sadly, we'll never know if Kennedy could have boosted his numbers back up to astronomical levels again in time for re-election.
Now, a quick look at Kennedy versus Obama: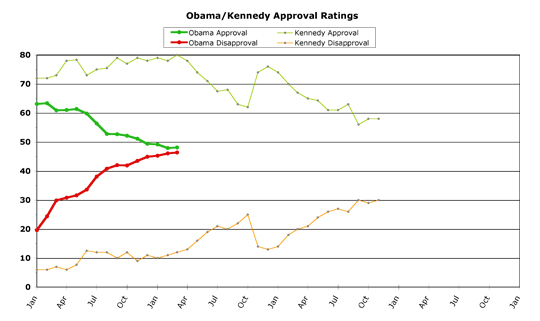 [Click on graphs to see larger-scale versions.]
As I pointed out, Kennedy is pretty hard to beat in the approval department. Obama's numbers don't even come close, even during his "honeymoon" period after his Inauguration.
In fact, so far, the closest parallel to Obama's chart from the past is none other than Ronald Reagan (see chart, if interested), whose approval and disapproval lines crossed at this point in his first term (which, so far, Obama has been able to avoid). Out of all the presidents back to Kennedy, Obama and Reagan seem to be the closest match, at least up until now.
Next month we'll take a look at Dwight D. Eisenhower's numbers.
That's it for now, so keep watching those polls until next month! And, don't worry, Friday Talking Points will be back in this space next week, as usual.
[Obama Poll Watch Data:]
Column Archives
[Feb 10], [Jan 10], [Dec 09], [Nov 09], [Oct 09], [Sep 09], [Aug 09], [Jul 09], [Jun 09], [May 09], [Apr 09], [Mar 09]
Obama's All-Time Statistics
Monthly
Highest Monthly Approval -- 2/09 -- 63.4%
Lowest Monthly Approval -- 2/10 -- 47.9%
Highest Monthly Disapproval -- 3/10 -- 46.4%
Lowest Monthly Disapproval -- 1/09 -- 19.6%
Daily
Highest Daily Approval -- 2/15/09 -- 65.5%
Lowest Daily Approval -- 3/21/10 -- 47.0%
Highest Daily Disapproval -- 3/18/10 -- 47.8%
Lowest Daily Disapproval -- 1/29/09 -- 19.3%
Obama's Raw Monthly Data
[All-time high in bold, all-time low underlined.]
Month -- (Approval / Disapproval / Undecided)
03/10 -- 48.1 / 46.4 / 5.5
02/10 -- 47.9 / 46.1 / 6.0
01/10 -- 49.2 / 45.3 / 5.5
12/09 -- 49.4 / 44.9 / 5.7
11/09 -- 51.1 / 43.5 / 5.4
10/09 -- 52.2 / 41.9 / 5.9
09/09 -- 52.7 / 42.0 / 5.3
08/09 -- 52.8 / 40.8 / 6.4
07/09 -- 56.4 / 38.1 / 5.5
06/09 -- 59.8 / 33.6 / 6.6
05/09 -- 61.4 / 31.6 / 7.0
04/09 -- 61.0 / 30.8 / 8.2
03/09 -- 60.9 / 29.9 / 9.2
02/09 -- 63.4 / 24.4 / 12.2
01/09 -- 63.1 / 19.6 / 17.3
Cross-posted at Democratic Underground
Cross-posted at The Huffington Post
Follow Chris on Twitter: @ChrisWeigant
-- Chris Weigant