[ Posted Wednesday, January 4th, 2012 – 16:07 UTC ]
Trending Upwards
President Obama had a pretty good month last month in the job approval polls, bettering his standing in both approval and disapproval by roughly three-fourths of percentage point. This may not sound like that big a deal, but it was the second straight month of solid gains for the president in both categories.
Because it was also the last month of the year, we will take a closer look at how Obama did in 2011 at the end of the article. For now, let's take a look at the new overall chart for Obama: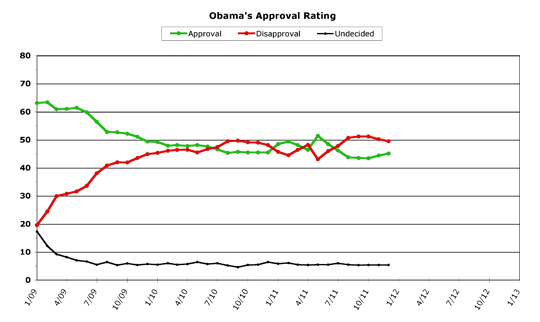 [Click on graph to see larger-scale version.]
December, 2011
December brought four pieces of goodwill together for Obama. The first came at the beginning of the month, as the unemployment number sharply dropped, from 9.0 percent to 8.6 percent. That's a significant change, and it's one of those things which provides a background effect in presidential polling. When people begin feeling better about the economy, it translates into feeling better about the man in the Oval Office. The second good thing for Obama in December was the extensive media coverage of all the American troops pulling out of Iraq. Americans like to see soldiers returning home and reuniting with their loved ones, especially right before a holiday. The holiday season itself was the third influence on the polls, as people generally feel better about their fellow man during the end-of-year holiday season (another "background" effect). To wrap up the month, Obama won a staredown contest with the House Republicans, who caved in and voted the extension of Obama's payroll tax breaks, right before they all went home.
All of this added up to poll numbers which steadily improved all month long for the president. This led to a 0.7 percent improvement in both approval and disapproval in Obama's December monthly average. Obama wound up with a 45.1 percent approval rate for the month, and a 49.5 disapproval rate. Added in with November's numbers, Obama has bettered both numbers by 1.7 percent in the past two months.
Overall Trends
Obama entered December actually trending downward, but the release of the good news on the unemployment front turned this right back around for him. His lowest daily average approval was the first day of the month, at 43.0 percent. He also hit his highest daily disapproval average on the first as well, at 51.6 percent. But throughout the month, these numbers got better and better, and he hit a daily high of 47.6 percent approval just before the end of the month. He closed out the month with his lowest daily disapproval at 47.8 percent. This was the widest swing he's experienced since last June, and the daily average numbers he was hitting were better than any he's seen since July. More good news: for the second straight month, Obama did not post any all-time lows or highs for either approval or disapproval.
The trendline itself is probably the best news Obama got in December, because it was so solidly in one direction. Obama's final daily numbers were both 1.7 percent better than even the monthly average he posted in December, which leaves him plenty of room to grow in January.
This month will be politically consumed with two things: the Republican primary race, and the State of the Union speech. Both seem tailor-made to help Obama improve his numbers even further, especially if the good news continues on the unemployment front (December's number will be released this Friday). Congress won't be in session for much of the month as well, which is also a good thing (as far as the public is concerned). When they do get back, they will be refighting a battle Obama has already largely won -- extending the payroll tax break for the rest of the year -- which also favors Obama's position.
To put all of this in some sort of perspective, let's take a look at Obama's entire previous year, in greater (expanded) detail: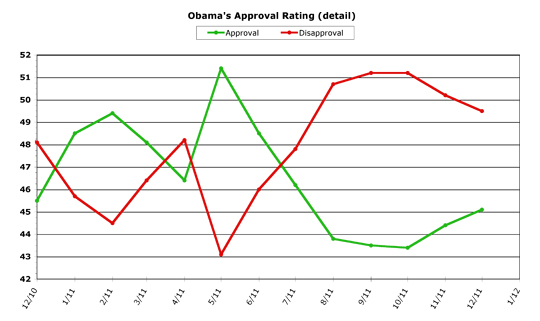 [Click on graph to see larger-scale version.]
This has been a pretty wild rollercoaster, at least compared to Obama's first two years in office. From December to December, Obama was up, down, up again, and then down again, until he began to claw his way back at the very end. The large spike right in the middle (in May) was the death of Osama Bin Laden -- the largest "bounce" Obama's ever gotten, but one that faded quickly away as the debt ceiling battle was fought over the summer.
Even with such and up-and-down year, though, Obama closed out December of 2011 almost exactly where he was in December of 2010, in terms of approval. The difference between where he started (45.5) and where he finished (45.1) was only four-tenths of a point. The difference in disapproval was larger, however (1.4 percent worse).
Obama's numbers "crossed over" each other four separate times during the year, although two of those can be attributed to the Bin Laden bounce. Looking ahead to the future, Obama is within reach of achieving this crossover point during January -- which would put him into "above water" territory right when he needs it, at the beginning of his re-election campaign.
So while 2011 was a volatile year for the president, he didn't lose all that much ground when the year was over. He ended the year on an upswing, and while he still isn't in great shape for the election, he is heading upwards and things are looking a lot better than they did a few months ago.
[Obama Poll Watch Data:]
Sources And Methodology
ObamaPollWatch.com is an admittedly amateur effort, but we do try to stay professional when it comes to revealing our sources and methodology. All our source data comes from RealClearPolitics.com; specifically from their daily presidential approval ratings "poll of polls" graphic page. We take their daily numbers, log them, and then average each month's data into a single number -- which is then shown on our monthly charts here (a "poll of polls of polls," if you will...). You can read a much-more detailed explanation of our source data and methodology on our "About Obama Poll Watch" page, if you're interested.
Questions or comments? Use the Email Chris page to drop me a private note.
Column Archives
[Nov 11], [Oct 11], [Sep 11], [Aug 11], [Jul 11], [Jun 11], [May 11], [Apr 11], [Mar 11], [Feb 11], [Jan 11], [Dec 10], [Nov 10], [Oct 10], [Sep 10], [Aug 10], [Jul 10], [Jun 10], [May 10], [Apr 10], [Mar 10], [Feb 10], [Jan 10], [Dec 09], [Nov 09], [Oct 09], [Sep 09], [Aug 09], [Jul 09], [Jun 09], [May 09], [Apr 09], [Mar 09]
Obama's All-Time Statistics
Monthly
Highest Monthly Approval -- 2/09 -- 63.4%
Lowest Monthly Approval -- 10/11 -- 43.4%
Highest Monthly Disapproval -- 9/11, 10/11 -- 51.2%
Lowest Monthly Disapproval -- 1/09 -- 19.6%
Daily
Highest Daily Approval -- 2/15/09 -- 65.5%
Lowest Daily Approval -- 10/9/11 -- 42.0%
Highest Daily Disapproval -- 8/30/11 -- 53.2%
Lowest Daily Disapproval -- 1/29/09 -- 19.3%
Obama's Raw Monthly Data
[All-time high in bold, all-time low underlined.]
Month -- (Approval / Disapproval / Undecided)
12/11 -- 45.1 / 49.5 / 5.4
11/11 -- 44.4 / 50.2 / 5.4
10/11 -- 43.4 / 51.2 / 5.4
09/11 -- 43.5 / 51.2 / 5.3
08/11 -- 43.8 / 50.7 / 5.5
07/11 -- 46.2 / 47.8 / 6.0
06/11 -- 48.5 / 46.0 / 5.5
05/11 -- 51.4 / 43.1 / 5.5
04/11 -- 46.4 / 48.2 / 5.4
03/11 -- 48.1 / 46.4 / 5.5
02/11 -- 49.4 / 44.5 / 6.1
01/11 -- 48.5 / 45.7 / 5.8
12/10 -- 45.5 / 48.1 / 6.4
11/10 -- 45.5 / 49.0 / 5.5
10/10 -- 45.5 / 49.1 / 5.4
09/10 -- 45.7 / 49.7 / 4.6
08/10 -- 45.3 / 49.5 / 5.2
07/10 -- 46.6 / 47.4 / 6.0
06/10 -- 47.6 / 46.7 / 5.7
05/10 -- 48.1 / 45.5 / 6.4
04/10 -- 47.8 / 46.5 / 5.7
03/10 -- 48.1 / 46.4 / 5.5
02/10 -- 47.9 / 46.1 / 6.0
01/10 -- 49.2 / 45.3 / 5.5
12/09 -- 49.4 / 44.9 / 5.7
11/09 -- 51.1 / 43.5 / 5.4
10/09 -- 52.2 / 41.9 / 5.9
09/09 -- 52.7 / 42.0 / 5.3
08/09 -- 52.8 / 40.8 / 6.4
07/09 -- 56.4 / 38.1 / 5.5
06/09 -- 59.8 / 33.6 / 6.6
05/09 -- 61.4 / 31.6 / 7.0
04/09 -- 61.0 / 30.8 / 8.2
03/09 -- 60.9 / 29.9 / 9.2
02/09 -- 63.4 / 24.4 / 12.2
01/09 -- 63.1 / 19.6 / 17.3
-- Chris Weigant
Cross-posted at Business Insider
Cross-posted at The Huffington Post
Follow Chris on Twitter: @ChrisWeigant