[ Posted Thursday, November 3rd, 2011 – 15:06 UTC ]
Flat lines
Once again, we present a rather foreshortened version of our Obama Poll Watch column this month, for which we are going to use the excuse "not much happened." If something had indeed happened, we would have had to come up with a better excuse, but that'll have to do for now.
Barack Obama's job approval poll numbers in October were flat. Very flat. So flat, in fact, that he tied his own "flattest month ever" record, which he initially set back in November of last year. Obama's change in approval and disapproval combined last month totaled only a single tenth of a percent -- which is almost as flat as numerically possible.
This flatness, however, was good news of a sort for Obama fans, because it halted a sharp slide which began in June. The daily numbers also had some good news for Obama, heading into November.
But we're getting ahead of ourselves. Let's take a look at this month's new chart: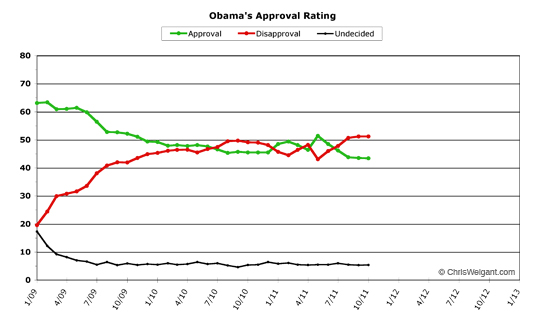 [Click on graph to see larger-scale version.]
October, 2011
October was occupied (sorry, couldn't resist) mostly with the Republican campaign, where the field of candidates to take on Obama next year finally was set in concrete, after both Chris Christie and Sarah Palin decided to take a pass. Debates, mudslinging, and all the rest of the normal campaign activities were the dominant story of the month, at least in the arena of pure politics.
In the wider world, two major foreign policy events helped Obama out with the public. The first was the rebels' ultimate victory in Libya, and the execution of Moammar Ghaddafi, both of which were strongly supported by the American public. The second was Obama's announcement that all American troops would be leaving Iraq and be home for the holidays -- which is now polling at 75 percent approval in America. That number includes, not surprisingly, 96 percent support from Democrats -- but the really good news for Obama is that it also contains 77 percent support from independents.
In October, Obama posted almost exactly the same monthly averages for approval and disapproval as he did the previous month -- 43.4 percent job approval, and 51.2 percent disapproval. This was the third month in a row he either set new all-time record lows (approval) or tied an all-time record high (disapproval). But next month is looking decidedly better for Obama.
Overall Trends
As previously mentioned, the October monthly lines were flat -- about as flat as could be. Obama lost one tenth of a percent in approval, while his disapproval didn't budge at all.
The good news for Obama fans appears when you look at the daily average trends. While Obama did set a new daily low of 42.0 percent early in the month, from there his numbers began to climb slowly. As the month ended, this climb was accelerating (OK, full disclosure: since I'm writing this three days into November, I can already tell that the numbers have gotten a lot better this month -- today Obama stands at 45.4 percent approval and 49.0 percent disapproval, which are the best numbers he's seen since July). Obama's disapproval numbers were more stable, and didn't show any clear trend all month long (the range they stayed within this month -- 50.3 to 51.8 -- was almost identical to the range they stayed in last month -- 50.7 to 51.7). The only good news on the "all-time" records was that this was nowhere near the highest daily average of 53.2, which was set in August.
Obama seems to be gaining back some ground, but its unclear exactly why. The president has hit the campaign trail in a big way, and begun running against a "do-nothing Congress." Which makes us wish, here, that we had numbers for Truman to compare him with (we'll try to dig these out). Looking over the comparison charts at ObamaPollWatch.com, the closest Obama is tracking right now seems to be Lyndon Johnson's second term. Other possible reasons Obama is doing better have to include the two foreign policy victories Obama chalked up this month, and possibly the 99 Percent movement which has utterly changed the tone of the political conversation in Washington and in the media. The Republican field bickering bitterly among itself also probably adds to Obama looking better in the public's eye.
Whatever the cause, Obama fans can reasonably expect next month to bring some welcome good news on the Obama polling front. He enters November on a relative high point, although this month will be "supercommittee" month, so public opinion of the final week of the month is anybody's guess.
[Obama Poll Watch Data:]
Sources And Methodology
ObamaPollWatch.com is an admittedly amateur effort, but we do try to stay professional when it comes to revealing our sources and methodology. All our source data comes from RealClearPolitics.com; specifically from their daily presidential approval ratings "poll of polls" graphic page. We take their daily numbers, log them, and then average each month's data into a single number -- which is then shown on our monthly charts here (a "poll of polls of polls," if you will...). You can read a much-more detailed explanation of our source data and methodology on our "About Obama Poll Watch" page, if you're interested.
Questions or comments? Use the Email Chris page to drop me a private note.
Column Archives
[Sep 11], [Aug 11], [Jul 11], [Jun 11], [May 11], [Apr 11], [Mar 11], [Feb 11], [Jan 11], [Dec 10], [Nov 10], [Oct 10], [Sep 10], [Aug 10], [Jul 10], [Jun 10], [May 10], [Apr 10], [Mar 10], [Feb 10], [Jan 10], [Dec 09], [Nov 09], [Oct 09], [Sep 09], [Aug 09], [Jul 09], [Jun 09], [May 09], [Apr 09], [Mar 09]
Obama's All-Time Statistics
Monthly
Highest Monthly Approval -- 2/09 -- 63.4%
Lowest Monthly Approval -- 10/11 -- 43.4%
Highest Monthly Disapproval -- 9/11, 10/11 -- 51.2%
Lowest Monthly Disapproval -- 1/09 -- 19.6%
Daily
Highest Daily Approval -- 2/15/09 -- 65.5%
Lowest Daily Approval -- 10/9/11 -- 42.0%
Highest Daily Disapproval -- 8/30/11 -- 53.2%
Lowest Daily Disapproval -- 1/29/09 -- 19.3%
Obama's Raw Monthly Data
[All-time high in bold, all-time low underlined.]
Month -- (Approval / Disapproval / Undecided)
10/11 -- 43.4 / 51.2 / 5.4
09/11 -- 43.5 / 51.2 / 5.3
08/11 -- 43.8 / 50.7 / 5.5
07/11 -- 46.2 / 47.8 / 6.0
06/11 -- 48.5 / 46.0 / 5.5
05/11 -- 51.4 / 43.1 / 5.5
04/11 -- 46.4 / 48.2 / 5.4
03/11 -- 48.1 / 46.4 / 5.5
02/11 -- 49.4 / 44.5 / 6.1
01/11 -- 48.5 / 45.7 / 5.8
12/10 -- 45.5 / 48.1 / 6.4
11/10 -- 45.5 / 49.0 / 5.5
10/10 -- 45.5 / 49.1 / 5.4
09/10 -- 45.7 / 49.7 / 4.6
08/10 -- 45.3 / 49.5 / 5.2
07/10 -- 46.6 / 47.4 / 6.0
06/10 -- 47.6 / 46.7 / 5.7
05/10 -- 48.1 / 45.5 / 6.4
04/10 -- 47.8 / 46.5 / 5.7
03/10 -- 48.1 / 46.4 / 5.5
02/10 -- 47.9 / 46.1 / 6.0
01/10 -- 49.2 / 45.3 / 5.5
12/09 -- 49.4 / 44.9 / 5.7
11/09 -- 51.1 / 43.5 / 5.4
10/09 -- 52.2 / 41.9 / 5.9
09/09 -- 52.7 / 42.0 / 5.3
08/09 -- 52.8 / 40.8 / 6.4
07/09 -- 56.4 / 38.1 / 5.5
06/09 -- 59.8 / 33.6 / 6.6
05/09 -- 61.4 / 31.6 / 7.0
04/09 -- 61.0 / 30.8 / 8.2
03/09 -- 60.9 / 29.9 / 9.2
02/09 -- 63.4 / 24.4 / 12.2
01/09 -- 63.1 / 19.6 / 17.3
-- Chris Weigant
Follow Chris on Twitter: @ChrisWeigant