[ Posted Monday, June 4th, 2012 – 12:54 UTC ]
Divergent (but minor) trends
Hello from (soggy) Maine! This is going to be an abbreviated version of our monthly Obama Poll Watch column, mostly because I am writing this while I'm supposed to be on vacation. Also, because while I did prepare the graphs before I left, I do not have full access to all my data. Having said that, let's just dive in and see what we can do with such limited resources.
May was not all that exceptional a month for Barack Obama, poll-wise. Both approval and disapproval rates were up slightly, but not significantly. It is a bit odd to have both numbers increase within the same month, but this is mostly due to the fact that the numbers themselves are so close to being even (statistically, this does odd things right around the point where they perfectly balance).
Here's the large version of the chart, where the differences are admittedly hard to see: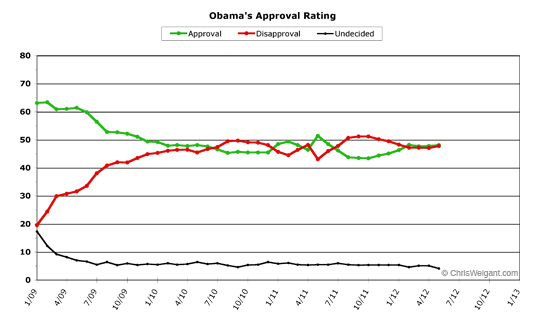 [Click on graph to see larger-scale version.]
May, 2012
May wasn't all that eventful a month, politically. Mitt Romney finally wrapped up the Republican nomination, as everyone but Ron Paul dropped out and left him a clear path to victory.
President Obama made the biggest splash during the month, by completing his "evolution" on the subject of gay marriage, and finally announcing his support for full equality. On the Left, the reaction was mostly: "Eh… it's about time…" while on the Right, the reaction was curiously muted -- perhaps the Republicans have finally figured out that this is a long-term losing issue for them, as they are fighting the headwinds of history. The media had some handwringing moments about Obama losing support of African-Americans, but polling showed that this was actually false, as African-American support for gay marriage jumped noticeably in response to Obama's leadership on the issue. But overall, it turned out to be insignificant in the president's national polling.
Gas prices continued to fall all month, which may have given Obama some background goodwill, but the weakness of the employment situation likely counterbalanced this with the public.
Obama finished the month with a monthly average 48.1 approval rating, up 0.3 percent from last month. But he also chalked up a 47.8 percent monthly average disapproval rating, up 0.7 percent from last month. Because both these numbers rose at the same time (as mentioned, a rarity), his "undecided" number fell a full percentage point, to 4.1 percent -- the lowest number Obama's ever posted in this category. However, as noted, this is likely a statistical anomaly due to the closeness of the approval and disapproval numbers -- which are only three-tenths of a percent apart, the closest they've ever been.
Overall Trends
Because the differences in all these numbers are so minute, a closer look is necessary to even see the changes to the chart: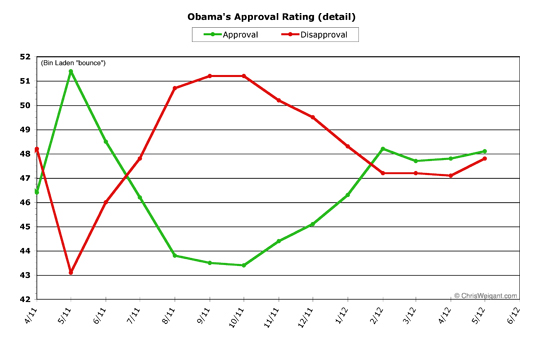 [Click on graph to see larger-scale version.]
As you can see, Obama's monthly average approval rate continues a very flat trend. Four months ago, he hit a high of 48.2 percent, then he slipped back to 47.7 percent, and has slowly been climbing back ever since. These minor fluctuations indicate that, at least for now, Obama seems to have hit a ceiling of roughly 48 percent approval, which is two points lower than the halfway point his re-election team would really prefer to see, at this point during his campaign. His monthly average disapproval rate has also been fairly flat for the same time period -- last month's rise notwithstanding.
Obama's daily approval and disapproval rates stayed remarkably steady throughout the month as well, with not much in the way of highs or lows which diverged much from the overall monthly averages.
While Obama enters June with some disappointing unemployment news, this may not hurt his numbers all that much because of the countering trend of the continuing fall in gas prices. June will see an intensifying debate in Congress over the subject of student loan rates (which must be acted upon by the end of the month), and so far at least Obama seems to have the upper hand in this debate. The spin will be fierce on whatever compromise is reached, though, so it remains to be seen what effect it will have on public opinion.
OK, that's it for this month -- once again, apologies for the abbreviated column this month, as we prepare to head to Rhode Island for the Netroots Nation conference. See you all next week!
[Obama Poll Watch Data:]
Sources And Methodology
ObamaPollWatch.com is an admittedly amateur effort, but we do try to stay professional when it comes to revealing our sources and methodology. All our source data comes from RealClearPolitics.com; specifically from their daily presidential approval ratings "poll of polls" graphic page. We take their daily numbers, log them, and then average each month's data into a single number -- which is then shown on our monthly charts here (a "poll of polls of polls," if you will...). You can read a much-more detailed explanation of our source data and methodology on our "About Obama Poll Watch" page, if you're interested.
Questions or comments? Use the Email Chris page to drop me a private note.
Column Archives
[Apr 12], [Mar 12], [Feb 12], [Jan 12], [Dec 11], [Nov 11], [Oct 11], [Sep 11], [Aug 11], [Jul 11], [Jun 11], [May 11], [Apr 11], [Mar 11], [Feb 11], [Jan 11], [Dec 10], [Nov 10], [Oct 10], [Sep 10], [Aug 10], [Jul 10], [Jun 10], [May 10], [Apr 10], [Mar 10], [Feb 10], [Jan 10], [Dec 09], [Nov 09], [Oct 09], [Sep 09], [Aug 09], [Jul 09], [Jun 09], [May 09], [Apr 09], [Mar 09]
Obama's All-Time Statistics
Monthly
Highest Monthly Approval -- 2/09 -- 63.4%
Lowest Monthly Approval -- 10/11 -- 43.4%
Highest Monthly Disapproval -- 9/11, 10/11 -- 51.2%
Lowest Monthly Disapproval -- 1/09 -- 19.6%
Daily
Highest Daily Approval -- 2/15/09 -- 65.5%
Lowest Daily Approval -- 10/9/11 -- 42.0%
Highest Daily Disapproval -- 8/30/11 -- 53.2%
Lowest Daily Disapproval -- 1/29/09 -- 19.3%
Obama's Raw Monthly Data
[All-time high in bold, all-time low underlined.]
Month -- (Approval / Disapproval / Undecided)
05/12 -- 48.1 / 47.8 / 4.1
04/12 -- 47.8 / 47.1 / 5.1
03/12 -- 47.7 / 47.2 / 5.1
02/12 -- 48.2 / 47.2 / 4.6
01/12 -- 46.3 / 48.3 / 5.4
12/11 -- 45.1 / 49.5 / 5.4
11/11 -- 44.4 / 50.2 / 5.4
10/11 -- 43.4 / 51.2 / 5.4
09/11 -- 43.5 / 51.2 / 5.3
08/11 -- 43.8 / 50.7 / 5.5
07/11 -- 46.2 / 47.8 / 6.0
06/11 -- 48.5 / 46.0 / 5.5
05/11 -- 51.4 / 43.1 / 5.5
04/11 -- 46.4 / 48.2 / 5.4
03/11 -- 48.1 / 46.4 / 5.5
02/11 -- 49.4 / 44.5 / 6.1
01/11 -- 48.5 / 45.7 / 5.8
12/10 -- 45.5 / 48.1 / 6.4
11/10 -- 45.5 / 49.0 / 5.5
10/10 -- 45.5 / 49.1 / 5.4
09/10 -- 45.7 / 49.7 / 4.6
08/10 -- 45.3 / 49.5 / 5.2
07/10 -- 46.6 / 47.4 / 6.0
06/10 -- 47.6 / 46.7 / 5.7
05/10 -- 48.1 / 45.5 / 6.4
04/10 -- 47.8 / 46.5 / 5.7
03/10 -- 48.1 / 46.4 / 5.5
02/10 -- 47.9 / 46.1 / 6.0
01/10 -- 49.2 / 45.3 / 5.5
12/09 -- 49.4 / 44.9 / 5.7
11/09 -- 51.1 / 43.5 / 5.4
10/09 -- 52.2 / 41.9 / 5.9
09/09 -- 52.7 / 42.0 / 5.3
08/09 -- 52.8 / 40.8 / 6.4
07/09 -- 56.4 / 38.1 / 5.5
06/09 -- 59.8 / 33.6 / 6.6
05/09 -- 61.4 / 31.6 / 7.0
04/09 -- 61.0 / 30.8 / 8.2
03/09 -- 60.9 / 29.9 / 9.2
02/09 -- 63.4 / 24.4 / 12.2
01/09 -- 63.1 / 19.6 / 17.3
-- Chris Weigant
Follow Chris on Twitter: @ChrisWeigant