[ Posted Thursday, August 2nd, 2012 – 15:59 UTC ]
Obama drops back
I have to begin today with two reminders. To regular readers of this column, you'll note that it is appearing on Thursdays and Tuesdays from now until the election, in a more abbreviated form. If Obama loses, then it'll probably continue on Tuesdays and Thursdays until next January, for completeness' sake. If Obama wins, this column will return to its prominent spot on the first possible Monday or Wednesday after the end of each month, and I'll likely have to come up with some better graphics after January.
For everyone, a reminder that what we examine in this column is Barack Obama's job approval rating as president. This is only tangentially related to the 2012 election. Mitt Romney is not mentioned in this poll at all, it's a simple "Do you approve of the way the president is doing his job?" question. For the election itself, we have begun our Electoral Math column series, and we should be getting another one of these out some time next week, if all goes well.
OK, with caveats firmly in place, let's take a look at how Obama did in July: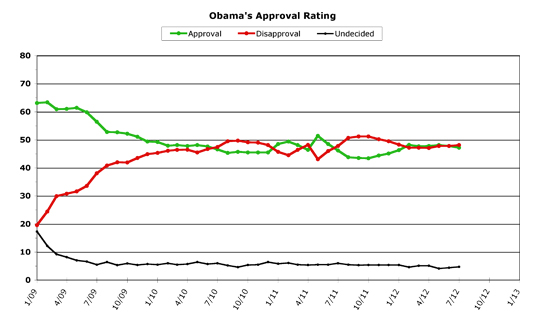 [Click on graph to see larger-scale version.]
July, 2012
Barack Obama's worst time of year is the dog days of summer, and this year is proving no different. He had the worst month, overall, since last August, as his approval rate fell 0.6 percent to end the month at 47.2 percent average approval. His disapproval rate rose 0.3 percent, to end the month at 48.1 percent. This put Obama almost a full point "underwater" -- for the first time since January.
Overall Trends
To put this into some perspective, however, Obama's net approval/disapproval rating changed 0.9 percent this month for the worse. But Obama's always had a tough time of it in the summer. Last July, Obama lost a net of 4.1 percent (2.3 down on approval, 1.8 rise in disapproval). The July before that, Obama lost 1.7 percent, and in July of 2009 he lost a whopping 7.9 percent, as his initial "honeymoon" numbers fell back to Earth. Taken in comparison, Obama just had the best July he's ever had.
But this is a pretty thin silver lining for Obama fans. Here's a closer look at where the trends are pointing: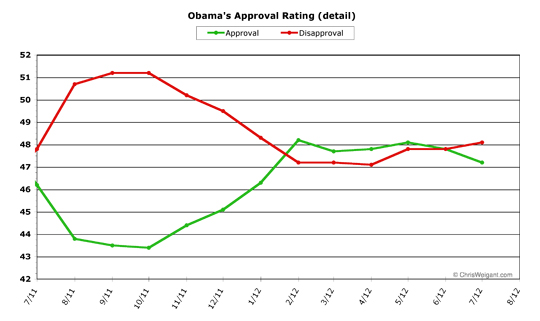 [Click on graph to see larger-scale version.]
That is not exactly a happy picture for the Obama campaign. No president wants to see a graph like that with less than 100 days to go before an election.
Obama's daily trends throughout the month weren't much better. He never managed to get his approval rating above water all month, although at the end of the month he managed to tie disapproval at 47.5 percent for one day. Obama's approval rating was actually remarkably stable all month long, swinging only 1.1 percent during the entire month (tying a record for least-volatile month), but his disapproval numbers were slightly more active. Another thin reed of good news for Obama was that his disapproval numbers were on a pretty solid (if gentle) downward trend all month.
This may help Obama as he enters August, but then again it may not. Why July's numbers were down for Obama is anyone's guess, really, but I'm going to pin a large part of it on the disappointing employment figures announced last month. Tomorrow's announcement of the numbers for July may do more to set the trend for August than any other single influencing factor.
Historically, however, August has been even less kind to Obama than July. So we may see another drop in his numbers next month as well. This drop in job approval hasn't significantly bled over into the election polling yet, but another month of a downward trend may start showing up in the "Who are you going to vote for?" polls. We'll have to wait and see.
[Obama Poll Watch Data:]
Sources And Methodology
ObamaPollWatch.com is an admittedly amateur effort, but we do try to stay professional when it comes to revealing our sources and methodology. All our source data comes from RealClearPolitics.com; specifically from their daily presidential approval ratings "poll of polls" graphic page. We take their daily numbers, log them, and then average each month's data into a single number -- which is then shown on our monthly charts here (a "poll of polls of polls," if you will...). You can read a much-more detailed explanation of our source data and methodology on our "About Obama Poll Watch" page, if you're interested.
Questions or comments? Use the Email Chris page to drop me a private note.
Column Archives
[Jul 12], [Jun 12], [Apr 12], [Mar 12], [Feb 12], [Jan 12], [Dec 11], [Nov 11], [Oct 11], [Sep 11], [Aug 11], [Jul 11], [Jun 11], [May 11], [Apr 11], [Mar 11], [Feb 11], [Jan 11], [Dec 10], [Nov 10], [Oct 10], [Sep 10], [Aug 10], [Jul 10], [Jun 10], [May 10], [Apr 10], [Mar 10], [Feb 10], [Jan 10], [Dec 09], [Nov 09], [Oct 09], [Sep 09], [Aug 09], [Jul 09], [Jun 09], [May 09], [Apr 09], [Mar 09]
Obama's All-Time Statistics
Monthly
Highest Monthly Approval -- 2/09 -- 63.4%
Lowest Monthly Approval -- 10/11 -- 43.4%
Highest Monthly Disapproval -- 9/11, 10/11 -- 51.2%
Lowest Monthly Disapproval -- 1/09 -- 19.6%
Daily
Highest Daily Approval -- 2/15/09 -- 65.5%
Lowest Daily Approval -- 10/9/11 -- 42.0%
Highest Daily Disapproval -- 8/30/11 -- 53.2%
Lowest Daily Disapproval -- 1/29/09 -- 19.3%
Obama's Raw Monthly Data
[All-time high in bold, all-time low underlined.]
Month -- (Approval / Disapproval / Undecided)
07/12 -- 47.2 / 48.1 / 4.7
06/12 -- 47.8 / 47.8 / 4.4
05/12 -- 48.1 / 47.8 / 4.1
04/12 -- 47.8 / 47.1 / 5.1
03/12 -- 47.7 / 47.2 / 5.1
02/12 -- 48.2 / 47.2 / 4.6
01/12 -- 46.3 / 48.3 / 5.4
12/11 -- 45.1 / 49.5 / 5.4
11/11 -- 44.4 / 50.2 / 5.4
10/11 -- 43.4 / 51.2 / 5.4
09/11 -- 43.5 / 51.2 / 5.3
08/11 -- 43.8 / 50.7 / 5.5
07/11 -- 46.2 / 47.8 / 6.0
06/11 -- 48.5 / 46.0 / 5.5
05/11 -- 51.4 / 43.1 / 5.5
04/11 -- 46.4 / 48.2 / 5.4
03/11 -- 48.1 / 46.4 / 5.5
02/11 -- 49.4 / 44.5 / 6.1
01/11 -- 48.5 / 45.7 / 5.8
12/10 -- 45.5 / 48.1 / 6.4
11/10 -- 45.5 / 49.0 / 5.5
10/10 -- 45.5 / 49.1 / 5.4
09/10 -- 45.7 / 49.7 / 4.6
08/10 -- 45.3 / 49.5 / 5.2
07/10 -- 46.6 / 47.4 / 6.0
06/10 -- 47.6 / 46.7 / 5.7
05/10 -- 48.1 / 45.5 / 6.4
04/10 -- 47.8 / 46.5 / 5.7
03/10 -- 48.1 / 46.4 / 5.5
02/10 -- 47.9 / 46.1 / 6.0
01/10 -- 49.2 / 45.3 / 5.5
12/09 -- 49.4 / 44.9 / 5.7
11/09 -- 51.1 / 43.5 / 5.4
10/09 -- 52.2 / 41.9 / 5.9
09/09 -- 52.7 / 42.0 / 5.3
08/09 -- 52.8 / 40.8 / 6.4
07/09 -- 56.4 / 38.1 / 5.5
06/09 -- 59.8 / 33.6 / 6.6
05/09 -- 61.4 / 31.6 / 7.0
04/09 -- 61.0 / 30.8 / 8.2
03/09 -- 60.9 / 29.9 / 9.2
02/09 -- 63.4 / 24.4 / 12.2
01/09 -- 63.1 / 19.6 / 17.3
-- Chris Weigant
Follow Chris on Twitter: @ChrisWeigant