[ Posted Thursday, April 2nd, 2015 – 15:44 UTC ]
Obama slips a bit
Barack Obama's job approval poll numbers slipped a bit in March, ending a streak of good news in polling for the president which reaches back to last September. But while the numbers turned slightly negative, the overall outlook for Obama was looking up by the end of the month. This means Obama has a better than even chance of gaining ground again in April. But before we get to predicting the future, let's first take a look at the chart of the recent past.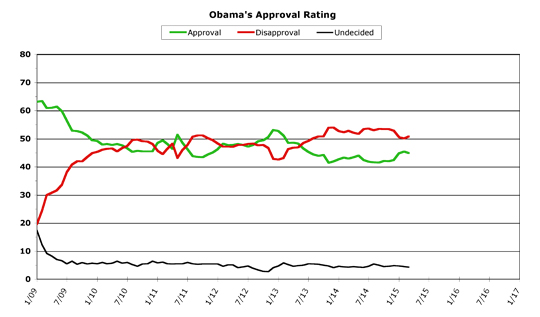 [Click on graph to see larger-scale version.]
March, 2015
March blew in with the aftermath of the latest government shutdown drama playing out in Congress. Major political spats of this nature drag the public's perception of everyone in Washington down, of course, and Obama was not spared this time around. Foreign policy loomed large all month, as the prime minister of Israel successfully used the United States Congress as a campaign stop. Forty-seven senators sent a letter to Iran begging them not to give President Obama a political victory to add to his legacy. But neither Netanyahu's victory in Israeli elections nor the senators' pathetic attempt at undermining Obama's diplomacy stopped the negotiations with Iran, although no agreement was announced in March (this may affect Obama's numbers in April more noticeably, in other words). At the end of March, as well, a major victory against the Islamic State was announced, as Tikrit fell.
Back in domestic news, the month began with yet another good jobs/unemployment report, continuing a record string of positive news of the improving economy. Obamacare is chalking up more successes as well, with absolutely none of the doom predicted by its opponents having yet come to pass.
In political news, Hillary Clinton (and her emails) dominated the Democratic side, while Ted Cruz officially announced his candidacy as a Republican. Neither of these likely affected Obama's polling in any way, however.
I have to add a personal note here, and state that after the middle of the month (right around St. Patrick's Day, coincidentally), I have to admit that I wasn't paying very close attention to American politics (being on vacation, as I was), so if I've missed any significant events in the latter part of the month in this roundup, I apologize in advance.
By the numbers, Obama lost a half a point in his monthly job approval average, falling to 44.9 percent. His monthly average disapproval rate rose by 0.7 percent, to wind up at 50.8 percent. This essentially sets him back to where he was in January, erasing the minor gains he made in February. This setback wasn't a major one, but it did end a streak of improvement over the past six months for Obama. From September to February, Obama's job approval rose a total of 3.9 percent while his disapproval fell 3.4 percent. Still, even with the slight downturn in March, Obama's numbers are above where they were throughout all of 2014.
Overall Trends
The overall trend for Obama is actually looking upwards. Even though he slipped in the polling in March, what actually happened was the second half of a two-month cycle that began in February. At the end of January, Obama was riding fairly high, but then throughout February his numbers headed downwards. Just after the beginning of March, his numbers turned back upwards again, and this day-to-day trend continued for the rest of the month. To put this another way, February and March were mirrors of each other, one showing a month-long downward trend and the next showing the trend heading back up. Obama is positioned in good shape, entering April, to put this another way.
During March, Obama's numbers started bad and got better. His daily job approval average hit a low of 43.8 percent early in the month while his daily disapproval average rose to a high of 51.5 percent. By the end of the month, however, Obama's approval had improved to 46.0 percent while his disapproval fell to 49.8 percent. Both of those numbers are a point (or more) better than Obama's March monthly average, meaning the chances are pretty good that he'll see better numbers in April, barring any unforeseen downturns. If tomorrow's job numbers are good, and if the public approves of the deal with Iran, Obama could reap the benefit of more public approval. Also waiting in the wings is an upcoming announcement on overtime pay that is likely to be wildly popular when the public is made aware of it.
But I'd like to point something out here, looking at the bigger picture of how Obama compares to other presidents in the job approval ratings. For approximately two years, right around his re-election, Obama's chart lines matched up almost precisely with George W. Bush's. Beginning in January of 2014, however, Obama's numbers flattened out while Bush's continued to fall (comparing Bush's 2006 numbers). Bush did struggle back one last time, to where he almost matched Obama's approval rating, but then his numbers just fell off a cliff, ending up below 30 percent. Take a look at the comparison chart to easily see these trends.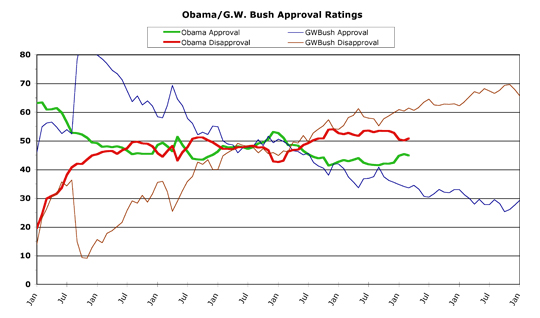 [Click on graph to see larger-scale version.]
So it's looking like Obama's trendlines are never going to be compared to George W. Bush's again. But there is one two-term president whose job approval numbers almost exactly match Obama's right now. Granted, the trendlines took very different paths to reach this point, but in the seventh year of his presidency (matching where Obama is now), Ronald Reagan's job approval stood at 45.0 percent, while Obama's now stands at 44.9 percent. See for yourself.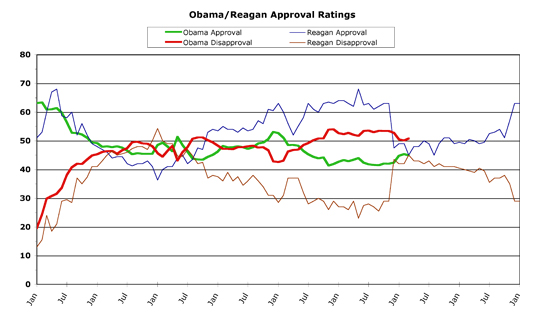 [Click on graph to see larger-scale version.]
That gigantic downward spike in Reagan's approval rating happened when he admitted to the nation that he had lied about the Iran/Contra scandal, and that members of his administration were indeed involved in illegality. Reagan's grandfatherly image took a severe blow after this admission, and didn't truly recover until he was headed out of office (I should mention that almost all presidents get a final upward spike in approval when they enter their lame-duck period, after the election to name their successor).
Now, I'm not stating that Obama is going to match Reagan's approval ratings for the next few years. To do so, Obama would actually have to improve to levels he hasn't been able to sustain since the first few years of his term. But it is possible, given the improving economy (which may not lift all boats but almost always lifts public perception of the sitting president). Obama could manage to hit the range from around 45 percent to the low 50s, where Reagan spent most of the final two years of his second term in office. So, again, I'm not saying this will happen, merely that it could possibly happen. And I'm not trying to shoehorn Obama into Reagan's legacy in any way, just pointing out that he is the only president comparable to where Obama now finds himself.
This isn't all that fair a comparison, though, since there are a limited number of presidents who served two terms after the advent of modern polling (it's impossible to compare Obama to Andrew Jackson or Thomas Jefferson, to put this another way). Counting those who were still in office at this point in their second terms, Obama is much higher than George W. Bush and Harry S Truman, but much lower than Bill Clinton and Dwight D. Eisenhower. Including Truman in that list is even somewhat problematic, for two reasons: he didn't serve a full two terms, and the polling back then was pretty sketchy and inconsistent. If you include partial-first-term presidents, there is one other who is an almost exact match for Obama right now (who matched Reagan's 45.0 percent at this point in his term): Lyndon B. Johnson. Here's the comparison chart of the two.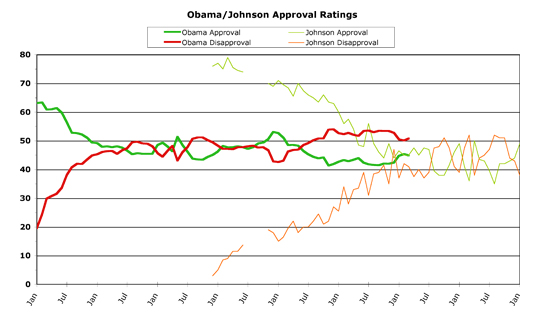 [Click on graph to see larger-scale version.]
Obama could match L.B.J.'s rather eclectic record for the remainder of his term, just as easily as he could match Reagan's, in other words. Again, I point this out not to make predictions, but simply to note some interesting convergences with past presidential trendlines. We'll all have to wait and see how Obama's chart line finishes up, though.
[Obama Poll Watch Data:]
Sources And Methodology
ObamaPollWatch.com is an admittedly amateur effort, but we do try to stay professional when it comes to revealing our sources and methodology. All our source data comes from RealClearPolitics.com; specifically from their daily presidential approval ratings "poll of polls" graphic page. We take their daily numbers, log them, and then average each month's data into a single number -- which is then shown on our monthly charts here (a "poll of polls of polls," if you will...). You can read a much-more detailed explanation of our source data and methodology on our "About Obama Poll Watch" page, if you're interested.
Questions or comments? Use the Email Chris page to drop me a private note.
Obama's Second Term Statistical Records
Monthly
Highest Monthly Approval -- 1/13 -- 52.7%
Lowest Monthly Approval -- 11/13 -- 41.4%
Highest Monthly Disapproval -- 12/13 -- 54.0%
Lowest Monthly Disapproval -- 1/13 -- 42.6%
Daily
Highest Daily Approval -- 1/31/13 -- 52.5%
Lowest Daily Approval -- 12/2/13 -- 39.8%
Highest Daily Disapproval -- 12/2/13 -- 55.9%
Lowest Daily Disapproval -- 2/24/13 -- 42.3%
Obama's Second Term Raw Monthly Data
[All-time high in bold, all-time low underlined.]
Month -- (Approval / Disapproval / Undecided)
03/15 -- 44.9 / 50.8 / 4.3
02/15 -- 45.4 / 50.1 / 4.5
01/15 -- 44.8 / 50.5 / 4.7
12/14 -- 42.4 / 52.8 / 4.8
11/14 -- 42.0 / 53.4 / 4.6
10/14 -- 42.1 / 53.4 / 4.5
09/14 -- 41.5 / 53.5 / 5.0
08/14 -- 41.6 / 53.0 / 5.4
07/14 -- 41.8 / 53.6 / 4.6
06/14 -- 42.4 / 53.4 / 4.2
05/14 -- 44.0 / 51.7 / 4.3
04/14 -- 43.4 / 52.1 / 4.5
03/14 -- 42.9 / 52.8 / 4.3
02/14 -- 43.3 / 52.3 / 4.4
01/14 -- 42.7 / 52.7 / 4.6
12/13 -- 41.9 / 54.0 / 4.1
11/13 -- 41.4 / 53.9 / 4.7
10/13 -- 44.2 / 50.8 / 5.0
09/13 -- 43.9 / 50.8 / 5.3
08/13 -- 44.4 / 50.2 / 5.4
07/13 -- 45.3 / 49.2 / 5.5
06/13 -- 46.5 / 48.5 / 5.0
05/13 -- 48.3 / 46.9 / 4.8
04/13 -- 48.6 / 46.8 / 4.6
03/13 -- 48.5 / 46.3 / 5.2
02/13 -- 51.1 / 43.0 / 5.9
01/13 -- 52.7 / 42.6 / 4.7
Second Term Column Archives
[Feb 15], [Jan 15], [Dec 14], [Nov 14], [Oct 14], [Sep 14], [Aug 14], [Jul 14], [Jun 14], [May 14], [Apr 14], [Mar 14], [Feb 14], [Jan 14], Dec 13], [Nov 13], [Oct 13], Sep 13], [Aug 13], [Jul 13], [Jun 13], [May 13], [Apr 13], [Mar 13], [Feb 13], [Jan 13]
First Term Data
To save space, the only data and statistics listed above are from Obama's second term. If you'd like to see the data and stats from Obama's first term, including a list of links to the full archives of the Obama Poll Watch column for the first term, we've set up an Obama Poll Watch First Term Data page, for those still interested.
-- Chris Weigant
Follow Chris on Twitter: @ChrisWeigant