[ Posted Monday, June 3rd, 2013 – 17:22 UTC ]
Pre-storm calm?
Barack Obama had a pretty bad month inside the Beltway, with Republicans on the warpath over multiple scandals. Outside Washington, Obama didn't have too bad a month at all, as his job approval ratings barely budged. While this calm may seem to indicate that the public has a much higher tolerance for what constitutes a "scandal" than congressional Republicans, there were indications at the end of the month that this may just be a calm before much stormier poll numbers for the president. But first, let's look back on last month. Here's the chart: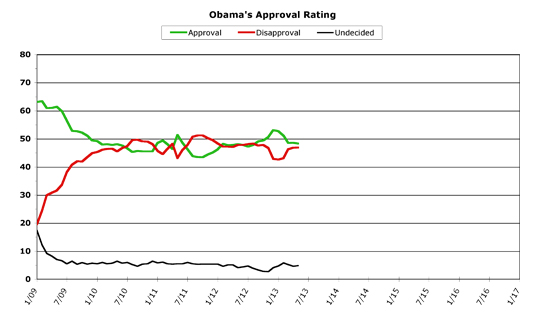 [Click on graph to see larger-scale version.]
May, 2013
In May, President Obama spent a lot of time in his "consoler in chief" role, attending to disasters and celebrating the return of the Jersey Shore after rebuilding from their own disaster. Usually, this provides a small amount of lift in public attitudes, because in the modern age presidents are called upon to express the nation's sadness and grief whenever disaster strikes. It's a pretty sympathetic role to play, in other words. Obama also may have benefited from the continuing good news on the economy, as unemployment numbers continue to sink and the stock market continues to soar. Congress made news, as a comprehensive immigration bill made it out of a Senate committee, but it still has a long way to go before becoming law.
Countering these positive trends was, well, a whole bunch of stuff. Republicans kept pounding the Benghazi drum, but nobody paid a whole lot of attention. This was soon eclipsed by the IRS scandal and the AP/Fox News scandal, however. The Republicans latched onto the IRS mess, and the media latched onto the journalism/search warrant scandal, and between the two they sucked a lot of oxygen out of the political world last month.
Throughout it all, Obama's poll numbers barely budged. He lost 0.3 percent to finish at 48.3 percent average monthly approval, and his monthly disapproval average rose one-tenth of a percent to end up at 46.9 percent. For a scandal-packed month, that's pretty good. In fact, for any month that's amazingly stable -- you'd have to go back to June of last year to find a month where Obama's numbers moved less.
Overall Trends
The day-to-day trend for Obama, though, looks decidedly worse. Just going by the monthly numbers and Obama's resilience in the face of scandal might lead Obama fans to be fairly optimistic about next month. This would be a mistake. For the second half of May, Obama's numbers fluctuated from around 45 percent approval to a high of 53 percent in the polling. During the last few days of May, however, that 53 percent poll dropped off the rolling average, and Obama's poll numbers have already dropped significantly as a result. Obama hit both a daily low in approval for his second term and a daily high in disapproval on the last day of the month. His numbers fell "underwater" for the last three days of the month, ending with a daily average of 47.1 percent approval and 48.9 percent disapproval. That is a big difference from his monthly average, which means his numbers are going to start June on a low point. Which, in all likelihood, will mean a drop in his monthly numbers next month. So there are storm clouds on the horizon, no matter how calm things may have appeared in May.
Obama won't have a whole lot to counter this negative trend, either. Unemployment numbers come out this Friday, which may at least stop the slide for Obama, but will likely not boost his approval back up much, if at all. The big political issue for June on the calendar (other than Republicans gleefully investigating everything they can throw at the president) is the Senate's floor debate over the immigration bill. You'd think this might help Obama, but it will likely only generally put Democrats in a good light with the public, and expose some bitter feelings from Republicans. President Obama is largely staying out of the immigration debate, because he knows full well that if he is seen as interfering in Congress on this issue, it will automatically mean no Republican will vote for whatever he supports (see: the past five years). The only way Obama would even interject himself into the debate (other than saying generic things from the sidelines) is if he issued a veto threat on some Republican amendment which would kill the purpose of the bill. There will be many of these proposed on the Senate floor, so we'll see whether any of them merit Obama entering into the fray. The safe bet is that he won't, however, in the hopes of the Senate passing a bill before Independence Day.
So, barring unforeseen events, Obama may get a slight benefit from the background issues of the economy (especially if the unemployment number is good) and immigration, but it's doubtful that any of it will produce any sort of sudden surge in the polling. In fact, the safer bet is that Republicans are going to spend every waking moment on the scandals, which may have precisely the effect they wish: a drop in Obama's public approval.
[Obama Poll Watch Data:]
Sources And Methodology
ObamaPollWatch.com is an admittedly amateur effort, but we do try to stay professional when it comes to revealing our sources and methodology. All our source data comes from RealClearPolitics.com; specifically from their daily presidential approval ratings "poll of polls" graphic page. We take their daily numbers, log them, and then average each month's data into a single number -- which is then shown on our monthly charts here (a "poll of polls of polls," if you will...). You can read a much-more detailed explanation of our source data and methodology on our "About Obama Poll Watch" page, if you're interested.
Questions or comments? Use the Email Chris page to drop me a private note.
Obama's Second Term Statistical Records
Monthly
Highest Monthly Approval -- 1/13 -- 52.7%
Lowest Monthly Approval -- 5/13 -- 48.3%
Highest Monthly Disapproval -- 5/13 -- 46.9%
Lowest Monthly Disapproval -- 1/13 -- 42.6%
Daily
Highest Daily Approval -- 1/31/13 -- 52.5%
Lowest Daily Approval -- 5/31/13 -- 47.1%
Highest Daily Disapproval -- 5/31/13 -- 48.9%
Lowest Daily Disapproval -- 2/24/13 -- 42.3%
Obama's Second Term Raw Monthly Data
[All-time high in bold, all-time low underlined.]
Month -- (Approval / Disapproval / Undecided)
05/13 -- 48.3 / 46.9 / 4.8
04/13 -- 48.6 / 46.8 / 4.6
03/13 -- 48.5 / 46.3 / 5.2
02/13 -- 51.1 / 43.0 / 5.9
01/13 -- 52.7 / 42.6 / 4.7
Second Term Column Archives
[Apr 13], [Mar 13], [Feb 13], [Jan 13]
First Term Data
To save space, the only data and statistics listed above are from Obama's second term. If you'd like to see the data and stats from Obama's first term, including a list of links to the full archives of the Obama Poll Watch column for the first term, we've set up an Obama Poll Watch First Term Data page, for those still interested.
-- Chris Weigant
Cross-posted at The Huffington Post
Follow Chris on Twitter: @ChrisWeigant