[ Posted Tuesday, August 5th, 2014 – 15:42 UTC ]
Another bad month
President Obama had another bad month in the polls in July, although it wasn't as sharp a downturn as he experienced in June. That, and "he managed not to set any all-time or daily low points during the month" is about all that can be positively said. Without further ado, let's get to the new chart: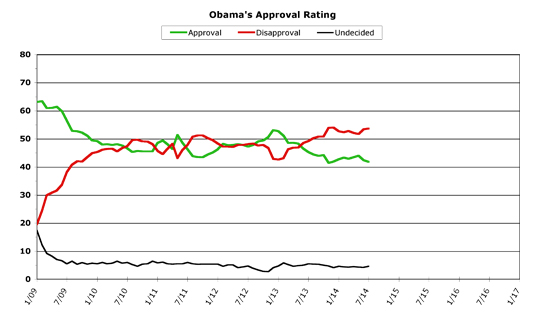 [Click on graph to see larger-scale version.]
July, 2014
July started out with some good economic news, as the job picture continues to improve and the economy showed signs of picking up steam. Unfortunately, this good domestic news was completely overshadowed by some serious developments on the international scene. The situation in Iraq did not improve in any way, but even this was eclipsed by other international crises. At the very start of July three Israeli teenagers were kidnapped and murdered, the fallout of which is still ongoing in the Gaza Strip. All month long the news from Israel and Palestine just got worse and worse (no matter which side you are on in the debate). John Kerry did what he could, but it turned out to be not very much. In addition to this, a civilian airliner was shot out of the sky in Eastern Ukraine, which dominated the news for the second half of the month. Granted, these disasters didn't have much to do with Obama, but that's what American television news viewers faced on a nightly basis, all month long -- which didn't help.
Back home, the "border crisis" was big news, as endless shots of pathetic unaccompanied children also dominated the airwaves. Congress, as usual, made a lot of noise about how immediate action was required, and then did precisely nothing all month long. John Boehner moved forward with his plans to sue the president, but that isn't going to become a big story for at least another few weeks, so it didn't have much impact (yet). The state of Washington started legal recreational marijuana sales (and the sky didn't fall), and the vaunted New York Times editorial page boldly came out for the federal legalization of marijuana. This is a political fight that most politicians refuse to even get involved with (Obama most definitely included), so it didn't have a whole lot of impact in the polls.
Overall, this translated into a drop in Obama's average monthly job approval rating, which fell 0.6 percent to hit 41.8 percent in July. While this is the lowest point it's been all year, it stands 0.4 percent above his all-time monthly low, which happened right after the Obamacare website rollout at the end of last year. Obama's average monthly job disapproval rating rose to a smaller degree, ending at 53.6 percent -- up only 0.2 percent from the previous month. But again, this also stands only 0.4 percent from Obama's all-time high in this category.
Overall Trends
The overall trends were a bit mixed. Obama didn't do as badly (comparatively) in July as he did in June, when his approval rate fell 1.6 percent and his disapproval rose 1.7 percent. Obama's drop in approval was not matched by the rise in disapproval, either, as 0.4 percent moved to the "undecided" column -- meaning they might be convinced to move back to approval (at least, easier than those in the disapproval column). But in total, his "underwater" measurement (disapproval minus approval) rose to an 11.8 percent gap, up from 11.0 percent the month before. Obama had managed to get this down to 7.7 percent before the last two months, so this is significant slippage.
One odd thing worth noting is the movement within the daily averages last month. Obama started July at 41.6 percent approval, which moved down (by the 10th) to 40.9 percent, but then rose to 42.7 percent by the 21st. The last third of the month was somewhat mixed, but still well above his monthly average. This could show some signs that Obama has bottomed out and his approval could begin recovery in August. Obama's approval number didn't move around much within the month, either, fluctuating only 1.8 percent (from the highest daily average to the lowest, in other words).
However, Obama's disapproval numbers showed more activity, some of which was contradictory to what was happening with his approval rate. Obama started out the month at 53.4 percent disapproval, which rose to 54.4 percent before falling down to 52.2 percent on the 20th. From that point on, though, this number rose sharply to end the month at a high of 55.3 percent. This all represents a much-bigger 3.1 percent range of movement -- a larger range of fluctuation than Obama's seen in either category since the Obamacare website fiasco. All this proves is that Obama's disapproval is a lot more volatile right now than his approval averages. This may point to a sharp uptick in disapproval in August, since overall Obama's disapproval average moved very little in July.
So again, across the board it was a rather bad month for Obama, comparatively. In absolute terms, Obama is getting very close to all-time records he set right after the Obamacare website rollout. It's really anyone's guess what will happen in August, since the data isn't all pointing in the same direction for future trends. Obama could flatten his numbers out, his numbers could take a big hit, or he might manage some small improvements. Augusts have not been kind to Obama, historically, but it is also the season where Congress is off on vacation, so Obama might be able to command center stage at some point during the month, in the media. It all remains to be seen. That's not much of a prediction, but it's the best I can do for the time being, sorry.
[Obama Poll Watch Data:]
Sources And Methodology
ObamaPollWatch.com is an admittedly amateur effort, but we do try to stay professional when it comes to revealing our sources and methodology. All our source data comes from RealClearPolitics.com; specifically from their daily presidential approval ratings "poll of polls" graphic page. We take their daily numbers, log them, and then average each month's data into a single number -- which is then shown on our monthly charts here (a "poll of polls of polls," if you will...). You can read a much-more detailed explanation of our source data and methodology on our "About Obama Poll Watch" page, if you're interested.
Questions or comments? Use the Email Chris page to drop me a private note.
Obama's Second Term Statistical Records
Monthly
Highest Monthly Approval -- 1/13 -- 52.7%
Lowest Monthly Approval -- 11/13 -- 41.4%
Highest Monthly Disapproval -- 12/13 -- 54.0%
Lowest Monthly Disapproval -- 1/13 -- 42.6%
Daily
Highest Daily Approval -- 1/31/13 -- 52.5%
Lowest Daily Approval -- 12/2/13 -- 39.8%
Highest Daily Disapproval -- 12/2/13 -- 55.9%
Lowest Daily Disapproval -- 2/24/13 -- 42.3%
Obama's Second Term Raw Monthly Data
[All-time high in bold, all-time low underlined.]
Month -- (Approval / Disapproval / Undecided)
07/14 -- 41.8 / 53.6 / 4.6
06/14 -- 42.4 / 53.4 / 4.2
05/14 -- 44.0 / 51.7 / 4.3
04/14 -- 43.4 / 52.1 / 4.5
03/14 -- 42.9 / 52.8 / 4.3
02/14 -- 43.3 / 52.3 / 4.4
01/14 -- 42.7 / 52.7 / 4.6
12/13 -- 41.9 / 54.0 / 4.1
11/13 -- 41.4 / 53.9 / 4.7
10/13 -- 44.2 / 50.8 / 5.0
09/13 -- 43.9 / 50.8 / 5.3
08/13 -- 44.4 / 50.2 / 5.4
07/13 -- 45.3 / 49.2 / 5.5
06/13 -- 46.5 / 48.5 / 5.0
05/13 -- 48.3 / 46.9 / 4.8
04/13 -- 48.6 / 46.8 / 4.6
03/13 -- 48.5 / 46.3 / 5.2
02/13 -- 51.1 / 43.0 / 5.9
01/13 -- 52.7 / 42.6 / 4.7
Second Term Column Archives
[Jun 14], [May 14], [Apr 14], [Mar 14], [Feb 14], [Jan 14], Dec 13], [Nov 13], [Oct 13], Sep 13], [Aug 13], [Jul 13], [Jun 13], [May 13], [Apr 13], [Mar 13], [Feb 13], [Jan 13]
First Term Data
To save space, the only data and statistics listed above are from Obama's second term. If you'd like to see the data and stats from Obama's first term, including a list of links to the full archives of the Obama Poll Watch column for the first term, we've set up an Obama Poll Watch First Term Data page, for those still interested.
-- Chris Weigant
Follow Chris on Twitter: @ChrisWeigant