[ Posted Tuesday, July 2nd, 2013 – 16:13 UTC ]
A big drop
Welcome back to our monthly review of President Obama's job approval polling numbers. This is going to be an abbreviated version of our normal column, because it got squeezed out of the Monday slot by the 150th anniversary of the Battle of Gettysburg, so apologies for this month's brevity in advance. June wasn't a particularly good month for Obama's numbers -- in fact it was a fairly bad month for him, as his numbers went "underwater" for the first time in his second term. Let's take a look at this month's chart: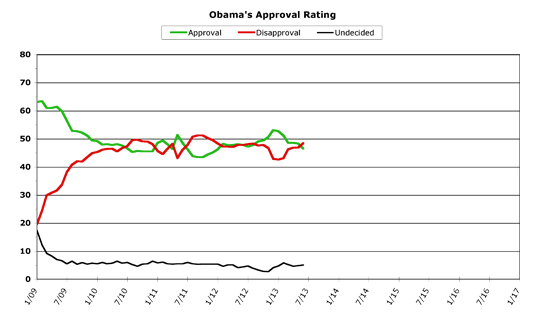 [Click on graph to see larger-scale version.]
June, 2013
Last month, this column predicted that stormy days were ahead for Obama's poll numbers, and this indeed turned out to be the case. While there was news on the legal front all month long (beginning with Eric Holder throwing in the towel on the "Plan B" morning-after pill fight, and ending with some momentous Supreme Court decisions), it didn't do much for Obama in the polling, up or down.
But June was when the scandals and leaks all seemed to catch up to Obama in the polling. The Eric Snowden N.S.A. leak story dominated the news cycles all month long, and Obama couldn't do much more than seethe in frustration as Snowden led the media on a foreign adventure (or at least that's how it got reported).
While the public was busy digesting the major Supreme Court action on the Voting Rights Act and gay marriage, the immigration bill in the Senate managed a big victory with a final 68-32 vote. This story has so far not been getting a whole lot of attention by the mainstream media, but it will continue to be in the background all summer long (that's my guess, at any rate).
For the month, Obama's monthly job approval average fell to 46.5 percent, a drop of 1.8 points. His average disapproval reflected this movement, rising 1.6 points to finish at 48.5 percent. This ends the nine-month run Obama has had above water (when approval polling is better than disapproval), as he falls to 2.0 percent below the polling waves -- the first time he's been upside-down since August of 2012.
Overall Trends
The overall trends aren't particularly good for Obama fans. Obama did rally at the beginning of June, to spend three days above water, but the entire rest of the month was underwater territory. And his numbers seemed to be on a more-gradual downward trend towards the end of the month. Which means the safe money is on Obama's numbers slipping even more next month, although possibly bottoming out (the trendline is flattening, in other words).
In July, there are a few opportunities for Obama to improve his numbers. The first thing he could champion is getting the student loan rates back down -- Congress ignobly slunk out of town and missed a deadline, leading to a doubling of the interest rate charged. They can (and should) fix this retroactively, but Obama would do himself some good by publicly shaming Congress into action in the intervening time. The House may debate immigration bills throughout July, which Obama is not going to get in the middle of, so this may have a limited effect on the president's approval numbers. This month's unemployment number could help Obama out if it is positive, but then again that could go either way.
So, realistically, a good outcome in July would be if Obama stopped the slide in his numbers and flattened out the lines. If he can bottom out, and start bringing his numbers back up, that'll be about as good as he can expect next month (barring any unforeseen events). But, as I said, the safe bet is that Obama's numbers will go down a bit more next month before they have a chance to get better.
[Obama Poll Watch Data:]
Sources And Methodology
ObamaPollWatch.com is an admittedly amateur effort, but we do try to stay professional when it comes to revealing our sources and methodology. All our source data comes from RealClearPolitics.com; specifically from their daily presidential approval ratings "poll of polls" graphic page. We take their daily numbers, log them, and then average each month's data into a single number -- which is then shown on our monthly charts here (a "poll of polls of polls," if you will...). You can read a much-more detailed explanation of our source data and methodology on our "About Obama Poll Watch" page, if you're interested.
Questions or comments? Use the Email Chris page to drop me a private note.
Obama's Second Term Statistical Records
Monthly
Highest Monthly Approval -- 1/13 -- 52.7%
Lowest Monthly Approval -- 6/13 -- 46.5%
Highest Monthly Disapproval -- 6/13 -- 48.5%
Lowest Monthly Disapproval -- 1/13 -- 42.6%
Daily
Highest Daily Approval -- 1/31/13 -- 52.5%
Lowest Daily Approval -- 6/(20, 21, 29)/13 -- 45.6%
Highest Daily Disapproval -- 6/17/13 -- 49.6%
Lowest Daily Disapproval -- 2/24/13 -- 42.3%
Obama's Second Term Raw Monthly Data
[All-time high in bold, all-time low underlined.]
Month -- (Approval / Disapproval / Undecided)
06/13 -- 46.5 / 48.5 / 5.0
05/13 -- 48.3 / 46.9 / 4.8
04/13 -- 48.6 / 46.8 / 4.6
03/13 -- 48.5 / 46.3 / 5.2
02/13 -- 51.1 / 43.0 / 5.9
01/13 -- 52.7 / 42.6 / 4.7
Second Term Column Archives
[May 13], [Apr 13], [Mar 13], [Feb 13], [Jan 13]
First Term Data
To save space, the only data and statistics listed above are from Obama's second term. If you'd like to see the data and stats from Obama's first term, including a list of links to the full archives of the Obama Poll Watch column for the first term, we've set up an Obama Poll Watch First Term Data page, for those still interested.
-- Chris Weigant
Follow Chris on Twitter: @ChrisWeigant