[ Posted Tuesday, July 1st, 2014 – 16:06 UTC ]
Downturn
President Barack Obama's poll numbers took a serious downturn in June, which essentially wiped out the progress he's made in the public's opinion since the beginning of the year. There's no real way to sugarcoat it: Obama had a bad month last month. About the only positive thing that can be said is that it wasn't his worst month ever -- but that's not really saying much, is it?
Let's start by taking a look at the chart.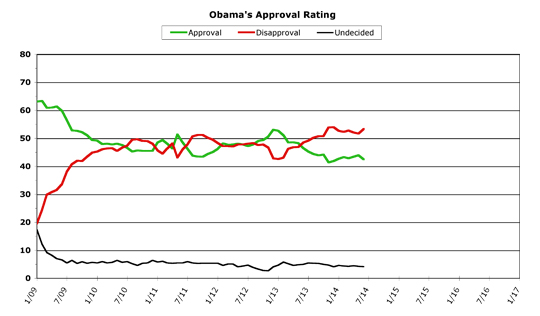 [Click on graph to see larger-scale version.]
June, 2014
At the start of last month, Obama's monthly job approval had climbed back up to where he was before the Obamacare website rollout disaster, last October. He seemed on a steady (but rather slow) increase. But in June, this all reversed.
June started out with some fairly good news on the jobs front, but later in the month it was revealed just how terrible the economy did as a whole for the first quarter of the year (down by 2.9 percent -- a major drop), so even on economic news the month wasn't a great one for the president.
In both domestic and foreign policy, June saw a steady drumbeat of bad news. What seemed to be pretty good news at the end of May turned sour, when Republicans fanned the flames of outrage over the prisoner swap with the Taliban. The questions surrounding the American servicemember's capture plus the five-for-one deal were all attacked by Obama's political opponents. The scandal at the VA hospitals didn't really get worse (as Shinseki was already gone when June began), but the hard numbers showing the scope of the scandal were revealed in several reports during the month. While the Republicans in Congress were busily trying to gin up other scandals to hit Obama with, everyone soon agreed that the VA scandal wasn't just political opportunism -- there are real problems which run deep and broad throughout the VA system which need to be fixed. At least four other top VA officials lost their jobs during the month, although Obama's announcement of a new appointee to run the VA (at the very end of June) may help stem the tide in the future. Obama also got handed a few defeats at the Supreme Court during the month (June is a big month for Supreme Court decisions to be handed down), and even the good news from the court didn't amount to total victories (the EPA, for instance, won the right to regulate something like 97 percent of the emissions it was trying to, but lost on one technical aspect). In the previous two years, Obama won some big decisions at the end of the court's term (on Obamacare and on gay marriage), but that scenario didn't really come to pass this year. Domestic political news mostly focused on the struggle within the Republican Party, which didn't really affect the public's view of Obama much. The only Democrat making waves with the inside-the-Beltway set was Hillary Clinton, who started her book tour -- again, which didn't reflect much on Obama one way or another.
The cumulative effect of all this bad news helped drive Obama's job approval numbers down, but what probably influenced public opinion more than the rest was the deterioration of the situation in Iraq. The public's own feelings about Iraq are conflicted (as indicated in polling on the subject), to be sure. Most Americans agree that the initial decision to go to war was a big mistake (no matter what Dick Cheney says now), and most feel strongly that America should not send ground forces back in. At the same time, however, they don't feel all that great about Obama, even though he's doing exactly what the majority wants him to do (keep us out of it, this time around). It's post-Vietnam syndrome writ large, in fact: we know the war was a big mistake, we don't want to go back in, but we feel bad about the waste of life and money it took for us all to realize this (again, I'm not just guessing, all of this is backed up by polling). There was one bit of good news on the foreign policy front (Syria completed its removal of all declared chemical weapons), but it was buried in the wave of bad news.
All of these news stories took a heavy toll on Obama's job approval rating. Obama's average monthly approval fell 1.6 percent to wind up at 42.4 percent for June. His disapproval monthly average rose a corresponding 1.7 percent to end up at 53.4 percent. This essentially puts Obama back where he was between December of last year and January of this year -- wiping out all of the gains he's made for the entire year. About the only silver lining is that Obama has not fallen to his absolute lowest point, as his numbers are still above his all-time low (which he hit in November, 2013 for his approval, and December for disapproval). Still, he charted his third-worst month ever, so even that silver lining is small comfort, at this point.
Overall Trends
The overall trends were pretty bad in June, too. The magnitude of the drop in Obama's poll numbers wasn't as great as other bad months he's had (his worst absolute month ever -- not counting the slide down after his initial honeymoon period -- saw a drop of 2.9 percent, which puts June in a bit of perspective). But the impact of June's drop was indeed large, as you can see when we expand the chart to see more detail: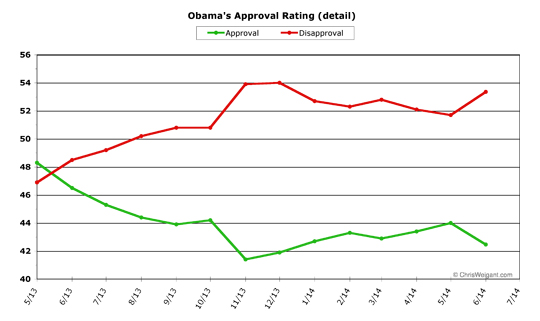 [Click on graph to see larger-scale version.]
As you can see, all Obama's gains from December onwards have now been erased. More important is the change in trend, though -- Obama's charted five positive months out of the previous six, but it was all eradicated by one bad month in June. The only "good" news was that he didn't hit rock bottom -- he didn't chart a new all-time high or low in either his monthly or his daily average numbers. But while he had struggled back from being 12.5 percent "underwater" (disapproval number minus approval, in other words) to being only 7.7 percent down before last month, this shot back up to 11.0 percent in June. Which means that even if Obama now manages to turn the tide of public opinion back to a positive trend, he's got a long ways to go before he breaks even again.
Obama's numbers dropped pretty steadily throughout the month of June, hitting his daily high for the month (approval) and his daily low (disapproval) on the first day of June. His numbers changed (for both approval and disapproval) an absolute total of 2.2 percent during the month, as he hit a daily low of 41.5 percent approval and a daily high of 54.1 percent disapproval by the 24th of June. Since then, his numbers have shown some improvement, but it's way too early to say this is a turnaround in trend for him yet. He could (at the very least) stabilize his numbers in July (especially as there is one extreme outlier poll which will drop out of the rolling average in early July), but even that is not assured at this point.
But while June was a bad month for Obama, it wasn't as bad as some are trying to make it out to be. Here is a detail chart which shows where Obama and George W. Bush were, at this point into their second terms: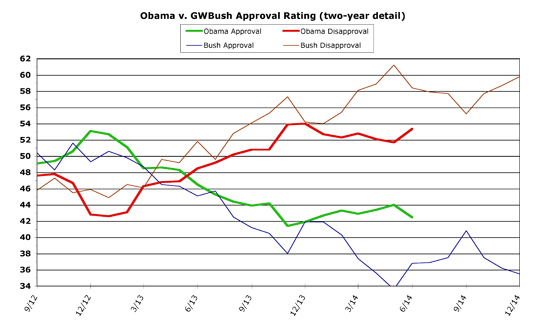 [Click on graph to see larger-scale version.]
As you can clearly see, Obama is nowhere near as badly off as Bush was, at this point. In June, Bush's numbers were 36.8 percent approval and 58.4 percent disapproval, which followed a month where he only managed a 33.6 percent approval and he charted a whopping 61.2 percent disapproval. Bush managed to climb back, later in the year, to an approval rating just over 40 percent, but that would be the last time he ever saw such highs, as you can see in the full comparison chart between the two presidents: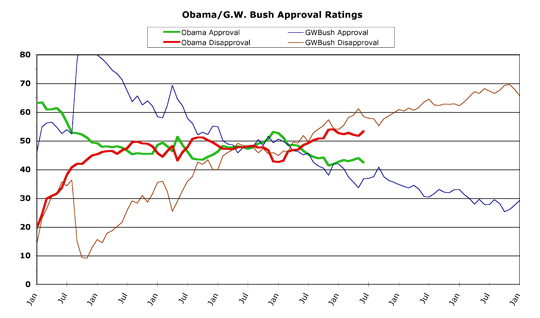 [Click on graph to see larger-scale version.]
So, like I said, things could certainly be a lot worse. But they certainly could be a lot better, too. Obama could still fall as far as Bush, given the fact that he's still got over two years in the job to go.
But the one overall trend to watch for the next few months may be the House Republicans announcing that they're going to politically overreach in a big way. If John Boehner really follows through on his threat to sue President Obama, then Obama could see a strong surge of support from the public. Bill Clinton's approval shot up to over 60 percent in the year he was impeached (steadily over 60, for the entire year) -- the highest marks he ever got as president. Obama could -- and I stress the word could -- see a similar backlash from the vast center of the public who don't pay a whole lot of attention to politics, but who also do react when they see one party using ridiculous methods in their political overreach.
If Boehner does move forward and file a lawsuit -- especially before the midterm elections -- he could actually become the savior of Obama's poll numbers. That would indeed be an ironic outcome (and if it comes to pass, you can say you heard it here first), but it is in no means guaranteed. There are a number of possible outcomes, after all. Boehner could make a lot of smoke and noise, but then not actually file a lawsuit; Boehner could file the lawsuit and the disinterested middle of the American public could wind up agreeing with the Republican position; or it could wind up having not much effect one way or the other. About the only conclusion, trend-wise, that can now be drawn is: time will tell. That's a weak way to end this column, but if Boehner does go ahead in the next few months, then we won't have to wait all that long to see.
[Obama Poll Watch Data:]
Sources And Methodology
ObamaPollWatch.com is an admittedly amateur effort, but we do try to stay professional when it comes to revealing our sources and methodology. All our source data comes from RealClearPolitics.com; specifically from their daily presidential approval ratings "poll of polls" graphic page. We take their daily numbers, log them, and then average each month's data into a single number -- which is then shown on our monthly charts here (a "poll of polls of polls," if you will...). You can read a much-more detailed explanation of our source data and methodology on our "About Obama Poll Watch" page, if you're interested.
Questions or comments? Use the Email Chris page to drop me a private note.
Obama's Second Term Statistical Records
Monthly
Highest Monthly Approval -- 1/13 -- 52.7%
Lowest Monthly Approval -- 11/13 -- 41.4%
Highest Monthly Disapproval -- 12/13 -- 54.0%
Lowest Monthly Disapproval -- 1/13 -- 42.6%
Daily
Highest Daily Approval -- 1/31/13 -- 52.5%
Lowest Daily Approval -- 12/2/13 -- 39.8%
Highest Daily Disapproval -- 12/2/13 -- 55.9%
Lowest Daily Disapproval -- 2/24/13 -- 42.3%
Obama's Second Term Raw Monthly Data
[All-time high in bold, all-time low underlined.]
Month -- (Approval / Disapproval / Undecided)
05/14 -- 42.4 / 53.4 / 4.2
05/14 -- 44.0 / 51.7 / 4.3
04/14 -- 43.4 / 52.1 / 4.5
03/14 -- 42.9 / 52.8 / 4.3
02/14 -- 43.3 / 52.3 / 4.4
01/14 -- 42.7 / 52.7 / 4.6
12/13 -- 41.9 / 54.0 / 4.1
11/13 -- 41.4 / 53.9 / 4.7
10/13 -- 44.2 / 50.8 / 5.0
09/13 -- 43.9 / 50.8 / 5.3
08/13 -- 44.4 / 50.2 / 5.4
07/13 -- 45.3 / 49.2 / 5.5
06/13 -- 46.5 / 48.5 / 5.0
05/13 -- 48.3 / 46.9 / 4.8
04/13 -- 48.6 / 46.8 / 4.6
03/13 -- 48.5 / 46.3 / 5.2
02/13 -- 51.1 / 43.0 / 5.9
01/13 -- 52.7 / 42.6 / 4.7
Second Term Column Archives
[May 14], [Apr 14], [Mar 14], [Feb 14], [Jan 14], Dec 13], [Nov 13], [Oct 13], Sep 13], [Aug 13], [Jul 13], [Jun 13], [May 13], [Apr 13], [Mar 13], [Feb 13], [Jan 13]
First Term Data
To save space, the only data and statistics listed above are from Obama's second term. If you'd like to see the data and stats from Obama's first term, including a list of links to the full archives of the Obama Poll Watch column for the first term, we've set up an Obama Poll Watch First Term Data page, for those still interested.
-- Chris Weigant
Follow Chris on Twitter: @ChrisWeigant