[ Posted Tuesday, December 3rd, 2013 – 17:23 UTC ]
Rock bottom
November was either a very bad month for President Obama in job approval polling, or his worst month ever. Take your choice.
I realize neither one is very palatable for Obama fans, but November was just brutal for the president. The ongoing nature of the Obamacare website problems just overwhelmed everything else this month.
Well, best 'twere done quickly, I suppose, so let's get right to the chart: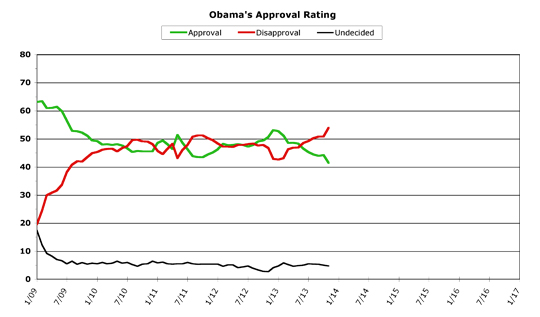 [Click on graph to see larger-scale version.]
November, 2013
Barack Obama charted the worst numbers of his entire time in office in November of 2013. There's just no other way to put it.
Even the photo-op moments of the month weren't exactly cheerful, as the nation marked the milestone anniversaries of a famous speech given to dedicate a graveyard of thousands of bodies from the Civil War, and the last assassination of a United States president. Somber moments of reflection rather than celebrations, in other words.
The only real good news for Obama in November was that the Obamacare website didn't get appreciably worse than it was in October. But it was pretty awful in October, so this really isn't saying all that much. The Republican talking point shifted to lean on the "Obama lied!" theme, which is a tough one for any president to have to face up to. Obama did try, to his credit, to do so. But that sort of thing (no matter how successful) only goes so far.
The only other political stories in the past month were a bit detached from Obama himself, and even more detached from the public's interest. The "nuclear option" story in the Senate was heartily cheered by the progressives who pay attention to such arcana, but most Americans didn't even notice the story at all. The temporary agreement reached with Iran on the nuclear question was big news in the foreign policy department, but again not too many Americans were paying that much attention. If a final deal is reached in six months, it may register a bit more, but for now it's passing under most folks' radar.
But the big story that kept on doing damage to Obama's approval rating was, of course, the Obamacare website's continued woes. For the month, Obama's monthly average job approval rating hit the all-time low of 41.4 percent, and his disapproval average hit the all-time high of 53.9 percent. In fact, Obama hit all-time records across the board -- and not just limited to his second term. His daily approval average hit an all-time low of 40.1 percent, and his daily disapproval average hit 55.6 percent.
Obama's previous lows and highs in these categories were all charted in (or just before) October of 2011, for comparison. In that month, Obama charted 43.4 percent average monthly approval and a daily low of 42.0 percent. He also stayed for two months (including September, 2011) at the monthly average disapproval rate of 51.2, although his worst daily average disapproval had hit 53.2 at the end of August of that year.
Overall Trends
My only consolation is that I predicted this month fairly accurately in last month's column. Towards the end, I prophesied:
But Obama's got at least two or three more weeks of "This just in: website still sucks" headlines to get through before then. What that could mean for his polling is pretty obvious -- a downturn which might indeed hit the lowest monthly polling number Obama's ever received (43.4 approval, 51.2 disapproval, in October of 2011). It's going to be a rough month, in other words. If the website finally starts reliably working, then Obama's got a good shot at improving in December, but not before he gets through the rest of this month first.
The overall trends are still pretty bad, at this point. November wasn't just bad for Obama, it was consistently bad. He started the month with a lower daily approval than his October monthly average, and then went downhill from there. The November number doesn't reflect all of this downward momentum, since it is a monthly average. But by the end of the month, Obama's daily approval was scraping 40.0 percent, which is not a very happy place to be in for any politician.
Obama's monthly average dropped 2.8 percentage points from October, and his disapproval rose 3.1 percent. Those are significant numbers, as they represent the fourth-worst month he's ever seen. On the daily scale, Obama's disapproval number hit a high that was a full 4.0 points worse than the month before. The measure of how "underwater" his polling is (disapproval minus approval) hit double digits for the first time ever, ending with a 12.5 point gap.
Even taking Obama's numbers over the course of a year isn't any help. Obama's on track to either have his worst year ever in public opinion polling, or perhaps just tie his previous worst year record. In his first two years in office, Obama only charted three monthly gains per year in his average monthly approval numbers. So far this year, he has only managed two months of improvement.
President Obama can turn this tide around, and he may have already begun to do so. The expected announcement that the website is fixed has been made, and people are flocking back to check out the health insurance exchanges before the December deadline arrives. Most of them seem to be having a fairly good experience, although it is still too early to render any sort of judgment yet. Unemployment numbers should be released at the end of this week, and if they are as good as some are expecting, this could help Obama turn things around with the public. There may (or may not) be another miniature budget showdown in mid-December, and the more intransigent the Republicans look, the better it always is for Obama in the polling. The Senate should begin moving on many of Obama's nominees, which will give his base something to feel good about. And as the website's problems fade, America will start focusing on the Obamacare system itself, rather than just hearing endless "process" stories about a broken website.
All of this could help Obama's public outlook. Congress isn't likely to do much of anything beyond perhaps a limited budget agreement, so the distractions may be few during December. But he does have a long way to go to turn his numbers around. Right after the government shutdown in October, he was regularly seeing approval ratings in the high 40s and even low 50s. Now, he is seeing numbers in the low 40s and high 30s. That's how fast things can change, but anything more than cautious optimism would be unrealistic at this point.
[Obama Poll Watch Data:]
Sources And Methodology
ObamaPollWatch.com is an admittedly amateur effort, but we do try to stay professional when it comes to revealing our sources and methodology. All our source data comes from RealClearPolitics.com; specifically from their daily presidential approval ratings "poll of polls" graphic page. We take their daily numbers, log them, and then average each month's data into a single number -- which is then shown on our monthly charts here (a "poll of polls of polls," if you will...). You can read a much-more detailed explanation of our source data and methodology on our "About Obama Poll Watch" page, if you're interested.
Questions or comments? Use the Email Chris page to drop me a private note.
Obama's Second Term Statistical Records
Monthly
Highest Monthly Approval -- 1/13 -- 52.7%
Lowest Monthly Approval -- 11/13 -- 41.4%
Highest Monthly Disapproval -- 11/13 -- 53.9%
Lowest Monthly Disapproval -- 1/13 -- 42.6%
Daily
Highest Daily Approval -- 1/31/13 -- 52.5%
Lowest Daily Approval -- 11/28-30/13 -- 40.1%
Highest Daily Disapproval -- 11/28,30/13 -- 55.6%
Lowest Daily Disapproval -- 2/24/13 -- 42.3%
Obama's Second Term Raw Monthly Data
[All-time high in bold, all-time low underlined.]
Month -- (Approval / Disapproval / Undecided)
11/13 -- 41.4 / 53.9 / 4.7
10/13 -- 44.2 / 50.8 / 5.0
09/13 -- 43.9 / 50.8 / 5.3
08/13 -- 44.4 / 50.2 / 5.4
07/13 -- 45.3 / 49.2 / 5.5
06/13 -- 46.5 / 48.5 / 5.0
05/13 -- 48.3 / 46.9 / 4.8
04/13 -- 48.6 / 46.8 / 4.6
03/13 -- 48.5 / 46.3 / 5.2
02/13 -- 51.1 / 43.0 / 5.9
01/13 -- 52.7 / 42.6 / 4.7
Second Term Column Archives
[Oct 13], Sep 13], [Aug 13], [Jul 13], [Jun 13], [May 13], [Apr 13], [Mar 13], [Feb 13], [Jan 13]
First Term Data
To save space, the only data and statistics listed above are from Obama's second term. If you'd like to see the data and stats from Obama's first term, including a list of links to the full archives of the Obama Poll Watch column for the first term, we've set up an Obama Poll Watch First Term Data page, for those still interested.
-- Chris Weigant
Follow Chris on Twitter: @ChrisWeigant