[ Posted Thursday, September 5th, 2013 – 16:00 UTC ]
Dog days of August
For President Obama, August is the cruelest month. Every year, without fail, Obama slumps in the polls in the dog days of summer. This year was no different. That's the bad news, for Obama fans. The worse news is that there isn't a whole lot on the immediate horizon which could give Obama any sort of bump upwards in his polling numbers. But before we get to the future, let's take a look at the past month.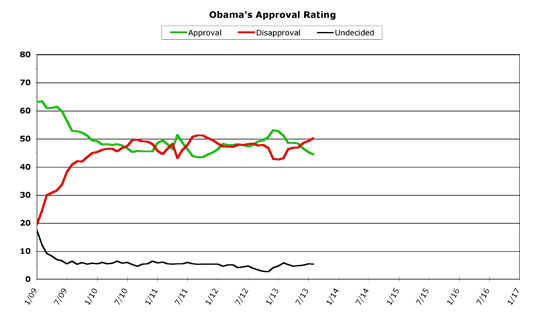 [Click on graph to see larger-scale version.]
August, 2013
August is traditionally "Silly Season" in politics, because Congress decamps for sunnier pastures and political pundits are left to their own devices, manufacturing stories out of nothing more than sheer boredom. Although this year, surprisingly, there wasn't a whole lot of silliness out there.
The biggest "dog that didn't bark" this year was the expected town hall ugliness over immigration reform. Many (myself included) were predicting this would be a huge arguing point for the public, especially those living in Republican districts. But it never really materialized. However, this shouldn't be taken as a sign that immigration reform's chances got better (or worse, for that matter), as the conventional wisdom is now that the House isn't even going to get around to discussing it until October, at the earliest.
The historic semicentenary of the March On Washington For Jobs And Freedom was marked in Washington, and while quite a number of Democrats turned out to celebrate the 50th anniversary of Martin Luther King's "I Have A Dream" speech, zero Republicans turned up (even though all of Congress was invited).
The Justice Department announced the beginning of the end of the War On (Some) Drugs, both by pulling back on mandatory minimum sentencing and by allowing the states of Colorado and Washington to go ahead and legalize recreational marijuana.
August started with good news, as the unemployment number fell to 7.4 percent -- the lowest it has been during Obama's presidency.
But none of this did Obama any good at the polls. Obama's monthly average job approval rating fell almost a full point to end the month at 44.4 percent, while his monthly average disapproval number climbed a whole point to 50.2 percent -- dangerous territory, indeed. Obama is now only one point removed from his all-time lowest monthly ranking of October, 2011, where he stood at 43.4 percent approval and 51.2 percent disapproval.
Overall Trends
I do have one technical note on Obama's low numbers, though. The presidential polling universe (at least the one that Real Clear Politics uses) has changed in the past few months, which has contributed to Obama's lower monthly averages. Up until this summer, major media outlets (mostly television networks and major newspapers) have polled the public roughly once a month, while two polling operations (Gallup and Rasmussen) conducted "rolling daily averages" where they are just polling all the time, and adjusting their numbers daily based on the past few days' worth of data. The change has been that two polling operations are now conducting weekly polls (or, perhaps, Real Clear Politics has just started adding their numbers into their "poll of polls" average). But the poll numbers from Reuters/Ipsos and Economist/YouGov seem skewed towards the lower end. They are rather consistently three to five points lower than most of the other polling.
This normally wouldn't have that much of an effect (which is why polls are averaged in the first place), since they'd be single outlier numbers in a cloud of other data. But Real Clear Politics has been overemphasizing the data. For the two daily polling numbers, each day's data is used in the average, but older data is removed (so that in a month there aren't 30 data points from Rasmussen and Gallup, which would overwhelm all the other polling). But Real Clear Politics has not been doing the same thing with the new weekly polls -- they seem to be charted as data points every week -- making them four times weightier than the monthly polling conducted by other organizations.
I'm hoping that Real Clear Politics realizes the problem and corrects it sometime in the near future, otherwise we may consider using other data sources (such as Pollster.com) which paint a more accurate picture of the current public polling.
Even having said all of that, the trend for Obama's numbers doesn't look good. In fact, it closely resembles that of another president's: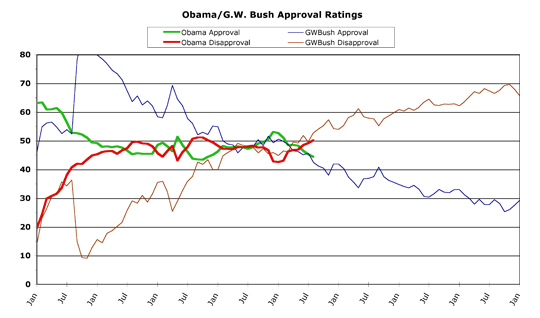 [Click on graph to see larger-scale version.]
Now, George W. Bush was in a tailspin at this point of his presidency that he quite obviously never recovered from. Obama doesn't have the same situation (an out-of-control war with Iraq) and it's a fair bet that he wouldn't stand idly by and watch an entire American city drown, either. So Obama stands a much better chance of recovering than Bush did, at this point in his second term.
Unfortunately, this likely isn't going to happen soon. The next few months have a lot of things which could drag Obama's numbers down, such as the Syria mess and the inevitable budget bickering which will happen immediately afterwards. Some Tea Partiers are still threatening to shut the government down at the end of the month, or perhaps in September when the debt ceiling is hit. It doesn't look like immigration reform's going to move until all of that happens, and no guarantee it will actually move even after the budget battles.
The Obamacare exchanges will be opening at the beginning of next month, and it's a sure bet the opponents will go apoplectic as a direct result. By doing so, they are proving the weakness of their own convictions -- if Obamacare is doomed to fail, after all, why do they even need to attempt to destroy it? -- but this is a little too much nuance for most people to see.
The only thing which could boost Obama's numbers is continued good news on the economic front. Tomorrow the unemployment number for August is due out, and the auto industry seems to be going gangbusters, so perhaps more good news will appear. At some point approximately a month from now, the official federal budget deficit for 2013 will be announced, and every indication shows that it has dramatically fallen -- meaning Obama can then accurately say he has delivered on his promise to cut the deficit in half. But even rosy economic numbers will likely have limited impact on Obama's job approval numbers, as they are more likely to be overshadowed by the situation with Syria -- where Obama's attack plan is widely unpopular -- and with the gigantic struggle over the budget. So September may be a grim month, approval-wise, for the president.
[Obama Poll Watch Data:]
Sources And Methodology
ObamaPollWatch.com is an admittedly amateur effort, but we do try to stay professional when it comes to revealing our sources and methodology. All our source data comes from RealClearPolitics.com; specifically from their daily presidential approval ratings "poll of polls" graphic page. We take their daily numbers, log them, and then average each month's data into a single number -- which is then shown on our monthly charts here (a "poll of polls of polls," if you will...). You can read a much-more detailed explanation of our source data and methodology on our "About Obama Poll Watch" page, if you're interested.
Questions or comments? Use the Email Chris page to drop me a private note.
Obama's Second Term Statistical Records
Monthly
Highest Monthly Approval -- 1/13 -- 52.7%
Lowest Monthly Approval -- 8/13 -- 44.4%
Highest Monthly Disapproval -- 8/13 -- 50.2%
Lowest Monthly Disapproval -- 1/13 -- 42.6%
Daily
Highest Daily Approval -- 1/31/13 -- 52.5%
Lowest Daily Approval -- 8/9-10/13 -- 43.6%
Highest Daily Disapproval -- 8/12/13 -- 51.2%
Lowest Daily Disapproval -- 2/24/13 -- 42.3%
Obama's Second Term Raw Monthly Data
[All-time high in bold, all-time low underlined.]
Month -- (Approval / Disapproval / Undecided)
07/13 -- 44.4 / 50.2 / 5.4
07/13 -- 45.3 / 49.2 / 5.5
06/13 -- 46.5 / 48.5 / 5.0
05/13 -- 48.3 / 46.9 / 4.8
04/13 -- 48.6 / 46.8 / 4.6
03/13 -- 48.5 / 46.3 / 5.2
02/13 -- 51.1 / 43.0 / 5.9
01/13 -- 52.7 / 42.6 / 4.7
Second Term Column Archives
[July 13], [June 13], [May 13], [Apr 13], [Mar 13], [Feb 13], [Jan 13]
First Term Data
To save space, the only data and statistics listed above are from Obama's second term. If you'd like to see the data and stats from Obama's first term, including a list of links to the full archives of the Obama Poll Watch column for the first term, we've set up an Obama Poll Watch First Term Data page, for those still interested.
-- Chris Weigant
Follow Chris on Twitter: @ChrisWeigant