[ Posted Thursday, November 6th, 2014 – 17:44 UTC ]
A Surprisingly Good Month
This may come as a surprise to some, especially after Tuesday's election results, but President Obama actually had a rather good October in his job approval polling.
Now, I realize that this is really no more than a side issue this week (of all weeks), but we're already overdue for the poll-watching this month, so bear with me. I realize that the biggest "poll" was the election, but this column has always focused solely on creating a monthly average of the public opinion polling on Obama's job approval. Where, as I said, Obama had a pretty good month. Let's take a look at the chart.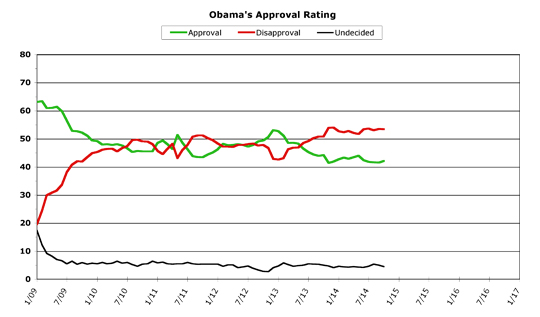 [Click on graph to see larger-scale version.]
October, 2014
The news media spent the first half of October absolutely freaking out over Ebola, which had the obviously-intended effect of also freaking out a large slice of the population, causing them to pay more attention to the news media (see how that works?). The mainstream media then got bored with the story and dropped it (because the predicted millions of deaths never seemed to materialize), and moved on to covering the midterm elections, which dominated the last half of the month. It's rare to summarize an entire month so easily, but it really was a two-story month. Even the war with the Islamic State got short shrift.
Obama's job approval rating benefited from a "rally 'round the president" effect, perhaps due to the new war, and perhaps due to the Ebola panic. This bumped his numbers up at the beginning of the month, but only briefly. For the entire month, Obama wound up improving his monthly average job approval rating to 42.1 percent, a jump of 0.6 percent from September. His monthly average job disapproval rating fell to 53.4 percent, a more modest gain of only 0.1 percent for the president. To put it in perspective, however, this was the first month Obama made gains in both categories since May, and only the fifth time this year he's managed to do so. Obama's monthly average approval rating hasn't been above 42.0 percent since June, for more perspective.
Overall Trends
President Obama was not actually in the news much in October. The Ebola story centered on federal agencies and state executives much more than the White House, and then during the end of the midterm election season, few Democrats invited Obama to campaign with them.
Obama's job approval ratings went through a slow sine wave in October. They rose significantly at the beginning of the month to hit an average of 43.3 percent in the first week -- significant because Obama hasn't charted a daily average above 43.0 percent since June. This bump was short-lived, though, and his daily average fell down to 41.2 percent late in October. By the end of the month, he had risen back to almost match where he had started (Obama started October at 42.2 percent, he ended at 42.0 percent). This wave is partially explained by how RealClearPolitics does their own daily averages (they factor in roughly the past two weeks of polling), but not entirely. All month long, Obama was still averaging about a half a percent better than the previous month. His average began at 0.7 percent better, went up to 1.3 percent better, and then fell back to 0.6 percent better, showing improvement over September all month long.
Obama's disapproval ratings followed a reverse trajectory. Starting at a 53.4 percent job disapproval daily average, Obama's numbers fell to 52.3 percent then rose again to 54.7 percent before ending the month precisely where he started, at 53.4 percent. Unlike his approval rating, however, this didn't signify much of a change from last month. Obama started the month with a 0.1 percent gain, got up to a 0.7 percent improvement, but then fell back to only the 0.1 percent he started with. Still, his numbers remained positive all month long, and never fell to the negative range at all.
Since we haven't done it in a while, here's a detail chart to show approximately the past year for Obama's ratings: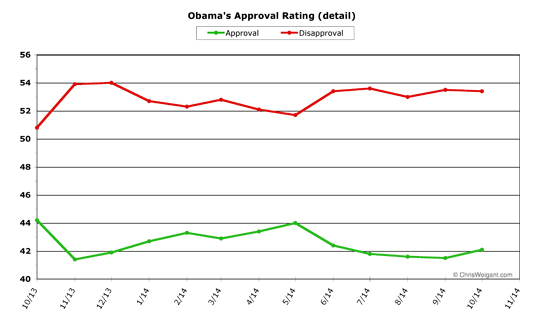 [Click on graph to see larger-scale version.]
Looking for future trends is tough this month, because a sine wave doesn't really show much of any clear trends. One pretty safe bet is that Obama will be more prominent in the news in the next few months (at least, more prominent than he was in October). But the sparks aren't really going to fly much during the lame-duck session of Congress, they'll largely begin in January of next year when the new Congress is seated.
There is one major exception to this, however: immigration. Obama's long-promise (and oft-delayed) executive action on immigration reform looms large. Nobody outside of the White House knows when it'll happen, but if it does it will occur in the next two months (Obama's latest promise was "before the end of the year").
President Obama has already signaled he is going to act. In the press conference after the midterm election, he specifically said he's still going to act. What his action will encompass is another open question -- how big will Obama go? Whatever new policy he announces, however, it is guaranteed to be big news. As will the Republican apoplexy which will immediately and inevitably follow.
How this will play out in the court of public opinion is anyone's guess. Will Obama alienate independent voters by changing deportation policy? Will he regain support from Latinos who have been disgusted at the political delays in the new policy? These two trends will try to counteract each other, but it's likely that Obama's polling will see an effect no matter which way it turns. My guess is that the announcement will come just prior to either Thanksgiving or Christmas, to capitalize politically on the feelings of family and good cheer in the populace.
[Obama Poll Watch Data:]
Sources And Methodology
ObamaPollWatch.com is an admittedly amateur effort, but we do try to stay professional when it comes to revealing our sources and methodology. All our source data comes from RealClearPolitics.com; specifically from their daily presidential approval ratings "poll of polls" graphic page. We take their daily numbers, log them, and then average each month's data into a single number -- which is then shown on our monthly charts here (a "poll of polls of polls," if you will...). You can read a much-more detailed explanation of our source data and methodology on our "About Obama Poll Watch" page, if you're interested.
Questions or comments? Use the Email Chris page to drop me a private note.
Obama's Second Term Statistical Records
Monthly
Highest Monthly Approval -- 1/13 -- 52.7%
Lowest Monthly Approval -- 11/13 -- 41.4%
Highest Monthly Disapproval -- 12/13 -- 54.0%
Lowest Monthly Disapproval -- 1/13 -- 42.6%
Daily
Highest Daily Approval -- 1/31/13 -- 52.5%
Lowest Daily Approval -- 12/2/13 -- 39.8%
Highest Daily Disapproval -- 12/2/13 -- 55.9%
Lowest Daily Disapproval -- 2/24/13 -- 42.3%
Obama's Second Term Raw Monthly Data
[All-time high in bold, all-time low underlined.]
Month -- (Approval / Disapproval / Undecided)
10/14 -- 42.1 / 53.4 / 4.5
09/14 -- 41.5 / 53.5 / 5.0
08/14 -- 41.6 / 53.0 / 5.4
07/14 -- 41.8 / 53.6 / 4.6
06/14 -- 42.4 / 53.4 / 4.2
05/14 -- 44.0 / 51.7 / 4.3
04/14 -- 43.4 / 52.1 / 4.5
03/14 -- 42.9 / 52.8 / 4.3
02/14 -- 43.3 / 52.3 / 4.4
01/14 -- 42.7 / 52.7 / 4.6
12/13 -- 41.9 / 54.0 / 4.1
11/13 -- 41.4 / 53.9 / 4.7
10/13 -- 44.2 / 50.8 / 5.0
09/13 -- 43.9 / 50.8 / 5.3
08/13 -- 44.4 / 50.2 / 5.4
07/13 -- 45.3 / 49.2 / 5.5
06/13 -- 46.5 / 48.5 / 5.0
05/13 -- 48.3 / 46.9 / 4.8
04/13 -- 48.6 / 46.8 / 4.6
03/13 -- 48.5 / 46.3 / 5.2
02/13 -- 51.1 / 43.0 / 5.9
01/13 -- 52.7 / 42.6 / 4.7
Second Term Column Archives
[Sep 14], [Aug 14], [Jul 14], [Jun 14], [May 14], [Apr 14], [Mar 14], [Feb 14], [Jan 14], Dec 13], [Nov 13], [Oct 13], Sep 13], [Aug 13], [Jul 13], [Jun 13], [May 13], [Apr 13], [Mar 13], [Feb 13], [Jan 13]
First Term Data
To save space, the only data and statistics listed above are from Obama's second term. If you'd like to see the data and stats from Obama's first term, including a list of links to the full archives of the Obama Poll Watch column for the first term, we've set up an Obama Poll Watch First Term Data page, for those still interested.
-- Chris Weigant
Follow Chris on Twitter: @ChrisWeigant