[ Posted Monday, April 4th, 2016 – 17:31 UTC ]
Obama Above Water Once Again
President Obama made a big breakthrough in public opinion polling in March, one that is (for once) pretty obvious in his chart. For the first time since May, 2013, Obama's average job approval number for last month was higher than his average disapproval. Take a look at this month's new chart -- it's pretty easy to see how big a deal this is, even on the overall chart of his entire time in office.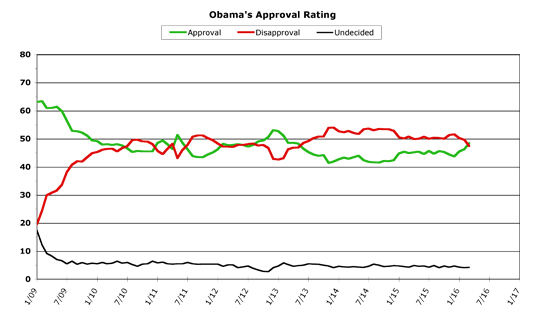 [Click on graph to see larger-scale version.]
March, 2016
Once again, on the domestic political front, March was a pretty quiet month. There were no epic budget battles with Congress, since Congress has already essentially decided not to do much of anything this year, and (this is the abnormal part) is now openly admitting this to the public. Normally they make at least a pretense of doing the nation's business, but not this year it seems.
Nowhere was this more apparent, of course, than the Senate Republicans' absolute refusal to do their constitutional duty to vet Obama's nominee for Antonin Scalia's replacement on the Supreme Court. Obama surprised many by selecting a wonky judge who, in normal times, would be about as moderate a choice as could be expected from any Democrat in the White House. Of course, these are not normal times. The public is on Obama's side on this one, as poll after poll clearly shows that people think Obama's pick should receive a fair hearing and a vote, but it also must be said that the public isn't paying all that much attention right now. Lots of political hay may be made over this issue in the upcoming Senate races, which (ironically) may mean that Republicans' obstructionism may please their base all year long but also contribute to them losing control of the chamber in November. But again, this issue is, for now, on the back burner in the public's mind.
President Obama made a historic visit to Cuba -- the first president to do so in almost nine decades -- but it wasn't as big a deal here at home as it was on the island. Obama had every right to his visit, since he will go down in history as the president who opened up Cuba after over 60 years of the Cold War deep-freeze in diplomatic relations.
His visit was somewhat overshadowed by another terrorist attack in Europe, but the Belgium tragedy didn't seem to get as much attention as the ones in Paris a few months back. The public seems to be getting a little jaded over attacks in Europe (the American public is already completely jaded about such attacks in the Middle East, as many have pointed out), so each successive one may bring a diminishing amount of public attention back here at home.
One background reason why Obama's poll numbers are improving is that the American economy is chugging along and creating jobs at a pretty healthy rate, and incomes are finally starting to rise a tiny bit while the labor participation rate also seems to be inching upwards. These two indicators usually lag the unemployment rate, but now that unemployment seems stable at (or below) five percent, they've finally started to improve. How the public feels about the president is usually closely tied to how people feel about the economy in general, which is likely helping to buoy Obama's numbers up above the waves.
Of course, the biggest political news in March is the presidential race, something that will remain true for much of the rest of the year. This past month was a doozy, starting off with a Republican candidate essentially conducting a penis-measuring contest in a nationally-televised debate, moving on to another GOP candidate using the term "copulating rodents" to describe his rival (actual Ted Cruz quote: "Donald Trump may be a rat, but I have no desire to copulate with him"), and finishing in grand style with a debate about punishing women who get abortions. Looks like that GOP outreach effort to women voters is reaping big benefits, folks! March also saw the bizarre spectacle of the establishment Republicans firmly holding their noses and lining up behind Ted Cruz -- something nobody in their right mind would ever have predicted, even a few months ago.
I firmly believe that the playground nature of the presidential nominating contest on the Republican side is the major factor in how fast Obama's job approval rating is rising. The public is taking a long look at the Republicans who are vying to replace Obama, and they're remembering why they voted for Barack in the first place. "No drama Obama" is looking pretty good right now, to put this another way.
Obama ended up March with an incredible jump in his job approval numbers of over two percent, while his disapproval numbers fell by even more. For the month, Obama's average job approval ended up at 48.4 percent, up 2.1 points. His disapproval monthly average fell 2.2 points, down to 47.4 percent. Obama hasn't seen numbers this good in almost three years, to put this in some perspective. In terms of raw improvement, March was the fifth-best month Obama has ever had.
Overall Trends
I ended last month's Obama Poll Watch column with a bold prediction. I was explaining the term "underwater" (when a president's job approval is lower than his job disapproval) and talking about how the range of Obama's being underwater was getting smaller, both in his monthly averages and in the Real Clear Politics daily "poll of polls" averages I use as my base data. I pointed out that Obama's underwater gap had been particularly bad for most of his second term, at one point hitting 12.5 percent beneath the waves. He ended last year at 7.9 percent down, still a pretty large gap. I then made my prediction:
It may be just a momentary blip in the charts, but [Obama's] daily average numbers today are only 1.3 percent apart. With just a tad more improvement, Obama could see his daily numbers break above the waves at some point during March. This hasn't happened since June 7, 2013, so it would indeed be a milestone.

Of course, there are always fluctuations in the daily numbers, which is why we only use monthly averages for our charts. Even if Obama did get his numbers above water in the daily ratings, he would have to have an extraordinarily good month to do so in our monthly averages. Still, the fact that this is even a possibility is the best news Obama poll watchers have had in a very long time.
As you can see, I hedged a little bit, predicting Obama might achieve the "above water" feat in his daily rankings (which fluctuate around quite a bit, day-to-day) but that he probably wouldn't do so in the monthly averages I use.
This turned out to be overcautious. Obama did have an extraordinarily good month in March. Here is an expanded view of the past year, to clearly see the impressive trendline Obama has managed over the past three months.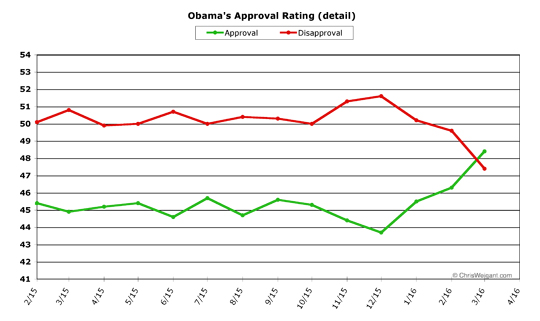 [Click on graph to see larger-scale version.]
What actually happened in March is that Obama started off the month very strong, and then just kept getting stronger as the month went on. He actually hit the crossover point in the daily rankings after only one week (prompting me to write a rare mid-month Obama poll-watching column), and he hasn't dropped beneath the waves since. Obama's job approval started the month at 47.2 percent, and ended the month with a string of six days at 49.0 percent. His job disapproval mirrored this trend, beginning at 48.7 percent and then falling to 46.2 percent near month's end, a drop of 2.5 points.
Even on the above chart, it's hard to see the magnitude of this improvement, however, so I created a third chart for this month. This shows Obama's entire second term, to date. It starts off with Obama in his "second honeymoon" period, which (for almost every president) falls off by the end of their first year in office. Obama's fell particularly hard, as you can see, and didn't fully recover until now.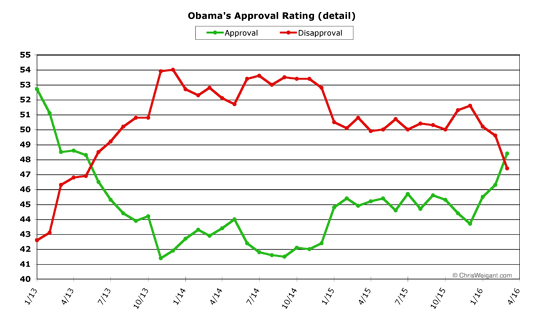 [Click on graph to see larger-scale version.]
With this scale, the ups and downs become a lot more dramatic. This is fitting, because the upswing Obama's been on since the start of the year is actually the biggest three-month improvement he has seen during his entire presidency. Since the start of the year, Obama's average monthly job approval has risen a stunning 4.7 points, while his disapproval fell 4.2 points. The only other period during his time in office that beats this was when Obama got a very short-lived spike after he announced the death of Osama Bin Laden (his job approval rose a whopping 5.0 percent in a single month -- but then quickly fell back again).
Measured by sheer improvement, the last three months are the best Obama's ever had. He wound up the month a full percent above water, up from 3.3 percent underwater last month (and 7.9 percent down in December). That's an incredibly impressive turnaround in a very short period of time. Perhaps Obama should sit down and write heartfelt thank-you notes to Donald Trump and Ted Cruz?
Again, to put this in some perspective, at this point in the previous president's term in office, George W. Bush had sunk to a dismal 30.0 percent approval -- and his numbers would actually then go on to drop below 30 percent for the rest of his term. Ronald Reagan's approval, at this point in his term, was only two points higher than Obama, at 50.5 percent. Bill Clinton was soaring by now, at 61.6 percent approval.
While all of this is very good news for Obama fans, I have to be a little skeptical that Obama will continue this sharp upward trend next month. In fact, for the next couple of months (up until the conventions happen, say) Obama will likely make only small gains or just consolidate the progress he's so far made. I'd be surprised to see sharp upward movement continue into April. I think it's much more likely Obama will flatten out a bit next month on the job approval line, although I could see the disapproval line dropping a bit faster (disapproval is still a bit out of balance from where it historically should be, considering where the approval numbers are).
Of course, with the ongoing circus that is the Republican nomination fight, anything is possible. But I think Obama's swift upward climb in job approval will flatten out next month, and at best expect modest gains of a fraction of a point. Disapproval may drop more than a single point, though, but it will likely also flatten out a bit after that. Obama has just charted the best three-month improvement of his entire presidency, and I think it would be unrealistic to see such sharp gains continue for him in the next few months. Holding onto the gains he's made and staying well above water would be good enough news for Obama to expect, at this point.
[Obama Poll Watch Data:]
Sources And Methodology
ObamaPollWatch.com is an admittedly amateur effort, but we do try to stay professional when it comes to revealing our sources and methodology. All our source data comes from RealClearPolitics.com; specifically from their daily presidential approval ratings "poll of polls" graphic page. We take their daily numbers, log them, and then average each month's data into a single number -- which is then shown on our monthly charts here (a "poll of polls of polls," if you will...). You can read a much-more detailed explanation of our source data and methodology on our "About Obama Poll Watch" page, if you're interested.
Questions or comments? Use the Email Chris page to drop me a private note.
Obama's Second Term Statistical Records
Monthly
Highest Monthly Approval -- 1/13 -- 52.7%
Lowest Monthly Approval -- 11/13 -- 41.4%
Highest Monthly Disapproval -- 12/13 -- 54.0%
Lowest Monthly Disapproval -- 1/13 -- 42.6%
Daily
Highest Daily Approval -- 1/31/13 -- 52.5%
Lowest Daily Approval -- 12/2/13 -- 39.8%
Highest Daily Disapproval -- 12/2/13 -- 55.9%
Lowest Daily Disapproval -- 2/24/13 -- 42.3%
Obama's Second Term Raw Monthly Data
[All-time high in bold, all-time low underlined.]
Month -- (Approval / Disapproval / Undecided)
03/16 -- 48.4 / 47.4 / 4.2
02/16 -- 46.3 / 49.6 / 4.1
01/16 -- 45.5 / 50.2 / 4.3
12/15 -- 43.7 / 51.6 / 4.7
11/15 -- 44.4 / 51.3 / 4.3
10/15 -- 45.3 / 50.0 / 4.7
09/15 -- 45.6 / 50.3 / 4.1
08/15 -- 44.7 / 50.4 / 4.9
07/15 -- 45.7 / 50.0 / 4.3
06/15 -- 44.6 / 50.7 / 4.7
05/15 -- 45.4 / 50.0 / 4.6
04/15 -- 45.2 / 49.9 / 4.9
03/15 -- 44.9 / 50.8 / 4.3
02/15 -- 45.4 / 50.1 / 4.5
01/15 -- 44.8 / 50.5 / 4.7
12/14 -- 42.4 / 52.8 / 4.8
11/14 -- 42.0 / 53.4 / 4.6
10/14 -- 42.1 / 53.4 / 4.5
09/14 -- 41.5 / 53.5 / 5.0
08/14 -- 41.6 / 53.0 / 5.4
07/14 -- 41.8 / 53.6 / 4.6
06/14 -- 42.4 / 53.4 / 4.2
05/14 -- 44.0 / 51.7 / 4.3
04/14 -- 43.4 / 52.1 / 4.5
03/14 -- 42.9 / 52.8 / 4.3
02/14 -- 43.3 / 52.3 / 4.4
01/14 -- 42.7 / 52.7 / 4.6
12/13 -- 41.9 / 54.0 / 4.1
11/13 -- 41.4 / 53.9 / 4.7
10/13 -- 44.2 / 50.8 / 5.0
09/13 -- 43.9 / 50.8 / 5.3
08/13 -- 44.4 / 50.2 / 5.4
07/13 -- 45.3 / 49.2 / 5.5
06/13 -- 46.5 / 48.5 / 5.0
05/13 -- 48.3 / 46.9 / 4.8
04/13 -- 48.6 / 46.8 / 4.6
03/13 -- 48.5 / 46.3 / 5.2
02/13 -- 51.1 / 43.0 / 5.9
01/13 -- 52.7 / 42.6 / 4.7
Second Term Column Archives
[Feb 16], [Jan 16], [Dec 15], [Nov 15], [Oct 15], [Sep 15], [Aug 15], [Jul 15], [Jun 15], [May 15], [Apr 15], [Mar 15], [Feb 15], [Jan 15], [Dec 14], [Nov 14], [Oct 14], [Sep 14], [Aug 14], [Jul 14], [Jun 14], [May 14], [Apr 14], [Mar 14], [Feb 14], [Jan 14], Dec 13], [Nov 13], [Oct 13], Sep 13], [Aug 13], [Jul 13], [Jun 13], [May 13], [Apr 13], [Mar 13], [Feb 13], [Jan 13]
First Term Data
To save space, the only data and statistics listed above are from Obama's second term. If you'd like to see the data and stats from Obama's first term, including a list of links to the full archives of the Obama Poll Watch column for the first term, we've set up an Obama Poll Watch First Term Data page, for those still interested.
-- Chris Weigant
Cross-posted at The Huffington Post
Follow Chris on Twitter: @ChrisWeigant