[ Posted Monday, November 2nd, 2020 – 18:55 UTC ]
Here we are, the end of a very long and exhausting road. Election Day is tomorrow. But 100 million Americans may have already voted before Tuesday even dawns. Voting in the time of COVID-19 has been just as different as everything else we've been living through.
One general comment before we begin. This year has seen a "get out the vote" effort that absolutely dwarfs anything seen previously. Americans have been reminded not just to vote but to have a plan for voting for months now, and from some very unusual sources. A few days ago, I actually saw a public service "Go vote!" television ad featuring Cheech and Chong. Younger readers may not comprehend just how mindbendingly weird this is. A more up-to-date reference (although still somewhat dated, these days) would be how jarring it would be to see a "Go vote!" P.S.A. from Beavis and Butthead. Cheech and Chong -- while both blatantly smoking joints -- do a short little pro-vote comedy routine using their signature stoner humor. I never thought I would see such a thing in a million years, and yet this year it's barely even noticed. That's how strange this election has been.
Turnout is quite likely going to break all records set for the last century. We may have to go back to 1876 to find a higher percentage of eligible voters actually casting ballots. While this is a good thing for participatory democracy, it also means that somewhere in the neighborhood of 20 million people are going to vote this year who either didn't vote last time around or have never voted at all. And that's a big enough margin to throw the election one way or the other. President Donald Trump is convinced he'll turn out enough rural new voters to win all the battleground states, but Joe Biden may win more of these new voters. Here's a short rundown of some recent polling on the issue:
Given the unprecedented turnout we've seen in early voting, the question is who is expanding the electorate. And these new polls are the latest data to suggest that it's more [Joe] Biden than [Donald] Trump.

According to the Times-Siena polls, voters who didn't cast ballots in 2016 but plan to (or already have) this time favor Biden by seven points in Arizona, 12 points in Pennsylvania, 17 points in Florida and 19 points in Wisconsin. And, to be clear, these are sizable chunks of voters: about 1 in every 5 voters in the first three states and 11 percent of all voters in Wisconsin.

And lest Democrats worry that these voters might not actually turn out, given they didn't do so in 2016: Two-thirds of them say they have already voted in Arizona and Florida, while 56 percent say the same in Wisconsin. (The number is lower -- 36 percent -- in Pennsylvania.) These are not just votes that Democrats hope to add; in most cases, these are votes they already have.

The polls come on top of data collected by TargetSmart that has already shown that voters who haven't previously cast ballots but did so early this time tilt toward Biden by similar margins. If Biden's edge in new voters holds, he wins.
We'll have to see if that proves to be true, tomorrow night. But it's a good sign for Biden.
Since this is the final column of the Electoral Math series, I will not be hedging any picks today, but instead calling every state for one candidate or the other. But before we get to my predictions, for the sake of completeness, let's take a very quick look at the final charts for the 2020 race. First, the overall total for Electoral Votes (EV) for both candidates.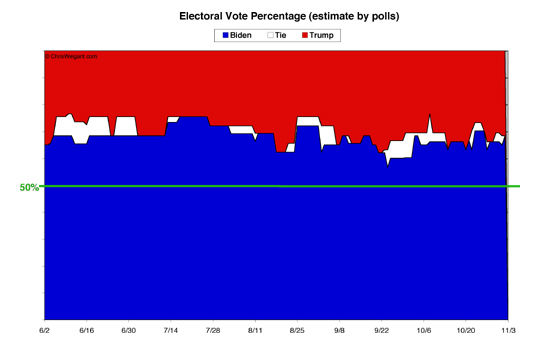 [Click on any of theses graphs to see larger-scale versions.]
If everything works out the way the polling now stands (if the polls prove accurate), then Joe Biden will win 368 EV, or over 68 percent of the total. Donald Trump will only win 170 EV, or only 32 percent of the total. This is worse than 2-to-1, it's worth pointing out.
Here are each candidate's final charts showing the breakdown of relative strength, beginning with Joe Biden: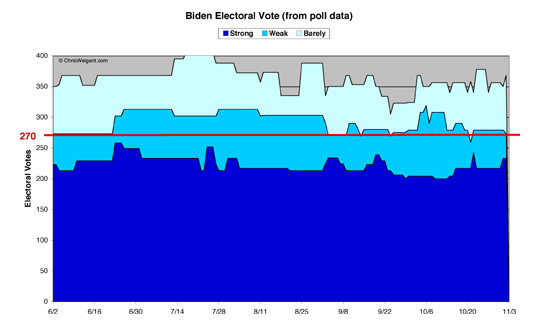 Biden finishes with 233 EV in the Strong category, 40 EV in Weak, and 95 EV in Barely. A quick rundown of the last week's movement: Biden's numbers wobbled in Michigan, moving from Weak to Strong and then back again. Biden fell from Weak to Barely in Nevada, in one last-minute poll. Biden lost two states from Barely over to Trump's Barely, Texas and Iowa. But Biden flipped both Ohio and Florida from Barely Trump to his own Barely column.
As always, the Strong Plus Weak line is the most important, and it finishes just over the total Biden will need, at 273 EV. Here is how Biden's Strong Plus Weak line measures up against the past three Democratic candidates: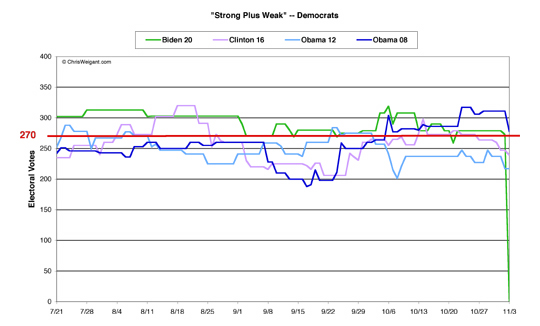 Biden finishes in better shape than Hillary Clinton and Barack Obama's 2012 run, but behind where Obama stood in 2008. What is remarkable about Biden's line, though, is how steady it has held -- above the 270 threshold, for the most part -- during the entire campaign. There haven't been a whole lot of ups and downs, in other words.
Now let's take a look at Donald Trump's charts.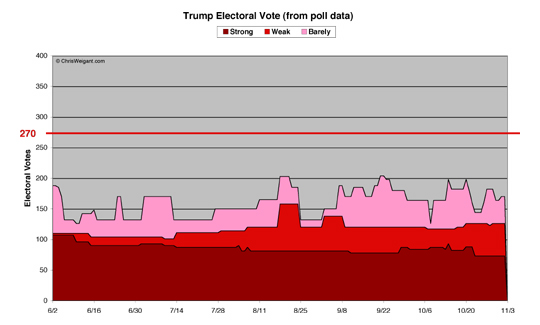 Trump winds up with 73 EV in Strong, 53 EV in Weak, and 44 EV in Barely. During the week, Trump wobbled from Weak to Barely in Montana, but one day later returned to Weak. The first poll from Wyoming appeared, which (as predicted) showed Strong Trump numbers. Trump lost both Ohio and Georgia from Barely to Biden's Barely, but gained Texas and Iowa in the other direction.
So let's take a look at Trump's Strong Plus Weak (which finished at 126 EV), compared to the last three Republicans to run for president.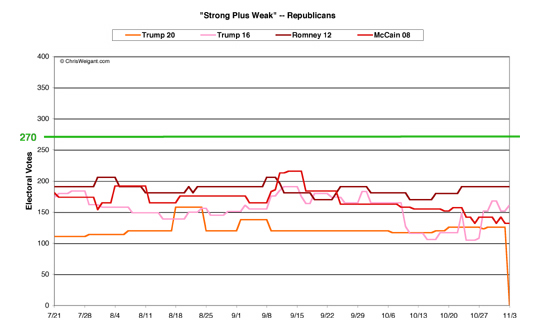 Trump's line finishes where it has stuck for almost the entire campaign -- below everyone else's lines. He's doing worse that he was at this point in 2016, by 26 EV. And he's doing far worse than Mitt Romney's 191 EV.
Putting all of this together brings a very clear picture: Joe Biden is heavily favored to win this race, and Donald Trump will have to pull off a bigger upset than the historic one he managed four years ago to win. So let's move right along to guessing which states will wind up in each candidate's column tomorrow night (or Wednesday... or maybe next Tuesday...).
My Picks
Last time around, my picks were woefully wrong. I fully admit that up front. But then again, so were most people's picks. Small comfort, after the past four years.
This year I resolved not to be too haunted by the ghosts from the past. The 2020 election is just not the same as the 2016 election, for many reasons. In fact, the only real similarity is that Donald Trump ran in both.
Joe Biden was sold to the Democratic base as a safe choice. Joe would be a non-scary candidate for all of those swing voters out there, and he would not appear too radical to those who worry about the Democratic Party moving too far left. Biden would be a return to normalcy, but I think more important Biden represents a return to being able to be bored with politics. He could be the most boring president since Dwight D. Eisenhower's 1950s, in fact. Which seems to be exactly what the electorate is looking for, right now.
This approach largely seems to have paid off. Biden is competitive with groups of voters who might not have gone for some of the other, more-radical candidates who ran (like Bernie Sanders or Elizabeth Warren). He's a guy, so misogyny is not a factor at all. Nobody hates Biden in the same way that many hated Hillary Clinton, to put this another way.
Donald Trump could have been a lot more competitive, but in order to do so he would have had to completely change his basic character. He could have empathized with Americans suffering (and dying) from the pandemic. He could have shown real leadership instead of insisting that the buck stopped anywhere but on his desk. He could have run a campaign which reached out to all those voters who hadn't voted for him last time. And he probably would have been in a lot better shape right now if he had done any of these things. But, being Donald Trump, he was incapable of doing so. He let his inner Trump out, and it was just as ugly and mean-spirited as it always has been. And he has paid for it, with the voters.
This is such a unique election that nobody really has any idea how it will all turn out. The unprecedented amount of early voting, the surge in turnout numbers, the blatant attempts at voter suppression (most of which were exposed very early on), the number of lawsuits attempting not just voter suppression, but actual suppression of ballots cast, a president who has continually cast doubt on the entire election process, and even the threats of violence at the polls on Election Day are all either new concepts or have been pushed harder than ever before. Nobody's even sure if Trump will admit defeat, at this point, which is a very dangerous place for the country to be.
All of this makes predicting the outcome a real shot in the dark. Nobody is putting as much faith in the polling as we all normally used to, for very obvious reasons. But we've got to start somewhere and start throwing darts at the map. So let's begin by picking all the states that are almost certain for the two candidates.
Safe Biden States -- 23 States -- 259 Electoral Votes
California (55), Colorado (9), Connecticut (7), Delaware (3), Hawaii (4), Illinois (20), Maine (4), Maryland (10), Massachusetts (11), Michigan (16), Minnesota (10), New Hampshire (4), New Jersey (14), New Mexico (5), Nevada (6), New York (29), Oregon (7), Rhode Island (4), Vermont (3), Virginia (13), Washington D.C. (3), Washington (12), Wisconsin (10)
Safe Trump States -- 20 States -- 126 Electoral Votes
Alabama (9), Alaska (3), Arkansas (6), Idaho (4), Indiana (11), Kansas (6), Kentucky (8), Louisiana (8), Mississippi (6), Missouri (10), Montana (3), Nebraska (5), North Dakota (3), Oklahoma (7), South Carolina (9), South Dakota (3), Tennessee (11), Utah (6), West Virginia (5), Wyoming (3)
Trump's list isn't really all that debatable. There is that odd district in Nebraska that may go for Biden, but I'm not paying attention to either it or the odd district in Maine that may go for Trump. I think they'll cancel each other out, personally.
Some of the states on Biden's list may raise some eyebrows, however. Four in particular: Michigan, Minnesota, Nevada, and Wisconsin. Many pundits have listed these as tossup states, but I don't really consider any of them to be within reach of Trump. Nevada is the only one with any close polling, but Nevada is always notoriously hard to accurately poll. I think it will be comfortably in Biden's column when the votes are counted.
The other three are on everyone else's battleground lists, but to me they have all drifted solidly into Biden's column. Michigan, Minnesota, and Wisconsin will rebuild the blue wall in 2020. Polls in all three have shown a solid and steady Biden lead for over a month, and I can't see that changing tomorrow. So while others may fret about these Great Lakes states, I am confident that all three will end up solid blue.
In fact, I only have eight states remaining in my battleground list. Before we get to them, however, let's take a look at how my safe states map out. Note that these maps are from the wonderful site 270ToWin, and if you click that link it should take you to the very map you see below (where you can fill in your own picks for the battlegrounds).
As you can see, Joe Biden only needs 11 EV to win, while Trump needs a whopping 144 EV to reach the magic 270 number.
How would I fill in the rest of the map? Well, let's take a look, state by state. The list is in alphabetical order, for no real reason. As always, the numbers in parenthesis are the total EV for each state. And as I said, while others might add Michigan, Minnesota, Nevada, and Wisconsin to this list, I consider them all safe enough for Biden.
Close States
Arizona (11)
Since I'm listing these in alphabetic order, we're going to start with one of my least-confident predictions. In fact, even after I set the rest of the map, I still kept flipping Arizona back and forth. Biden has shown a decent lead in the polls here for a while, but this lead has seemed to shrink over the past few weeks. Biden does have a lot in his favor here -- the Democrats are quite likely to unseat an incumbent Republican senator, none other than Cindy McCain is actually campaigning for Biden, and Biden seems to be doing well in the all-important Maricopa County. So I have no real idea why Trump seems to be benefitting from a late-breaking surge here -- especially since it seems like this is the only state where it is showing up. Perhaps his rallies boosted his base? But for whatever reason, late-breaking polling shifts are almost always correct, so I'm going to have to predict Arizona will go for Trump. I still think Democrats will pick up the Senate seat (making Martha McSally responsible for losing both Arizona Senate seats for the Republicans), but in the end I think Arizona will stay red on the presidential map.
Florida (29)
This alphabetical order has strangely meant that we're starting out here fairly pessimistically for Joe Biden. While Florida would secure an Electoral College victory if Biden wins it, I'm going to predict that Florida once again disappoints Democrats in the end. I'm basing this call more on gut feeling than numbers. Consider that even during the blue wave of the 2018 midterms, Republicans edged out tiny victories in the two important races here (Senate and governor). Florida has also seem some rather lackluster turnout for the Democrats in early voting, among several important demographics. In the last week, Biden has held a very small lead in most polls, but this lead has shrunk in the closing days. So I'm adding what could be a late-breaking polling surge for Trump to the state's historic ability to disappoint Democrats and calling Florida for Trump. I'd love to be proven wrong about this one, but I'm going to have to go with Trump raking in Florida's 29 Electoral College votes.
Georgia (16)
Here is where we turn to some Biden optimism. I think all the groundwork done by Stacey Abrams over the past three years is going to finally pay off in Georgia. Abrams got noticed nationally for her very close loss in the governor's race, but that didn't just magically happen out of thin air. She spent a lot of time and a lot of money in a massive voter registration drive with the goal of signing up a million new Georgia voters -- most of them people of color. Her monumental efforts are finally going to pay off, as Georgia narrowly goes for Biden. It won't be just Black voters that put Biden over the top, it will also be White suburban women who are just fed up with all of Trump's antics. Georgia going for Biden will shock a lot of people (as it should, since it's been such a reliable Republican state), but what may be the biggest shock is that if Georgia reports its results Tuesday night, it could be the real "tipping point" state for Biden. If Biden wins Georgia, Pennsylvania will not matter, to put this another way. Trump's single path to 270 EV is so narrow that if he loses Georgia, the path disappears entirely. So Georgia could be the surprising state that puts Biden over the top, very early on.
Iowa (6)
Iowa has polled extremely closely during the entire election, but one of the most-trusted pollsters in the state released a last-minute poll showing Trump up by 7 points. This is much higher a lead than any of the other recent polls have shown, but this particular pollster did pretty accurately predict Trump's victory here last time. Other polls have put the race a whole lot closer, though. But I'm going to bow to conventional wisdom here and agree that Trump wins the state. Iowa, it should be noted, is the least important of all the battleground states, being the smallest in population (only 6 EV, while the others are all double digits). This means that even if Biden did pick up a surprise win in Iowa, it wouldn't be enough to put him over the top.
North Carolina (15)
The same thing I said about Georgia could also be said for North Carolina as well. If the state goes for Biden early on Tuesday, then the race is going to be over. And I'm predicting Biden will win here as well, so it really could be either North Carolina or Georgia that proves to be the real tipping point state. North Carolina has polled very close for the entire election, falling in the "statistical tie" zone for almost the whole race. But over the past month Biden has held a small but persistent edge over Trump, and I'm betting that that will prove to be the case tomorrow night. Once again, if either North Carolina or Georgia goes for Biden, then Pennsylvania will not matter -- which might just be the biggest surprise of the night.
Ohio (18)
Ohio is another state that has spent most of the election essentially tied. An argument could be made that if Pennsylvania and Michigan go for Biden, then Ohio should be expected to as well (due to similar demographics in all three states). But Ohio has been trending redder for the past decade or so, and I think the built-in advantage Republicans seem to have here is going to win the day for Trump. I'd really love to see Ohio go for Biden this time around, but somehow I just don't believe it will happen.
Pennsylvania (20)
Pennsylvania has gotten more attention -- from both the candidates and from the media -- than any other state, this election cycle (especially in the closing days of the race). There's a reason for this. If Trump manages to hold on in the "Sun Belt" states (Florida, Georgia, North Carolina, Texas, and Arizona) and wins Ohio and Iowa (as he did in 2016), while Biden picks up Michigan and Wisconsin and holds onto Minnesota, then both candidates will be perfectly tied at 259 EV each. Pennsylvania has the remaining 20 EV, which could indeed mean it might be the crucial, deciding state. That's why both Biden and Trump (and all of their surrogates) have blanketed the state in the past few weeks. Personally, though, I just don't believe this will happen, for two reasons. The first is I consider that 259 tie highly unlikely -- I just don't think Trump will do all that well everywhere else. The second is that I consider Pennsylvania a pretty easy pickup for Joe Biden. He's been leading the polling by 5 points or more for the past two months. This lead has been persistent and steady the whole time. Biden is polling at or very near 50 percent, which is another indicator of success. Plus, we may have to wait for a few days to find out who won Pennsylvania, and by the time they do announce their totals I think it'll wind up being no more than a footnote -- just increasing the margin of Biden's victory. But in the end, I do think the Keystone State will go for Biden. In fact, I will further predict that Biden wins Pennsylvania by a bigger margin than any of the other battleground states I've listed.
Texas (38)
The alphabet has saved the most shocking prediction I'm going to make for last. Because although I handed Florida to Trump, I think that Joe Biden is going to finally achieve the Democratic dream of turning Texas blue on the presidential map. I realize that this is a pretty bold and risky prediction to make, but I'm going to make it nonetheless. The most shocking news of the 2020 election is going to be that Texas votes for the Democrat. I'm basing this on a few factors, starting with the fact that the polling has been neck-and-neck all along -- which in and of itself is a shocking thing. Texas was always supposed to be reliably red for Trump, but it has not proven to be. Secondly, the early vote in Texas has already surpassed the total 2016 vote, which is downright astonishing. In a state where early and/or mail-in voting are accepted and normal, this would not be news. In Texas, where the state Republicans make it as hard as possible to vote early (indeed, they're arguing in federal court today to throw out over 100,000 legally-cast ballots), this is enormous news. And thirdly, the youth vote numbers seem to be through the roof. I think all of this adds up to a result that used to be considered unthinkable -- Texas will wind up in Joe Biden's column tomorrow night.
My Electoral College Prediction
When you total it all up, here's what you get:
Joe Biden -- 348 Electoral Votes

Donald Trump -- 190 Electoral Votes
And here are all my picks on my final map for the 2020 election (you can adjust this map with your own picks at 270ToWin if you'd like).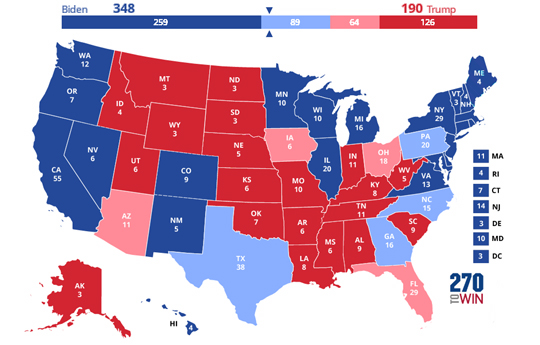 Which brings our quadrennial Electoral Math series to a close. Disagree with my picks (especially Texas)? Let me know in the comments. Use the links to manipulate the maps yourselves, to easily see what the final total will be.
Of course, getting any or all of this wrong is always an option. The Democratic motto for this election year has to be: "Once bitten, twice shy." Nobody is going to prematurely pop the champagne corks this time around, in other words. If Biden wins, there could be anything from dancing in the streets to widespread riots. If Trump wins, there will likely only be riots. Either way, tomorrow's going to be a heck of a rollercoaster ride, so buckle up!
And, of course, if you haven't already done so, don't forget to go cast your own vote tomorrow. For once, the overused warning is actually real: this is the most important election of your lifetime. So go vote!
Polling data gaps:
Polled, but no recent polling data -- 7 States
(States which have not been polled since the end of September, with the dates of their last poll in parenthesis.) Note that only North Dakota and Tennessee are extremely out of date.
Delaware (9/27), Illinois (9/26), New York (9/29), North Dakota (3/5), Oregon (9/29), Tennessee (5/22), Vermont (9/15)
No polling data at all, yet -- 5 States
(States which have not been polled so far this year.)
Idaho, Louisiana, Nebraska, Rhode Island, Washington D.C.
-- Chris Weigant
Follow Chris on Twitter: @ChrisWeigant