[ Posted Monday, October 26th, 2020 – 18:38 UTC ]
Welcome to our penultimate Electoral Math column. Next Monday, I will post my own final picks for the 2020 presidential election, for better or for worse. And I promise, in the final column, there will be no tossup states at all -- I'll make a prediction even for those I've got to flip a coin to decide.
The biggest campaign news of the past week was the second and final presidential debate between President Donald Trump and Joe Biden. As a measure of how Trump has normalized political chaos, the big takeaway from the debate was that Trump behaved normally. Which was, of course, shocking (for him).
Did it move the needle at all? That remains doubtful. Polls taken after the debate showed the public thought Biden was the clear winner, although Team Trump thought it landed a knockout blow by getting Biden to say he was going to "transition away" from fossil fuels. Trump even crowed about this during the debate itself, asking voters in Texas and Pennsylvania whether they had just heard that.
But once again, overshadowing all of politics was the coronavirus pandemic. The United States hit their highest day of new infections since the pandemic began, and Midwestern states are getting dangerously close to running out of hospital beds. To underscore the seriousness of the "third wave" of the virus hitting the country, several people who work closely with Mike Pence tested positive.
Last week I discussed this emerging dynamic:
The biggest unknown, at this point, is really how bad the next wave of the pandemic will become in the next two weeks. If daily cases start posting higher-than-ever numbers (roughly 75,000 cases a day or worse), then this could be very bad news for Trump. If Trump sticks to his: "we're turning the corner" line while Biden counters it (as he has recently been doing) with: "we're not turning a corner -- instead Trump has gone around the bend," then it's going to be painfully obvious which candidate is living in the real world and which is trapped inside some fantasy of his own creation.
We have now passed that point -- the new worst-day-ever mark is now over 80,000 cases a day. And Team Trump continues to double down on the gaslighting. "Everything's fine, pay no attention to all those tens of thousands of people getting sick" is -- amazingly -- Donald Trump's closing campaign message. It's all the media lying to everyone, according to Trump. As I predicted, this may be the real "October surprise" -- and one that is quite obviously beyond Trump's control.
Of course, conservatives are celebrating confirming a new Supreme Court justice, but what they may not have factored in is that because they rushed this Senate vote before the election, it is now a done deal. Nothing will change no matter how anyone votes, in other words. They can't dangle it as a post-election treat anymore. So it's doubtful if it'll move anyone's vote. It may motivate more Republicans to actually cast a ballot, but then again the backlash against the nomination may motivate more Democrats to vote.
But we've got a lot to get through today (including a fun surprise at the end), so let's just dive right in. All of our data comes (as always) from the incomparable website Electoral-Vote.com, which provides polling information for the presidential race in the only way it really matters -- state by state. National polls mean nothing to the Electoral College, which is why we write these columns in the first place. But we simply wouldn't be able to without the trove of polling data from Electoral-Vote.com.
We begin with an overall look at the two candidates. Our first chart shows the Electoral Votes (EV) for both candidates, relative to each other. Biden starts from the bottom and Trump starts from the top. Whichever candidate's color crosses the 50 percent line in the middle should win, if all the polling is correct.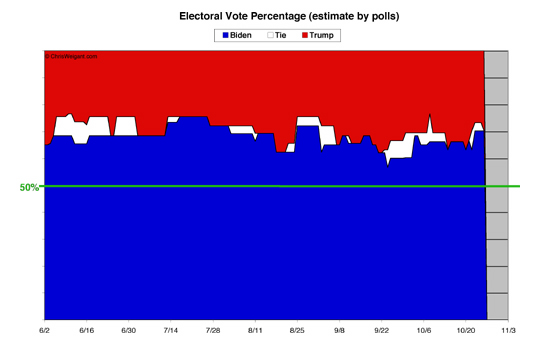 [Click on any of theses graphs to see larger-scale versions.]
There was a decent amount of activity this week, which started at the end of a little plateau. The first day, Georgia moved from Biden's column to Trump's. The next day, however, Ohio flipped from Trump's column to Biden's. The day after that, Ohio flipped right back again to Trump, while Texas moved from Trump to being perfectly Tied.
But the rollercoaster ride wasn't over yet. The next day, Texas moved out of Tied into Biden's column, while Georgia moved back to Tied. Things stayed the same for a few days, until today, when Georgia moved back into Trump's column.
The net result for the week was that Biden lost Georgia's 16 EV, while picking up 38 EV from Texas, for an overall gain of 22 EV. Biden's total went from 356 EV at the start down to 340 EV, then finally up to 378 EV. Trump began with 182 EV, dropped all the way down to 144 EV, and then recovered somewhat at the end, to finish at 160 EV.
By the percentages, Biden clearly had the better week. He now has a whopping 70 percent of the Electoral College in his column, while Trump sank down to only 30 percent. This was down from the perfect one-third/two-thirds split of last week. But -- and it's an awfully big caveat -- Biden's number currently includes Texas, while actually winning the state is in no way guaranteed.
So let's take a look at a more-granular breakdown of Biden's relative strength in all the states. The categories are: "Strong" (10 points up in the polls or better), "Weak" (from 5 to 10 points up), and "Barely" (less than a 5-point lead).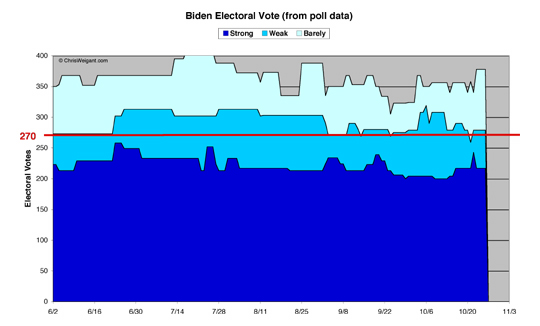 Over the past week, Biden's topline number has bounced down, up , down, and then way up again. However, when you look closer you can see that where it counts Biden has been pretty stable. Pennsylvania wobbled from Weak Biden to only Barely Biden, but it was just one day's poll and by the next day subsequent polls firmed things back up again. For one glorious day, both Michigan and Minnesota moved from Weak Biden to Strong Biden, but then the very next day returned to where they had been. Once these two spikes (one up, one down) reversed themselves, both Biden's Strong and Weak numbers remained exactly where they had started. Biden's Barely numbers moved a lot more, as he lost Georgia and then picked up Texas. Ohio also moved into Barely Biden, but only for one day before moving back to Trump.
For the week, Biden began with 217 EV in Strong. This moved up to 243 EV for that one glorious day, but then fell right back again to 217 EV. Biden's Weak numbers went from 62 EV down to 36 EV and then right back to 62 EV, for no net change for the period in either category. Biden did improve in Barely, moving from 77 EV down to 61 EV, then back to 77 EV, back to 61 EV, before finally (with the addition of Texas) racing back up to finish at 99 EV.
The line I watch closest, however, is the "Strong Plus Weak" line. While there was no overall change here, what I'm wondering is whether Biden can move any of his Barely states up in the final week of the campaign. Such movement would indicate a last-minute surge for Biden, so I'll be watching this very closely. Of the states currently in this category (Arizona, Florida, Iowa, North Carolina, and Texas), the two most likely to make such a move -- based on polling performance all year long -- seem to be Arizona and Florida. Arizona may be the harder of the two right now, but you can bet I'll be watching the numbers out of Florida like a hawk for the next week.
Let's take a look at how Biden's Strong Plus Weak line stacks up against the previous three Democratic presidential races.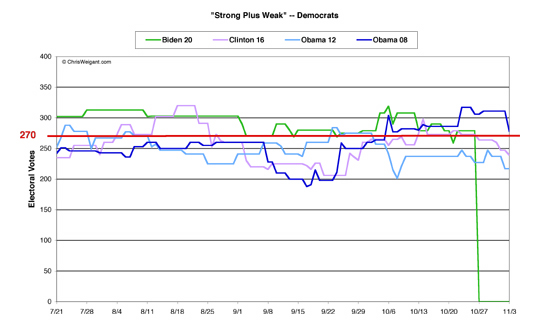 As noted, Biden neither improved nor fell back in Strong Plus Weak, with the exception of a one-day dip due to one weak poll in Pennsylvania. However, this dip moved Biden to his lowest point of the entire campaign in this category, at only 259 EV. His previous low had been 269 EV, just one shy of winning, which he previously hit twice (at the middle and end of September).
Now, that's a little concerning, but when put in perspective it really isn't all that bad. This chart doesn't show any real swing states, after all. And both Hillary Clinton and Barack Obama (in both his races) hit far lower points during their own campaigns (down around the 200 EV mark for all three, as you can see). For Biden to have maintained such a high and stable line on this chart has meant his campaign has been a whole lot more stable than the past three races overall.
But it does show in graphic detail the importance of Pennsylvania. With Pennsylvania (and Michigan, Wisconsin, and Minnesota), Biden may well be unbeatable. But if Trump somehow snakes Pennsylvania away, the race could be a whole lot closer and Trump may even have a chance of winning. No wonder he was so gleeful when he thought Biden had torpedoed his chances of winning there with that comment about transitioning away from oil.
However, I'm not so sure Trump has much of a chance in Pennsylvania. Biden has led the polling pretty consistently for the past few months, and the state just seems more and more solid for Biden as time goes on. This may be my own subjective impression, however.
What would really be nice to see would be a spike upwards in Biden's line on this chart, as Barack Obama managed to do in 2008 (except for that final day's dip). Biden moving Florida into at least his Weak column as the race enters its final days would definitely sew up the race for him, because I don't think Trump would have any path to victory without Florida -- even if Biden lost Pennsylvania.
By the numbers, Biden began with 279 EV in Strong Plus Weak, dropped down to 259 EV with the loss of Pennsylvania, and then rebounded right back to where he started. Obviously, 279 EV is nine more Electoral College votes than he would need to win the race outright, without even taking into account any of the tossup states.
To compare things, let's take a look at Trump's chart with one week to go.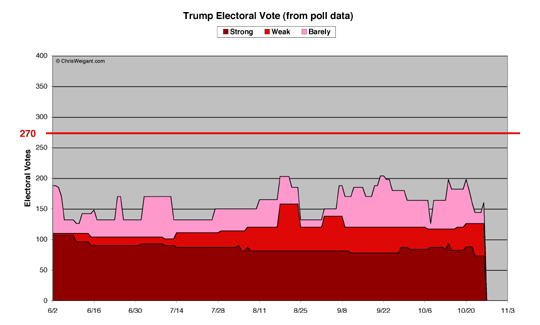 We started the week halfway between the little "cat ears" (or, if you prefer, "Batman ears") section of Trump's topline.
Trump's numbers shifted around in all three categories this week in a noticeable way. He started out by gaining Georgia, strengthening in Arkansas, losing Ohio (but then getting it back the next day), and losing Texas. He then weakened in Kansas and South Carolina and lost Georgia to Tied. But he ended the week by moving Georgia back to Barely Trump, but overall his numbers took a downward turn.
From the bottom category, Trump's Strong numbers went from 82 EV up to 88 EV but then back down all the way to 73 EV, for a net loss of 9 EV. His Weak made up for this loss, by rising from 38 EV to 53 EV by week's end. But his Barely numbers were all over the map. He started with 62 EV in Barely, improved to 72 EV, then fell all the way down to 18 EV over the course of three days. At the end, adding Georgia back again improved his Barely number to 34 EV, down 28 EV for the week.
His overall total went through a real rollercoaster ride as well. He started with a total of 182 EV, rose to 198 EV, but then fell back to only 144 EV. Georgia's addition moved this back up to 160 EV today, where he finished. Now, 198 EV is one of the highest numbers Trump has managed to post, by 144 EV is a lot closer to the lowest end of Trump's scale, so that trend has got to be worrying Team Trump. Trump saw a net loss of 22 EV for the week, and Trump just doesn't have all that many to spare so late in the game. With only 144 EV, Trump is still a whopping 126 EV away from the goal line.
The good news for Trump (what little of it there was) was his Strong Plus Weak number improving from 120 EV up to the grand total of 126 EV. This is still far less than half of what Joe Biden has in this category, of course. So let's take a look at how Trump's Strong Plus Weak stacks up historically to other Republican candidates.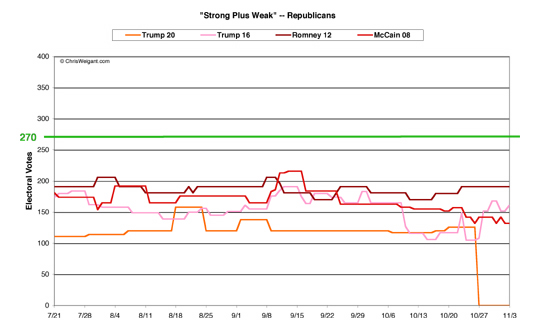 Trump improved somewhat this week, but only relative to Trump's first run. And you'll note that Trump's first run ended with a wild climb upwards as Hillary Clinton dealt with the fallout of James Comey's announcement about her emails. This time around, no such game-changing event seems likely to happen (unless you count COVID-19 entering its third peak, which isn't exactly helpful to Trump).
Trump's 126 EV is still worse than the worst number John McCain charted, at the very end of his run (132 EV). It is far worse than any number Mitt Romney saw (Romney never fell below 170 EV for his entire run). But what is perhaps most notable is how flat Trump's graph line is, this time around. There have been no real large changes since the beginning of September. His line is about as flat as it gets. He has shown no movement at all, even in states Republicans traditionally have a pretty easy time winning.
Of course, the standard caveat is always necessary. Take a look at Trump's line for 2016, and then remember please that Trump won. So anything's possible. But at this point, such a come-from-behind surge doesn't seem very likely.
My Picks
After being perhaps overly-bold last week, I'm going to get a wee bit more cautious this time around. Next week, of course, will be the final column in this series, where I make my final picks in every state, leaving no tossups at all.
The categories in this section have different labels, to indicate that I'm not just looking at raw numbers but also adding in my own gut feelings about each state. Each candidate gets "Safe," "Probable," and "Lean" categories, with a "Too Close To Call" tossup category at the end. A full list of data is available at the end of this column, with the Electoral College total for each state, broken down by category. And, as mentioned, we're going to end with a little bonus graphic this week.
Likely States -- Biden
Safe Biden (22 states, 249 EV)
Last week, I seem to have mixed up Nevada and Minnesota in my write-up and in the final tallies. But it doesn't matter this week because both have now moved up to Safe Biden, so they're together again. In Nevada, Biden is polling up by 9 points, and the last three polls in Minnesota showed Biden with a lead of 10 points, 6 points, and 9 points, so it seems that both really deserve to be considered Safe Biden at this point.
However, Wisconsin doesn't seem quite as strong, so I'm moving it down to only Probable Biden. Biden is still showing a lead of 5 points, but seemed to trend downwards a point or two in the most recent polls. My gut tells me Biden will take the state pretty easily, especially considering they are one of the biggest pandemic hotspots around right now, but for the time being I'm moving it down to Probable Biden.
The good news here is how strong Michigan is looking. Many still see it as a swing or battleground state, but the polling has shown a steady edge for Biden of between 7 and 12 points, so I think it's a pretty safe bet for him, at this point.
Probable Biden (2 states, 30 EV)
Nevada moved up to Safe Biden, while Wisconsin moved down. The other state still in this category is Pennsylvania. Now, an argument can be made that Pennsylvania is no more than Lean Biden at this point, but the polling has been so steady here (Biden with a lead of between 4 and 6 points) that my gut tells me it's going to go for Biden next Tuesday. I sincerely hope my gut is right and we don't have endless legal battles in the Keystone State, because at this point it is living up to its nickname -- it could very well be the key state for the entire Electoral College (in more than one scenario). But I think in the end they'll go for "favorite son" Joe Biden.
Likely States -- Trump
Safe Trump (19 states, 123 EV)
Trump got one addition to his Safe states this week, as we finally got a new poll out of Arkansas. It showed a very strong Trump lead, so the state moves all the way up from Lean Trump to Safe Trump, adding its 6 EV to Trump's safely-banked total.
Other polls from Kansas and South Carolina looked weaker for Trump, but I just can't see either one of them (even if the Democrats win their Senate races) actually going for Biden next week. So the two states stay as Safe Trump.
Probable Trump (1 state, 3 EV)
Last week I moved Montana down to just Probable Trump, and while my gut tells me to lump it in with Kansas and South Carolina, the polling doesn't really justify it, as it has been surprisingly weak for Trump (for such a red state). Montana is one of the few states left where ticket-splitting is still a very big possibility, so at best I have to consider the state only Probable Trump.
Tossup States
Lean Biden (3 states, 55 EV)
Last week we experienced a fit of optimism and moved Georgia up from Too Close To Call to Lean Biden. This proved to be overconfidence, however, and this week it slips right back to the ultimate tossup group. Of the past four polls, three were exactly tied, meaning the state is now the closest of any in the country (in the polls, at any rate).
The other three states here remain the same, however. Arizona used to be stronger for Biden, but the race has gotten a lot closer in the past few weeks for some reason. Maybe Trump's rallies have helped him? I really don't know why, but all the polling shows a tightening race (even the Senate contest there is tightening). An argument could even be made to move it down to Too Close To Call, but my gut tells me to leave it here for now.
North Carolina also stays here, as the Biden edge seems to be about 4 points right now. The polling has been incredibly close (and incredibly frequent) for the entire race, so anything could be possible here, but the advantage seems to be in Biden's court.
The big decision (as always) was whether to move Florida back down to Too Close To Call or not. There was one disconcerting poll from the state that showed Trump with a 4-point lead, but the chances are good that it was an outlier. The other four polls from the past week or so showed Biden with a lead of 7 points, 4 points, 4 points, and 3 points. So I'd have to say Biden still has an edge here, although (also as always), Florida will likely be a nail-biter next Tuesday night. Thankfully, they count their absentee ballots before Election Day, so we will likely have an announced winner here before the night is over, one way or the other.
Lean Trump (1 state, 18 EV)
This was the most active category this week, as the two states previously here moved out while another moved in to take their place.
Arkansas was the best news for Trump here, as a new poll moved it all the way up to Safe Trump. But Texas had to move down to Too Close To Call, due to the polling actually showing Biden with a very slight edge (last three polls showed Trump down by 3 points, 1 point, and 1 point). I still believe that Trump will win Texas in the end, mostly because of being disappointed here so many times in the past, but for now it has to still be seen as Too Close To Call.
However, Ohio moved up from Too Close To Call to Lean Trump. Polling shows Trump with a slight edge here, although Biden still has a decent shot of an upset. But for the time being, the advantage seems to be Trump's.
Too Close To Call (3 states, 60 EV)
There was quite a bit of movement here this week as well, as two states moved in while one moved out. Georgia weakened for Biden, while Texas weakened for Trump, so both must be seen at this point as Too Close To Call. At the same time, Ohio moved up to Lean Trump.
The one state that stayed put in this category this week was Iowa, which has been flip-flopping back and forth in the polling. At this point, it seems like Biden has a razor-thin edge overall, but the state could really go either way.
Final Tally
This week we have an addition to our graphics, although it is one I really should have been providing all along. Last election cycle, I ended our "picks" section with a nice map from 270ToWin.com, but have inadvertently omitted this feature from this year's Electoral Math series.
Well, better late than never. Here is what the Electoral College map looks like, when all of the above picks are filled in with my picks: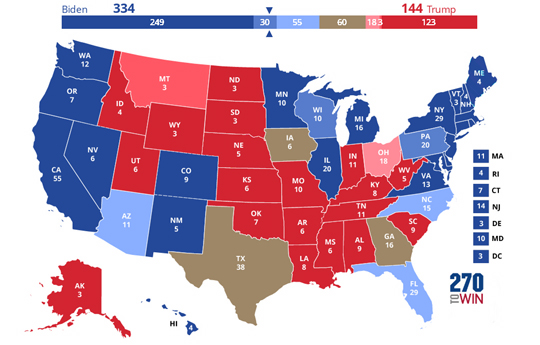 Clicking on the map gives you a bigger image of it (as with all the other graphics), but if you would like to play this game at home, check out 270ToWin.com and make your own predictions. That link should take you to the same map you see above, or you can direct it to start with a number of other pre-filled templates.
With only one week to go (and one more of these columns to write), the race has entered the home stretch. Biden still holds a commanding position in the polls and in the Electoral College. With just his Safe and Probable states, Biden already has 279 EV, which is all he will need to win. To put this another way, Biden can afford to lose Arizona, Florida, Georgia, Iowa, North Carolina, Ohio, and Texas and he will still win the race. Trump only has 126 EV locked up, meaning he's got to win 144 EV more to prevail. That is not just a tall order, that is pretty farfetched.
Even when you add in the Lean states, Donald Trump only comes up with 144 EV. When you do the same for Biden, he winds up with 334 EV. And that's without counting Georgia, Iowa, or Texas.
Almost 60 million Americans have already voted. That is almost half the total number who voted the last time around. By the time Election Day rolls around, that number could be over 100 million. This is mostly due to the pandemic, of course, but it will certainly go down in history as the biggest remote-voting election of all time.
If Joe Biden can successfully "rebuild the big blue wall" in Wisconsin, Michigan, and Pennsylvania, that may be all he needs to become our next president. If he picks up either Florida or North Carolina early on the night of the election, then the race will effectively be over. With one week to go, that's a pretty good place to be in. And with Trump choosing to end his campaign by trying to convince the voters that the pandemic isn't even still happening, Biden's numbers could go a lot higher in the end, if late-breaking voters move to his side.
[Full Data:]
(State electoral votes are in parenthesis following each state's name. Washington D.C. is counted as a state, for a total of 51.)
Joe Biden Likely Easy Wins -- 24 States -- 279 Electoral Votes:
Safe States -- 22 States -- 249 Electoral Votes
California (55), Colorado (9), Connecticut (7), Delaware (3), Hawaii (4), Illinois (20), Maine (4), Maryland (10), Massachusetts (11), Michigan (16), Minnesota (10), New Hampshire (4), New Jersey (14), New Mexico (5), Nevada (6), New York (29), Oregon (7), Rhode Island (4), Vermont (3), Virginia (13), Washington D.C. (3), Washington (12)
Probable States -- 2 States -- 30 Electoral Votes
Pennsylvania (20), Wisconsin (10)
Donald Trump Likely Easy Wins -- 20 States -- 126 Electoral Votes:
Safe States -- 19 States -- 123 Electoral Votes
Alabama (9), Alaska (3), Arkansas (6), Idaho (4), Indiana (11), Kansas (6), Kentucky (8), Louisiana (8), Mississippi (6), Missouri (10), Nebraska (5), North Dakota (3), Oklahoma (7), South Carolina (9), South Dakota (3), Tennessee (11), Utah (6), West Virginia (5), Wyoming (3)
Probable States -- 1 State -- 3 Electoral Votes
Montana (3)
Tossup States -- 7 States -- 133 Electoral Votes:
Tossup States Leaning Biden -- 3 States -- 55 Electoral Votes
Arizona (11), Florida (29), North Carolina (15)
Tossup States Leaning Trump -- 1 State -- 18 Electoral Votes
Ohio (18)
Too Close To Call -- 3 States -- 60 Electoral Votes
Georgia (16), Iowa (6), Texas (38)
Polling data gaps:
Polled, but no recent polling data -- 6 States
(States which have not been polled since the middle of September, with the dates of their last poll in parenthesis.)
Connecticut (5/24), North Dakota (3/5), Massachusetts (8/27), Mississippi (2/28), Tennessee (5/22), Vermont (9/15)
No polling data at all, yet -- 6 States
(States which have not been polled so far this year.)
Idaho, Louisiana, Nebraska, Rhode Island, Washington D.C., Wyoming
-- Chris Weigant
Follow Chris on Twitter: @ChrisWeigant