[ Posted Monday, August 3rd, 2020 – 17:47 UTC ]
Welcome back to the second of our quadrennial Electoral Math column series. The first installment was three weeks ago, which is our standard gap for the start of the contest. As time goes by and things start to move more quickly, we will start doing these every other Monday, right up to Election Day.
Please check that first column for a full explanation of what this series tries to accomplish, as well as my earlier column on the question of the validity of polls after the 2016 election. These two should answer most questions you might have about the series and its meaningfulness.
As always, we are happy to get all our data from the fantastic Electoral-Vote.com site, which has its own series of graphs and interpretations that are well worth checking out. This site has been consistent over the past four election cycles, and stands as a great resource for poll-watchers.
I have to update something I said last time around, because I have now gotten my own data-collecting file up to snuff and up to date. This means I will be able to provide the newer graphs I used in the 2016 cycle once again, although there is still room for improvement as time goes by (the charts and graphics will hopefully be expanded even further, in other words).
That's enough introduction, let's get to the charts. The first, as always, is a measure of the percent of Electoral Votes (EV) that the two candidates would have if the election were held today and all the polls were perfectly accurate. Joe Biden's numbers start from the bottom and are in blue, and Donald Trump's numbers start from the top and are in red. Any white space in between are states which are currently tied in the polls. If the line is above the 50 percent mark, Biden has the advantage. If it is below 50 percent, Trump has the advantage. So here we go: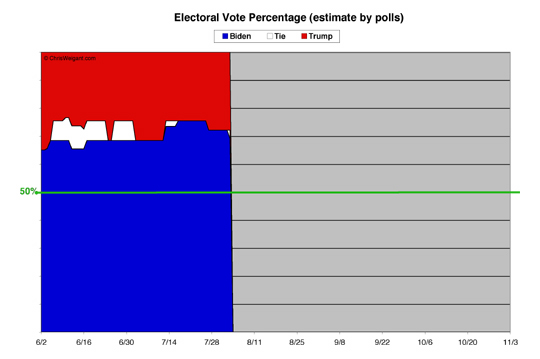 [Click on any of theses graphs to see larger-scale versions.]
As things stand, Joe Biden has 69 percent of the Electoral Votes while Donald Trump has 28 percent (the other 3 percent represents Georgia's 16 EV, because a new poll was posted today that shows the race tied there).
Ten states moved over the course of the last three weeks. Missouri firmed up for Trump at the start, to be followed later on by Alaska also firming up. Biden got good news in Arizona, as it moved twice in Biden's direction (the battleground states will have a lot more polling reported, so they will likely tend to move more than the others). Minnesota and Florida got stronger for Biden in one poll, but then slipped back in a second. Michigan and New Hampshire got a lot stronger for Biden late last week. Biden weakened a bit in Pennsylvania as well. Two states flipped, as Ohio went from being slightly for Biden to being slightly for Trump while (as mentioned) Georgia just went from slightly Biden to a tie.
Over the whole period (which began at the start of the white block above the 7/14 mark on the above graph), Biden improved a small bit and then fell back slightly more. But as we're about to see, he's still in pretty admirable shape overall.
Our next charts show the relative strength of each candidate's support. Polls which show a 10 point lead or better are considered "Strong," while a gap of between 5 and 10 points is "Weak" and a lead of under 5 points is only "Barely" in their column. Let's start by looking at Biden's chart: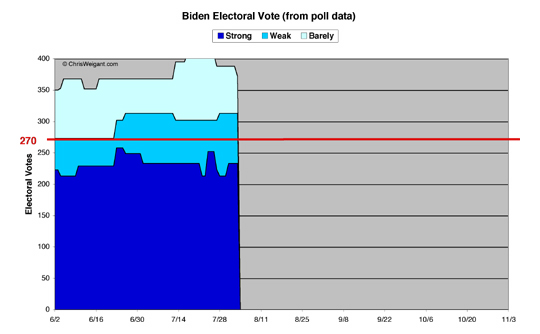 This is a rather notable chart because for the first time ever (the first time in the last four presidential races), a candidate has literally gone "off the charts." I considered changing the scale to accurately show Biden's historic peak, but for the time being decided against it (mostly because it's easier to compare between the years when you use the same scale). But we'll get to such comparisons in a moment.
The first thing that happened to Biden's numbers was Arizona moved from Tied to Barely Biden, which gave him a whopping total of 406 Electoral Votes and sent him off the top of the chart. A little later, Biden's Strong and Weak numbers went through some churning, as Pennsylvania weakened a bit while both Florida and Minnesota trended Strong before moving back to Weak. Arizona then moved up to Weak Biden, and finally New Hampshire and Michigan moved up to Strong. At the same time, Biden lost two of his Barely states, Ohio (which flipped to barely Trump) and Georgia (which is now tied).
In the overall numbers, Biden started with 395 EV, moved up to 406, and then fell back to 372. A quick reminder: only 270 EV are needed to win. But as always, the numbers I pay the most attention to are the "Strong Plus Weak" lines. As you can see, Biden actually improved his Strong Plus Weak, moving from 302 EV to 313 EV.
As I cautioned last week, however, these numbers are almost certainly more optimistic than what the actual vote will be for one clear reason: Texas. Texas is currently in the "Barely Biden" column, even after numerous polls have been reported. But Biden actually winning the 38 EV from Texas is doubtful, at best. And because of the size of their electoral presence, this will change the chart in rather dramatic fashion. We should see this at some point, if Texas flips back to Trump's column -- when Biden's numbers will take a rather large 38 EV dip. Just to keep everyone realistic, here.
Which brings us to our new chart, which compares Joe Biden to Hillary Clinton and Barack Obama's two elections. The dates used on the bottom axis are this year's, but the charts are aligned by how long there is to go before Election Day. Since in different years I started doing these columns at different times (mostly due to when the nominee was made clear), some of the Biden chart for this year has been truncated. So how does Biden stack up against Clinton and Obama? See for yourself: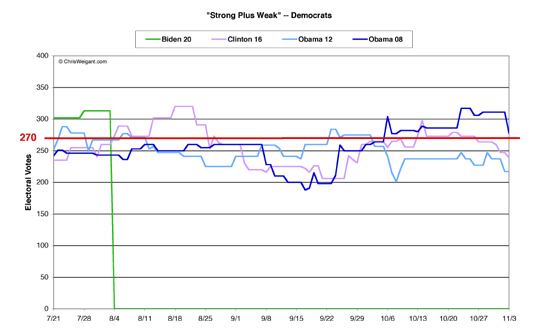 Biden (in green) starts off not only in better position than Clinton or Obama did (by roughly 50 EV), but Biden's in such good position that he's close to setting a record. Biden's 313 EV in Strong and Weak states is higher than any point on anyone's graph except for an early surge by Hillary Clinton that put her briefly at 320 EV, as well as the closing days of the 2008 campaign for Barack Obama (when he hit 317 EV).
This really is no surprise, since Biden also just charted an overall record (that off-the-charts 406 EV for all his categories combined) that neither Clinton nor Obama ever hit. The most impressive thing, however, is that Biden's Strong Plus Weak (even the earlier numbers that got cut off from this comparison chart) have never been below the 270 EV needed to win. Sure, it's early days, but that's still a feat that neither Clinton nor Obama managed this early in their runs.
Now that we've seen Biden's numbers, let's take a look at how Donald Trump is doing: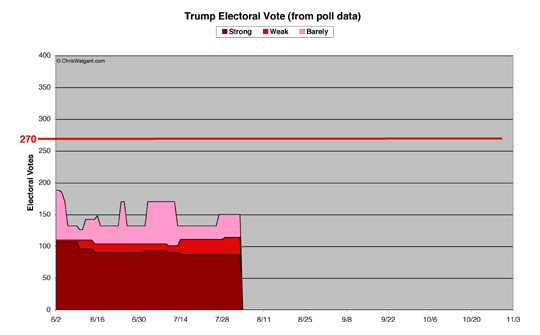 That's a pretty sad little chart, you've got to admit. Trump did very slightly improve his Weak numbers, as first Montana and Missouri, and then later Alaska all firmed up for him. However, these three states only have 16 EV combined, so the movement on the graph was pretty small. A much bigger jump came when Trump flipped Ohio from Barely Biden to Barely Trump, which is where his 18 EV overall improvement came from.
Trump increased his overall total from 132 EV to 150 EV during this period, but even that is lower than the lowest point he ever charted in 2016. In fact, it's lower than either Mitt Romney or John McCain ever hit as well. Romney only briefly fell below 200 EV, although McCain wound up not too far above 150 EV at the end of the race. Once again: Trump's best numbers this year don't even compare favorably with the worst Republican numbers from the past three elections.
Let's look at the Republican Strong Plus Weak chart to see this comparison: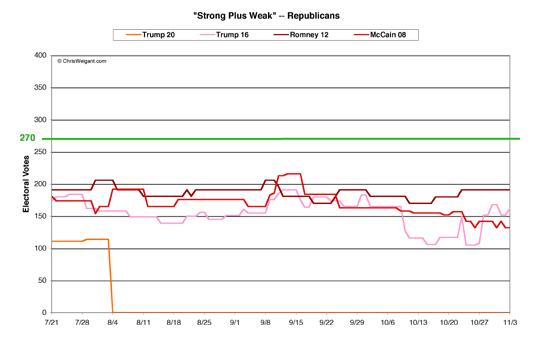 As you can see, Trump is doing pretty bad right now compared to the last three cycles. For the most part, Republicans have held a solid grip on between 150 and 200 EV. They've briefly been above this range, and briefly dropped below it, but that is really where the Republican base numbers should be. Trump, obviously, is nowhere near this level. In fact, there's really not much more that can be said, because that chart shows the sad situation so plainly.
My Picks
Moving on from examining raw data requires some gut feeling to enter into the equation. Such as: "Do I really think Biden will take Texas? No, I do not." As always, I encourage everyone to keep a close eye on the individual state graphs to see how many polls have been conducted in each state, and how recent they are. This helps when determining how much faith you put in the numbers coming out of each state. There is also a quick list at the bottom of this article (in the raw data section) that shows which states have either not been polled at all or haven't had a poll in a long time.
As always, I divide my picks into "Safe," "Probable," and "Leaning" for each candidate, with a final "Too Close To Call" category at the end. So let's just dive right in, shall we?
Likely States -- Biden
Safe Biden (18 states, 213 EV)
Biden added one state to this column this time around, since Virginia now seems to be solidly for Biden. The once-red, once-purple state is now a healthy shade of blue, in other words (to be fair, this has been a historic trend which has little to do with Donald Trump).
Probable Biden (5 states, 60 EV)
This category saw the most movement for Biden, as Virginia moved up to Safe Biden while two other states moved up from Lean Biden to take its place. Michigan now seems pretty probable for Biden, especially given the fact that Team Trump seems to have given up on advertising there. This could always change, of course, but to see Trump retreat from the Michigan battlefield is pretty noteworthy.
The other state moving into Probable Biden this week is Wisconsin. Biden opened up a decent polling lead there in the middle of May, and he's steadily held it ever since, through multiple polls. Pennsylvania and New Hampshire also remain in this category, although both of them are actually flirting with moving up to Safe Biden, at this point. I will probably wait for another few polls from each before doing so, though. So Biden winds up with five Probable states this time around: Michigan, Minnesota, New Hampshire, Pennsylvania, and Wisconsin.
Likely States -- Trump
Safe Trump (14 states, 87 EV)
No changes to report here -- all of Trump's stronghold states have remained strong for him, so nothing has changed.
Probable Trump (4 states, 27 EV)
Trump added two states to his Probable column this week: Alaska and Missouri. In both states, Trump has shown a decent lead (although there hasn't been a whole lot of polling). But my gut tells me that both of these states are probably in the bag for Trump, at this point.
Montana is still in the Probable Trump column, but Biden does seem to be closing the gap there (likely due to the Democrat doing so well in the Senate race). So the state is in danger of weakening for Trump, but for the time being I'm going to leave it in this column. Tennessee rounds out the Probable Trump states, for a total of four.
Tossup States
Lean Biden (3 states, 46 EV)
There was quite a bit of movement in this category as well, as both Michigan and Wisconsin moved up from Lean Biden to Probable Biden. In its place, Arizona now has to be seen as Lean Biden rather than Too Close To Call, as Biden has mostly led in the polling (other than one poll in early July which showed the race tied).
Nevada remains as Lean Biden, although this is probably due to the lack of polling (Nevada just never polls anywhere near the rate of other states, despite being a sometimes-swing state that trends blue). It should probably be at least Probable Biden, but we'll have to see what the polling says (when and if it happens). The last Nevada poll we have is from February, before Biden had even wrapped up the nomination.
Florida is almost (but not quite) ready to move up to Probable Biden as well. I hesitate to do so because of its overall importance to the race -- if Florida goes for Biden, it may mean Trump simply has no viable path to the 270 EV needed to win. So for now, I'm keeping Florida as just Lean Biden.
Lean Trump (2 states, 12 EV)
Alaska and Missouri both moved up from Lean Trump to Probable Trump, leaving just Arkansas and Utah in the Lean Trump category. My gut tells me Utah should be stronger for Trump, but the last two polls (both of which were taken quite a while ago) showed a very close race here.
Too Close To Call (5 states, 93 EV)
This category stayed mostly the same, with only Arizona leaving to move to Lean Biden. A case could be made for North Carolina moving up to Lean Biden as well, since he's held onto a small lead there pretty consistently, but one July poll showed the race tied. Georgia obviously belongs here, as it just posted a tied poll today, and the other three states (Iowa, Ohio, and Texas) have all been neck-and-neck throughout multiple polls over the past month or so.
Final Tally
Joe Biden has got to be feeling pretty good about his chances, at this point. With states moving in his direction in both Safe Biden and Probable Biden, overall Biden has a whopping 273 Electoral Votes that are likely for him right now. This is up 36 EV from last week, after adding in Michigan and Wisconsin. This total would put him over the top in the Electoral College, it bears pointing out.
Donald Trump did slightly better this time around as well, but he only added 13 EV to his likely lineup (Alaska's 3 EV and Missouri's 10 EV). This gives him only 114 EV that he can really count on in November, at least as things stand now. That's less than half of what Biden's got. That leaves Trump with an enormous gap -- he will need 156 EV from all the other states in order to win. That's not just running the table, that's close to impossible.
Even adding in the Lean Trump states doesn't help him too much, as it would only give Trump 126 EV in total. Not only will Trump have to win all of the 96 EV in the Too Close To Call states, he'd also have to win all the Lean Biden states as well. Even if he corralled the whole Tossup State category, he'd still only be at 265 EV -- five short of the goal. To win, this means he'd have to pick up at least one decent-sized state from the Probable Biden category as well as running the table in all the current Tossup States. That is a pretty tall order, obviously.
Of course, nothing is set in stone, as we all know full well. Things can change, and there are still over 90 days to go before we all vote. That's a lot of time. Trump will (no doubt) try to spring multiple October Surprises on us all (a new vaccine! Hunter Biden! etc., etc.), which could always change things at the last minute (as happened in a big way in 2016, obviously).
But for the time being, Joe Biden is dominating the race for the Electoral College. He's posting numbers never seen by either Hillary Clinton or Barack Obama. So he has to be seen as the odds-on favorite to win in November, three months out.
[Full Data:]
(State electoral votes are in parenthesis following each state's name. Washington D.C. is counted as a state, for a total of 51.)
Joe Biden Likely Easy Wins -- 23 States -- 273 Electoral Votes:
Safe States -- 18 States -- 213 Electoral Votes
California (55), Colorado (9), Connecticut (7), Delaware (3), Hawaii (4), Illinois (20), Maine (4), Maryland (10), Massachusetts (11), New Jersey (14), New Mexico (5), New York (29), Oregon (7), Rhode Island (4), Vermont (3), Virginia (13), Washington D.C. (3), Washington (12)
Probable States -- 5 States -- 60 Electoral Votes
Michigan (16), Minnesota (10), New Hampshire (4), Pennsylvania (20), Wisconsin (10)
Donald Trump Likely Easy Wins -- 18 States -- 114 Electoral Votes:
Safe States -- 14 States -- 87 Electoral Votes
Alabama (9), Idaho (4), Indiana (11), Kansas (6), Kentucky (8), Louisiana (8), Mississippi (6), Nebraska (5), North Dakota (3), Oklahoma (7), South Carolina (9), South Dakota (3), West Virginia (5), Wyoming (3)
Probable States -- 4 States -- 27 Electoral Votes
Alaska (3), Missouri (10), Montana (3), Tennessee (11)
Tossup States -- 10 States -- 151 Electoral Votes:
Tossup States Leaning Biden -- 3 States -- 46 Electoral Votes
Arizona (11), Florida (29), Nevada (6)
Tossup States Leaning Trump -- 2 States -- 12 Electoral Votes
Arkansas (6), Utah (6)
Too Close To Call -- 5 States -- 93 Electoral Votes
Georgia (16), Iowa (6), North Carolina (15), Ohio (18), Texas (38)
Polling data gaps:
Polled, but no recent polling data -- 11 States
(States which have not been polled since the beginning of June, with the dates of their last poll in parenthesis.)
California (5/26), Connecticut (5/4), Delaware (1/19), Indiana (5/23), Nevada (2/21), North Dakota (3/5), Maryland (5/23), Mississippi (2/28), South Carolina (5/26), Tennessee (5/22), Utah (5/15)
No polling data at all, yet -- 12 States
(States which have not been polled so far this year.)
Hawaii, Idaho, Illinois, Louisiana, Nebraska, Oregon, Rhode Island, South Dakota, Vermont, Washington D.C., West Virginia, Wyoming
-- Chris Weigant
Follow Chris on Twitter: @ChrisWeigant