[ Posted Monday, July 13th, 2020 – 18:58 UTC ]
Welcome to the first 2020 installment of our quadrennial series tracking the electoral math in the presidential race. We've done this three times previously, and (like pretty much everyone else in the political prediction game) failed miserably the last time around. Hey, two out of three ain't bad, right?
Sigh. As I explained a few weeks ago, polling will always have its shortcomings (especially at the state level), but it's really the only thing we've got other than collecting anecdotal evidence on our own. Which is impossible on the scale the Electoral College operates on. Flawed though it may be, state-level polling is still important to keep an eye on, which is precisely what this series intends to do.
The intent of the series is the same as it always has been: to chart the probable Electoral College vote over time. After all, this is the way we elect presidents, but for some reason the political media world loves to focus instead on national polls. As Hillary Clinton (and Al Gore before her) proved, national polling is next to meaningless, because the national popular vote is also next to meaningless. Democrats have won seven out of the last eight presidential popular votes (Bush's second term is the only popular vote the Republicans won), but it didn't stop George W. Bush or Donald Trump from winning the Electoral College.
Some pundits pay more attention to just the battleground states -- which is much smarter -- but doing so without taking into account the rest of the states presents an incomplete picture. The Electoral College vote totals are what is truly important, and unless you take the final step of adding in the battlegrounds to the rest of the country, you're not providing this big picture view.
I've always been kind of astonished that so few other people online track these things, which is why I created this series in the first place, way back in 2008. Since then, more sites have begun providing this information, which is an improvement.
A few words about methodology and data are necessary before we dig into things. All our data comes from the incomparable Electoral-Vote.com site, which was the first I found to provide such granular data. Since then other sites have begun to provide this level of detail, but I still find the Electoral-Vote.com site to be the easiest to read and the easiest to cull data from, so I encourage everyone else to use it as well.
But the site only provides a daily snapshot, which is why I've taken it one step further and graphed the whole state-level picture over time. This way, you can see the ups and downs throughout the campaign fairly clearly.
One note about today's charts -- when I began updating the spreadsheet with the 2020 data, I could not find my file from 2016. So I used the file I had from 2012 and just created a new data set. This means I won't have some of the bells and whistles I used the last time around, but this should improve over time. After I crunched all the numbers, I did indeed find the 2016 chart (I had mislabelled it "2020 data" for some unfathomable reason), but by then it was too late to go back and start all over. By the next column in this series, hopefully I will have done so.
OK, with all of that having been said, let's take a look at how things stand here at the start of the general election race. The first chart, as always, is the "big picture" overview. If you assume all the state-level polling is correct (even the close ones), how close to a winning percentage of Electoral Votes (EV) is either candidate? Joe Biden, in blue, starts from the bottom of the chart. Donald Trump, in red, starts at the top of the chart. States which are tied are the white area in between. If the blue is above the halfway line, Biden will win. If the red is below the line, Trump will win. Here's the initial chart for 2020: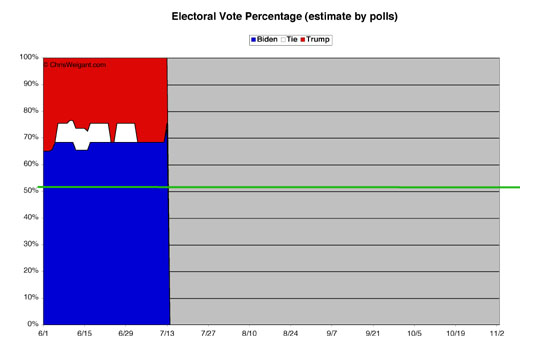 [Click on any of theses graphs to see larger-scale versions.]
I should point out that while you can't see it (due to the slope and thickness of the lines), on the last day of data (today), the "tied" section reappeared, with 11 Electoral Votes, as a new poll from Arizona put the race at dead even. So Biden's total isn't quite as impressive as it looks -- but it's still pretty impressive. Joe Biden has over 73 percent of the total EV, while Donald Trump is just below 25 percent. If the election were held today and these polls were accurate, the word "landslide" would be hard to avoid.
Now let's take a closer look at each candidate. These charts show the breakdown of total EV measured by the margins from the polls. A gap of 10 points or better counts as "Strong," a gap of between 5 and 10 points is "Weak," and anything below 5 percent falls into "Barely." The chart is stacked so you can see (from the bottom up) lines for "Strong only," "Strong plus Weak," and then the total for all three.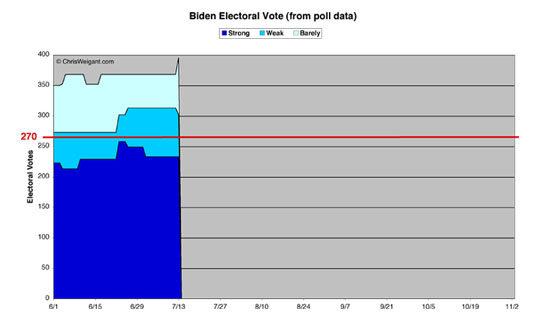 That's a pretty happy chart, obviously, for Team Biden. Strong Biden is at 233 EV, only 37 short of the finish line (270, as marked on the graph). Weak Biden adds 69 EV, putting Biden easily over the top with 302 EV just in these two categories. But the real boost comes from the 93 EV in the "Barely" category, which puts his total at a whopping 395 EV. This is deceptive, though, which I'll explain in a moment.
First, I have to point out that the total 395 EV Biden just charted is higher than any point reached by either Barack Obama or Hillary Clinton in the past three contests (click the links to see the final charts for these three contests). In 2008, Obama hit a high of 375, but 2012 was closer as he only managed 347 on his best day. Clinton managed to hit 368 EV in 2016, but only for a single day.
But, as I said, this is deceptive. The biggest reason for this jaw-dropping total for Biden -- only five EV short of 400 -- is that the last poll out of Texas put Biden very slightly up in the state. Texas has 38 EV, so that's a real boost. However, the likelihood that Biden will actually win Texas is still very much up in the air. The fact that he's this close is noteworthy, but the heft of 38 EV is why Biden's numbers today are so much better than any from the past three cycles.
The line I pay the most attention to on these graphs is the one in the middle -- the total of "Strong plus Weak," though. Right now, Biden is at a comfortable 302 EV, far more than he needs to win. At this point in the last three contests, Barack Obama was at 239 EV in 2008 and 250 EV in 2012. Clinton's numbers were not available until after the convention, which happened later in July, but the first number she posted (on July 25) in Strong plus Weak was 235 EV. So you can see Biden's not just doing well, but doing a lot better than the Democrat in the last three races.
Which brings us to the flip side of this coin. Let's take a look at how Donald Trump is doing so far.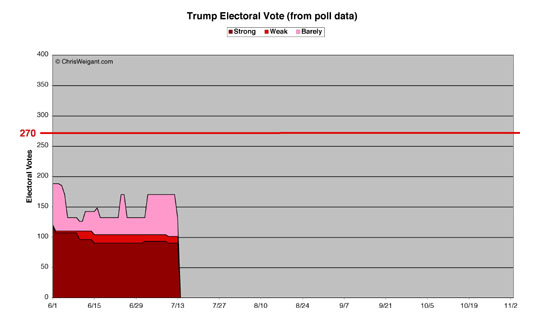 That's pretty dismal, you've got to admit. Again, compare it to the charts from the last three contests for context.
Donald Trump has only 90 EV in the Strong column, an additional 11 EV in the Weak, and 31 more in the Barely category. This adds up to only 101 EV in Strong plus Weak (which is only just breaking into three digits), and a paltry 132 EV total.
Again, we had no data from this early in 2016, but the very first numbers Trump posted were much more positive for him. He started off with 103 EV in Strong -- two higher than his current Strong plus Weak. He had a respectable 71 EV in Weak, putting his 2016 Strong plus Weak at 174 EV. Add in his 23 Barely and he was scraping 200 in his overall total (197 EV).
Looking even further back, the other two Republican candidates were roughly on a par with Trump's 2016 numbers. In 2008, John McCain was at 204 EV overall, with 181 EV in Strong plus Weak. In 2012, Mitt Romney was at 241 EV overall with 191 EV in Strong plus Weak. So historically, Trump is not just looking bad right now but really bad.
Of course, the same caveat applies to him -- if Texas were even in his Barely column, Trump's numbers would look a lot more respectable right now. In fact, that chart is deceptive because it looks like Trump still holds onto Texas (which he did yesterday). From the middle of June onwards, Texas has been flipping from Barely Trump to Tied, which shows up clearly on Trump's chart. Today it flipped to Biden's column, but I expect there will be lots and lots of polling done in Texas in the coming weeks, so it'll probably continue to move around a bit. Even it Biden does pull off a miracle and win the state, it'll almost certainly be very close so I seriously doubt Texas will ever poll even at the "Weak Biden" level.
My Picks
This is the part of the program where I take the raw numbers and then apply a whole lot of gut feeling to them to sort them into my own categories. I've put different labels on them to differentiate them from the Electoral-Vote.com groupings. For each candidate I will call states as "Safe," "Probable," or "Leaning." The final category is "Too Close To Call," where I can't even make an educated guess what the result will be.
As always, I will be providing data at the end to show which state lands in which category for each column. At the very bottom is a rather important set of data as well: the states which have not been polled in a while (right now this is defined as "before June") and those that have not been polled at all. For the most part, these are such deep blue or red states that the outcome is all but guaranteed, but then again you never can tell about these things. Over time, these lists usually shrink. If you want to really take a deep dive into the data for each state, click on the "Graphs of all polls" button on the front page of Electoral-Vote.com to see individual graphs for each state (where it is obvious how long it has been since a poll has been conducted in each state).
Likely States -- Biden
Safe Biden (17 states, 200 EV)
Since this is the first of these columns, I'm basically just going to start the Safe Biden category with the states on the Electoral-Vote.com site that are polling at 10 points or better for Joe Biden. I've only got two changes to make, both subtractions. Pennsylvania polling currently shows Biden 10 points ahead, and Virginia shows Biden up by 12 points, but I'd like to see some further polling from both before I list them as safe for Team Biden.
Again, the full list of states is at the end (there are too many to list here), complete with the number of EV each has. When you add them all up, it gives Biden 200 EV safely in his pocket right now.
One final technical note here -- since Maine and Nebraska can split their votes by House district, there is a single EV in both states that may flip from who wins the state overall. But I'm not going to pay attention to them, because they tend to cancel each other out.
Probable Biden (4 states, 47 EV)
My initial picks for the states Biden will probably win: Minnesota, New Hampshire, Pennsylvania, and Virginia. Eventually some of these will likely move up into the Safe Biden category, but since we're just beginning, I'm being rather conservative.
Likely States -- Trump
Safe Trump (14 states, 87 EV)
Again, this list is pretty close to what the Electoral-Vote.com site shows, with one exception. I had to move Montana down to only Probable Trump, because he's been weaker here than expected. This could be the effect of the Senate race, where a very popular Democratic governor has a real shot at unseating a Republican. Whatever the reason, for now I can't see it as totally safe for Trump. This only gives Trump 87 EV that can be considered locked in right now.
Probable Trump (2 states, 14 EV)
I've only got two states in the Probable Trump category, the aforementioned Montana and Tennessee. The last poll from the Volunteer State showed Trump only up 9 points, but this was over a month ago. It's quite likely that both these states will firm up for Trump over time, though.
Tossup States
Lean Biden (4 states, 61 EV)
Since this is the first column of the series, there are a whole lot of states in all the Tossup categories. Over time (hopefully) these will show stronger trends for one candidate or the other. Starting with states only leaning towards Biden, we have the following four: Florida, Michigan, Nevada, and Wisconsin.
Florida is probably the biggest surprise in this category, but Biden has been polling rather well in the Sunshine State, at times even hitting a double-digit lead over Trump. So far, Florida looks more than just competitive -- it looks like it should really belong in the Probable Biden category. However, since Florida is such a volatile state politically, for now we're only going to say it is leaning towards Biden.
Michigan has been even stronger for Biden so far than Florida, so I expect this one will move up into Probable Biden soon as well. Nevada has been slowly turning blue over the past two decades, but so far there has only been one poll out, and it was taken back in February. So until some more recent polling appears, it has to be considered only a leaner for Biden. Wisconsin is going to be a hard-fought battleground state, so it wouldn't come as any surprise if it stayed in one of the Tossup categories for the whole race.
Lean Trump (4 states, 25 EV)
There are also four states currently only leaning towards Trump: Alaska, Arkansas, Missouri, and Utah. All four are rather surprising, to one degree or another. Alaska will almost certainly go for Trump in the end, but the most recent poll only has him up by 3 points. Arkansas is the same story -- it really should be a lot more solid red, but the only poll to date showed Trump with a tiny margin of only 2 points. Missouri is similar, with the latest poll showing Trump only up 4 points. Utah seemed close back in 2016 but it eventually went for Trump and probably will this time around too. However, Mitt Romney has emerged as the strongest anti-Trump voice in the Senate and he is well-loved in Utah, so who knows what will happen? A Utah poll taken mere days ago only showed Trump up 3 points.
Too Close To Call (6 states, 104 EV)
And here's the part where I just punt. There are six states where things are too close (or even flipping back and forth) to accurately predict much of anything right now.
Arizona looked fairly good for Biden up until today, when a new poll showed the state evenly tied. Georgia is going to be a hard-fought state no matter who wins in the end, and has already flipped between the candidates twice. Iowa has not totally flipped (Trump is slightly up), but one poll did show a perfect tie there. North Carolina may actually see the most money spent on ads (well, with the possible exception of Florida) because everyone sees it as so close and there's also a very close Senate race there as well. So far, Biden appears to have the edge, but it's a very small edge. Ohio is perennially (quadrennially?) a battleground state, and this year will be no different. And finally -- and most surprisingly -- Texas has to be considered Too Close To Call at this point, with multiple polls showing either a flat tie or Biden very slightly up (to be fair, Trump has had polls showing an equally-slim lead as well).
Final Tally
It's pretty clear, when all the data has been sifted and considered, that Joe Biden is in a much happier place right now than Donald Trump. If the election were held tomorrow, Biden would be the overwhelming favorite to win. The best indicator of this is how many various routes he's got to reach the magic 270 EV threshold. He could lose any of his close states right now and still pick up enough Electoral College votes to beat Trump.
Trump, on the other hand, has to pretty much run the table. If the election were held tomorrow and Trump won all his safe and probable states as well as every tossup state (even the ones currently leaning towards Biden), he would win but his victory would be a smaller one than the one he eked out in 2016 (which, by historical standards was a close election no matter how many time Trump tries to claim he won "in a landslide.") Even if Trump did manage to win all the tossup states, he'd still have just over 290 votes in the Electoral College. And to do that he'd have to completely sweep the table. That's Trump's current high mark, in other words, which is why it's pretty obvious that Team Biden is feeling much more comfortable about the race than Team Trump.
Joe Biden has a total of 21 states either safe or probable right now, with an impressive 237 EV. Meanwhile, Donald Trump only has 16 states he can count on, with only 101 EV between them. That is a stunning deficit of 136 EV. Biden has to win only 23 more Electoral College votes from the tossups, while Trump has to pull in a whopping 169 EV to win.
Donald Trump was a lot more competitive before the pandemic began (to be fair, at this point Biden hadn't wrapped up the Democratic nomination yet). But after watching Trump flail around and continue to deny that the crisis even exists, more and more voters are deciding that they'd rather have a competent adult in charge of things rather than what they see now. This is reflected both in the national polling and (increasingly) at the state level as well. Just look at the lists of states that usually vote ruby red that Trump is in danger of losing right now -- that's perhaps the biggest indicator of the trouble Trump's campaign is in, here at the start. I mean, only leading by two points in Arkansas? That's astonishing.
Of course, things can always change and they can change very quickly. We should all be fully aware of that by now. This is only our first look at the state-level polling, so this is only the baseline we're starting from. Over the next 100-plus days, we'll be returning to the charts and numbers on a regular basis to see how things are shaping up out there. But for now, things are looking pretty copacetic for Joe Biden's chance of becoming our next president.
[Full Data:]
(State electoral votes are in parenthesis following each state's name. Washington D.C. is counted as a state, for a total of 51.)
Joe Biden Likely Easy Wins -- 21 States -- 247 Electoral Votes:
Safe States -- 17 States -- 200 Electoral Votes
California (55), Colorado (9), Connecticut (7), Delaware (3), Hawaii (4), Illinois (20), Maine (4), Maryland (10), Massachusetts (11), New Jersey (14), New Mexico (5), New York (29), Oregon (7), Rhode Island (4), Vermont (3), Washington D.C. (3), Washington (12)
Probable States -- 4 States -- 47 Electoral Votes
Minnesota (10), New Hampshire (4), Pennsylvania (20), Virginia (13)
Donald Trump Likely Easy Wins -- 16 States -- 101 Electoral Votes:
Safe States -- 14 States -- 87 Electoral Votes
Alabama (9), Idaho (4), Indiana (11), Kansas (6), Kentucky (8), Louisiana (8), Mississippi (6), Nebraska (5), North Dakota (3), Oklahoma (7), South Carolina (9), South Dakota (3), West Virginia (5), Wyoming (3)
Probable States -- 2 States -- 14 Electoral Votes
Montana (3), Tennessee (11)
Tossup States -- 14 States -- 190 Electoral Votes:
Tossup States Leaning Biden -- 4 States -- 61 Electoral Votes
Florida (29), Michigan (16), Nevada (6), Wisconsin (10)
Tossup States Leaning Trump -- 4 States -- 25 Electoral Votes
Alaska (3), Arkansas (6), Missouri (10), Utah (6)
Too Close To Call -- 6 States -- 104 Electoral Votes
Arizona (11), Georgia (16), Iowa (6), North Carolina (15), Ohio (18), Texas (38)
Polling data gaps:
Polled, but no recent polling data -- 17 States
(States which have not been polled since the beginning of June, with the dates of their last poll in parenthesis.)
California (5/26), Connecticut (5/4), Delaware (1/19), Indiana (5/23), Nevada (2/21), New Jersey (5/4), North Dakota (3/5), Maryland (5/23), Massachusetts (5/6), Minnesota (5/20), Mississippi (2/28), Missouri (5/27), South Carolina (5/26), Tennessee (5/22), Utah (5/15), Virginia (5/16), Washington (5/20)
No polling data at all, yet -- 12 States
(States which have not been polled so far this year.)
Hawaii, Idaho, Illinois, Louisiana, Nebraska, Oregon, Rhode Island, South Dakota, Vermont, Washington D.C., West Virginia, Wyoming