[ Posted Tuesday, October 23rd, 2012 – 16:38 UTC ]
Well, we're a day late, but hopefully not a dollar short. We return to our view of the electoral math two weeks out from election day, and remind everyone that there will only be two more of these columns appearing after today.
Today will be a somewhat-abbreviated column, due to staying up late with debate night (and baseball) excitement last night. Let's quickly whip through the charts and get on to the prognostifying, shall we?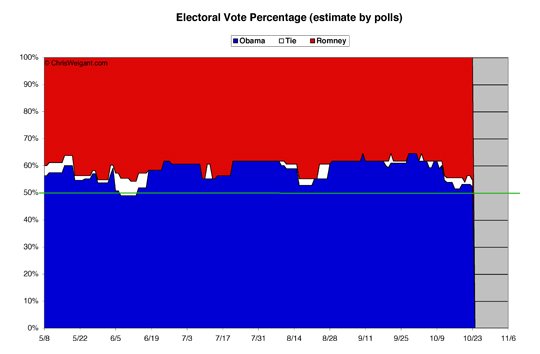 [Click on any of theses graphs to see larger-scale versions.]
As you can see, the race has tightened considerably since the first debate. There were more states tied during this last week than we've seen in a while, which shows up in white on the above chart. Virginia, Colorado, and New Hampshire were all tied at one point during the period, although at the end Virginia was the only one left even.
There was less movement of states between categories as last time, although plenty of polling has been taking place. This could mean states getting "locked in" to where they're going to vote in November, although there are enough states teetering on one edge or another to still make this a very volatile and close race.
Mitt Romney got good news in two states, as Missouri firmed up for him considerably and just today he has managed to flip Colorado from Obama's column. Obama managed to flip New Hampshire back from Romney, which softened the blow to a net of only 5 Electoral Votes (EV) for Romney's side. Obama locked up two states this time around, strengthening his support in Michigan and Connecticut. New Jersey looked like it was weakening, but then firmed back up for Obama. The state which is truly teetering on the edge right now is Virginia, where Romney barely got an edge only to see it disappear the next day.
By percentages, Obama is down to only 52.2 percent of the total EV, while Romney has improved slightly to 45.4 percent.
Let's take a close look at each candidate, beginning with Romney: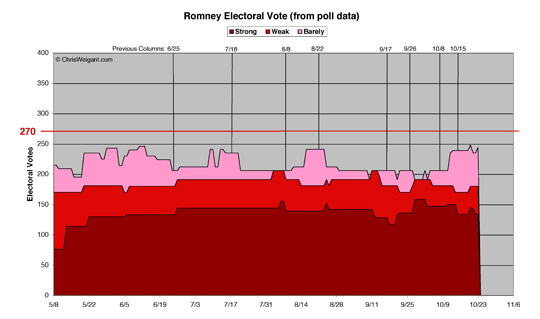 [Definition of terms: "Strong" means 10% or better in the polls,
"Weak" means 5% or better, and "Barely" is under five percent.]
[Aside: OK, you just can't make this stuff up, before I started writing this section I was interrupted by the phone, and it was a presidential political poll calling me up! Truth is stranger than fiction, folks -- I mean, what are the odds?]
Where was I? Romney...
Mitt's overall number fluctuated a bit this time around, but didn't end up all that different from where he started. From 239 EV overall, Romney rose briefly to 248, fell to 235, then climbed back to 244 at the end by snagging Colorado (while losing New Hampshire, a net gain of 5 EV). Within his numbers, Missouri briefly moved to "Strong" before falling back to "Weak," but this is still an improvement since it started as only "Barely Romney." This did help Romney bolster his all-important "Strong Plus Weak," up to 180 EV from last week's all-time low of 170 EV, while his Strong stayed at 134 EV. For the week, there was a bit of shuffling around, but Romney's numbers stayed pretty steady, with a slight improvement.
Moving on to Obama's chart: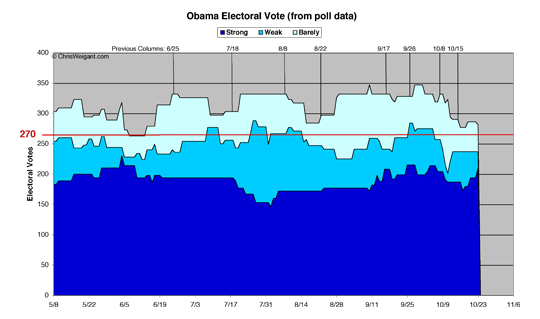 Obama's overall picture didn't change much, but he did show improvement in strengthening up states in his column. At the very start of the week, Obama lost Virginia from Barely to Tied, which put him 13 EV down, from 290 EV overall down to 277 EV. Obama briefly moved Colorado into his column, which improved his overall total to 286 EV, but lost it at the end (while picking up New Hampshire), to finish at 281 EV. This is down 9 EV from last week, and marks the lowest week in overall numbers for him since June.
The good news for Obama is that he seems to have stopped, and partially reversed, the damage he did to himself in the first televised presidential debate. Obama's Strong number started the week at 187 EV, fell to 173 EV with the momentary loss of New Jersey, but then climbed back to finish the week with 210 EV -- which almost matches the 214/215 EV level he was at, pre-debate. Obama managed this by firming back up in New Jersey, Connecticut, and Michigan.
The sobering news for Obama fans, however, is that while Obama was gaining in the Strong category, he didn't budge in Strong Plus Weak. To put this a slightly different way, Obama swapped states between Strong and Weak, but didn't manage to add any states even to Weak. Obama's Strong Plus Weak stayed exactly the same this week, at 237 EV. While this is an improvement from the crater of 201 EV he hit right after the debate, it still is nowhere near the highs he was setting in Strong Plus Weak before debate season started. And in his overall numbers, Obama has definitely stopped the dramatic slide, but done very little to regain ground. Since he had such an overwhelming lead before this point, he is still above the 270 EV needed to win, but he's uncomfortably close to it now, instead of miles above it.
Overall, Obama holds the lead with 281 EV to Romney's 244 EV -- a margin of only 37 EV (down from last week's 51 EV edge). In Strong Plus Weak, Obama stays at 237 EV to Romney's 180 EV, for a lead of 57 EV (down from last week's 67 EV lead). Which all, as I said, means we've got an incredibly tight race to look forward to for the next two weeks.
My Picks
Onward to my picks, more from the gut than from the polling numbers (as always). Full lists of states in each category can be found at the bottom, as well as our source data link.
Likely States -- Obama
Safe Obama (18 states, 217 EV)
I'm feeling optimistic as all get out about Obama's chances in Michigan and Connecticut right now, so both of these states move up from "Probable Obama" this week.
Probable Obama (3 states, 36 EV)
Pennsylvania stays put here this week. Michigan and Connecticut move out of this category, but I'm moving Nevada and Wisconsin in to take their places. Now, this may be overly optimistic in both states, but Obama's got a solid (if small) edge in both states that has stood up to repeated polling, so at this point I'm moving both of them out of the "tossup" category. For now, at least.
Likely States -- Romney
Safe Romney (20 states, 154 EV)
No movement at all in this category. Romney's Safe states stay stable (say that three times fast!).
Probable Romney (2 states, 26 EV)
Missouri seems to be firming back up for Romney, so I'm moving it up from "tossup" status. I'm also leaving Georgia here, although a case could be made for moving it up to Safe Romney at this point.
Tossup States
Lean Obama (3 states, 28 EV)
I'm feeling feisty today, so I'm going to move some states around for both candidates which may or may not prove to be an intelligent thing to do. Just to warn you, up front. Iowa and Ohio stay as Lean Obama this week, with no change. Nevada and Wisconsin move up from this category to Probable Obama this week, and I'm just going to go ahead and move New Hampshire in here as well. The polling has been weak for Obama here, but I think the state is going to be in Obama's column on election night. This could be just a gut feeling, and it could be wrong, but there it is.
Lean Romney (3 states, 55 EV)
Arizona and Florida stay put in this category this time around. Romney loses Missouri up to Probable this week, and to take its place I'm moving North Carolina upwards for him as well. Obama may still have a slim chance in North Carolina, but at this point I think Romney's the clear favorite to take it in November.
Too Close To Call (2 states, 22 EV)
We're down to only two states being Too Close To Call this week, as North Carolina and New Hampshire move up for each respective candidate. Which leaves only Colorado and Virginia here in the twilight zone of "could go either way."
Final Tally
Obama has stopped his dramatic post-first-debate downward slide, and has regained some of the ground he lost, while Mitt Romney slowly has been improving. Having said all of that, Obama still retains an edge in electoral voting -- albeit a smaller edge than before.
By my picks, Barack Obama has 21 states with 253 EV comfortably in his column. Mitt Romney has 22 states for 180 EV. This is an improvement for both men over last week. Obama actually opened up his lead slightly over last week, to 73 EV over Romney (up from a 67 EV lead last week).
This leaves Obama only 17 EV shy of the magic winning number of 270 EV. This doesn't count any of the eight tossup states, which represent 105 EV. Romney, on the other hand, needs 90 EV to cross the finish line. If Obama wins only Ohio (or Florida, for argument's sake) out of all eight tossups, he wins the whole race. Obama could also win with just Virginia and New Hampshire, losing all other tossups. Mitt Romney, on the other hand, will have to win six of the eight tossups to win, no matter which states you add up for him. And Romney pretty much has to win all the large states in this category, as losing even Ohio would deny him the White House.
So the race is indeed tightening, but the advantage still remains heavily in Obama's favor... at least until we meet again next week.
[Electoral Vote Data:]
(State electoral votes are in parenthesis following each state's name. Washington D.C. is counted as a state. This column series relies on Electoral-Vote.com for state polling data, as we did four years ago.)
Barack Obama Likely Easy Wins -- 21 States -- 253 Electoral Votes:
Safe States -- 18 States -- 217 Electoral Votes
California (55), Connecticut (7), Delaware (3), Hawaii (4), Illinois (20), Maine (4), Maryland (10), Massachusetts (11), Michigan (16), Minnesota (10), New Jersey (14), New Mexico (5), New York (29), Oregon (7), Rhode Island (4), Vermont (3), Washington D.C. (3), Washington (12)
Probable States -- 3 States -- 36 Electoral Votes
Nevada (6), Pennsylvania (20), Wisconsin (10)
Mitt Romney Likely Easy Wins -- 22 States -- 180 Electoral Votes:
Safe States -- 20 States -- 154 Electoral Votes
Alabama (9), Alaska (3), Arkansas (6), Idaho (4), Indiana (11), Kansas (6), Kentucky (8), Louisiana (8), Mississippi (6), Montana (3), Nebraska (5), North Dakota (3), Oklahoma (7), South Carolina (9), South Dakota (3), Tennessee (11), Texas (38), Utah (6), West Virginia (5), Wyoming (3)
Probable States -- 2 States -- 26 Electoral Votes
Georgia (16), Missouri (10)
Tossup States -- 8 States -- 105 Electoral Votes:
Tossup States Leaning Obama -- 3 States -- 28 Electoral Votes
Iowa (6), New Hampshire (4), Ohio (18)
Tossup States Leaning Romney -- 3 States -- 55 Electoral Votes
Arizona (11), Florida (29), North Carolina (15)
Too Close To Call -- 2 States -- 22 Electoral Votes
Colorado (9), Virginia (13)
No polling data since August:
(States which have not been polled since the beginning of September, with the dates of their last poll)
South Carolina (1/13), Tennessee (5/9), Utah (6/21), Oklahoma (8/14), Alabama (8/16), Vermont (8/21), West Virginia (8/25)
No polling data at all, yet:
(States which have not been polled so far this year)
Alaska, Delaware, Kansas, Mississippi, Wyoming
Electoral Math Column Series Archive:
[Oct 15] [Oct 08] [Sep 26] [Sep 17] [Aug 22] [Aug 8] [Jul 18] [Jun 25]
-- Chris Weigant
Follow Chris on Twitter: @ChrisWeigant