[ Posted Thursday, December 30th, 2021 – 17:40 UTC ]
So as it turns out, I did not actually have the energy to write any new columns this week, so please accept my apologies for slacking off. And I'm not going to post anything tomorrow at all, so this is it for 2021, folks.
I found this while looking for earlier columns to re-run this week, from the long-ago days when CW.com actually had two "C.W.s" appearing here regularly. For those who remember such halcyon days, and for those who started reading later on, here is an example of the incomparable C.W. Cunningham's art.
Have a happy new year, everyone! And let's all make 2022 a great year all year long!
Originally published December 22, 2007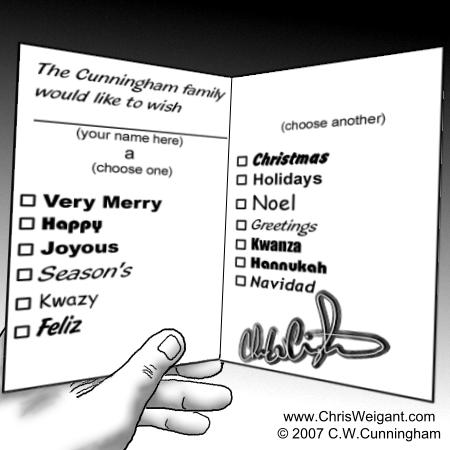 About the Cartoonist | Reprint Policy
-- Chris Weigant
Follow Chris on Twitter: @ChrisWeigant