[ Posted Monday, August 17th, 2020 – 17:06 UTC ]
I realize that the last time I wrote one of these Electoral Math columns, I said I would only be doing them every three weeks for a while to come. However, I hadn't checked the political calendar closely enough, because doing so would have put the column right between the two parties' conventions, next Monday. Instead, I thought it would be more valuable to do one before both conventions, as a baseline, and then revisit the issue afterwards to see if either candidate (or both) got the traditional "convention bounce" in the polls. Because it's only been a couple of weeks, though, this is going to be a somewhat-abbreviated column, with quicker takes on the data.
Let's get right to the new charts, to begin with. As always, all of our polling data comes from the incomparable Electoral-Vote.com site, which we urge everyone to keep a close eye on for the next few months. As usual, our first chart shows the Electoral Vote (EV) percentage that we'd see if all the polls were correct and the election were held today. If the blue is above the 50 percent mark, Biden leads. If there's more red than blue (the red area goes below the 50 percent mark), then Trump is in the lead.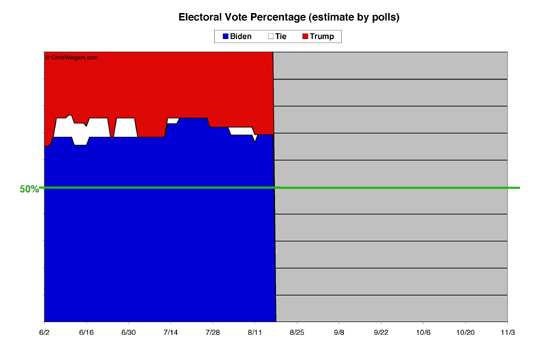 [Click on any of theses graphs to see larger-scale versions.]
The last time we checked in was two weeks ago, when the chart had just begun to show another white area, after Georgia's 16 EV moved into the middle "perfectly tied" category. Since that time, there has been a bit of offsetting movement, and then towards the end Donald Trump picked up North Carolina once again. This left Joe Biden one EV better off than he had been before and Trump up 15 EV. Biden now has the same 69 percent of the EV he had previously, while Trump moved up to 31 percent.
Nine states showed some degree of movement this time around. The first day, Montana firmed up considerably for Trump, but then the next day South Carolina weakened for him. At the same time, Michigan weakened a bit for Biden. Trump then got offsetting news as Utah solidified behind him but Kansas showed a weaker Trump lead.
None of this movement affected this chart, however. The only movement between the candidates came when North Carolina flipped from Biden to Trump, and then one day later Georgia moved from tied back into Biden's column.
Towards the end of the period, Arizona wobbled slightly as it showed Biden with a weaker lead, but then firmed right back up again with the next poll. Minnesota, however, weakened for Biden and stayed there.
Over the course of the past two weeks, Trump picked up what had been tied, while Biden improved only a single EV. This left the race essentially unchanged, with Biden maintaining a commanding lead.
Since there wasn't much movement in the overall picture, let's take a closer look at each candidate's polling, breaking it down to "Strong" (10 points up in the polls or better), "Weak" (between 5 and 10 points), and "Barely" (a lead under 5 points). First, let's look at how Biden is doing: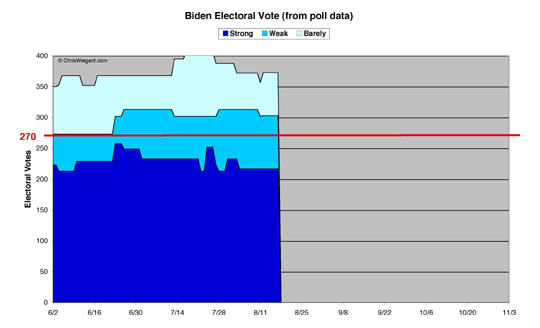 Last time around, Biden's Strong numbers had hit 233 EV (that last bump upwards in the dark blue). He started off this period by falling back, as that bump disappeared and Biden fell back to 217 EV in the Strong column. This was due to Michigan weakening a bit. But then for the rest of the period, the Strong Biden numbers stayed exactly the same.
Roughly a week ago, there was a flurry of movement in the other two categories as multiple new polls were posted. Arizona went from Weak Biden to Barely Biden, but then right back to Weak Biden the next day. North Carolina flipped from Barely Biden to Barely Trump, while Georgia went from Tied to the Barely Biden column once again. Minnesota moved from Weak Biden to Barely Biden at the same time.
The net result of all this movement was that Weak Biden went from 80 EV previously up to 96 EV, back to 85 EV, and then finally settled at 86 EV. This was a net gain of 6 EV over the course of two weeks. Barely Biden moved from 59 EV to 55 EV, but then up to 70 EV, where it stayed, for a net gain of 11 EV. In total, Biden gained 17 EV in Barely and Weak while losing 16 EV in Strong, for a final total net gain of only 1 EV. Biden began with 372 EV overall, and finished with 373 EV.
The line I pay the most attention to in that chart, however, is "Strong Plus Weak." In this regard, Biden slipped back a bit, going from 313 EV at the start down to 302 EV but then inching back up to finish at 303 EV. As always, I hasten to remind everyone that only 270 EV are necessary to win the Electoral College. Biden currently has 33 more than he needs, in other words, without even counting any of his Barely Biden states (or any of the tossup states) at all. Historically (sorry, but I am not going to provide these charts this week), Biden is still ahead of where Hillary Clinton and Barack Obama were at this point in the past three presidential elections -- although in Clinton's case, only by one vote (Clinton had 302 EV, to Biden's 303 EV). Biden heads into his national convention in excellent shape, and this is before his historic running mate selection has even really registered in any of these polls.
So now let's take a look at how Trump is doing, by comparison: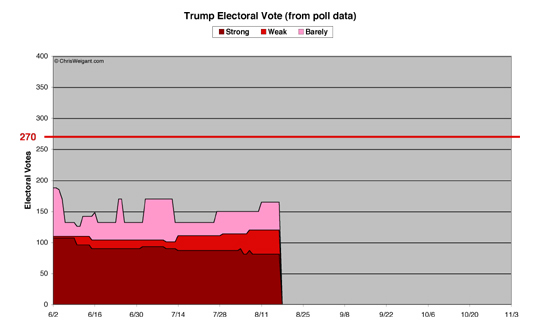 Last time around, Trump's chart had been fairly stable for a while. The last data point was right before the first of the two tiny upward spikes in the Strong Trump line on the graph.
Trump began the period with minor good news, as Montana moved from Weak Trump to Strong Trump, but then this was offset the next day by South Carolina moving in the opposite direction. Since South Carolina has 9 EV to Montana's 3 EV, this resulted in a net loss in the Strong Trump category.
A few days later, Trump got better news, as Utah moved all the way from Barely Trump to Strong Trump. However, the next day Kansas moved from Strong Trump to Weak Trump, which offset this move (both states have 6 EV). Still, it was a net gain for Trump in the Strong Plus Weak area.
The best news for Trump, however, came when North Carolina went from Barely Biden to Barely Trump, as this resulted in the only overall gain he saw during the period. North Carolina's 15 EV moved into Trump's Barely column, which gave him his entire boost for the period, up from a previous total of 150 EV to his new overall total of 165 EV. That shows improvement, but is not a new high point for Trump, since he started this chart off with 188 EV, back in June.
For the second straight time, Trump improved his Strong Plus Weak numbers, but not by very much. He has slowly climbed from 101 EV in this category up to 114 last time around, and this time managed to get to 120 EV. This only puts him 150 EV away from the goal -- meaning he's going to have to increase a lot faster in this regard if he's even going to have a chance. At exactly the same point in the campaign previously, Trump had 139 EV in 2016, John McCain had 165 EV, and Mitt Romney had 181 EV in the Strong Plus Weak category, for historical comparison.
My Picks
As usual, we now move on to a more subjective classification of where each state stands. This comes from pondering the individual state graphs, paying particular attention to how many polls have been conducted and how recently the last one was posted. As well as simple gut feeling about how trustworthy the polling truly will prove to be in each state.
There was some general good news in this regard this time around, as the number of states with any recent polling increased. As always, at the very bottom of the data section (below), you can find a list of which states have had absolutely no polls at all this election cycle, as well as those states where no poll has been reported in months. The first of those categories remained the same (12 states with no polling at all), but the second one dropped from 11 states to 7, as new polls were released from California, Indiana, South Carolina, and Utah.
But getting back to my own subjective picks -- as always, I divide my picks into "Safe," "Probable," and "Leaning" for each candidate, with a final "Too Close To Call" category at the end.
Likely States -- Biden
Safe Biden (18 states, 213 EV)
No change from two weeks ago. Biden held all his Safe states.
Probable Biden (4 states, 50 EV)
Michigan weakened a bit, but Biden is still polling 7 points ahead of Trump, so for now I'm going to leave it as a Probable Biden state. There have been differing reports as to how much Team Trump is even trying to hold onto Michigan, so we'll have to see what happens here, but for now it stays as a Probable state for Biden. In Minnesota, however, Biden's lead dropped down to a scant 2 points in a recent poll, so we're going to have to consider the state only Lean Biden for now. Net loss here was one state, which drops Biden 10 EV for the category. Remaining Probable Biden states: Michigan, New Hampshire, Pennsylvania, and Wisconsin.
Likely States -- Trump
Safe Trump (12 states, 72 EV)
Trump lost two states from the Safe category this time around, as new polling came in from Kansas and South Carolina showing a tighter race. But Trump is still up 5 points in South Carolina and 7 points in Kansas, so they only move down to Probable Trump. All the rest of Trump's Safe states stayed the same.
Probable Trump (7 states, 48 EV)
There was a lot of activity in the Probable Trump column this time around, as Kansas and South Carolina moved down from Safe and Utah moved up from Lean Trump. A case could be made that Montana is now a Safe Trump state, after a very strong poll for Trump came in, but the previous two polls were a lot closer, so it could have been an outlier. For now, I'm going to keep Montana here, but it could move up next time around. This leaves 7 states in the Probable Trump column: Alaska, Kansas, Missouri, Montana, South Carolina, Tennessee, and Utah.
Tossup States
Lean Biden (4 states, 56 EV)
Minnesota moved into the Lean Biden category, down from Probable Biden. Arizona wobbled a bit, as first one poll showed the race tightening but then a second poll restored Biden's lead. Without this wobble, a case could have been made to move Arizona up to Probable Biden (the state is looking pretty strong for Democrats in general, this time around), but for now I'm going to leave it here. Both Nevada and Florida stayed the same this time around, so we're going to leave both of them as Lean Biden as well.
Lean Trump (1 states, 6 EV)
A new poll arrived from Utah (the first in quite some time) which showed Trump doing very well, so the state had to move up to Probable Trump (a case could even have been made to move it to Safe Trump, on the strength of his new lead, in fact). This leaves only one state, Arkansas, in the Lean Trump column this time around.
Too Close To Call (5 states, 93 EV)
There was no change at all in the Too Close To Call category, as all 5 states stayed where they were. Georgia firmed up a tiny bit for Biden (going from a tie to a 2-point lead), while North Carolina flipped to a razor-thin 1-point lead for Trump. But both of these states have been flipping back and forth all along, which I expect to continue. The other three states here (Iowa, Ohio, and Texas) likewise have shown no clear lead for either candidate yet, so they remain Too Close To Call.
Final Tally
Heading into the start of the Democratic National Convention, Joe Biden is in excellent shape in the state-level polling. If he winds up getting a convention boost and Trump doesn't, he may well prove to be unstoppable.
That's pretty optimistic, however, I will fully admit. For some reason or another (I would have to do a very deep dive into the data to even begin to figure out why, which I have not yet done), Democrats often seem to experience what might be called a "September slump." There could be many factors for this -- people generally pay a lot more attention to the campaign after Labor Day, some pollsters switch over to "likely voters" instead of "all registered voters" or even "all eligible voters" as the election gets closer, or just a general fallback from the convention bounce.
Will Biden see a September slump this time around? It wouldn't be all that surprising, since presidential races often tighten around this time period. Because Democrats are going first, the Republican convention could see a convention bounce that lasts longer. But whatever happens, I thought it would be useful to take a pre-convention baseline look at how things are stacking up.
By any measurement, Joe Biden has an enormous lead over Donald Trump at this point. In just the Strong states, Biden leads Trump 217 EV to 81 EV. In Strong Plus Weak, Biden leads 303 EV to 120 EV -- more than enough for Biden to win, right there. Overall, Biden leads 373 EV to Trump's 165 EV -- which is higher than a 2-to-1 margin.
Looking at it through my own picks, Biden has 22 states and 263 EV in either the Safe or Probable categories. Trump has 19 states in Safe or Probable, but they only add up to 120 EV -- again, worse than a 2-to-1 margin. Adding in the Lean states only makes things worse for Trump, because then Biden has 26 states with 319 EV while Trump only has 20 states with 126 EV.
While 5 states (with 93 EV total) are Too Close To Call, Biden would need none of them to find a path to victory -- all he would have to do at this point is pick up one of the current Lean Biden states of Arizona, Florida, or Minnesota in order to top 270 EV in the Electoral College. Trump could win all of: Arkansas, Georgia, Iowa, Nevada, North Carolina, Ohio, and Texas -- and even two out of three of the current tipping-point states of Arizona, Florida, and Minnesota -- and he would still lose the race.
That is a pretty enviable spot to be in, heading into the Democratic National Convention. Of course, overconfidence and complacency could cause disaster, to say nothing of how Donald Trump just got caught actively trying to sabotage the Post Office in advance of the biggest mail-in election the country has ever seen. There are still over two months to go, and anything at all could still happen (and probably will).
Even having said all of that, though, Joe Biden is so far doing an excellent job of maintaining his commanding lead over Donald Trump in the state-level polling. We'll check back in a few weeks (probably three Mondays from now) to see how both parties' conventions moved the needle, but the baseline heading into this period is decidedly in Biden's favor.
[Full Data:]
(State electoral votes are in parenthesis following each state's name. Washington D.C. is counted as a state, for a total of 51.)
Joe Biden Likely Easy Wins -- 22 States -- 263 Electoral Votes:
Safe States -- 18 States -- 213 Electoral Votes
California (55), Colorado (9), Connecticut (7), Delaware (3), Hawaii (4), Illinois (20), Maine (4), Maryland (10), Massachusetts (11), New Jersey (14), New Mexico (5), New York (29), Oregon (7), Rhode Island (4), Vermont (3), Virginia (13), Washington D.C. (3), Washington (12)
Probable States -- 4 States -- 50 Electoral Votes
Michigan (16), New Hampshire (4), Pennsylvania (20), Wisconsin (10)
Donald Trump Likely Easy Wins -- 19 States -- 120 Electoral Votes:
Safe States -- 12 States -- 72 Electoral Votes
Alabama (9), Idaho (4), Indiana (11), Kentucky (8), Louisiana (8), Mississippi (6), Nebraska (5), North Dakota (3), Oklahoma (7), South Dakota (3), West Virginia (5), Wyoming (3)
Probable States -- 7 States -- 48 Electoral Votes
Alaska (3), Kansas (6), Missouri (10), Montana (3), South Carolina (9), Tennessee (11), Utah (6)
Tossup States -- 10 States -- 155 Electoral Votes:
Tossup States Leaning Biden -- 4 States -- 56 Electoral Votes
Arizona (11), Florida (29), Minnesota (10), Nevada (6)
Tossup States Leaning Trump -- 1 State -- 6 Electoral Votes
Arkansas (6)
Too Close To Call -- 5 States -- 93 Electoral Votes
Georgia (16), Iowa (6), North Carolina (15), Ohio (18), Texas (38)
Polling data gaps:
Polled, but no recent polling data -- 7 States
(States which have not been polled since the beginning of June, with the dates of their last poll in parenthesis.)
Connecticut (5/4), Delaware (1/19), Nevada (2/21), North Dakota (3/5), Maryland (5/23), Mississippi (2/28), Tennessee (5/22)
No polling data at all, yet -- 12 States
(States which have not been polled so far this year.)
Hawaii, Idaho, Illinois, Louisiana, Nebraska, Oregon, Rhode Island, South Dakota, Vermont, Washington D.C., West Virginia, Wyoming
-- Chris Weigant
Follow Chris on Twitter: @ChrisWeigant