[ Posted Tuesday, October 9th, 2018 – 16:30 UTC ]
The Cleveland Indians' season is over. While this was a cause for sadness among their fans, there is also a good reason for everyone else to rejoice at the close of Cleveland's 2018 season. Because the 71-year tenure of the maniacally grinning and blatantly racist Cleveland mascot "Chief Wahoo" is also now at an end. Sort of. The Indians, starting next season, will not display this offensive logo any more on their uniforms -- however, they will still (sadly) continue to sell Chief Wahoo merchandise to their fans. A step forward, in other words, but not the true end of the road for what unquestionably has to be the most racist and offensive logo in modern professional sports.
For those of you who don't follow baseball and may be unaware of precisely how offensive this logo is, please decide for yourselves: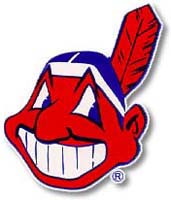 In this day and age, that is an image that is absolutely impossible to defend, on any reasonable grounds. Change the skin color to black (and remove the feather), and it would be nothing short of a version of Little Black Sambo. Which no sane team owner today would pick for a logo for their franchise, it goes without saying.
The Indians are trying to defend their continued sales of Wahoo merchandise by stating they are forced to continue making money off of it, in order to protect their trademark of the character. This is a legalistic reason that doesn't really stand up, though, since if the team really wanted to jettison their racist past they simply would not care if the Wahoo trademark lapsed. It is nothing short of a thinly-veiled excuse designed to allow Cleveland to continue making money from their fan base off of overt racism.
But at least it won't be seen on Cleveland uniforms anymore. That's at least a big step in the right direction. This season, the logo was reduced to a single patch on the team's uniforms, and they're moving towards having a stylized "C" as the official team logo (on their caps, for instance). This works for many other baseball teams, so it shouldn't be controversial at all.
The first column I ever wrote about sports, way back in 2007, dealt with logos, mascots, and team names that misappropriated Native American culture. In it, I offered up an idea for a solution to the problem that had initially been proposed to me by my wife. Form a corporation ("Native Americans, Inc.") whose sole purpose would be to charge professional and college sports teams licensing fees for their use of Native American culture in making billions of dollars in the sports world. Every year, teams such as the Atlanta Braves and Kansas City Chiefs would be charged a licensing fee, on a sliding scale. The cost to each team for their logos, mascots, and team names would be set by the corporation, with more-offensive imagery being charged a much higher price. In this article, I used Chief Wahoo as the worst existing example, and suggested they be charged $30 to $50 million each and every year -- on top of a lesser charge for them to use the team name "Indians." The key would be that all teams who were charged such licensing fees could easily avoid them altogether -- simply by changing their team's name or imagery. In other words: don't use Native American culture in any way, and you wouldn't owe a dime. It'd be totally up to the team to make such a decision. The money the corporation collected each year could then be used for college scholarships for Native American youth, or any other worthy cause the corporation decided upon.
When I wrote that column, I really didn't expect such a great idea to ever become reality, and if truth be told, I also never really expected any of the teams to change their team names or logos any time soon. Over a decade later, the Indians have finally done so (at least outside of the gift shop), which I didn't really even expect to happen in my lifetime. So I have to say that although the progress has been painfully slow, it's still moving faster than I had expected, which is a good thing, I suppose.
Still, the Indians certainly aren't the only offenders. While other team names are less offensive than Chief Wahoo (the Chiefs or Braves, for example), these teams still encourage their fans to sing along with a fake "Indian chant" and wave their arms in a "tomahawk chop" -- neither of which really have any place in American society in the twenty-first century. Imagine a team doing such a thing using any other minority as the theme, and you can see how unacceptable this should really now be.
And, of course, even with Chief Wahoo exiting the stage, there still remains one major glaring example of indefensible racism towards Native Americans in professional sports. Because until the Washington D.C. football team decides to change their own name, cashing in on blatantly racist attitudes towards Native Americans will still somehow be seen as acceptable to major league sports. Sports teams making money off of a group of people who have experienced nothing short of genocide in America will never be seen as completely unacceptable until the National Football League decides that "Redskins" needs to go the way of Chief Wahoo. But, sadly, I'm not exactly holding my breath in anticipation of this ever happening.
-- Chris Weigant
Follow Chris on Twitter: @ChrisWeigant