[ Posted Thursday, September 27th, 2007 – 16:23 UTC ]
I'd like to offer a modest proposal in an area I've never written about before -- sports.
My wife and I were watching the Washington Redskins attempt to play football last weekend, and I noticed the rather bizarre helmets they were wearing, which looked like they had become the Washington Registered Trademarks. The announcer cleared things up by explaining they were "period" uniforms, since the Redskins are celebrating their 75th anniversary this year.
This brought up the subject of their regular logo: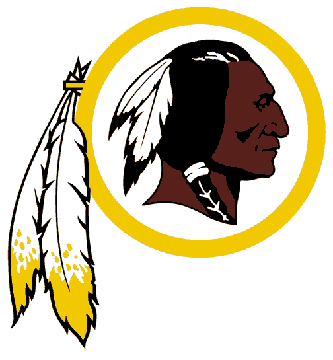 Now, this logo has been around for years. The logo and the team's name are seen as offensive by Native Americans. While I can't say that I blame them about the name, the logo is actually pretty tame, as these things go. Compare it (for instance) with the Cleveland Indians logo, the maniacally-grinning "Chief Wahoo":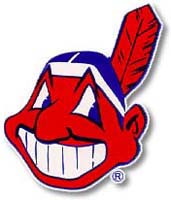 It's pretty obvious that this one has actually been designed to be offensive. And today, no team in America would consider using such a disrespectful logo or team name about, say, African Americans. Can you imagine the Cleveland logo in blackface to go with a team named the "Cleveland Negroes" in today's America?
Which means there is a double standard at work here. Native Americans are still OK to ridicule, while other ethnic groups are not.
Native Americans have actually been making progress on this front, at least at the collegiate level and below. Stanford University decided to retire "Indian" in 1972, and today they have a pine tree which cavorts on the sidelines of their games. More recently, Chief Illiniwek, the mascot of the University of Illinois, was retired this year -- but it took the NCAA banning them from postseason play for them to do so. Pro sports, however, can't be pressured by alumni or the NCAA to change mascots.
So here's my modest proposal. [OK, it's actually my wife's brilliant idea, and I just reappropriated it as my own.] What would happen if the NFL and MLB and all the other professional sports leagues in this country forced teams with Native American team names or mascots to license these names every year?
Make them pay into a corporation (call it Native Americans, Inc. for example) each and every year they continue to use their Native American imagery to make money. This way, everybody wins. The fans are happy (fans never want to change team names), the teams are happy (they can assuage their guilt at the team name by paying for it each year), and the Native Americans are happy (the money could go to every tribe in America that doesn't have a casino, for instance).
Licensing is already taking over pro sports, and is making its way into collegiate sports as well. On the pro side, it's mostly stadium names (so far). On the collegiate level, it's mostly bowl games (so far). But if you can sell the naming rights to a stadium, then the Native Americans should be able to be compensated as well.
They could even set up a sliding scale of fees. Since "Indian" is offensive, but only mildly so (since it just reaffirms that Columbus didn't even know what continent he was on), the Cleveland Indians would only pay... say... five million dollars a year to license it. Since "Redskin" is much more offensive, the Washington Redskins would pay ten million, or maybe fifteen million. But since the Indians logo (Chief Wahoo) is incredibly offensive, they'd have to fork over thirty million or fifty million a year to use it. The Redskins logo is more respectful, so they'd only pay five million. The key point: Native Americans, Inc. gets to decide. They set the rates. They'd have to come up with a price for the Atlanta Braves (with a special surcharge for that offensive "tomahawk chop" chant they do), the Kansas City Chiefs, and all other pro teams using Native American imagery. College teams could license images and names for less money, of course, but they'd still have to pay to use them as well.
The teams could either decide to make their logos less offensive, or make the fans pay for it. They could change their team name at any time, and not have to pay license fees any more. It would be totally up to them to decide.
Some may argue this plan is not perfect. What about other ethnic groups? Would people who can prove Scandinavian descent get paid by the Minnesota Vikings? Well, no. We didn't steal North America from the Vikings, after all (the Danes even still own Greenland). There's no history of genocide against Cowboys, or Packers, or Texans, or 49ers, or any of the other team names, so there's no reason to make restitution to them. This is, after all, guilt money. This plan would not involve the government or taxes in any way (although they might have to pass a federal law to impose such a scheme, but that's easy since the NFL and MLB both have special dispensations from the government to run what are, in essence, monopolies).
The more I think about it, the more sense this idea makes. Sure, it probably will never happen, but that doesn't make it any less a good idea.
[I was going to write today about the New Hampshire Democratic presidential debate last night, but was unable to find a transcript online. There are several issues which were brought up in the debate which I would like to address, but I refuse to until I can accurately quote the candidates. I apologize for the delay.]
-- Chris Weigant