[ Posted Tuesday, November 29th, 2011 – 17:36 UTC ]
[Program Note: Instead of our regular article today, we are going to attempt to shamelessly beg money off of you. Just thought I'd warn everyone up front. That's right -- it's that time of year when I tug on everyone's heartstrings in an effort to cover the costs of this site. So be warned -- I am not afraid to deploy the kittens in pursuit of this goal!
The 2011 Holiday Fundraiser should be completely up and running by now, so click on the Holiday Fundraising banner on this page, or any other throughout the holiday season, to take you to the page with instructions on how to donate. My wife mentioned that the actual "Donation" button is kind of hidden over in the right-hand sidebar, so I have included it in the article below, for easy use.]
The ChrisWeigant.com 2011 Holiday Fundraising Drive Kickoff
Because last year's fundraising drive was so overwhelmingly successful, we have decided not to mess with a good thing. In other words, to be blunt, there will again be kittens.
I discussed the scientific reasons behind this at some length last year, but this year there's a much better way to put it. I give you the "secret weapon" of Puss In Boots (from the Shrek movie franchise):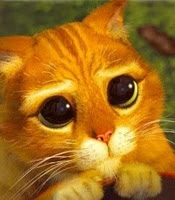 I am hoping, once again, that everyone will prove to be powerless when faced with this secret weapon. I admit it right up front, just so there's no confusion later. To drive this point home, here is a quick link to the Donations PayPal page itself, for easy reference:
Your generous donations help keep this site running.
Visa/MC/PayPal accepted.
Of course, there's another way to go about this -- the hard-sell tactic infamously used by National Lampoon magazine with their "If You Don't Buy This Magazine We'll Kill This Dog" cover (I refuse to provide a link -- look it up yourself if you're not old enough to remember it).
I cannot stoop to such methods, however. The closest I would ever come would be: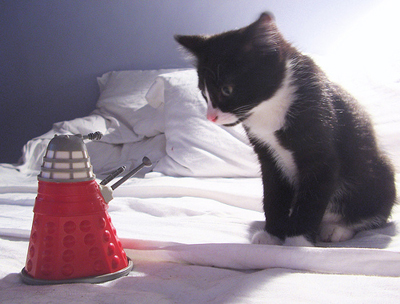 Now, in this instance, my money is on that kitten over that Dalek. Traditionally, Daleks did not climb stairs or fly around (humph! -- call me a purist if you must), they could be defeated by the simple expedient of knocking them over. And if there's one thing kittens excel at, it is knocking things over. In fact, I think the battle would go something like this:
Dalek: "EX... TER... MIN..."

Kitten: [Whap! Smacks Dalek upside the brain casing, Dalek tumbles off the bed to lie harmlessly on floor. Kitten pursues, to the amusement of all.]
[Note: If you don't know what I'm talking about here, then you should go watch some old episodes of Doctor Who as fast as you can.]
Ahem. Where was I? Oh, right! Kittens! Christmas! Begging!
Let's just get right back to it, shall we?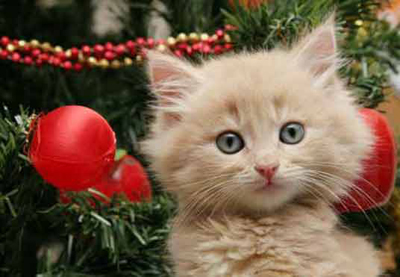 How can you possibly resist that? You are getting sleepy... sleepy... you are reaching for your checkbook...
Heh. That's about as hard-sell as we get, around here. Well, OK, sometimes we go overboard on the kittens-to-text ratio, and try to cram in as many kittens as possible.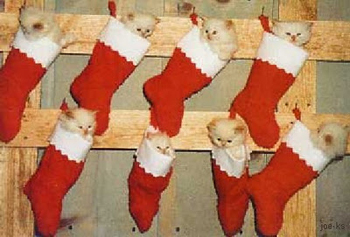 But more seriously... ChrisWeigant.com has been up and running since the summer of 2007. This is only the third pledge drive we have ever run, and what astonishes us here at Chris Weigant Global Media Enterprises, Inc., LLC is the fact that this fundraising drive -- like the last one -- was actually demanded by our loyal readers. This is truly, truly overwhelming.
We're going to try something new this year. In the previous two pledge drives, we have privately set our own target for fundraising, and then provided a logo with a thermometer graphic to show how close we've come to that goal. This year, we are going to publicly put a dollar figure on this goal, because we are incurable optimists. Last year, we raised between $600 and $700 (I would have to look up the exact figure), which definitely reached the goal we had set of $500. This year, we're going to set the bar higher -- twice as high, in fact. We're shooting for $1,000 this year, folks!
We may not make this, of course, but we're going to try going public about the actual figures, as an experiment. Operating costs for ChrisWeigant.com's website run about $75-80 per month, which works out to over $900 in an average year. This is bare-bones, and doesn't count any extras (such as junkets to Netroots Nation, for instance) -- this is just the cost of doing business and keeping the lights on, in other words. Advertising doesn't bring in much, either, towards paying these bills. So we're going to shoot this year for slightly above the break-even point, because $1,000 is such a nice, round figure.
Sorry, this is getting too wonky, isn't it? OK, how about: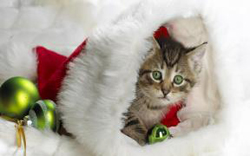 And, for our readers up in Canada, Maine, Montana, and other points north, we even have a special photo for you this year: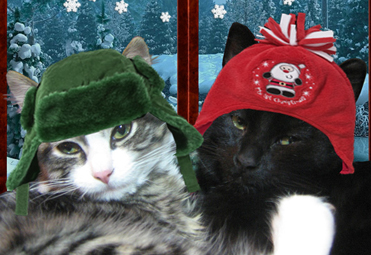 OK, that one kinda looks Photoshopped, I admit, but hey....
From now until the end of the year, we will display on our site at the top of every major page our Holiday Fundraising banner logo. The drive may not have officially started until now, but we've already got $50 in "the kitty" (sorry, just could not resist that one), and several very creative "matching pledges" in the comments (and one "I may annoy the heck out of everyone, but I certainly do pay for the privilege" pledge, from a commenter who knows very well who he is). Heh. If you'd like to make such a pledge, please feel free to do so, as we never would have come up with the idea on our own, but we heartily encourage them!
Look deep into the kitten's eyes. Doesn't she seem to be saying: "Have you made a pledge yet?"
Or, perhaps, you'll appreciate the following kittens, who appear to be saying in chorus: "You just pledged how much?!? Wow!!!"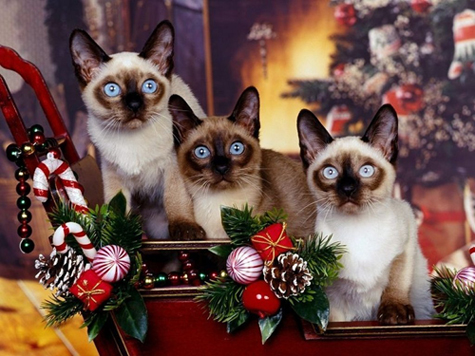 To close on a serious note, I thank all my readers for their support over the last year. Support, to me, means visiting the site and reading my meandering prose on a regular basis. Without such support, I would have quit doing this years and years ago. But you folks stick with me through thick and thin -- and we're definitely in a "thin" period. Regular readers will know that this past August I started a book project. This writing has limited the time I devote to this website, and I am happy to say that the proposal I've been getting together is about 70% done at this point. I have especially been grateful to everyone for not abandoning me while the level of output has dropped.
Such support is what I blog for -- people reading what I write, and the dialog which follows in the comments. This support is worth more than money -- it is, quite literally, what keeps me going. I always feel sheepish (if not downright ashamed) to beg you to donate not only your time and interest here, but also financially. These pledge drives are not easy for me to do, because I still feel it kind of crosses the line of trust between reader and pundit. On the other hand, nobody else is paying me to write, so it can be viewed as "subscribing" to our little pamphleteering press here.
Nah, that's much too serious to close on. Let's end instead with the best motivator we can think of, in this holiday season. Because in December, as we all know, Santa is always watching: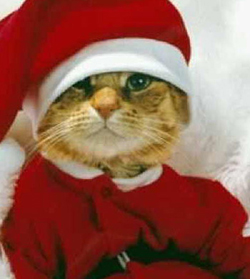 -- Chris Weigant
Follow Chris on Twitter: @ChrisWeigant