[ Posted Thursday, December 2nd, 2010 – 18:02 UTC ]
[Below, in lieu of my usual daily article, is my weak attempt to convince everyone to dig deep, open your wallet, and send this site lots of your spare money. Truth be told, I hate these pledge drive sorts of things myself, and I fully admit I'm not very good at it, right up front. My plea below tends to meander all over the place before trying to brainwash you into making a fat PayPal donation (before your mental powers recover). But then, I guess, that's what you would be supporting in general, since that's kind of what we do here, isn't it? Well, except for the bit about brainwashing you into sending money, I was referring only to the "meandering all over the place" part of that, really. Plus, as a bonus today, there are kittens.
If you're interested merely in helpful nuts-and-bolts details on how to donate, please click on the fundraising logo (which should now appear both on the main page, and at the top of every article), and you'll get to such practical instructions. I know that both the instructions and the logo need a bit more work, I'll try to improve both this weekend. I should also mention that any donations you make are in no way tax deductible, so don't try to claim me on your 1040, because it won't work. Just to warn you. ]
The ChrisWeigant.com 2010 Holiday Fundraising Drive Kickoff
For your viewing enjoyment this year, we introduce... (drumroll, please...):
Kittens!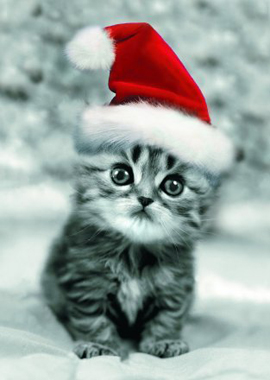 OK, I'm trying to make this less annoying for everyone, so just bear with me here, for a brief foray into the scientific and neurological world. The young of every species looks "cute" to us. There is a scientific reason for this. Our brains are hardwired to find newly-borns of any species adorable. And there's a physiological reason for that, as well.
You see, eyeballs just don't grow much. In most species, the eyes you are born with are pretty much the same size as the eyeballs you die with. They just don't expand all that much. The skull does grow, though; which is where the cuteness factor comes in -- in the ratio between these two. In adults, the ratio of "eyeball size to head size" is pretty well known to all, just from looking around every day at others out on the street. But in most species' infants, the eyeball size looks absolutely huge in proportion to the infant's head size. Which brings us to the hardwired parts of our brains which read this disproportionate ratio of eyeball-to-head as "cute" or "adorable." As with most such hardwired things, this is a survival trait -- so that all the adults will protect the young of the species. As well as other species... but this is merely a byproduct of the evolutionary survival trait inbred in us humans, for our own selfish evolutionary purposes. Charles Darwin (undoubtedly) both personally loved kittens, and also understood fully why he was incapable of doing otherwise.
Ahem. Where was I?
Oh, right... kittens!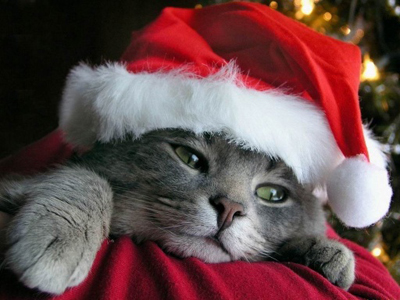 Because this whole page is dedicated to the rather sticky subject of talking you nice people into parting with your hard-earned cash and sending it along to our humble website, the editorial board of ChrisWeigant.com Enterprises, Inc. (which includes feline representation, I should point out, in the interests of equality...) decided that kittens were definitely the way to go to promote our begging season. What better multiplier for tugging on heartstrings during the already-saccharine end-of-year holiday season than a few gratuitous kitten mugs staring wide-eyed at you from our pages?
OK, enough about kittens. Here's the hard-sell version, instead. ChrisWeigant.com has been up and running for three and a half years now. In all this time, we have run exactly one pledge drive, for the special circumstance of helping to cover the costs of the trip to Washington, D.C. for Barack Obama's Inauguration. So we feel it's not asking too much to run another one, this year.
Especially since it was not our decision. The overwhelming part of the ChrisWeigant.com 2010 Holiday Fundraising Drive is that it was created by our readers. This fact still blows me away, if truth be told. I had halfway considered doing a pledge drive this year, to upgrade our facilities here, but had put exactly zero effort into doing so, and never publicly announced the idea.
But one regular commenter here tipped my hand, so to speak. He pushed the idea of a fundraising drive so hard -- both here and on Huffington Post (when their moderators would let him get away with it) -- that there was nothing for us to do here but go along with the idea. His offer of matching all donations up to $250 was even more overwhelming. Which brought us to the conclusion: when you've got a tiger by the ears, you hold on and enjoy the ride.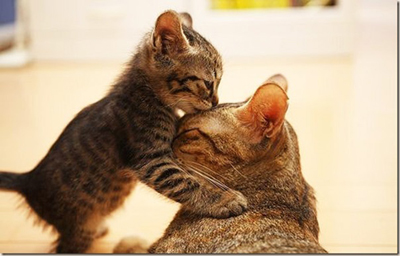 And tiger it has turned out to be! Our most prolific commenter here (and, some would say, our most contrarian-for-the-sake-of-being-contrarian) then threw down his own mailed glove, and promised a flat rate of a fifty-cent donation for every comment he made until Christmas. Then the site's unquestioned biggest fan and promoter (and defender, over on HuffPost) decided to toss her own Joan-of-Arc-ish matching feminine-but-still-seriously-iron-mailed gauntlet into the fray.
Truth be told, I am merely catching up with this wave of enthusiasm, and while the ChrisWeigant.com 2010 Holiday Fundraising Drive rollout should have happened weeks ago, I am still kind of catching up on things here. Hey, those cool "gimme money" graphics don't just create themselves, if you know what I mean. Plus, at heart, I am inherently lazy.
But don't let this exuberance from other commenters deter the casual reader from making a more modest donation, I beg of you. Did I mention we have kittens on display?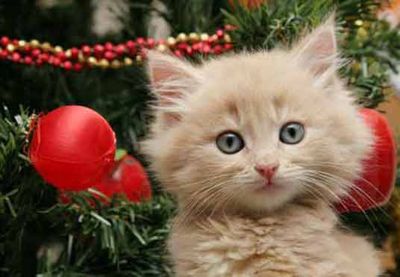 Heh.
Seriously, anything you care to send our way to support ChrisWeigant.com will be fully appreciated. We added new ads this year, but they have yet to cover the basic costs of hosting the site. Much less foot the bill for trips to Netroots Nation and other extraneous costs. A few bucks will add to the fundraising total, and you'll feel better about visiting the site, because you'll then be a patron instead of some sort of moocher.
Did I say "moocher"? I'm sorry, that just slipped out. Here is a picture of several kittens to erase such unpleasantness from your brain -- because, genetically, you just can't help yourself, can you? Stare deep into these kitty eyes, and while you are busy "Ooh-ing" and "Ahh-ing," might I humbly suggest you click over to our donation page and send along what you can?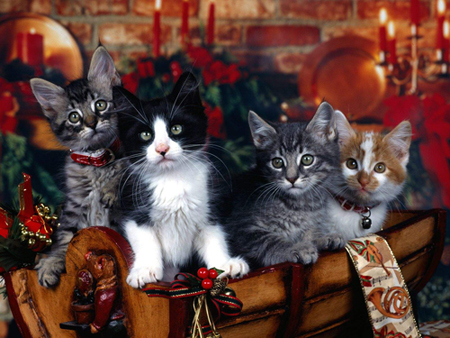 -- Chris Weigant
Follow Chris on Twitter: @ChrisWeigant