[ Posted Tuesday, October 30th, 2018 – 18:55 PDT ]
Boo!
Yes, it's time once again for our annual frightfest, where we provide nightmarish scenarios for both left and right. These days, of course, we're always one step away from nightmarish scenarios, so it won't be all that far a journey!
Of course, it being an election year, both our tales of terror start out with what could happen next Tuesday. From this leaping-off point, however, these tales descend into very different pits of despair. One man's horror is another man's dream, in other words.
Our scary stories are presented for your frightful shiverings, as always, with our own attempt at pumpkin art. Since the themes were the same this year, we got away with only carving one design (only the colors needed changing, really). So sit back, relax, and prepare to be terrified right down to your boots. Our first tale of a macabre future should scare the left, and we're ending with a story to scare those on the right. We picked this order on purpose this year, so we could begin with a spooky homage to Dr. Seuss.
So, if you're ready, here we go: "One Wave... Two Wave..."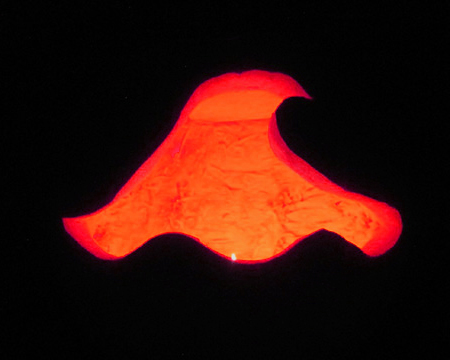 Red Wave
President Donald Trump announces four days before the election that anyone who votes for Republicans will be exempt from paying income taxes for all of 2018. Furthermore, anyone who votes for Democrats will have to pay double the regular income tax rate, to make up for the shortfall.