[ Posted Friday, October 31st, 2014 – 14:49 PDT ]
Welcome to our annual frightfest! Every year, we provide two tales of shrieking horror -- one for Democrats and one for Republicans -- so sit back and prepare to be terrified right out of your cheap cardboard costume!
As always, Hallowe'en falls conveniently just before the election, so there is no shortage of possible horrors for both sides to contemplate. We've carved Jack O'Lanterns for each story, as we've done in years past. This year's Texas flag came out a little fuzzy (and a little curved -- it's tough carving rectangles on a quasi-spherical pumpkin!), but it's close enough for government work (as they say). Oh, and for anyone who was expecting a "Friday Talking Points" column today -- have no fear, it will return on schedule next week.
But on this, the spookiest of nights, go ahead and crank up the insane organ music and cue the clanking chains and screaming sound effects! Because it is time once again for our eerie tales of fright and horror for both Lefties and Righties. Enjoy, and have a happy Hallowe'en everyone!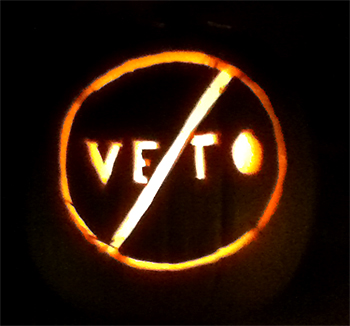 Democratic Nightmare -- The Silence Of The Veto Pen