[ Posted Monday, October 31st, 2022 – 16:11 UTC ]
Normally, I'd do my cheesy Vincent Price imitation here, with lots of spooky talk and Hallowe'en jokes. But this year's stories are a little grim -- or perhaps "a little closer to reality than usual" is a better way to put it.
I almost didn't do a Hallowe'en column this year, because it's pretty obvious what both sides of the aisle would be frightened by. Who controls Congress after the midterms would have (as always) been the easy way to go with today's stories. I could have easily written the basic tales in one tweet: "Republicans win, Democrats horrified... or Democrats win, Republicans horrified."
But the current political situation is grim indeed, even beyond who controls the House and the Senate in January. One of our major political parties either openly encourages or mocks and makes fun of violence directed against politicians of the other party -- all while insisting on their "both-sides-ism" view that both parties are equally responsible.
Which all made me wonder if writing "horror" stories for Hallowe'en was a little... redundant, maybe, this particular year? We've already got enough political horror in the world, what with the man who may be about to become speaker of the House saying in the past he would have to restrain himself when the handover happened between him and Nancy Pelosi: "I want you to watch Nancy Pelosi hand me that gavel. It will be hard not to hit her with it." To date, since Pelosi's husband was brutally attacked with a hammer, I have not heard a single Republican (much less McCarthy himself) asked about this remark. This is the political reality we live in.
We have Republicans appearing in television ads in full military battle dress carrying military-grade weapons breaking into houses to "hunt" down apostate members of their own party. Plenty of other Republicans are content with just firing guns during their ads, or blowing things up, or just waving their guns around.
Which is all why one of today's stories is a little too realistically grim. Neither one of these is very comedic, in fact, just to warn everyone. These truly are horror stories and while meant to be farcical, they contain enough reality to scare anyone. I decided to forgo the usual "just kidding around" introduction today and just warn everyone that this year's Hallowe'en tales for left and right will be a little different. [Also, I'm out of practice and didn't exactly outdo myself in the pumpkin-carving area this year either, sorry about that.]
I began with a mental challenge, for this year's stories: "How could winning turn into a horror story -- for both sides?" Here is what I came up with....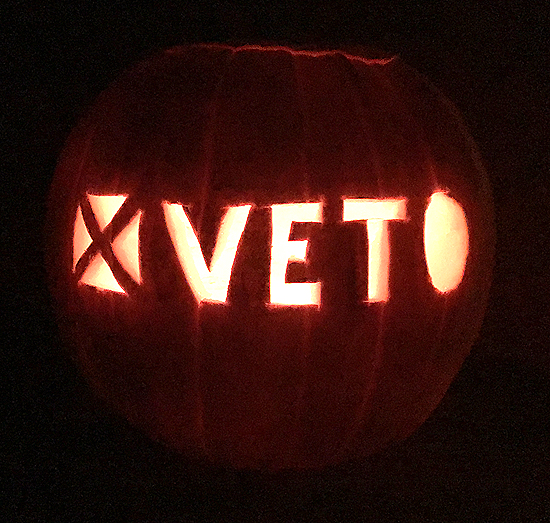 Democratic Nightmare -- With Friends Like These...
Democrats shock the political world by winning the midterms across the board, as millions of women the pollsters never talked to show up at the polls to cast their vote in disapproval of their loss of basic constitutional rights. The Democrats actually expand their majorities in both houses of Congress, picking up four seats in the House and two in the Senate. All Republican nutjob candidates are soundly defeated. They all immediately denounce the election as "rigged" and file lawsuits -- all of which are thrown out of court for lack of any evidence whatsoever, of course.
The victory leads to celebrations and much excitement among Democrats across the land. With 52 Democratic senators, finally the objections of Senators Kyrsten Sinema and Joe Manchin can be completely ignored and Democrats will be able to get some things done. When Congress returns in January, the House immediately passes two important bills, to reinstate the Voting Rights Act and to enshrine Roe v. Wade into federal law for all the states.
Chuck Schumer introduces a motion to create a new loophole from the filibuster rule which allows for majority-only votes for bills which protect basic constitutional rights (such as voting and privacy). Both the bills from the House are then voted on and sent to Joe Biden for his signature. Biden triumphantly signs them, proclaiming he has done more to secure constitutional rights than any president since Lyndon Baines Johnson.
However, Biden surprises everyone by using the signing ceremony to deliver a speech on the institution of the Senate. He declares that the fever Republicans have been under has now broken, and it is time for the party to begin to fulfill its constitutional duties "as they did before, back when I was in the Senate."
Biden declares that while avoiding the filibuster for constitutional rights was a necessary step, he would like to see the filibuster remain for all other legislation. "We don't want just one-party rule in Washington, we instead extend the hand of bipartisanship to the Republicans and urge them to work with us to move the country forward."
This horrifies most Democrats, of course. What is the point of winning if you're not going to get anything done, after all?
Biden goes on to make a promise -- if the Senate does jettison the legislative filibuster entirely, he will not sign any non-budgetary legislation that hasn't received 60 votes in the Senate.
Republicans are delighted at this turn of events, of course.
Nancy Pelosi, who has decided to remain speaker for two more years, is absolutely livid. She begins streamlining the legislative process to quickly produce bills to address the entire Democratic agenda: fighting climate change, moving the country towards renewable energy, providing free community college for all students, raising the minimum wage to a living wage and provide for cost-of-living increases in it in the future, creating subsidies for child care and elder care, increasing taxes on corporations and getting rid of egregious loopholes they routinely use, reforming the Supreme Court by instituting term limits, reforming immigration, expanding Medicare to cover all costs for dental, vision, and hearing, and eliminating the concept of the debt ceiling so it can never again be used as a hostage in budget negotiations.
All of these bills and a whole lot more are passed in record time and sent over to the Senate.
Behind the scenes, Chuck Schumer has been desperately begging Biden to reconsider, but Biden holds firm. "Chuck, you've just got to find the reasonable Republicans and work with them," he blithely tells Schumer. Schumer explodes in response: "But there just aren't enough of them to get anything passed!" Biden cheerfully replies: "Well, that's OK, I will still go down in history as the man who saved bipartisanship in Washington."
Democratic voters are outraged. They take to the streets of Washington and hold rallies near the Capitol. None of these get out of control in any way -- all are spirited but peaceful. Acts of civil disobedience (such as blocking traffic) spontaneously sprout all over D.C.
Schumer does the only thing he really can do -- redirect the blame where it belongs. He defies Biden's promise and the Senate votes to permanently abolish the filibuster. It passes 51-50, as Sinema and Manchin vote against it but in a surprise move Vice President Kamala Harris votes for it (in defiance of Biden's order not to). "We have got to get some good things done," Harris says while registering her vote, "and I would call on President Biden to get out of the way and allow us to do so... also, I think I'm going to need to book some trips to Iowa and New Hampshire real soon." The message is unmistakable, but Biden holds firm in his refusal to give up on the fantasy of a bipartisan Senate working for the good of the country.
All the bills from the House pass, with either 51 or 52 votes (Manchin and Sinema pick and choose which bills they will support, after the filibuster has disappeared). All are sent to President Biden's desk.
And then, tragically, all of them are vetoed.
Protests erupt at the White House, and people occupy Lafayette Square and refuse to leave. They camp there for months, occasionally getting arrested for chaining themselves to the White House fence. Prominent Democratic presidential hopefuls visit them and give speeches, but over time most people just ignore the fact that the protest continues.
For two long years, not much of anything gets done. Republicans refuse to vote on any of the Democrats' bills, so most of the Democratic agenda grinds to an absolute halt.
The voters, in absolute disgust, just completely give up on the Democratic Party. As the 2024 election gets closer, many Democrats challenge Biden from the left, right, and center. The primaries are mixed, with the only common thread through all the states of how disastrously low the turnout is. No candidate goes to the convention with a majority of delegates, and after a bitter four days the delegates, exhausted, finally settle on a compromise candidate... President Joe Biden.
Democrats get wiped out in 2024, and the Republicans lock down control of Congress and the White House. And a very dark period in America begins.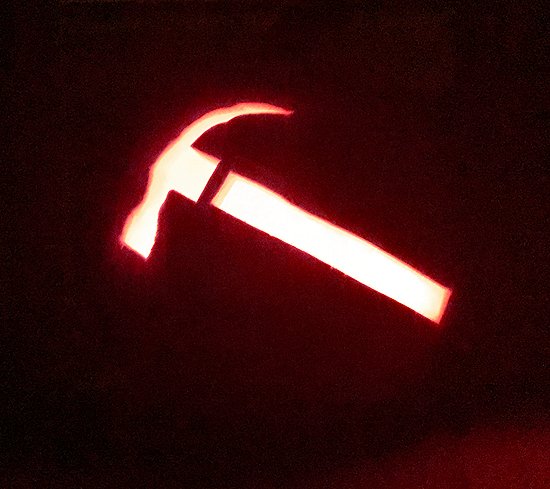 Republican Nightmare -- The Hammer Falls
Next Tuesday, Republicans romp to victory and take control of both houses of Congress. Right-wingers everywhere celebrate and proclaim the dawning of a new era.
The MAGA crowd has already adopted a frightening two-song segment of Pink Floyd's 1980s movie The Wall as their unifying cry, before the election even happens.
[For those who have never seen it, Roger Waters wrote the songs on the album The Wall for multiple reasons and with multiple interwoven themes, but throughout the whole thing there is a backdrop of fascists growing in power and taking over (a thinly-disguised metaphor for the Nazis in World War II). The new movement uses hammers as their logo and crossed hammers form their "swastika." The movie clips of the songs You Better Run and Waiting For The Worms show a group of these thugs acting much like Hitler's brownshirts -- beating minorities up, smashing their businesses, and raping a woman caught in the back seat of a car with a Black man. In the second song a political rally is shown with a man screaming hateful and bigoted threats against minorities through a bullhorn, while animated marching hammers imitate Nazi goose-stepping. So it's a perfect fit, really.]
All of the various factions of the MAGA world unite under this banner... or under this hammer, I should say... which they all consider appropriate since they've been mocking the hammer attack on Nancy Pelosi's husband pretty much ever since it happened. Carrying hammers in holsters becomes their uniform, and they brandish them freely during their rallies.
Roger Waters is incensed by all this and desperately tries to stop this misuse and perversion of his music and the film clips, to no avail. "It was a warning!" he indignantly insists to anyone who will listen, "It was not meant as an instruction manual!" The Hammer followers just laugh at him and keep right on using the clip and the songs as their rallying anthems.
Donald Trump jumps in to lead this fascist parade. He celebrates the hammer attack on Paul Pelosi, and adds: "Wish Nancy had been home!" Trump also posts a photo of him attempting to strike a "tough guy" pose brandishing a hammer.
Victory parties are held across America after the election, with many of them ending in brutal violence. The Hammer thugs act out the movie's scenes with abandon, specifically targeting Black, Hispanic, Jewish, and L.G.B.T. businesses and people. An outcry ensues from both the media and civilized Americans, after which Republican leaders either deny the violence even happened or downplay it as "things might have gotten a little exuberant. Boys will be boys." Privately, Republicans pat themselves on the back for "owning the libs."
After Congress is seated in January, Kevin McCarthy becomes speaker of the House, while Mitch McConnell takes over in the Senate. People start referring to the "McCongress" as a result, much to the annoyance of both men.
Newly-elected Republican congressmen, after getting sworn in, immediately engage in a contest of: "Who can say the craziest thing?" in a bid to make a name for themselves and get their faces on television regularly. The established Republican politicians look on with amusement, failing to notice that nobody's calling their office for cable news bookings anymore as a direct result.
Kevin McCarthy gives free rein to all his new committee chairmen, who have all been selected for their ability to get clips of their hearings on the news each night with their outrageous words and behavior. "That'll keep the crazies in the base happy," McCarthy tells himself.
Investigations are launched into every insane conspiracy theory that currently exists on the rightward fringe. Hearings are held where no actual evidence of any of these insane delusions is uncovered (how could it be for non-existent conspiracies?), but where all the Republicans have lots of fun trying to top each other in delivering bombast for the cameras.
President Joe Biden is impeached, in the midst of all this frenzy, for the "high crime and misdemeanor" of having allowed Dr. Anthony Fauci to keep his job after becoming president. In fact, several articles of impeachment are been introduced, and this is only the first one out of the gate. Mitch McConnell, knowing this is an entirely futile exercise, holds a hasty trial in the Senate, and the vote is perfectly split on partisan lines, with every Republican voting to remove Biden from office and every Democrat voting to keep him there... except, of course, Senators Joe Manchin and Kyrsten Sinema, who both vote with the Republicans "in the spirit of bipartisanship." This is nowhere near the 67 votes required, and Biden stays in office, just as everyone knew he would.
Republicans aren't satisfied and impeach Biden two more times, just so Trump won't be "the most-impeached president in U.S. history" anymore. Biden's entire defense, in both of these Senate trials, is a very short video clip which his lawyers play for the assembled senators. In it, all Biden says is: "C'mon, man! This is ridiculous... get back to work!" Once again, the vote is exactly the same and Biden stays in office while ridiculing the Republicans for wasting America's time.
Bills are introduced in the House to: make all abortion criminal, make it a federal crime for any teacher in a K-12 school mention racism or even race in any way, make all vaccine requirements for any student anywhere illegal, institute a federal Department of Morality that will decide which books will be allowed in both school libraries and public libraries, outlaw gay marriage once again, outlaw both drugs and surgery for trans people, ban trans people from competing in any sport as either gender, decree Black Lives Matter a terrorist organization, make it illegal for the F.B.I. or the I.R.S. or any other federal agency to even open an investigation into any politician (although they do promise to allow such investigations to continue for Democrats, because "everyone knows they're fake politicians -- they're really just criminals"), make it also illegal to investigate anyone engaged in "legitimate political protest" (as they define it), start a "free guns for kids" program so they can "fight back against school shooters," end all military aid for Ukraine and declare Russia's illegal annexation legal as far as they're concerned, add a federal law specifically aimed at sentencing Dr. Fauci to the death penalty, and (just for good measure) abolish all income taxes for anyone making above one million dollars a year.
All of these bills sail through the House and are sent to the Senate. Mitch obviously can't get any Democrats (except, of course, for Manchin and Sinema) to vote for any of it, so he unilaterally declares the filibuster to be dead. The bills all pass, although even some Republicans express qualms about a few of them. President Biden vetoes them all and none ever become law.
Out in the streets, things are getting even uglier. Biden killing the entire Republican agenda enrages them, but even if all had been signed into law the rage would still be present, since as far as the leaders of the Hammers are concerned Republicans haven't gone far enough. The calls from the Hammer rallies are now to somehow reinstate Donald Trump as president immediately, declare the Democratic Party an illegal organization and ban it from future elections, and bring about the promised day of reckoning for all the Democrats who are in the gigantic babies/sex-trafficking/blood-drinking cabal that secretly has been running things behind the scenes. The Hammers all devoutly believe in the QAnon worldview, and become increasingly incensed that the baby/sex/blood ring hasn't been exposed and all its adherents sent to concentration camps or executed.
McCarthy announces another investigation, into all the QAnon claims. This mollifies the mobs for a while, but it soon becomes evident that they are not exposing any conspiracy (again, because there is no conspiracy there to expose).
The Hammer thugs' anger begins to turn inward. Rumors begin to spread that both McCarthy and McConnell are in the cabal and that's why they are continuing to allow the cover-up to continue. Donald Trump eggs all this on from the sidelines -- on Twitter, where he has been reinstated and welcomed by Elon Musk.
Trump calls for a "day of vengeance," to take place on January 6th, 2024. At the U.S. Capitol. Trump promises to appear in person at a giant rally on the Capitol steps.
At first, McConnell and McCarthy don't immediately jump on board with this idea, which further enrages the Hammers, who are now convinced that they are the main problem with why life hasn't been made wonderful under Republican rule of Congress. The Hammers announce that they will appear at the Capitol whether they have an official permit to be there or not. And that there will be no metal detectors or police presence at their rally.
McConnell and McCarthy finally begin to fear the forces they have helped unleash on America. Desperate to placate the mob, McConnell and McCarthy eagerly embrace the rally and publicly announce that they have instructed the U.S. Capitol police to stand down on January 6th, "because these are just patriotic tourists coming to see the Capitol."
Congressional Democrats, quite rightly, decide en masse not to go to work on that particular day. So when January 6th dawns, only Republicans are actually in the building. The mob gathers, some of them armed with guns but virtually all of them carrying two hammers in their holsters. The rally begins with speeches by the lunatic fringe and culminate in a video from Trump, who has backed out of personally appearing (he says) "because there are reports of Antifa snipers all over the place who would have taken me out in a second." Trump gives the most energetic speech of his life, demanding that the mob "march into Congress and demand they make me president before the sun goes down," and also "round up all these people who drink babies' blood and bring them to justice," without specifying what that means.
The mob, already primed for violence, needs no further instructions. They pour into the Capitol without resistance, since all the cops have been taken off duty. They completely scour the building and drag McCarthy, McConnell, and all the other Republican leaders to the floors of the Senate and the House.
This leads to an event later referred to as "The Great Bludgeoning," which marks the beginning in America of a very dark period indeed.
Have a happy Hallowe'en everyone!
-- Chris Weigant
Follow Chris on Twitter: @ChrisWeigant