[ Posted Thursday, May 27th, 2021 – 16:21 UTC ]
The Senate Republicans who are trying to appear as if they are negotiating an infrastructure plan in good faith with President Joe Biden are, in reality, trying to con both the media and the public into thinking their plan can be directly compared to the White House's offer. I say this not because of all the bickering over what really and truly constitutes "infrastructure," but instead over the numbers themselves. Because comparing Biden's plan to the GOP's plan is like comparing apples to peanuts.
The Republicans have been at least partially successful at this con job, mostly because journalists in general and even political journalists who report on budgetary matters (who really should know better -- they should be on the alert for just such an attempt at pulling the wool over their eyes, in other words) are just not all that good at math. Sad but true.
You may have heard the media report that Joe Biden's initial offer for his American Jobs Plan infrastructure bill was $2.25 trillion and then his counteroffer dropped to $1.7 trillion. And you may have heard that the Republicans were initially offering $568 billion and have now come all the way up to $928 billion, in an honest effort to meet somewhere in the middle. But that's just not true.
Here is the heart of the con: the Republicans are adding in a whole bunch of budgetary spending that is almost certainly going to happen anyway. Biden is not -- Biden's offers have all been for additional spending, not overall spending. Republicans are adding in spending that will happen no matter what, because of the fact that Congress is just never going to actually zero the yearly budget out when it comes to roads and bridges and other infrastructure spending. Biden doesn't add that in to his numbers -- all his spending is new spending, on top of what the yearly "baseline" spending will be. The Republicans, however, do include the baseline spending. Because it makes them look more reasonable -- if you buy into their con.
But if you remove all the smoke and mirrors from the Republican plan, what you come up with is much more starkly different. When you truly compare apples to apples, you can see how enormous a gulf still exists between the two sides. Biden's numbers don't change -- he initially proposed $2.25 trillion and then came down $550 billion to only $1.7 trillion. The Republicans, however, started out by offering a measly $189 billion, which they have magnanimously now upped to the whopping sum of $257 billion.
That's an enormous difference than the numbers they would much prefer the media talk about, for obvious reasons -- which is why I used legumes and not citrus fruit in my "apples and peanuts" metaphor, earlier. When you look at the actual numbers, the GOP's offer is really no more than peanuts. Here is an easy way to see this con job in all its glory: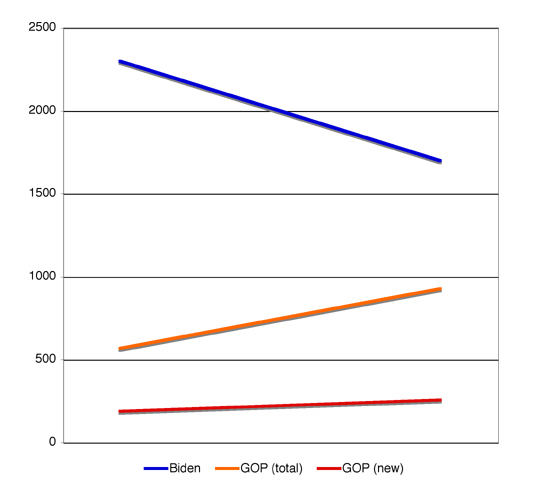 The top (blue) line is the movement between Biden's two offers. The middle (orange) line shows how the GOP is trying to hoodwink the media by claiming baseline spending as some sort of new thing they are generously offering (which is not actually true). The red line way down at the bottom shows how pathetically small their offer really is, after the baseline spending is removed. Once again: Biden's numbers do not include baseline spending, so the proper comparison is with the bottom line on that graph and not the middle one.
You can also see how much farther apart the two sides actually are, in reality. The difference between Biden's first offer and the GOP's first offer was $2.06 trillion. The difference between both sides' second offers is $1.44 trillion. The lion's share of that change -- $550 billion of it -- was because Biden came down so far. The GOP increased their bid by only $68 billion (in new spending), for comparison.
But very few media outlets are reporting this correctly. Most of them are lazily taking the Republicans' word for what their offer actually contains. I did notice in the interim (between when Biden made his second offer and the GOP made theirs), many in the media were using the correct "the two sides are still $1.5 trillion apart," which you get by subtracting $189 billion from Biden's $1.7 trillion. Perhaps the White House put out a media sheet with this talking point featured prominently, because I heard it repeated by more than one media outlet. But few of them bothered to use the correct figure of only $189 billion in GOP spending, most of them reported it along the lines of: "Republicans have offered $568 billion while the White House dropped their offer to $1.7 trillion, but the two sides are still $1.5 trillion apart." Not only can't most journalists do math, they also think that most of their audience can't, either (which, it pains me to say, is probably a pretty accurate assumption).
This isn't just a battle of partisan talking points. These are real numbers -- concrete budget proposals. One side in the negotiations has been negotiating in good faith with both the other side of the table and with the American people. The other negotiating party, however, is doing nothing short of running a con job. To date (with today's counteroffer), the magnitude of the GOP con job has risen to a whopping $671 billion -- or over 72 percent of the number they'd prefer everyone use. That is the measure of how much of their plan is smoke and mirrors, and how much of it ($257 billion, or less than 28 percent of what they misleadingly say it is) is nothing short of a con.
Don't be fooled. Do your own math, if the media won't do it properly for us all.
-- Chris Weigant
Follow Chris on Twitter: @ChrisWeigant