[ Posted Monday, November 30th, 2020 – 16:43 UTC ]
After the long weekend, I'm kind of easing back into the political world, and I thought there'd be no better way to do that than to celebrate the impending return of First Pets to the White House. Joe and Jill Biden will be bringing their two dogs to live with them, and the news was announced over the weekend that they'll also be getting a new First Cat. From Jane Pauley on CBS yesterday:
And now some breaking news. President-elect Joe Biden and his wife Dr. Jill Biden won't just be bringing their German shepherds, Major and Champ, to the White House. The Bidens tell us exclusively that soon they'll be joined by a cat.
Apparently, this is due to Jill, who had said in an interview before the election: "Well, I'd love to get a cat. I love having animals around the house."
I have to say, this is exactly the return to normalcy that 80 million of us voted for. Donald Trump was unique in many ways (and that's putting it mildly), but one of them was breaking the long-standing tradition of having pets in the White House. In fact, you have to go back to the depths of the nineteenth century to find a period when there were no pets in the White House. According to Wikipedia, the last president before Trump not to have pets was officially James K. Polk, who served from 1845 to 1849. Andrew Johnson (1865-1869) doesn't really count, either, because I don't think that "fed white mice he found in his bedroom" truly qualifies as having presidential pets.
This means that for over 150 years (no matter which one you consider the previous non-pet president), America has had a president who kept pets in the White House. Until Trump. Now, this was probably a good thing, because keeping pets requires you to have at least some love and empathy for something which is not you -- so Trump quite obviously didn't qualify.
Before Trump, the Obamas had Bo and Sunny, two Portuguese Water Dogs. You have to go back to George W. Bush for the last First Cat (India, or "Willie"). But without doubt the best photo of a First Cat ever was when the Clintons' Socks gave a press conference (heh):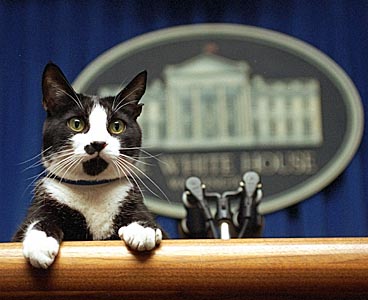 "I will now answer your questions...."
Hillary Clinton even eventually put a book out consisting of letters children had written to both Socks and Buddy (Bill's dog).
The only other really notable First Cat in my memory was a Siamese that a very young Amy Carter named "Misty Malarky Ying Yang." Maybe Joe Biden will name his cat "Malarkey" too, who knows?
One presidential pet (well, technically not "presidential" at the time, since this predated his win) was notably used as a political prop, in Richard Nixon's famous "Checkers speech." Lyndon Johnson also got into a little political heat when he was photographed picking up his hound dogs ("Him" and "Her") by their ears.
What's really astonishing about the list of presidential pets, however, is how much of a menagerie some First Families kept. John F. Kennedy's family, for instance, had: 11 dogs, one cat, one canary, two parakeets, an unspecified number of ducklings, three ponies, two hamsters, one rabbit, and one horse. Teddy Roosevelt and Calvin Coolidge also had their own small White House zoos. Among Coolidge's array of animals was a bobcat, lion cubs, a pygmy hippopotamus, a duiker, and a black bear. Teddy's included a laughing hyena and a one-legged rooster. The winner of the strangest White House pet choice of all time, however, might go to Benjamin Harrison's two alligators.
Woodrow Wilson was the most practical, as he kept a flock of sheep (up to 48 of them, at one point) who earned their keep by cropping the White House lawn.
The Bidens will be much more conventional, with two dogs and a new cat. Which is kind of my point today -- because it will all be so normal. The White House will once again be a family residence, complete with pets. After an absence of four years, America will get to see First Pets once again.
As I said at the start, I don't really have any overarching political point to make today. I am just quietly celebrating one more step along the path to returning America and the White House to a degree of normalcy that we've all been missing. And personally, I can't wait to see what kind of cat the Bidens choose to adopt.
-- Chris Weigant
Follow Chris on Twitter: @ChrisWeigant