[ Posted Monday, October 12th, 2020 – 17:58 UTC ]
It's Monday, so it is time once again to take a look at the state-level polling for the presidential race. I have to point out as a reminder, right up front, that no matter what the national-level polling shows, it simply does not matter to how we actually elect our presidents, as both Al Gore and Hillary Clinton can easily attest to. This is why I never even mention these numbers in this column series.
Instead, I pay very close attention to the charts provided by the wonderful Electoral-Vote.com site, which allows me to chart over time exactly how the race is shaping up -- in the Electoral College. In fact, it continues to astonish me how many other poll-watchers don't even bother to look closely at the only real way to view the state of the race we have, but that's a subject for another day.
Last week's polling was the first to reflect an event which happened over a week ago now -- President Donald Trump announcing he had tested positive for COVID-19 and then quickly entering the hospital. He didn't stay long, because he wanted to show strength, but all his attempts to do so might have just shown the voters another quality -- recklessness and indifference to the health of those around him.
This has actually caused Trump's numbers to sink in the polls, especially among seniors. Trump is desperately trying to win them back -- he shot a video addressed to seniors right after he returned to the White House, and he is pressing hard for his administration to start sending out $200 prescription drug cards to all of them before the election (which may not actually be possible, for various reasons).
Joe Biden, meanwhile, looks steady and calm. Wearing masks and actually paying attention to the doctors and experts looks very smart and prudent now, despite all the attempts Team Trump has made to paint Biden as "hiding in his basement" for the past few months.
Trump will return to the campaign trail this week, but he has already torpedoed the second debate, so Joe Biden will be holding a townhall on his own on ABC Thursday night instead. This was a monumental error by Trump, who didn't want to debate in any format that he might have his microphone cut off. But there were only two debates remaining, and they are the best way to address the biggest audience of voters in the hopes of turning things around. Now Trump will only have one chance to do so instead of two, and by the time that chance rolls around, tens of millions of people will already have voted. Trump is also counting on the Supreme Court confirmation hearings this week in the Senate to boost enthusiasm among his base, but his base isn't really the problem -- and most Americans think rushing a new Supreme Court justice onto the court so close to the election isn't the way to go. So this will likely not change the polls much at all.
One thing to watch for in the upcoming week is if Trump rebounds a bit from his polling falloff after he got sick. This may have been a temporary effect that reverses itself, in other words, but we'll have to wait another week to really see. Trump could very easily have gained some benefit after returning from the hospital, by being a bit more humble and sympathetic to the eight million other Americans who have suffered through the disease, but (being Trump) he chose not to do so. This killed any hope of a "sympathy vote" in the polls, and instead sent them in the opposite direction. But such bumps (either way) can be fleeting and quickly turn back around.
Having said all of that, let's take a look at where the two candidates stand. The first chart is of the overall totals of Electoral Votes (EV) for both candidates. The blue area starts at the bottom and represents Joe Biden's total. The red area is for Trump, starting from the top of the chart. The white areas in between are for states that are perfectly tied. Whichever candidate's area crosses the 50 percent mark will be the winner, if all the polling turns out to be correct.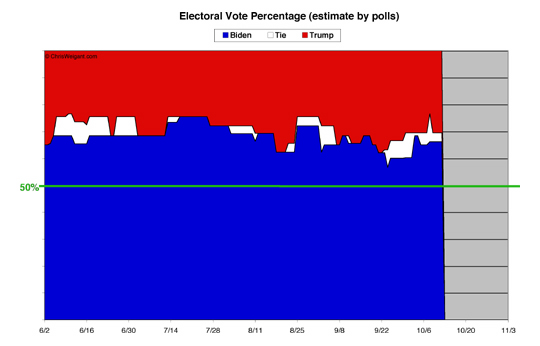 [Click on any of theses graphs to see larger-scale versions.]
Last week, Joe Biden had just fallen back a bit from a two-day spike. Since then, Biden has been pretty stable, although he did improve very slightly from 350 Electoral Votes to 356 EV, with the addition of Iowa, which moved from Tied to Biden. Donald Trump also stayed pretty consistent, although he did see a one-day spike downwards as Texas showed a perfect tie. It moved right back to Trump's column, though, leaving him at exactly the total he started with -- 164 EV.
The percentages didn't change much either. Trump's percent of the Electoral College was exactly where it was last week -- down at only 30 percent. Biden improved marginally, moving up from 65 percent to 66 percent. In other words, Biden is still leading Trump by a factor of better than 2-to-1. That's a pretty good place to be in, three weeks out.
The trendlines stayed pretty stable when you break them down, as well. Let's first take a look at where Biden stands, when you chart his relative strength in all the states. As always, "Strong" means at least a 10-point lead in the polls, "Weak" means between 5 and 10 percent, and "Barely" means a lead of less than 5 points.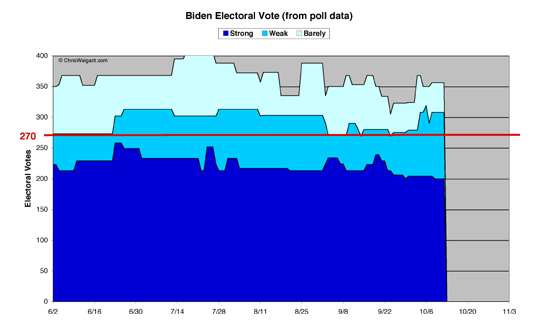 Last week, Biden's topline had spiked briefly upwards and then after two days fell back a bit. From this point, his topline stayed the same except for the addition of Iowa's 6 EV in the middle of the week.
As usual, there was some movement between Barely Biden and Weak Biden. This began with Arizona firming up to Weak for Biden, but then after a few days it fell back to Barely once again. Florida, meanwhile, wobbled in the other direction, as the polling moved from Weak Biden to Barely Biden and then right back to Weak Biden again. This is still pretty remarkable, since two weeks ago it was in the Tied category.
Florida moving back and forth made for a steep spike in the line between Barely Biden and Weak Biden on the chart, but by week's end, Biden had improved in the Barely category from 42 EV up to 48 EV (with the addition of Iowa).
In just the Weak Biden category alone, Biden improved by 4 EV, but this wasn't exactly good news, since these EV came from the Strong category. Overall, Biden started with 104 EV in Weak and finished with 108 EV.
The Strong category saw the least movement this week, losing those 4 EV to Weak as New Hampshire softened up a bit. This should reverse itself with further polling, one assumes. For the week, Biden started with a whopping 204 EV in Strong, and finished with a still-impressive 200 EV.
As always, though, I consider the "Strong Plus Weak" line on that graph to be the most important. These are the states the candidate can really count on winning, after all, since polls (even state polls) are rarely off by five or more points (although it does indeed happen -- there are no guarantees).
There was good news here, as Biden very briefly charted the highest number in Strong Plus Weak he's seen for the entire election, as both Arizona and Florida both briefly landed in the Weak Biden category. This left Biden with an overall total of 319 EV -- beating his previous best of 313 EV, which he saw for extended periods of time twice during the early days. But, alas, this fell back when Arizona softened again. For the week, Biden ended exactly where he began, at 308 EV. This has turned around the mild slump he experienced here in September.
So how is Biden doing historically, when his Strong Plus Weak numbers are compared to the last three Democratic presidential candidates? Pretty darn good, it turns out: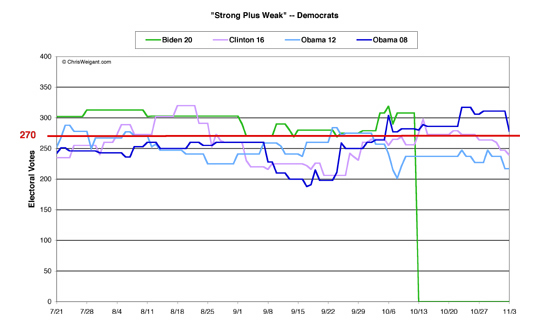 As you can see, Biden is still beating the field pretty handily. His record high of 319, in fact, is the second-highest number on this entire chart. Even Barack Obama in 2008 only ever hit 317 EV, about two weeks out from the election. Only Hillary Clinton topped this, by charting 320 EV in mid-August. That's how well Biden is doing in the record books.
One-day spikes aside, though, Biden is still doing fantastically well. His 308 EV is roughly as well as he's done at any point during his campaign, and it is comfortably above all the other Democratic candidates, three weeks out. This week in 2012, Barack Obama sank down to only 201 EV -- more than 100 points down from where Biden finds himself. There is one strange coincidence with Obama's 2012 chart line, as both he and Biden charted a spike on the same day -- and then both of them saw it fall off the next day.
One heavy note of caution, however -- the main reason Biden is doing so much better on this chart is that Florida is in the Weak Biden category. That could change quickly, and it would seriously affect the chart since Florida has 29 EV. Without Florida, Biden would only be at 279 EV (which is roughly where Obama's 2008 line is on the chart). Now, this is still enough to win the election on its own -- just Biden's Strong Plus Weak states, minus Florida. So even without worrying about just how strongly Biden is doing in the Sunshine State, he's still doing phenomenally well for this point in the race. Only Obama in 2012 was also comfortably above the red 270 EV line at this point, you'll note.
Which brings us to Donald Trump's numbers, which are (shall we say) not nearly as impressive as Biden's. By a longshot.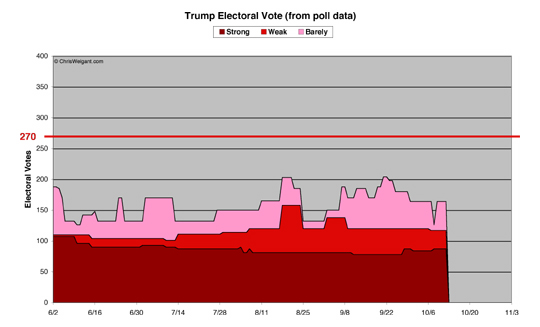 Other than one spectacular one-day dip, Trump's chart is almost the same as it was last week.
The big dip was Texas, which for one day moved from Barely Trump to Tied, but then moved right back again. It's a clear graphic representation of how important the second-most-populous state is in the Electoral College, as winning or losing its 38 EV would certainly change the race considerably for either candidate.
Other than the big dip, however, only two very small states moved at all for Trump this week. One was good news, and one was bad. First, a poll came out of Alaska which moved the state from Weak Trump to only Barely Trump. The next day, a poll out of Montana showed it moved from Weak Trump to Strong Trump. Both states, however, only have 3 EV, which is why you have to look hard to even see this movement. Trump got a little confirmation in one other state, as the first-ever poll from West Virginia showed him with a very strong lead there, as expected.
Trump ended the week almost exactly where he began it. Trump's Barely number moved up from 44 EV to 47 EV (with the addition of Alaska), his Weak number dropped from 36 EV to 30 EV, but his Strong number improved from 84 EV to 87 EV (as Montana firmed up). Overall, Trump started with 164 EV, dropped down to only 126 EV with the loss of Texas, but then returned to finish the week with the same 164 EV he had at the start. That 126 EV should be concerning to Team Trump, since it matches the lowest number Trump's ever charted (back in early June).
Trump's Strong Plus Weak number changed for the first time in weeks, but the news wasn't good as it fell by 3 EV with the loss of Alaska (to only Barely Trump). Trump started with 120 EV in Strong Plus Weak, and finished with only 117 EV. Let's take a look how this stacks up with other Republican candidates, historically: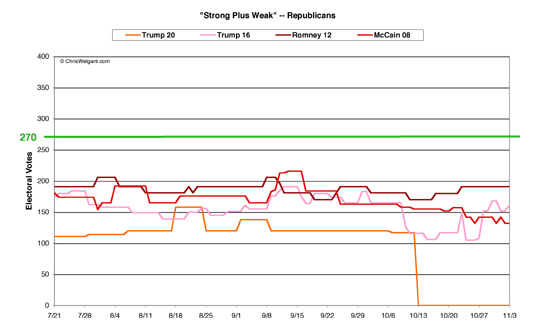 Finally, Donald Trump isn't doing the worst of anyone. He is doing marginally better than... Donald Trump, in 2016. Now, of course, Trump did go on to win that year, no matter how bad his chart numbers may look, so it's best to keep that in mind.
Even so, that's a pretty sad line for Trump. He has found it impossible to move states solidly into his column for the entire election, only breaking 150 EV in Strong Plus Weak once. And he's now below 120 EV, which is not a good place for a candidate to be. Right now, if Donald Trump won all these states, he'd still need a whopping 153 more EV to win the Electoral College. That's a pretty tall order.
My Picks
We are three weeks out from Election Day, so I'm going to get a little bolder in my picks this time around. Like everyone else, I've been extremely leery of overconfidence this year (once burned, twice shy), so up until now my own picks have hewn pretty closely with the polling and with many other pundits' picks. But this time I'm feeling a little better about the state of the race.
The biggest factor this week was undoubtedly the news that Donald Trump had tested positive for COVID-19 and had to enter the hospital. This caused a slump in his polling almost across the board, but this could be a temporary effect. With three whole weeks to go, he could indeed rebound a bit, so I'll be watching out for this in the coming days. However, Trump's decision to blow off the second debate because of the virtual rules could mean that he blew the best opportunity to turn things around. We'll all just have to wait and see.
As always, I've divided my picks into "Safe," "Probable," and "Lean" for each candidate. At the end there is a "Too Close To Call" category for the races which are completely tied right now. And at the very end of all of these articles is a full list of all the states in each category, together with their EV totals.
Likely States -- Biden
Safe Biden (22 states, 263 EV)
We moved a whopping five states up to the Safe Biden category this time around, three of which may surprise you.
New Hampshire saw a flurry of polling and all of it was good for Joe Biden. He's up by double digits, so this state has to be seen as Safe Biden at this point (proving that it probably was just one outlier poll that caused it to move down).
Virginia is still waiting for another poll, but we're going to go ahead and consider the last one an outlier and move it back up to Safe Biden again. I just can't see Trump winning here, even if the polling has been sparse.
But the big news is that I'm moving Michigan, Pennsylvania, and Wisconsin up from Probable to Safe Biden this week. These three are all considered battleground states, but the war seems to be over and Biden seems to have won. The Trump campaign has even gone dark on the airwaves in Michigan, indicating that they too have given up all hope here. In all three, Biden has been holding a solid lead for quite some time, and that lead seems to be getting stronger. Biden is polling close to or above 50 percent in all three states, which is a good indication that no matter what the undecided voters ultimately decide, Biden will still win. Maybe I'm being too wildly optimistic, but at this point I'm considering Michigan, Pennsylvania, and Wisconsin all solidly in the Biden column.
Probable Biden (2 states, 16 EV)
This category dramatically shrank this week, but the reason why is a good one, since five states moved up from Probable Biden to Safe Biden. With the loss of Michigan, New Hampshire, Pennsylvania, Virginia, and Wisconsin, there are only two states which remain in the Probable Biden category.
Both Nevada and Minnesota could also be on the brink of moving into Safe Biden territory as well. Biden was looking very strong in Nevada, but the most recent two polls showed a slightly closer race (even though Biden was up by six points in both polls, Trump seemed to have slightly improved). Minnesota seems like about a seven-point Biden lead at this point, but he isn't polling up around 50 percent yet, so we're going to wait at least one more week before considering moving it up.
Likely States -- Trump
Safe Trump (16 states, 98 EV)
One state moved up to Safe Trump this week, as Montana should now be considered out of reach for Joe Biden. There is still a competitive Senate race there, but for now it seems that the presidential race is going to be a foregone conclusion.
Probable Trump (3 states, 22 EV)
Trump lost a state in this column, but it was good news for him as Montana moved up to Safe Trump. However, there is one state that might only be considered Lean Trump at this point, after a surprisingly weak poll for Trump in Alaska. But Alaska is notoriously hard to poll, so I'm going to guess that it's still at least a Probable Trump state.
The other two states here (Missouri and South Carolina) are likely going to wind up voting for Trump, but until I see further polling I'm still only going to consider them Probable Trump.
Tossup States
Lean Biden (3 states, 55 EV)
Last week, we moved Florida up from Too Close To Call to Lean Biden. This week, we considered moving Florida up again (to Probable Biden), but somehow we just couldn't bring ourselves to do so in the end. Biden's lead seems to be holding, the news of Trump getting sick didn't go over well with Florida's seniors, and Biden is polling consistently around 49-50 percent while Trump is down at 43-44 percent. Those would all argue strongly for the state to move up to Probable Biden, but again because the state is so important in the grand scheme of things (the Electoral College, in other words), we're going to wait at least one more week before moving it.
Arizona could also be poised to move up, as Biden's lead in the state seems to be growing. But the latest poll (putting Biden up 6) may be an outlier, so we're going to wait for at least one more poll before considering a move for Arizona.
The really big news here is that North Carolina now has to be considered at least a Lean Biden state. North Carolina has been in the Too Close To Call category all along, but this week Biden opened up a five-point lead here. This is shown in the latest three polls here, all taken this week. Now, previously, the polling was almost perfectly tied between the two candidates, so if these three polls are outliers, or if there is just a bump for Biden on the Trump coronavirus news that falls off, then the state could easily move right back down to Too Close To Call. But for this week at least, North Carolina has to be considered at least leaning towards Joe Biden.
Lean Trump (2 states, 44 EV)
There are only two states in the Lean Trump category once again. Now, my gut feeling tells me that Arkansas is almost certainly going to vote for Trump, but I'm hesitating to move it up to Probable for him.
The big question I had this week, however, was about Texas. I probably should move Texas back down to Too Close To Call, especially since in the latest poll Joe Biden was actually ahead by one point. But while the polling has been neck-and-neck all along, I've seen Democratic hopes of "turning Texas blue" fizzle out too many times in the past to get too overly optimistic about Biden's chances in the Lone Star State. So unless the polling shows any real change, even though it seems tied, I still think Republicans in general have an edge here.
Too Close To Call (3 states, 40 EV)
With the loss of both Florida last week and North Carolina this week, the Too Close To Call category has shrunk considerably. We now only have three states seemingly perfectly balanced this week: Georgia, Iowa, and Ohio.
In Georgia and Ohio, nothing much has changed -- the polling remains as close as polling can be. However, there's a case to be made to move Iowa into at least Lean Biden this time around, although in the end we decided to wait. In the four most recent polls, Biden led in the first three while the fourth was tied. This is notable because it has been the only substantial Biden lead in the state for the entire campaign. Not long ago, it was considered Safe Trump by many, but from the polling it has been Too Close To Call all along. We'll be watching the state closely in the next week, but there's a real possibility that Joe Biden has opened up a very slight edge here.
Final Tally
Instead of getting a "sympathy vote" bump in the polls, Donald Trump's polling got worse this week, as the voters registered their opinion of his handling of his own safety and the pandemic as a whole.
Joe Biden continues to outpace Trump, roughly by a factor of 2-to-1. This holds true for all the individual categories and the topline numbers. Biden has 200 EV in his Strong category, to Trump's 87 EV. In Weak, Biden has 108 EV to Trump's 30 EV. In Barely, the two are almost tied at 48 EV for Biden to Trump's 47 EV.
Overall, Biden has 356 EV to Trump's 164. Note that 356 EV is almost two-thirds of the total of 538 EV.
If Biden wins all his Strong and Weak states, he will win the election. He could even win all these states except Florida and still win the whole race. Biden does not need to win any of his Barely Biden states or the states which are Too Close To Call to put together 279 EV for the win.
Trump, on the other hand, has to win just about everything in sight to even have a chance of coming close to winning. Even if Trump wins Arizona, Arkansas, Florida, Georgia, Iowa, North Carolina, Ohio, and Texas he will still fall short of the goal. If Biden wins any of those states, the race will effectively be over. And Biden is polling ahead of Trump in almost all of them.
Trump may still turn things around, though. He did four years ago, after all. But Joe Biden is not Hillary Clinton -- he just doesn't raise the same level of distaste among voters. So Trump will really need some sort of game-changing event for that to even be possible. Trump just walked away from this week's debate, so he'll miss out on one of the biggest chances he had for this to happen. He's now counting on the Supreme Court nomination hearings to help him out, but it remains to be seen how big an effect this is going to have.
It is now impossible to look at this race and conclude that Biden is nothing short of heavily favored to win it. Trump is not just an underdog, he's now a real longshot. Of course, with Trump, just about anything under the sun can happen in three weeks' time, but with more and more votes being cast by the day, any game-changing event had better happen quickly or it simply won't matter much at all.
[Full Data:]
(State electoral votes are in parenthesis following each state's name. Washington D.C. is counted as a state, for a total of 51.)
Joe Biden Likely Easy Wins -- 24 States -- 279 Electoral Votes:
Safe States -- 22 States -- 263 Electoral Votes
California (55), Colorado (9), Connecticut (7), Delaware (3), Hawaii (4), Illinois (20), Maine (4), Maryland (10), Massachusetts (11), Michigan (16), New Hampshire (4), New Jersey (14), New Mexico (5), New York (29), Oregon (7), Pennsylvania (20), Rhode Island (4), Vermont (3), Virginia (13), Washington D.C. (3), Washington (12), Wisconsin (10)
Probable States -- 2 States -- 16 Electoral Votes
Minnesota (10), Nevada (6)
Donald Trump Likely Easy Wins -- 19 States -- 120 Electoral Votes:
Safe States -- 16 States -- 98 Electoral Votes
Alabama (9), Idaho (4), Indiana (11), Kansas (6), Kentucky (8), Louisiana (8), Mississippi (6), Montana (3), Nebraska (5), North Dakota (3), Oklahoma (7), South Dakota (3), Tennessee (11), Utah (6), West Virginia (5), Wyoming (3)
Probable States -- 3 States -- 22 Electoral Votes
Alaska (3), Missouri (10), South Carolina (9)
Tossup States -- 8 States -- 139 Electoral Votes:
Tossup States Leaning Biden -- 3 States -- 55 Electoral Votes
Arizona (11), Florida (29), North Carolina (15)
Tossup States Leaning Trump -- 2 States -- 44 Electoral Votes
Arkansas (6), Texas (38)
Too Close To Call -- 3 States -- 40 Electoral Votes
Georgia (16), Iowa (6), Ohio (18)
Polling data gaps:
Polled, but no recent polling data -- 7 States
(States which have not been polled since the beginning of September, with the dates of their last poll in parenthesis.)
Arkansas (6/10), Connecticut (5/24), Indiana (8/2), North Dakota (3/5), Massachusetts (8/27), Mississippi (2/28), Tennessee (5/22)
No polling data at all, yet -- 8 States
(States which have not been polled so far this year.)
Hawaii, Idaho, Louisiana, Nebraska, Rhode Island, South Dakota, Washington D.C., Wyoming
-- Chris Weigant
Follow Chris on Twitter: @ChrisWeigant