[ Posted Thursday, June 6th, 2019 – 17:53 UTC ]
In may ways, this is going to be an irreverent article. Just to warn everyone up front. I didn't really have time to write a new article today (for reasons unrelated to politics), so I went searching for a column to re-run. I went back and read every column I had posted around June 6 throughout the years, and was kind of embarrassed that I'd never written explicitly about D-Day before. The closest was when I wrote an introduction to a column when President Barack Obama attended the 70th D-Day memorial ceremony, but this was really a column originally written for Memorial Day. I found other interesting columns (as I always do when traipsing through the site archives), including the interview I did in 2008 with then-Senate candidate Al Franken. And I found one article that just made me laugh, so I thought I'd run it again today for anyone else out there who might be in need of a smile.
OK, here's how I bend over backwards to justify running this column today. Ready? Here goes. Technologically, there were all kinds of military improvements made during World War II. Technology always moves forward in leaps and bounds during wartime, since governments see the necessity of innovation when it means having an edge over your military foes. The most impactful of these (in both the literal and metaphorical senses) from World War II was undoubtedly the atom bomb. But there were hundreds of other improvements made to upgrade the military from it's post-World War I phase, from tanks and battleships down to the personal kit issued to each infantry soldier.
Not only does technology advance in wartime, what almost always follows is a migration of such military advancements to civilian life in the peacetime after the guns are silenced. These can be complex (every time you check your phone for directions, you are using the global positioning satellite system originally designed and deployed by the military) right on down to the most mundane. Ever eat M&M candies? Then you've consumed a product designed to military specifications. The problem was soldiers' hands tended to get covered in melting chocolate, so they came up with the idea of mess-free chocolate and the candy-coated M&M was the result. Look it up. During World War II, in fact, the only customer for M&Ms was the military.
But the World War II military advancement I speak of today was an updated motorcycle, at least at first. In World War I, motorcycles were used by dispatch carriers and messengers and other soldiers who had to get around fast on virtually any terrain, without the benefit of any protection from getting shot. But motorcycles are a little ungainly, so the military decided to up-size the idea to a four-wheeled vehicle. It put out for bids on such a "General Purpose" vehicle, and one of the companies who bid on (and won) the contract was Willys-Overland, who in 1943 submitted a trademark application for the pronunciation of "GP" which had stuck -- the Jeep. Famed war reporter Ernie Pyle referred to the Jeep (and the Coleman G.I. Pocket Stove) as "the two most important pieces of noncombat equipment ever developed."
Jeeps were the first of what later became known as the "sport-utility vehicle." The Jeep was the original design, and launched an industry. But the attempts to migrate it to the civilian market (begun right after the war ended) had always been somewhat of a hard sell. Willys and the Jeep brand were eventually sold, and then sold again. In 1970, American Motors Corporation bought the rights to the Jeep for $70 million. The next year, they spun off their government sales division, creating the company AM General. They built millions of Jeeps for the post office (remember those right-hand-drive postal carrier Jeeps?) as well as the military.
American Motors not only continued the military Jeep line, they were the first ones to widely popularize the "4x4 driving is fun!" concept in American life. The "Civilian Jeep," or "CJ" model was at the forefront of the SUV craze, although by that point other companies had come out with their own utilitarian vehicles (such as the Ford Bronco). American Motors was sold to Chrysler in the 1980s, and the Jeep brand eventually became owned by Fiat. But through it all, AM General continued producing military vehicles as its own company.
That's enough history, and as you can tell it's a pretty weak attempt to tie the following article to D-Day. This was intended to mask the real reason for both writing the article in the first place and rerunning it today, which was just a sheer love for AMC vehicles and has nothing really to do with the military, World War II, or D-Day at all. So I guess another year will go by without me writing explicitly about "the longest day." My apologies to the "greatest generation" for such irreverence.
Originally published June 4, 2009
This is going to be a seriously politically incorrect column for much of my usual audience, so I thought I'd issue a warning up front here. I am about to get sentimental over a company whose sole remaining purpose in life is to be a military contractor; and, furthermore, one which (together with Arnold Schwarzenegger) is primarily responsible for the poster-vehicle of the excesses of "the SUV era." I speak, of course, of the Hummer. If that sort of thing is not your cup of herbal tea, then I advise you to immediately close this window before your very browser itself is tainted with such leftist unorthodoxy.
Still with me? Supportively, or just "have to rubberneck at the car accident" with me? Well, in the end it doesn't really matter. Read on, and enjoy or be horrified as you will....
News broke recently about General Motors' proposed sale of the Hummer brand to a Chinese company, in the midst of GM's ongoing bankruptcy. My first thought was "Oh, no, the last vestige of AMC is being sold to China?!?" This is due to my own bias, I must admit. Let's just get that out of the way with, shall we? Here is the car I learned to drive on: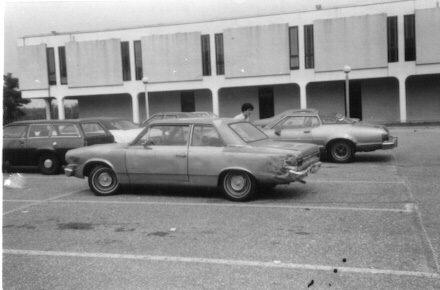 It was a beat-up 1968 Rambler American (the cheapest of their three versions -- American, Rebel, and Ambassador) made by American Motors Corporation in Kenosha, Wisconsin. It was about as stripped-down as you can get -- the only option it boasted was an AM radio (it didn't even have a cigarette lighter). It was an extremely hard car to learn to drive on, as it had a primitive "three-on-the-tree" manual transmission (with no synchromesh between first and second gears), and a clutch that was not very forgiving at all (if I had a nickel for every time I stalled it, I could have retired before I was old enough to vote). The thing was, to be quite blunt, a tank.
But tanks have their charms, too. A 150-pound teenager could stand not just on the hood of the car, but on the roof of the car -- without denting it. It had a very high clearance, and could "two-wheel drive" across terrain most other cars of the era would sink into. It could survive a 60-mph T-bone accident to the rear corner with the sole damage being a large dent. I say this (look closely at that photo) from personal experience.
In other words, as a hand-me down from the parents, we managed to have fun with the car, even if the "cool kids" laughed at us from their TransAms and Mustangs. Which bred a lifelong soft spot for all things AMC. Yes, even the Pacer (sigh).
This even led me, during last year's campaign, to reach out to one of the Republican candidates' campaign press office, in an effort to write something nice about a Republican. I told them I blogged for the Huffington Post (whose name -- I am not making this up -- they were unfamiliar with). I requested a photo of Mitt Romney's Rambler (Mitt Romney is the son of George Romney, who before entering politics was the head of AMC), and was all set to write nice things about Mitt's car. His campaign, however, apparently discovered what the Huffington Post was, and never got back to me (not that I really blame them). But, I swear, I would have written nice things about Mitt's car, just for the record. Actually, I did anyway, but all I could run with it was the photo you see above, of my beat-up Rambler.
With that bias explained in much more detail than anyone really needed, allow me to continue.
AMC was the last independent American car company of the original non-big-three era. It was absorbed by Renault, and then Chrysler in the 1980s. But there had always been a subsidiary of AMC with its own history, and it was treated as a separate entity in the demise of the parent company -- American Motors General, or "AM General." And right around the time AMC was taken over, AM General went its own way (previous to joining AMC, they had their own history as Willys and Willys-Overland).
Everyone of a certain age knows AM General's proudest product well -- the Jeep. Originally a military vehicle (named "General Purpose" vehicle, or "GP"... hence "Jeep") designed to be more sturdy than motorcycles for World War II, the Jeep pretty much singlehandedly began the craze for rugged vehicles which would later become known as "Sport-Utility Vehicles," or SUVs.
And, at the forefront of this era, the military Jeep was redesigned. The result was the "M998 Series High Mobility Multi-Purpose Wheeled Vehicle" or "HMMWV." This was translated (much less inelegantly as "Jeep") as "humvee." Which later became simplified further as the "Hummer."
Now, I'd like to add some conspiracy-theory spice here, by pointing out that a comic which appeared around the same time as the HMMWV was being designed, by one of the true masters of the underground-comic school of art, Gilbert Shelton. It was part of a very-occasional series by him titled "Gilbert Shelton's Advanced Motoring Tips" (which were always labeled with outlandishly high volume numbers, this one as: "113"). But, comparing his design to the original HMMWV, you've got to admit there are certain parallels: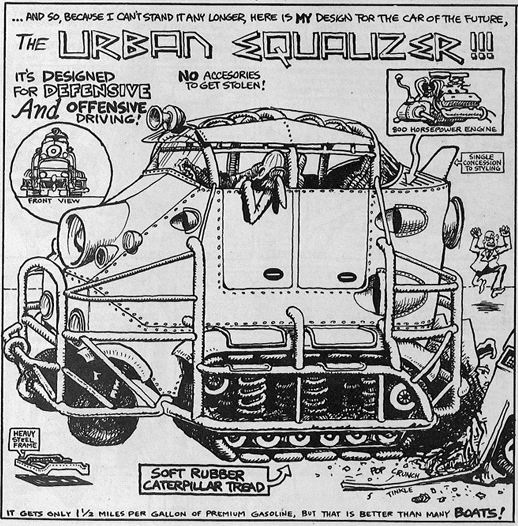 [Click on the image to see a much larger image of the full comic.]
I personally like the "single concession to styling," myself. But whether Shelton's design was the inspiration for the HMMWV or not (probably not, because it was published later -- I leave it to better conspiracy theorists than myself to explain this discrepancy...), the thing was admittedly a monster.
Enter Arnold Schwarzenegger. Arnie drove a HMMWV in one of his action flicks (I don't have total recall which one, I believe it had him riding one in a magic seat that extended from the vehicle to give him a better shot to terminate his prey... a running man! As you can see, I get confused remembering Arnie flicks...). He loved it. He wanted one. He asked the company to build him one. They did (after reportedly removing the 50-caliber machine gun which came standard). Arnie paid some insane price for it, like $80,000. And thus, the idea of civilians driving these monstrosities around American highways and byways was born.
The official name changed to "Hummer" at this point, and the Hummer quickly began terrorizing environmentalists' dreams of everyone driving small fuel-efficient cars around. Making it the poster-vehicle in the anti-SUV debate. Hummer dealerships were attacked, by the shadowy militant side of the environmental movement (the "monkey wrenchers," in their own parlance).
Eventually, the civilian Hummer was redesigned, in a much smaller package (the "H2"). And then, following in the footsteps of the original Jeep, the civilian and military versions parted ways, as the Hummer brand was sold to General Motors (who began making the first Hummers not made by the AM General plant, the "H3").
This -- the civilian brand -- is what is being sold to the Chinese. Not AM General, or the military HMMWV. AM General still makes military vehicles (they continued making military HMMWVs during this period of civilian Hummer sales). And for some reason, that makes me feel a lot better than my (admittedly biased) panic upon first hearing the news.
[Full Disclosure: I have never owned a Hummer. I have never even ridden in one. I have, however, owned quite a few Ramblers over the years. I was offered no compensation of any type for writing this article from AM General, who can still be found in South Bend, Indiana, right where they've always been. Even if they had offered me a Hummer, I would have turned it down (where the heck would I park the thing?!?). But if someone wants to offer me a fully-restored 1969-and-a-half AMC-Hurst SC/Rambler with a 390 cubic-inch V8 engine and four-speed transmission, I will gladly write glowing articles on whatever subject they suggest. I'm just saying, every man's got his weak spot....]
-- Chris Weigant
Follow Chris on Twitter: @ChrisWeigant