[ Posted Monday, October 3rd, 2016 – 19:00 UTC ]
It's time to take a look at the presidential race once again, and I have to begin with a program note. Up until now, I've been writing these columns every two weeks, but from now until the election, they'll appear each Monday like clockwork, since the race is about to head into the homestretch.
In the past two weeks, the presidential race has certainly had some ups and downs. Hillary Clinton saw the end of her slide in the polls, and the beginning of the bounce she earned by her first debate performance. Donald Trump has seen his numbers fall, which is likely only going to get worse as the impact of his unusual debate performance (and everything that happened in the week thereafter) begins to be reflected in more and more state polls.
The overall chart of the race for Electoral Votes (EV) looks better for Clinton than last time around, but I would caution that this chart doesn't show the underlying strengths (which we'll get to in a moment). As always, Clinton (blue) starts from the bottom, Trump (red) starts from the top, and whichever line crosses the middle (the 270 EV needed to win) would win the election if it were held today and all the polling was accurate.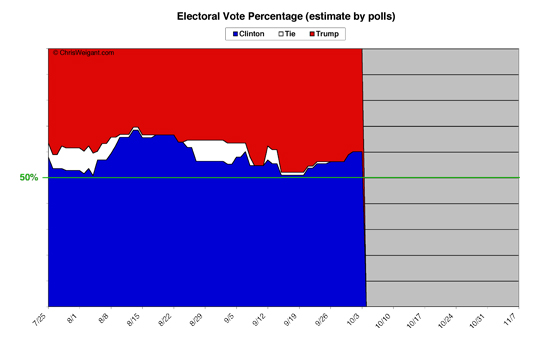 [Click on any of theses images to see larger-scale versions.]
This is a significantly better-looking chart than last time around, for Clinton. Last time the percentage split of EV was 51 percent Clinton, 48 percent Trump (with one percent tied). This time around it's a clear 60/40 split in Clinton's favor. Not only has she halted her slide in the polls, but she's begun a rather impressive bounce -- one that started before the debate happened, it's worth mentioning.
Clinton flipped four states from Trump in the past two weeks: Colorado, Florida, Nevada, and New Mexico. Florida and Nevada still seem balanced between the two candidates pretty closely, but Clinton is looking a lot better in Colorado. Trump didn't flip a single state from Clinton's column this time around -- the momentum was all on her side.
There is one caveat to all this good news for Clinton, however. Partly, the shifts this period happened because the site I use for polling data (Electoral-Vote.com) decided to drop using Ipsos internet polls, which it determined were wildly off from more-scientific polling results. This meant Trump lost a lot of states previously considered very strong for him -- based only on Ipsos polling. One in particular was pretty laughable, as Ipsos showed Trump with a double-digit lead in New Mexico, when the state is quite likely to be comfortably in Clinton's column. This change happened on the first day of the two-week period this column covers, and can be more plainly seen in the next chart, which looks deeper at Donald Trump's relative strength. Here is Trump's chart, broken down into the Strong, Weak, and Barely categories used at Electoral-Vote.com.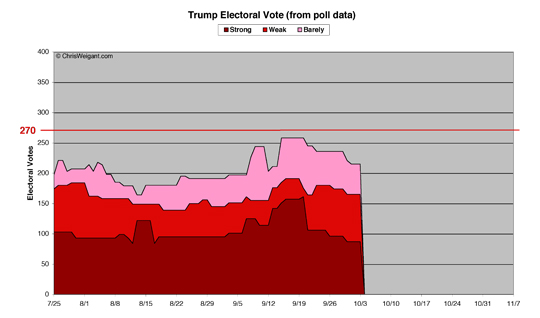 [Definition of terms: "Strong" means 10 percent or better in the polls,
"Weak" means five percent or better, and "Barely" is under five percent.]
As noted, the past two weeks started with a realignment of the polling data, which moved three states (one of them big) out of the Strong Trump category -- Indiana, Mississippi, and Texas. But even after this realignment, Trump continued to lose states from his Strong category, as Missouri and South Carolina weakened (South Carolina fell all the way to Barely Trump). Iowa also slid from Weak Trump to Barely Trump, meaning Trump saw bad news in six states this period. He only got good news in one state, as Alabama moved up to from Weak Trump to Strong Trump. Georgia wavered from Weak Trump to Barely Trump, but returned to Weak Trump in the end.
By the numbers, Trump began the period with 157 EV in the Strong category. He then hit his personal best here -- 161 EV -- on the first day, but then the realignment sent him all the way back down to 106 EV. His Strong numbers continued to slide for the rest of the period, winding up at only 87 EV -- down a whopping 70 EV for the period.
Trump's Weak numbers took up some of this slack, but not all of it. Trump began with 34 EV in the Weak column, which eventually rose to 78 EV. Trump's Barely numbers contracted, however, from 67 EV to only 50 EV.
All told, Trump started the period with the highest overall EV total he's seen yet -- an impressive 258 EV. That, as I noted last time, was a higher total than Mitt Romney ever saw in 2012. This time around, however, Trump has seen that number erode significantly, falling to 215 EV now, a loss of 43 EV.
As always, the number that most interests me is the "Strong Plus Weak" line, because this is the real measurement of which states a candidate can truly count on (and not worry about) on Election Day. Trump also started this period at a high point in Strong Plus Weak, at 191 EV. But by the end, Trump saw this important metric fall back to only 165 EV -- which is over 100 EV away from the goal line.
Now let's take a look at Hillary Clinton's chart.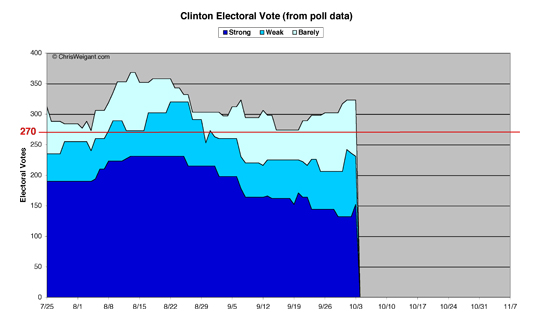 As you can see, although the overall news for Clinton is almost universally good this time around, it's not nearly as good as it could be. Just looking at the top line on the chart is the best news, but the breakdowns are less positive (although now headed in the right direction, at least). Overall, Clinton rose from 274 EV -- only four above the winning number -- to a much-more-comfortable 323 EV. Clinton managed this by picking up four states, including Florida's haul of 29 EV.
Clinton's Strong number, though, was much more subdued. Clinton started the period with 152 EV in the Strong category, rose to 171 EV right away, but then fell back to an all-time low (for her) of only 132 EV in the Strong category. This only started rising today, as the state-level polling which shows the results of the debate started to come in. But she ended the period in the Strong category right where she began it, at 152 EV.
The news was a little better for Clinton in the Weak category, as it mostly picked up the slack from states that slipped out of Strong, and added a few states as well. Clinton started at 73 EV in the Weak column, which rose to 110 EV, before falling back to 79 EV. Clinton's real growth was in the Barely category, which went up from 49 EV to a peak of 111 EV, and now stands at 92 EV. Of course, what Clinton really needs to do is start shifting Barely states to Weak, and Weak states to Strong. If the reactions to the debate (and all of the other unhinged behavior from Trump) start to show up in more and more state polls, this is quite likely what is about to happen in the next week or so.
Clinton's Strong Plus Weak number also bottomed out during this period, starting at 225 EV and then falling to its all-time low of only 206 EV, before recovering up to 242 EV. This slid a bit in the past few days, and now stands at 231 EV. This is 39 EV away from victory. Compared to Trump, though, Clinton's in a much more solid spot (Trump has only 165 EV in Strong Plus Weak, and needs 105 EV to hit the magic 270 EV needed to win).
My Picks
As regular readers of this column know, I don't strictly stick to just raw poll numbers when making my own predictions. Gut feeling has to be taken into account, which allows me to ignore polls I think are wildly off the mark (like that New Mexico poll, last time around).
I've detailed my picks below, and then at the end of the column is a full list complete with all states and their Electoral College totals. But it's much easier to see graphically, so let's take a look at this week's map (with, as always, a hat tip to the folks at 270toWin, where you can make a map of your own picks to share).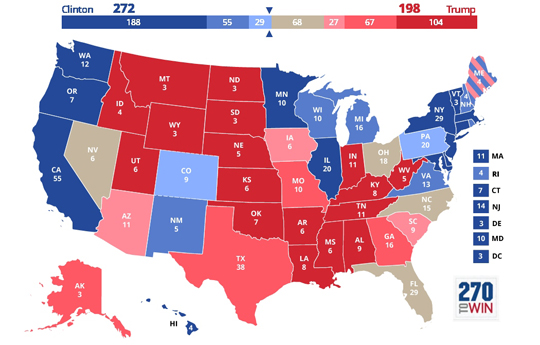 Likely States -- Clinton
Safe Clinton (14 states, 188 EV)
No change from last time around. All of Clinton's 14 Safe states stayed put.
Probable Clinton (7 states, 55 EV)
There was a lot of activity in this category, as three states moved in and one (plus a fraction) moved out. First, let's deal with that fraction. There are two states which do not award Electoral College votes unanimously: Maine and Nebraska. In these states, the overall state winner wins two EV (the senators), but whomever wins in each congressional (House) district wins that district's EV. This can lead to split voting, which now appears probable in Maine. Donald Trump is doing well in the more rural district in the state (there are only two), so it's looking like three of Maine's EV are Probable Clinton, but one of them has to be at least considered Leans Trump at this point. Other than the backwoods of Maine, the news was mostly good for Clinton. Pennsylvania now has to be considered only Leans Clinton, but Michigan, New Hampshire, and Wisconsin all moved up from Leans Clinton to Probable Clinton this time around. All of this movement (Maine included) meant a net gain of 9 EV for the Probable Clinton category.
Likely States -- Trump
Safe Trump (17 states, 104 EV)
Trump added one state to his Safe list this time around, as Alabama showed some stronger polling. With Alabama, Trump now has 17 states in the Safe category, and adds 9 EV to his total here.
Probable Trump (4 states, 67 EV)
Like Clinton, Trump saw several states move in and out of his Probable category this week, with mixed results. Alabama moved up to Safe, as previously mentioned. South Carolina moved down to Leans Trump, but Georgia moved up from Leans Trump to replace it. Georgia seems firmer for Trump at this point, but I could easily see it slipping back later. Alaska, Missouri, and Texas remained Probable this time around. So Trump lost one Probable state overall, but only lost 2 EV in the Probable category.
Tossup States
Leans Clinton (2 states, 29 EV)
This entire category shifted in a big way this time, and almost all of the news was good for Clinton. All three previous Leans Clinton states (Michigan, New Hampshire, and Wisconsin) moved up to Probable Clinton, and Colorado moved up to Leans Clinton from Too Close To Call. The only bad news was Pennsylvania slipping to Leans Clinton from Probable Clinton, at least for now. The Leans Clinton overall totals didn't change much, down one state but only down a single EV from last time.
Leans Trump (3 states plus one district, 27 EV)
Trump saw less movement in the Leans category, losing one state (Georgia) up to Probable Trump, which was replaced by South Carolina moving down from Probable Trump. Also added in was the Maine district with its single EV. Arizona and Iowa remained unchanged, here. Overall, Trump lost 6 EV in this category.
Too Close To Call (4 states, 68 EV)
The Too Close To Call category stayed remarkably stable this time around, with only Colorado moving up to Leans Clinton. The other four tossup states (Florida, Nevada, North Carolina, and Ohio) remain unchanged. Now, an argument could be made that Ohio really belongs in the Leans Trump category, and a similar argument could be made for Florida and North Carolina being Leans Clinton, but for now I'm keeping them here, as the polls have been so volatile in all of them.
Final Tally
Hillary Clinton improved a bit this time around, as she now has 21 states that she will likely win (her Safe and Probable states combined). She added 9 EV to her total, which now stands at 243 EV she can count on. This leaves her 27 EV shy of victory.
Donald Trump also improved a bit in his likely states, adding one state to his list of 21, for a total of 171 EV -- up 7 EV from last time. Of course, this still leaves him 99 EV away from victory, so he's still got a long hill to climb. The gap between the states Trump can count on and those Clinton can count on grew by 2 EV, to stand at 72 EV difference between the two.
There are nine states that are tossups this time around, down two from last time. The good news for Clinton is that once again, she can win if she just wins all her likely states plus the ones in the Leans Clinton category. Right now there are two states leaning towards Clinton, with 29 EV between them. This adds up to 272 EV for Clinton without even worrying about the Too Close To Call states. This is notable because last time around, she had slipped below the 270 EV winning threshold here.
Trump has three states leaning his direction, for a total of 27 EV. Add this to Trump's likely states and you only get 198 EV. This doesn't bode well for him, because to win he'd have to sweep all the tossup states and manage to wrest either Colorado or Pennsylvania from Clinton. That's a pretty tall order, to put it mildly.
Four states remain too close to make any sort of confident predictions, totaling a whopping 68 EV between them. Things are looking good for Trump in Ohio, but things are looking better for Clinton in Nevada, North Carolina, and in the biggest battleground prize, Florida.
Overall, things are looking up for Clinton in individual polls, but the underlying dynamic hasn't shifted all that much. Clinton has many paths to victory, and can afford to lose battleground states. Trump has only one real path to victory, and that is to absolutely run the table of all states where the polling is even close. Clinton hasn't put this race away yet, but if the reactions to the debate (and Trump's tweeting, and Trump's taxes, etc.) continue to tilt in her direction, she could get a lot closer in the next week.
[Electoral Vote Data:]
(State electoral votes are in parenthesis following each state's name. Washington D.C. is counted as a state, for a total of 51.)
Hillary Clinton Likely Easy Wins -- 21 States -- 243 Electoral Votes:
Safe States -- 14 States -- 188 Electoral Votes
California (55), Connecticut (7), Delaware (3), Hawaii (4), Illinois (20), Maryland (10), Massachusetts (11), Minnesota (10), New Jersey (14), New York (29), Oregon (7), Vermont (3), Washington (12), Washington D.C. (3)
Probable States -- 7 States -- 55 Electoral Votes
Maine (3), Michigan (16), New Hampshire (4), New Mexico (5), Rhode Island (4), Virginia (13), Wisconsin (10)
Donald Trump Likely Easy Wins -- 21 States -- 171 Electoral Votes:
Safe States -- 17 States -- 104 Electoral Votes
Alabama (9), Arkansas (6), Idaho (4), Indiana (11), Kansas (6), Kentucky (8), Louisiana (8), Mississippi (6), Montana (3), Nebraska (5), North Dakota (3), Oklahoma (7), South Dakota (3), Tennessee (11), Utah (6), West Virginia (5), Wyoming (3)
Probable States -- 4 States -- 67 Electoral Votes
Alaska (3), Georgia (16), Missouri (10), Texas (38)
Tossup States -- 9 States -- 124 Electoral Votes:
Tossup States Leaning Clinton -- 2 States -- 29 Electoral Votes
Colorado (9), Pennsylvania (20)
Tossup States Leaning Trump -- 3 States (plus one district) -- 27 Electoral Votes
Arizona (11), Iowa (6), Maine (1), South Carolina (9)
Too Close To Call -- 4 States -- 68 Electoral Votes
Florida (29), Nevada (6), North Carolina (15), Ohio (18)
Polling data weaknesses:
Unlike in 2008 and 2012, polling data does now exist for all 51 states (adding in Washington D.C.). The following list is of states where the polling data is rather suspect, since the only polls which have been conducted were all conducted only on the internet. This list shrank by nine states this time, leaving only 11 states without more accurate polling.
Internet-only polling, with dates last polled -- 11 States
Alabama (9/1), Alaska (9/1), Delaware (9/1), Hawaii (9/1), Kentucky (9/1), Mississippi (9/1), Montana (9/1), South Dakota (9/1), Tennessee (9/1), Washington D.C. (5/31), West Virginia (9/1)
-- Chris Weigant
Cross-posted at The Huffington Post
Follow Chris on Twitter: @ChrisWeigant