[ Posted Wednesday, June 1st, 2016 – 17:28 UTC ]
I can now say I have felt the Bern, from beginning to end. I am able to make this statement since I attended my second Bernie Sanders rally yesterday, in Santa Cruz, California. I attended my first Bernie rally all the way back in July of last year, in Phoenix, Arizona (held right after the Netroots Nation blogger conference). So I have seen how the Bernie revolution began and I have also seen it entering the homestretch of campaigning during the primary season, one short week before California and a few other states become the last to vote.
It would be hard to do a straight comparison between the two rallies, so I'm not going to attempt to do so. The Phoenix rally was massive, with over 11,000 people attending. The Santa Cruz rally was smaller, but there were a few mitigating factors (which is why a comparison of just crowd size isn't valid). Bernie announced his rally in Santa Cruz roughly 24 hours before it was held. The auditorium was much smaller (Santa Cruz doesn't really have a 10,000-plus-sized auditorium available), because Santa Cruz itself is much smaller than Phoenix. Even so (according to the fire marshal I talked to) there were 3,425 people allowed in before they shut the doors, which left at least a couple of thousand outside the arena who didn't get in. More on them in a moment. Here was the line which greeted me as I arrived at the arena, hours before the rally was set to begin. It's hard to see, but the line extends far over that bridge in the background.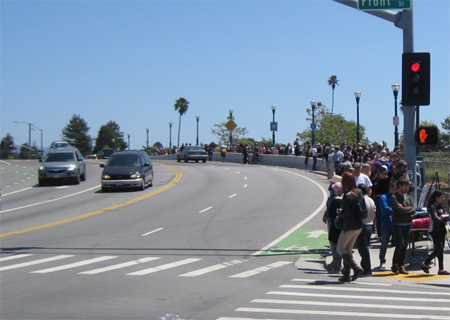 All photographs © Chris Weigant 2016
Bernie also gave a second speech that day, an hour down the coast in Monterey, which was attended by an estimated 8,000 people. So even though it's kind of apples and oranges, he spoke to the same total crowd in one day as he did in Phoenix, at the very least.
When I wrote about Bernie's Phoenix speech over ten months ago, I really didn't want to predict his ultimate chances of success. Back then, I wrote:
Bernie Sanders, to put this another way, doesn't need a focus group or a poll to tell him what he ought to stand for. He already knows what he stands for, and he'll freely tell you exactly what that is. This authenticity is likely what is drawing in such enormous crowds to hear him speak at such an early phase in the presidential contest. Bernie's not only beating Hillary Clinton and all the Democrats in crowd sizes, he's also beating the entire Republican field (unless you believe Donald Trump's laughable crowd estimates, which I have to say I do not). This populist enthusiasm has, so far, been largely sneered at by the inside-the-Beltway media, but the longer it continues (and the more it grows) the harder it is going to be to ignore.

The question is whether Bernie will hit a ceiling of support or not. Is it possible for him to defeat the Clinton machine? Well, it's been done before, just ask Barack Obama. However, history really isn't on Bernie's side, since most "movement" presidential candidates ultimately fail in their bids for the nomination.
I then wondered whether he'd hit a ceiling of Democratic support, perhaps similar to Ron Paul's 15 percent mark among Republicans. He obviously did a lot better than that, I have to admit. What is impressive about Bernie, though, is that what I wrote about him back then has stayed true right to the end: his biggest strength all along has been his authenticity and his ability to focus on the issues he feels are the most important ones. And the enthusiasm he has inspired has not lessened one bit during the whole campaign.
The most enthusiastic member of the crowd yesterday might have been the gentleman dressed up as Bernie, who was gleefully greeting everyone as they entered the building.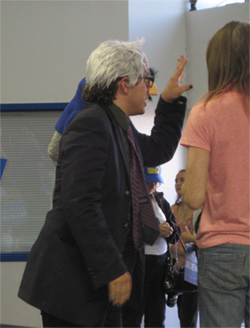 The rest of the crowd seemed about average for Santa Cruz -- a heavy mix of old and young (Santa Cruz is a university town), with ultra-liberals dominating (that's a polite way of saying there were a lot of hippies there -- because there are a lot of hippies in general who live in Santa Cruz).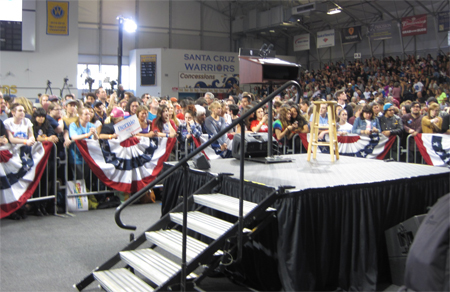 As the crowd milled around inside, an extraordinary thing happened outside the building. Bernie arrived, much to the delight of the overflow crowd who didn't get in, and then Bernie gave them a mini-speech before he even entered the building. Now, I'll fully admit I have limited experience covering political rallies live, but this was the first time I'd ever seen a candidate go to such an extra length to reach the people who didn't get in. Especially a candidate being protected by the Secret Service (who hate spontaneous events, especially in the open air). Bernie spoke for 15 or 20 minutes to the crowd outside (at a hastily-erected podium), and then he entered the arena to speak to those who had arrived early (I must point out in all fairness that I probably wouldn't have gotten in to see Bernie if I wasn't on the list of credentialed press, because I didn't arrive four hours early). Bernie speaking to the overflow crowd was a very nice gesture for a politician to make.
Inside, Bernie took the podium to wild cheering. He made a joke about his support being an "earthquake" and the crowd obliged by stomping on the bleachers and making the whole place shake. Bernie has lost none of his crowd-pleasing appeal, to put it another way.
A side note about the arena: the preceding night to this rally was when the Golden State Warriors clinched their spot in the finals, with Bernie in the audience. The Santa Cruz arena is where the farm team for the Warriors plays, which explains all the Warriors stuff on the walls.
The content of Bernie's speech was similar to what I had heard 10 months ago. His issues haven't changed all that much in the intervening time. He has added and refined a few things in his stump speech, such as explicitly calling for marijuana to be moved from a Schedule I controlled substance to "descheduling" it entirely and ending the federal legal ban on marijuana altogether. Also added were short sections on Native American issues and fracking (fracking is currently a big local political issue, as Monterey County has an initiative banning fracking set for the November ballot). Fracking was also an issue where he painted a clear difference between his position and Hillary Clinton's.
Bernie did take a few shots at Clinton, which is entirely to be expected since he is, after all, running against her. But I saw none of the overhyped media narrative that "Bernie is viciously attacking Hillary" -- in fact, if anything, he went fairly easy on her, only mentioning her by name perhaps two or three times.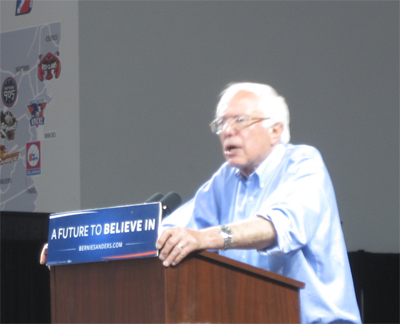 What was new in Bernie's speech was an indication of how he's going to transition next week, when the campaign is over (technically, the primary season won't be over until Washington D.C. votes, but the last state will vote next Tuesday). He admitted that the media was going to call the whole race for Clinton next Tuesday night, likely hours before the California polls even close (when the New Jersey results are in):
On Tuesday night, on the seventh, you're going to hear from media saying that Hillary Clinton has received, whatever it is, 80 or 90 delegates, which she certainly will from New Jersey and other states. And they'll say, the primary process is over, Secretary Clinton has won.
The crowd booed loudly at this. Bernie pointed out that counting only "the real delegates that people vote for" (in other words, the non-superdelegates), this would not be factually correct.
The Democratic National Committee will tell you it's not factually correct. The truth is, no candidate, not Hillary Clinton, not Bernie Sanders, will receive the number of pledged delegates... that he or she needs to become the Democratic nominee.
Bernie vowed to push on to the convention and fight for every last superdelegate -- but then, what else is he really going to say, right now? He can't appear defeatist in any way, because then fewer people would then turn out to vote for him next Tuesday. Instead, he has begun listing the things that he'll attempting to change, using his influence and his leverage at the Democratic National Convention -- including (perhaps) the entire superdelegate system. If you read between the lines of Bernie's speech, you could hear the agenda items he'll be negotiating for before the convention starts.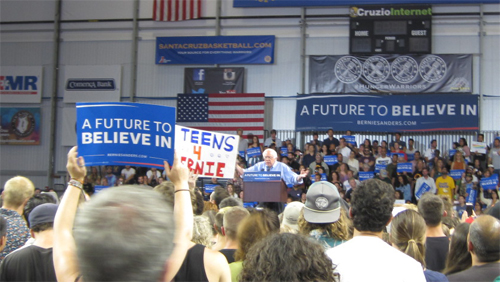 Much of the media is credulously taking Bernie at his word right now, about "fighting all the way to the convention" for the nomination. I, to be blunt, do not take Bernie at his word -- I fully expect him to concede the race next Tuesday night (even though I'll be voting for him and would be delighted to see him win California). To me, thinking along these lines gave the entire Bernie rally a sort of bittersweet flavor.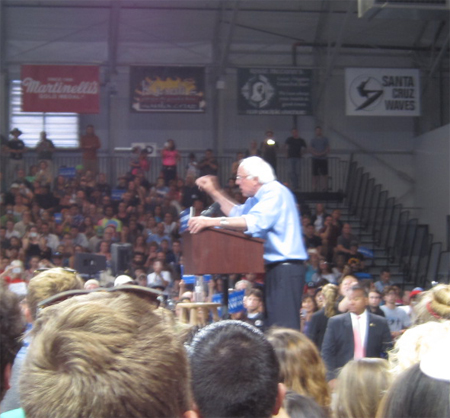 But that was just me -- the crowd itself reflected none of this feeling, and neither did Sanders. Bernie sounded strong (no raspy voice), well-rested, and as energetic as ever. This is remarkable when you consider all the hard work he's put in over the past year. He built, as he did when I first saw him, to a rousing end to his speech, and the crowd's response did seem like it should be measured on the Richter Scale. He's lost none of his appeal, and his crowds are just as fervent as they were right from the start.
Santa Cruz, like Phoenix and a whole bunch of other towns before it, was indeed feeling the Bern.
After the speech was over, I spent some time outside at the vendors' tables, seeing as how this might be the last chance to see such a wide display of Feel the Bern wares. This was one area where things have noticeably improved over what was on sale in Phoenix. There was a wide array of Bernie T-shirts, hats, and buttons on display to choose from. This being Santa Cruz, some were (of course) tie-dyed. The most amusing shirt I saw someone wearing was a riff on Trump's slogan: "Make American gay again!" Or, perhaps, the shirt with the classic Che Guevara image on it (replaced with Bernie's face under a beret) -- that one worked on a number of different levels. The most stark message I saw was on both T-shirts and professionally-printed signs, which stated bluntly: "FUCK TRUMP." I couldn't help but think, as I watched thousands of Bernie supporters disperse, that that might be a message they all could take to heart in the general election.
-- Chris Weigant
Cross-posted at The Huffington Post
Follow Chris on Twitter: @ChrisWeigant