[ Posted Thursday, December 19th, 2013 – 18:10 UTC ]
Today is really just going to be an extended program note, just to warn everyone, which ends with a crass fundraising plea.
I've been busy reviewing 2014 in preparation for tomorrow's (and next Friday's) year-end awards columns, so you've got that to look forward to.
Oh, one minor note from this exercise to begin with. A little over a week ago, I wrote an article on the use of the term "Obamacare" by Republicans. At the time I wrote:
I have believed, for over six months now, that the true sign that Republicans have accepted the new health law (or at least reacted to the public's acceptance of it) would be that they'd stop using the "Obamacare" moniker for the program. The program will begin to be seen as a success, this line of thinking goes, precisely when Republicans decide to stop saying "Obamacare." Unfortunately, while I could have sworn I had written about this previously, when I searched my own site for it, I could not find an article to cite. So you'll just have to take it on faith, I suppose, that I've believed this for a while now.
Commenter Paula backed me up (thanks!), saying she too remembered this column. Well, I just found it! I wasn't even that far off with the "over six months now" claim, as it ran in July. Anyway, here is my (belated) cite, from "Republicans' Anti-Obamacare 2014 Strategy," which ends with:
The real irony will be if Republicans realize this before it's too late, and make a much larger pivot before the election. If they start actually addressing the issue and putting forth real solutions to fix whatever problems crop up (campaigning, perhaps, on: "We're going to fix it so it works"), then it will signal the ultimate defeat of the anti-Obamacare strategy. It'll actually be very easy to tell when this happens (if it does). It will be precisely the point that every single Republican candidate stops calling it "Obamacare." If you hear multiple Republicans -- within the same week -- use the phrase "Affordable Care Act" then you know that they're waving the white flag on the issue.

Because if this scenario does indeed play out, that's going to be the bitterest pill for Republicans to swallow. They were the ones, after all, who insisted upon calling it "Obamacare" in the first place. And if people like it, it will forevermore be to Obama's credit, due to this Republican branding effort. So if they actually stop using the term, it'll be because they know they've lost the battle for good.
Reading this article over now, even after the Obamacare website problems, is still interesting for the longer view it takes of Obamacare as a 2014 campaign issue. It also ironically begins with two factoids which I was too lazy to look up citations for, so make of that what you will.
With that out of the way, we have two other issues to raise. The first is that the awards columns are in production now, so this is your last chance to make nominations for the "part 1" awards (down to "Person of the Year" in the list of categories from last week). You can post your suggestions either as comments to this article, or to last week's "open nominations" article; either way, I will see them. But you've got to move fast, for the "part 1" picks (you'll have until next Thursday for "part 2" nominations).
And finally, while it pains us to admit this, the year-end CW.com holiday pledge drive doesn't seem to be going very well this year. We haven't had many donations, and are woefully behind our fundraising targets, so we must end with a plea to click over to the 2013 Holiday Fundraising Drive page, where the following kitten will urge you to remember this site in your holiday giving: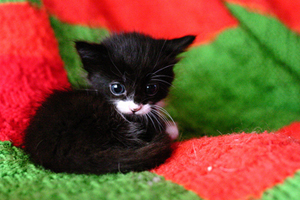 "Why oh why haven't you donated yet?"
-- Chris Weigant
Follow Chris on Twitter: @ChrisWeigant