[ Posted Thursday, October 25th, 2012 – 16:55 UTC ]
No, this is not going to be a column about Donald Trump, who is apparently trying to get his face in the news again over Barack Obama's college records. Instead, we are going to feature a cartoon about education, from Joshua L. Eisenstein, PhD., in collaboration with cartoonist Sushila Oliphant.
Before we get to the cartoon, though, just a short word about a completely unrelated issue. Richard Mourdock, Republican Senate candidate from Indiana, is currently in the political hotseat over his comment that a baby conceived in a rape is a "gift from God" and "something God intended to happen."
Mourdock is being attacked for his callousness, but he's really just opening up a very old can of theological worms, best expressed as: "Why does God let bad stuff happen?" It's tough to reconcile a being who is supposed to be omnipotent, omniscient, and omnibenevolent all at the same time, because it will lead you back to unfathomable questions like "Are rapes something God intended to happen?" Not being a member of the clergy, we're going to leave this theological conundrum for others to delve into, and focus on the political implications instead.
If you take Mourdock at his word (in his semi-apology), he was really just talking about the baby and not the rape. OK, but that still leaves his extremist position -- no abortion, ever. We could have written about this today, but we have already written this column, first about Herman Cain, and then we re-ran it for Todd Akin's benefit. So we're just going to encourage you to follow either of those links, to discover how Democrats should really be attacking this increasingly-standard Republican position, by using the phrase "fatherhood rights for rapists."
To put it another way, instead of rewriting this same column, we've got a cartoon today, from our favorite writer on the subject of education. And the grim choice voters face in the upcoming election. Enjoy!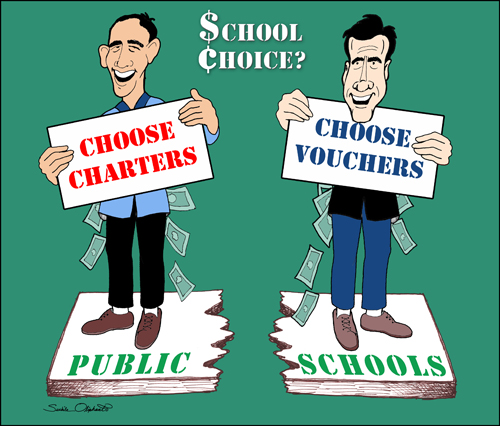 -- Chris Weigant
Follow Chris on Twitter: @ChrisWeigant