[ Posted Thursday, August 23rd, 2012 – 17:46 UTC ]
Happy Thursday, everyone!
We are turning over the podium to a guest author today, for perhaps the final installment of our "let the commenters write columns" experiment. The reason is good news, however, as I will be starting to write again on Tuesdays and Thursdays from now on (or until further notice), as I have reached the milestone on my writing project that was the goal for this month already. Woo hoo!
Anyway, we got the following column submission from "michty6" a while back, but didn't even have time to do the formatting required until now. Sorry for the delay! When submitted, the article was preceded by a cartoon which I couldn't use for copyright reasons -- but, thankfully, we had the perfect C.W. Cunningham cartoon to use instead.
Without further ado, I now turn the soapbox over to "michty6" for the day.
-- Chris Weigant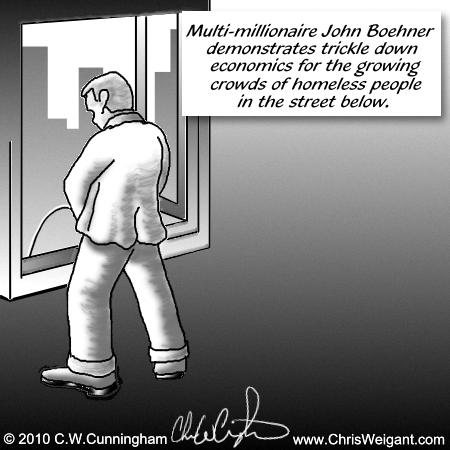 About the Cartoonist | Reprint Policy
Trickle Down, Trickle Out, And Trickle Up
I can't imagine how the rich and wealthy persuaded Reagan to become the biggest advocate for trickle down economics or where they even got the idea from. Personally I imagine a meeting with Mr. Burns and Count Fudge-ula (from the Simpsons) with many other wealthy people up in his castle, sitting 'round the table:
Mr. Burns: We need to work out how we can get even richer.

Fudge-ula et al: I have an idea, why don't we tell people giving us more money is good for them?

Mr. Burns: I don't know if they'll buy that.

Fudge-ula et al: Hold on, let me finish. We'll tell them that if society lets us keep more of our wealth and contribute less to society, it will work out better for people as we'll pass the money down to them...

Mr. Burns: Still needs a little more I think.

Fudge-ula et al: Well we'll throw around terms "job-creators" and such forth to persuade people it's in their best interests. We'll tell them that we will pass the money down to them. If they argue against us, we will accuse them of "class warfare."

Mr. Burns: Surely they won't believe that? I mean are people really that gullible? Isn't what we are doing ACTUAL class warfare?

Fudge-ula et al: It doesn't matter, we control the media and the means to change people's opinion. With enough propaganda we can convince people of anything!

Mr. Burns: You're right! I like it! We need a name for this.

Fudge-ula et al: How about "millionaire money boosting"?

Mr. Burns: I'm not sure that we'll be able to sell that.

Fudge-ula et al: Ok. We need it to sound like it is in their interests, not ours. Like we'll somehow give the money back to them. How about "trickle down"?

Mr. Burns: Exxxx-cellent. Get me the Reagan-phone!
And hence, at least in my mind, the dominant Republican economic policy was born. So dominant that even "Mr. Socialist" himself, Barack Obama, was forced into extending tax cuts for the wealthy in his first term (although this was due to the excessive use of the filibuster by Republicans).
With Reagan began once of the biggest, most flawed economic policies that has led to the biggest inequalities seen in America since the Great Depression. The beauty of Trickle Down is that the wealthy and rich are able to rob society to their face, right in front of everyone. Like Robin Hood, but in reverse and in broad daylight. They don't even have to be sneaky about it -- it's literally the best tax avoidance scheme ever created!
It would be a long article to examine the flaws in Trickle Down economics. Figures and data will be presented, but graphs and statistics can only say so much -- looking at the failed logic and rational behind the policy is better to understand why it has failed.
Trickle Down Flaws
(1) The basic idea that every wealthy person is a "job creator." CEOs often don't own the company they run. Letting them keep more money does absolutely nothing to create jobs. A large number of wealthy citizens don't have employees and don't run their own businesses. Yet "job creators" became one of the favorite lines used by the right to justify this economic policy -- partly because such rhetoric sounds good and no one demanded facts or data to prove it.

(2) The idea that every wealthy person is going to spend their money AND spend it in America. Nobody asked Reagan: What if they just keep the money? What if they don't spend it in America? When Reagan took over in 1980 the richest 1% of Americans were 130 times richer than the average American. Now they are over 225 times richer. CEOs used to receive 30 times the amount of their lowest paid worker in 1980, now it is 243 times. Whoops. The idea that the wealthy would drag the rest of America with them and not just keep it for themselves is now seen as clearly flawed when you look at how wealth has grown since 1980.

(3) When the costs of society and burden of maintaining American society are passed on to the poorer 90% of the country, not benefiting from Trickle Down tax cuts, society as a whole becomes poorer. This means there is even LESS incentive for any "job-creators" to invest in America because there is less money spread throughout society. This will be examined further below in "Trickle Out" and "Trickle Up."

(4) The value of $1 to different groups of society was not considered. $1 to a person on a monthly budget of $100 is considerably more valuable than $1 to a person on a monthly budget of $10,000. By adding value at the top, where it is worth less, the value of $1 is reduced considerably. The wealth and growth of America suffers as a result, as dollars are not used where they are of most value.

(5) The idea that income tax factors into any investment decision is laughable! As someone who works in finance (me) will tell you, it beggars belief that people were made to believe this and actually do still believe this! Sure, some taxes, like the corporate tax, are definitely a (small) factor in some NPV or other financial models. But income tax? Absolutely not. Take a class in finance and investments and you will see income tax is not even mentioned. As Warren Buffet puts it: "I have worked with investors for 60 years and I have yet to see anyone shy away from a sensible investment because of the tax rate on the potential gain." This is because investors look for positive return investments (gains) -- period. If you don't believe me just watch Dragon's Den/Shark Tank and see how many potential investors are asking "What's the income tax rate?" I guarantee you will never hear the words "income tax rate" on these shows.
The following graph illustrates the effects of Trickle Down -- bear in mind this was in 2007 -- BEFORE the Great Recession of 2008-2009 which made things considerably worse (for those not at the top). If by "Trickle Down" you meant "Trickle Down the wealth of everyone else and let the top keep it" then this graph fits this idea perfectly: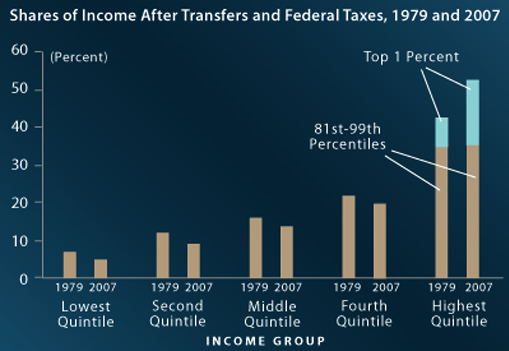 Source: CBO -- Trends in the Distribution of Household Income Between 1979 and 2007.
But another major result of Trickle Down economics is that by passing the costs of society on to the 90% of lower earners -- that is those who don't get the same income from society as the wealthy -- the American Dream has slowly died.
America was number one in education in the 1980s. Now they are number 14. Health, crime, salaries and almost every standard of living statistic has gone down for 90% of Americans since 1980 as lower earners struggle to keep up the burden of American society and infrastructure -- whilst the top remain unaffected thanks to their free hand-outs and an economic policy completely tailored to their interests.
This graph below could be called the "American Dream" graph -- it shows correlations between the income quartile you are born into and the income quartile you end up in. The higher the bar in the graph, the more the American Dream dies, as Americans become less likely to progress upwards and reap the rewards of the American Dream. Note in particular what happens after 1980 and "Reaganomics" and consider where this graph has probably got to after the Great Recession of 2008-2009: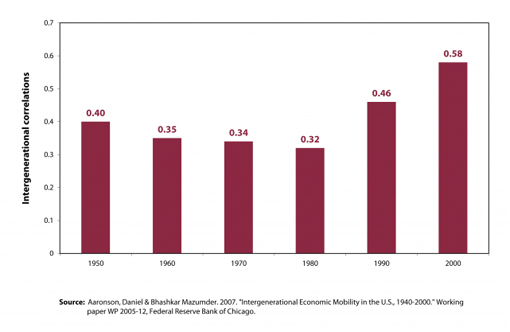 A New Addition To The Family: Trickle Out
One of the unintended consequences of trickle-down is what I am calling the "Trickle Out" effect. As the world became more globalized, the wealthy Americans sitting on a ton of cash moved their money out of the country in two distinct ways:
(1) Investing in other countries. As noted in point (3) above, when you decrease the amount of wealth in 90% of American society there is less incentive (because there is less money) to continue to invest in America. Globalization opened up many markets and the "job creators" were on hand with piles of cash to create many jobs... outside of America. This has now become a focal point of the 2012 election, as the candidates both focus on how to get back these "outsourced" jobs.

(2) But even more crucially the idea that people should contribute to society for the benefits they have gained has eroded as greed took over and the wealthy decided that, even though they were paying record low tax rates, they now had international tax avoidance channels with which to avoid paying EVEN these low rates! Hence we end up with a presidential candidate who, despite being a multi-millionaire, has paid a lower percentage tax rate than the average American by quite a margin. I came up with the idea of the term "Trickle Out" to describe this when I saw a recent report showed that somewhere between $20-30 TRILLION dollars has been moved out to tax havens like Switzerland and the Cayman Islands, to avoid taxes -- beginning in the 1980s. Such tax avoidance is another benefit solely available to the wealthy. This accentuated the problem in point (3) above by passing even more cost on to the rest of society.
Under the burden of this additional social cost, American society (and George Bush) responded by taking a relaxed attitude towards debt and personal debt exploded. Eventually most people in society had one key asset -- their house. When this market burst in 2008, thanks to the practices of those at the top, the average American was left to pay a hefty price. And the income gap is so huge now, with society so poor as money was installed at the top that never made it back down, the recovery is going to be tough.
Trickle Up -- Demand Driven Economics
"Trickle Up" is pretty self-explanatory, namely being the exact opposite of trickle down -- economics based on demand rather than supply. It isn't an "attack on wealth" or "envy" or "class war" -- the usual excuses used by the wealthy when you try to take on the system of robbing society that they have created -- but in fact trickle up WILL lead to the wealthy getting wealthier. The difference is that, in doing so, they are FORCED to drag the rest of society with them. I don't have a problem with wealth but I do have a problem with hand-outs to those at the top.
"Trickle down" made it too easy by just handing the wealthy in America cash with no incentive to invest it, keep it in America or, quite frankly, do anything with it; "trickle up" puts the money at the bottom and creates a nice juicy incentive for them to grab the money pot by creating jobs and wealth. It is like throwing in some bait for the big fish "job creators" -- you want more wealth, well come and get it, hand-out season is over!
The practicalities of "trickle up" are such that it doesn't matter how you implement it -- it doesn't have to be "Big Government" but can be done through existing financial models. The choice is up to the person instituting the system. However, tax rates are usually an important part of any "trickle up" model, as they help to keep the money at the bottom ready to be trickled up and stop the free hand-outs at the top. Minimum wages are another method to move more money into the bottom.
The key benefits (which address one by one the flaws of Trickle Down):
(1) Making society as a whole wealthier (median, not average) is more likely to create jobs as it means wealth is not so top-heavy. America was built from the bottom up, not from the top down.

(2) Lower income citizens are much more likely to actually spend extra money, creating a wealthier society and more job creating possibilities. This is because the marginal value of the money is higher to them.

(3) American society will become considerably wealthier throughout society, not just in the top, creating more incentives for job-creators to invest in America and keep jobs here. Thus the "trickle out" pathway is plugged (tax avoidance will continue to be an issue though, this is a separate trickle that needs plugged).

(4) $1 has considerably more value to those at the bottom than the top. This value will be passed through the rest of society, creating wealth on its way to the hands of those at the top -- rather than starting at the top where its marginal value is very low and the incentive to do something with it doesn't exist.

(5) Investment decisions, since they don't rely on income tax, are not altered. However, (1) through (4) show that there are likely to be considerably more +EV or +NPV investment opportunities in America since there is more value at the bottom to be scooped up by those at the top.
The 2012 Election
Obama was blocked in his first term in his fight against the flawed concept of "Trickle Down" economics but he is campaigning on getting rid of these tax hand-outs for the wealthy -- an idea that now has mass public support.
Romney is the poster boy for "trickle-down." He is rich, has rich backers, rich donors and he is part of the "trickle out" problem, clearly moving money out the country to avoid paying tax (how much money, we will never know). As Obama's campaign puts it (although they are referring to another issue) "Romney is not the solution, he is the problem." Yet, despite all this, it is HE who running as "Mr. Economy"!
2012 is crucial in moving away from this flawed economic strategy. Don't be complacent and let people forget (Americans have notoriously short term selective memories) the economic collapse and inequalities caused by "trickle down" and "trickle out." A Romney election would see inequality continue to skyrocket as the wealthy (a.k.a. him and his buddies) become wealthier, whilst the costs of society continue to be passed on to the people who don't get the spoils and every social standard in America continues to decline. Obama is trying to warn people of this. I suggest everyone who cares about this does the same.
-- Michty6
Follow Chris on Twitter: @ChrisWeigant