[ Posted Thursday, August 9th, 2012 – 16:52 UTC ]
[Program Note: Today we present the second of our guest columns, and heartily encourage more people to send these in so we can run them. Today's column was actually submitted a week ago, so the gap in relevance is entirely the fault of this website, and not the author. Americans are for the most part unaware of how the rest of the world sees them, and both the Olympics and Mitt Romney's visit overseas opened up a window into some of this worldwide opinion. Our guest author today ("An Arrogant Brit") not only sheds some light on this, but also makes several excellent points about what America could learn from the rest of the world, as well. Enjoy, and if you've been thinking about submitting one of these columns... whatever are you waiting for? Type it out and send it in today!]
-- Chris Weigant
Lessons For Mr. Romney From The U.K. And Europe
Day One of Mitt Romney's foreign trip did not go particularly well. He learned first-hand that no country likes an arrogant American coming in to tell them how bad a job they're doing, regardless of how special the "special relationship" is.
"We are holding an Olympic Games in one of the busiest, most active, bustling cities anywhere in the world. Of course, it's easier if you hold an Olympic Games in the middle of nowhere." [emphasis added]
A slap-down of this nature from a fellow "Anglo-Saxon" Conservative party leader is embarrassing. Even more so was the Conservative Mayor of London mocking Romney and getting the crowd to chant the old Obama slogan "Yes We Can!"
Not the start that the would-be "President Romney" imagined to his first big foreign adventure. However, I believe this trip can still be salvaged for Romney. He can learn a lot from the U.K. and, in the same manner of Romney himself, I would like to present an arrogant British person telling Mr. Romney exactly what America can learn from the U.K.
On July the 27th, it was announced that GDP growth in the U.S.A. was a "disappointing" 1.5% for Quarter 2 (ending June 2012). If Americans are disappointed, then Mr. Romney should have taken a look around him in London where Quarter 2 in the U.K. saw GDP growth of negative 0.7%, following two previous quarters of negative growth. "Disappointing" doesn't get close to describing the U.K. economy; "disastrous" would be more adequate.
If Romney is smart, instead of being bored by his wife's horse dancing competition, perhaps he can sit and ponder this question: Why on earth would two similar countries, hit equally hard by the recession, have such contrasting GDP growth and recovery success rates?
Well Mr. Romney, the answer is simple: in 2010 the U.K. elected a Conservative Government. The U.K. Conservatives came to power on the promise of cutting taxes on the rich "job creators," massive public spending cuts, and de-regulation and other business "incentives" to boost the economy. Sound familiar at all?
The results have been horrific. In fact if you look at the graph of U.K. GDP growth (the U.K. reports GDP growth quarterly and GDP annually) you can actually pin-point the precise point where the Conservatives took over: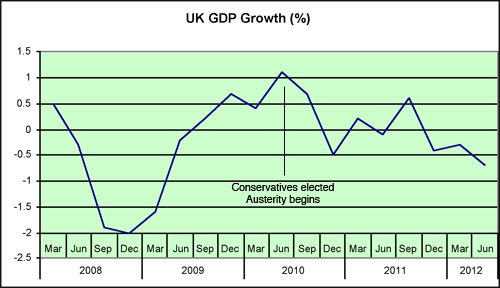 [Source graph, cross-referenced to U.K. government quarterly GDP releases.]
Contrast this to America which, since the recession hit its peak in the middle of 2009, has only seen periods of GDP growth and is only expecting to see further periods of growth. American GDP is not flying away, but it is steadily climbing: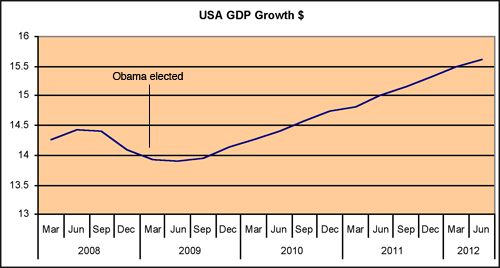 [Source graph, cross-referenced to World Bank data.]
Whatever America is doing, it is working. And it is working drastically better than in Europe -- the American recovery is faster than anywhere in Europe and fastest among any country that was affected as deeply as they were by the recession (those, for example, which required bank bailouts). It might be slow and steady but compared to the stuttering and suffering from Europe and elsewhere it is considerably better.
So, Mr. Romney, if you want to take anything from your trip to Europe and to the U.K. (aside from learning the importance of not shooting off your mouth), I hope you take one more considerable and important thing: Austerity does not work, and your economic policies would be an absolute disaster for both the American and world economic recoveries.
The next election is huge -- a choice to continue the recovery under Obama, or change path and go the same way as Europe. If America doesn't wake up and realize this soon, your short time as the world's No. 1 economic superpower is going to be cut considerably shorter.
Signed,
An Arrogant Brit.
Follow Chris on Twitter: @ChrisWeigant