[ Posted Tuesday, May 22nd, 2012 – 18:00 UTC ]
[Program Note: We are turning over the column today to guest author Joshua L. Eisenstein, Ph.D., whom some of you may recognize from the previous two columns he's written in this space. Originally, he submitted the cartoon below (done in collaboration with cartoonist Sushila Oliphant), and we asked him to expand the theme, for those unfamiliar with the subject matter. The following column was the result.]
-- Chris Weigant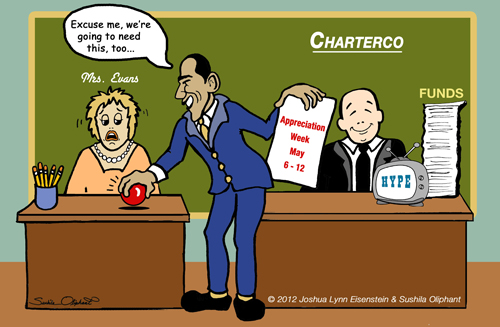 What Next?
At times it feels to rank-and-file teachers like the wealth and power of the entire nation is aligned against them. For me personally, May 7, 2012 was one of those times.
For those who don't know why, a bit of history: Almost a decade ago, to honor the increasing contribution of charter schools to American education during his first term, President George W. Bush began the concept of National Charter Schools Week. In 2003 this was held one week prior to National Teacher Appreciation Week. President Obama took the trend one step further this year, declaring a week for charter schools on the same week that has traditionally been devoted to teachers -- ALL teachers.
To anyone who has taught public school in the U.S. during the past ten years, this development does not come as a surprise. As observed by Jeffrey Henig of Columbia University, there seems to be an ongoing trend toward both the centralization and privatization of public schools. Educational decisions once made by local school districts and their principals and teachers are being shifted toward bigger government and private interests. Of these two bureaucracies, neither has proven to be particularly effective and neither is responsive to local voters or communities.
One vehicle for this shift of power has been the Bush-era commitment that all states should assess all students annually, following uniform national standards. This is done using privately developed standardized achievement tests, which are expensive, time-consuming, uninspiring and provide diminishing utility when used more than once in a long while. Perhaps ironically, the conservative Heritage Network seems to be waking up to this fact.
The other prominent means to wrest educational decisions from local and professional control has been the charter school. Of the approximately 98,000 publicly funded schools listed by the National Center for Education Statistics, about 5,600 (5.7%) are charter schools. Although funded by taxpayers, charters are often run by corporations and are exempt from most of the rules that govern the operation of public schools.
In spite of their ability to control both student enrollment and parent participation in ways that public schools cannot, only 17% of charters do a better job than comparable public schools, while 37% do worse.
One additional advantage that charters have in the education market is the enthusiastic support of the finance industry and the media, which are also corporate-run enterprises. Public relations and advertising firms associated with wealthy interests regularly produce slick campaigns to build up the image of their preferred charter schools. Media outlets such as MSNBC's Education Nation and CNN's Fareed Zakaria regularly herald the virtues of a few exceptional charters. This can create a popular image that is frequently very different from the reality.
Public education, on the other hand, is portrayed as antiquated and inefficient. Public school teachers are shown cheating, bullying, and failing the nation's students. Teachers have tried to defend themselves, but often simply don't have the resources to be heard.
After the bang-up job that Wall Street has done for us recently in banking and real estate, it might seem rational not to grant them the added responsibility of educating the nation's children. However, the general public still hasn't seemed able to make this connection.
In response to criticisms of standardized testing, Education Secretary Arne Duncan initiated a program this past February with the acronym RESPECT, ostensibly to improve the training and assessment of teaching practices. To him, the fault of evaluating teachers through standardized testing was not that it is invalid but that it is insufficient.
More recently, Duncan suggested as part of the program that teachers themselves should be asked how to improve their profession. However, this program consists of a series of "competitive grants," exactly like the president's earlier "Race to the Top" program, which is deeply unpopular among educators. These grants are essentially short-term financial incentives for states to do what the federal government tells them to do.
RESPECT grants will pay states to institute new "teacher evaluation" models (one such model is already being developed by Pearson Education), and would drain even more of states' already scarce education funds away from students and classrooms. Student teaching candidates at the University of Massachusetts thought little enough of Pearson's system that 67 out of 68 refused to participate in the pilot.
Duncan says that teachers should be respected and listened to. However, the administration's words and actions persistently and repeatedly seem to indicate that it is neither respecting teachers nor listening to their concerns. Many public school teachers to whom I have spoken feel demoralized. The media portray the nation's public schools and teachers as "failing," and promote charter schools as an alternative "choice." Administration policies explicitly require states to increase the number of charters, and therefore divert a larger portion of the states' education funding away from public schools.
This latest presidential proclamation that National Teacher Appreciation Week is now "National Charter Schools Week" is disheartening. It is quickly recognized by many public educators as one more in an endless stream of insults to their efforts. With shrinking funds, negative publicity, no respect, no voice and now not even one week of the year, we're left to wonder, what's next?
-- Joshua Lynn Eisenstein, Ph.D.