[ Posted Tuesday, October 21st, 2008 – 17:21 UTC ]
Americablog has an interesting item up today. The photo (reproduced below) is pretty much the entire story. This photo was taken after a McCain rally: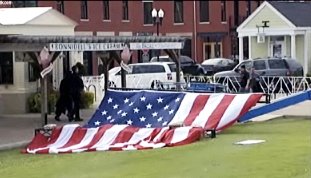 The local Missouri television station that broke the story actually has video, if you're interested.
Now, imagine what the right wing (and the media, for that matter) would be screaming if that had happened at an Obama rally.
Now, to give McCain credit, his campaign immediately released a statement saying pretty much what it had to: "We find the action, done by an outside vendor separate from the campaign, very troubling and have followed up with the vendor to express our displeasure. We take flag protocol very seriously and we will continue working to ensure our flag is given the proper respect."
But still, what would have been said if this was at an Obama rally? I bet this doesn't even make the national news tonight. And that is one honking big double standard.
[Sorry for the short post today, tomorrow I'll make up for it with the weekly charts.]
-- Chris Weigant