[ Posted Monday, July 30th, 2007 – 15:53 UTC ]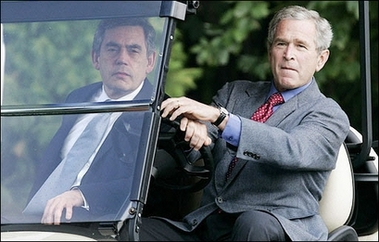 Photo Credit: By Saul Loeb -- AFP
Photo found on Yahoo News
From today's "White House Watch" blog by Dan Froomkin at washingtonpost.com:
If [new British Prime Minister Gordon] Brown was deferential, Bush was playful -- from the very beginning of the visit. When Brown arrived at Camp David on Sunday, Bush invited him into a golf cart labeled 'Golf Cart One' on the front. The president started to head off but then threw the cart into a 360-degree turn, smiling mischievously for the cameras, before speeding off.
Neither one of them is speaking, so you'll have to imagine thought balloons above both their heads. It's obvious what President Bush is thinking: "Check out my cool toy, Gordie!"
It's a little harder trying to read Brown's thoughts. So my challenge to you is: what caption would you write for Brown in this photo?
[Other fun Monday news: the city of Berlin has named a street after Frank Zappa. The Frankzappastrasse story can be read here.]
Cross-posted at The Huffington Post
-- Chris Weigant