[ Posted Tuesday, August 7th, 2018 – 18:59 UTC ]
As promised, today's column is nothing but photos from my Netroots Nation trip, although most of the pictures below are actually from all the stuff we did before we got there. I mention this up front, in case you're not really interested in another travelogue column. For everyone else, let's dive in.
As I mentioned last week, we found a real gem of a place to stay atop the highest point in Arkansas, Magazine Mountain. Here is this fantastic lodge, from the front.
Here's the view from our window.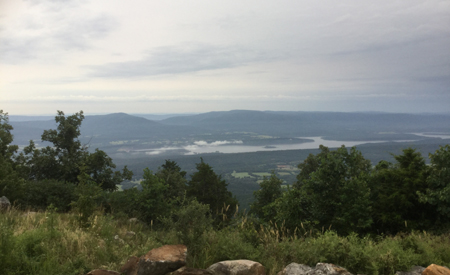 And here's the spectacular dining room, done up in 1930s W.P.A. style.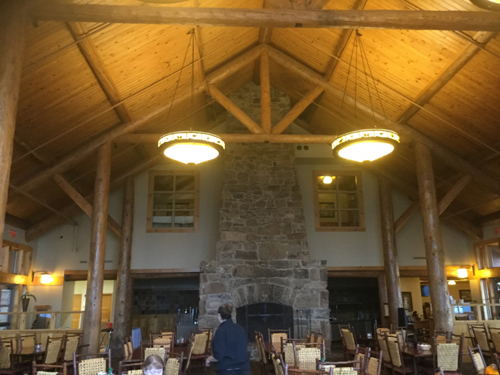 From there, we were off to Hot Springs, where after seeing what the national park had to offer, we went across the street to see the Gangster Museum, to hear the more colorful version of the history of Hot Springs.
One story we were told was about Al Capone's car, which he had bulletproofed and painted the same colors as the Chicago police used on their cars. This car was later confiscated by the feds, and eventually got used as a presidential limousine for Franklin D. Roosevelt (makes sense, since they already had a bulletproof car in storage...). But I can't vouch for the truth of the story. Here's a photo of the car.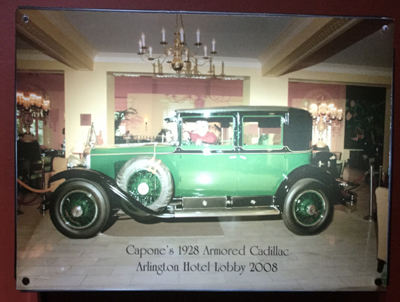 Much of the history of Hot Springs dealt with illegal alcohol produced during Prohibition. Here is a historic oddity -- a medical prescription for alcohol, which was readily available during Prohibition. If you had the money to see your doctor once a month and he was agreeable, you could buy liquor from the government with such a prescription.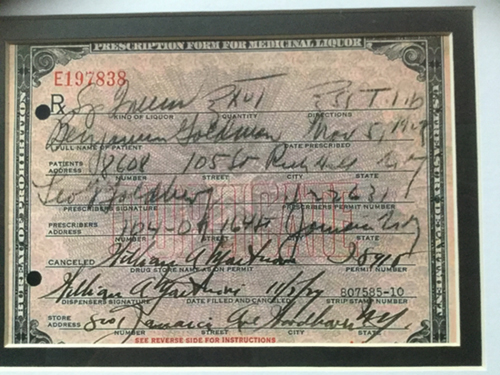 And, as promised, at the end of the tour people were given the opportunity to pose with a real Thompson submachine gun (not in working order), next to a seated Capone figure. And no, that hat isn't mine.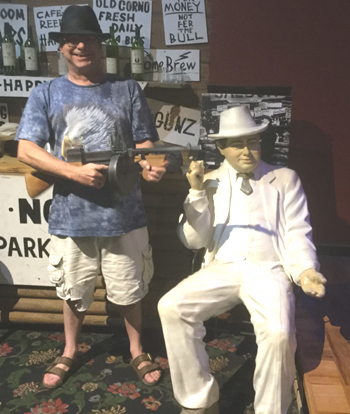 On we went from Hot Springs to Hope, Arkansas. We stopped by for some "Man From Hope" history, and although we were too late to tour the first house Bill Clinton lived in, we were allowed in to the small museum the town has set up in the old Missouri Pacific depot. The woman who let us in was wonderful, and even though we were technically too late, she encouraged us to see all the exhibits. My favorite was one of various campaign doodads -- I'd love to own one of these "Democat" shirts!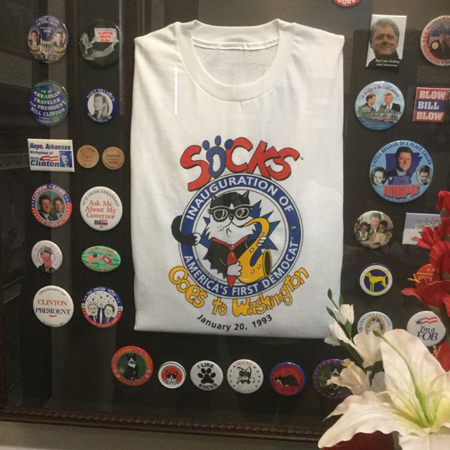 Further south, in the northern part of Louisiana, we stumbled across the place where Bonnie and Clyde were ambushed and killed by the cops. If you've seen the movie, you'll probably remember the scene. In Gibsland, we toured the little museum they had set up (our second unplanned gangster museum tour of the trip!), which was in the building where Bonnie and Clyde bought their last meal (to go), which consisted of a B.L.T. for Bonnie and a fried bologna sandwich for Clyde.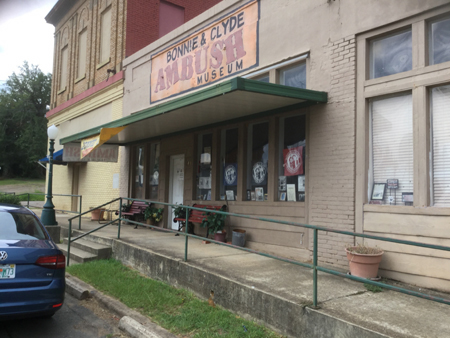 Seven miles outside of town is where the ambush took place. This is the last road Bonnie and Clyde drove down.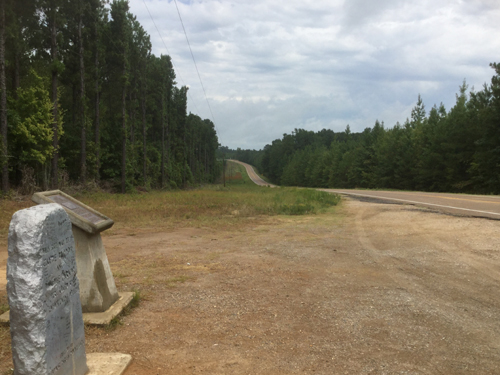 And here are the two markers at the site. I don't know why people put quarters on the modern one....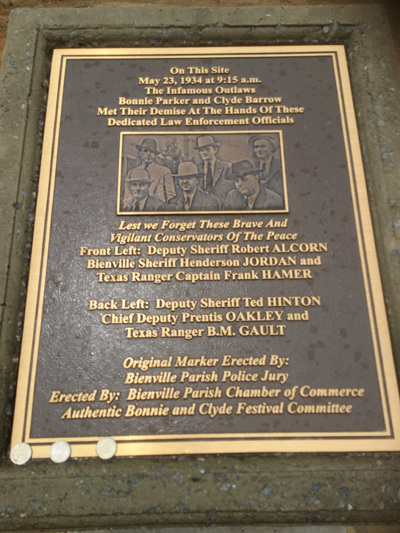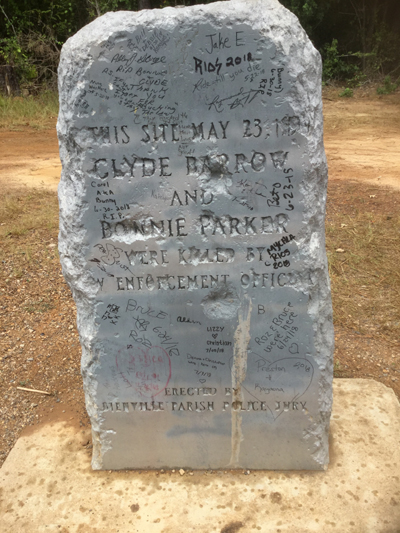 OK, finally we got to New Orleans, so here are a few shots of the Netroots Nation conference. You bump into all sorts of random lefties at these things, such as Jim Dean (Howard's brother) posing with Kevin De León (who is taking on Dianne Feinstein in California). Dean is on the right.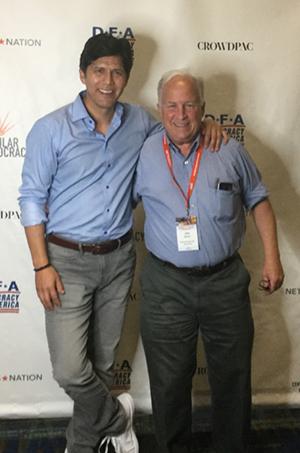 My wife volunteered to work at the convention, which included a stint at the registration desk. She got the end of the alphabet, which included one notable badge.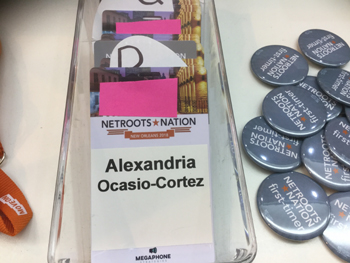 Alexandria Ocasio-Cortez was the most well-received speaker of the whole conference. That's her way over to the left, but the big screen's image of her is a lot easier to see.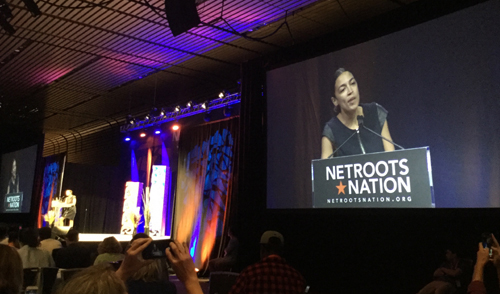 And finally, one amusing selfie. Yes, that's Bowzer from Sha Na Na standing next to me.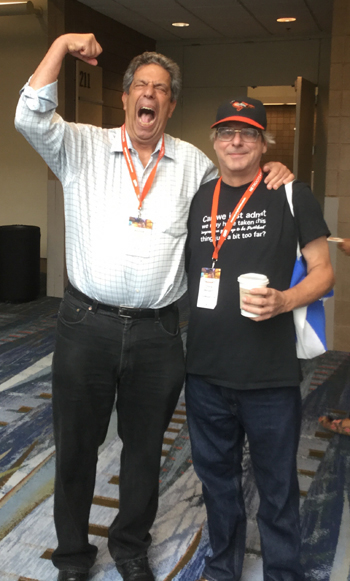 He's the president of Social Security Works, a political action committee that (obviously) fights to preserve Social Security from various attacks by Republicans, which is why it makes sense that he'd be at Netroots Nation.
OK, that's it for now. By tomorrow, I'll get back to current politics rather than just Netroots stories and photos, I promise!
-- Chris Weigant
Follow Chris on Twitter: @ChrisWeigant