[ Posted Monday, September 28th, 2020 – 18:02 UTC ]
As we get closer to the election, these columns will increase in frequency as well. We haven't decided when to move to a weekly format (every Monday), but it's coming soon, just to let everyone know.
It has been two weeks since the last time we looked at the polls, and not a whole lot has changed. The race tightened a bit in a few states, but overall Biden still has the clear advantage.
Let's begin (as always) by taking a look a the chart of Electoral Votes (EV). Also as always, our polling data comes from the superb site Electoral-Vote.com, which we strongly recommend to people who love numbers and charts. Our first chart shows what percentage each candidate would get if the election were held today and all the polling was perfectly accurate. Joe Biden starts at the bottom in blue, Donald Trump starts at the top in red, and whichever color crosses the 50 percent line will be the winner.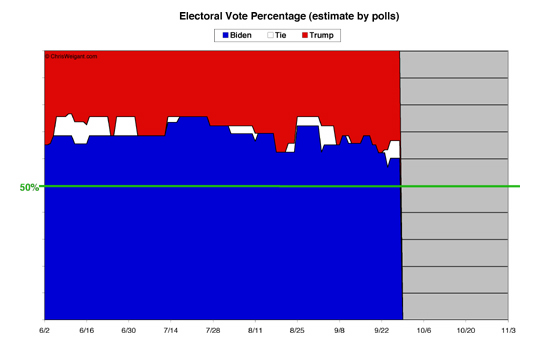 [Click on any of theses graphs to see larger-scale versions.]
The last time we checked in was 9/14, halfway between the 9/8 and 9/22 markers on the chart. Since then, Biden has dropped in percentage -- but so has Trump (to a smaller degree). This is possible because two states -- Iowa and Florida -- are now perfectly tied. Iowa has only 6 EV, but Florida has a whopping 29. That's why the white space between Biden and Trump is so large this time around.
Joe Biden entered the period with a total of 353 EV. Eleven states showed movement between the categories this time around, with five of them affecting this chart. Iowa went from Trump's column to tied, while Florida went from Biden to tied. Ohio flipped briefly from Biden to Trump, but then flipped back a week later with a new poll. Only two states shifted from one candidate to the other, as Georgia moved from Biden to Trump while North Carolina moved back to Biden's column after briefly being in Trump's. The other six states which moved around (either strengthening or weakening for one of the candidates) without affecting this chart were: Arizona, Michigan, Minnesota, Nevada, South Carolina, and Virginia. More on them in a moment.
Biden began the period by adding 15 EV, as North Carolina moved back to him. This gave him 368 EV, which would prove to be the high point for him. Biden briefly lost Ohio before gaining it back, and then also lost Georgia to Trump. The biggest hit Biden took, however, was when Florida moved to the tied category. This reflected on Biden's final tally, which wound up at 323 EV.
Trump began the period with 185 EV, but then took a hit as he lost North Carolina to Biden once again. Trump then picked up Ohio for one week, and flipped Georgia. For two days, this gave him his highest EV total of the entire race, at 204 EV. But the loss of Iowa and Ohio pulled him back down again, and he finished the period slightly down from his start, at only 180 EV.
Percentage-wise, Joe Biden is obviously losing ground (with the loss of Florida), and he's now only at an overall total of 60 percent of the Electoral College. Trump fell slightly as well (since there are so many EV in the tied category) to finish up at 33 percent. Even though this is a low point for Biden (as the chart plainly shows), he's still almost at a 2-to-1 advantage over Trump.
The other thing the chart plainly shows is the importance of Florida. If Biden manages to win the Sunshine State, Trump's chances of winning may disappear entirely.
But let's take a closer look at the respective candidates' strengths. As always, "Strong" means a polling lead of 10 points or better, "Weak" covers between 5 and 10 points up, and "Barely" is any polling lead of less than 5 percent.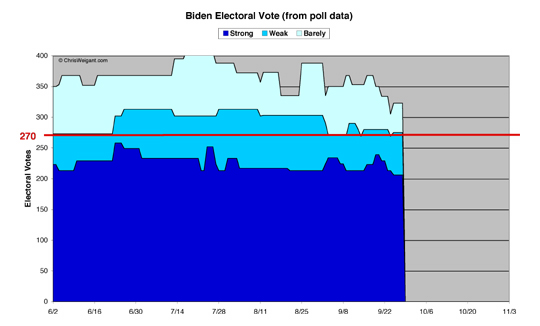 Biden's graph showed a lot of movement between Strong and Weak, but overall his "Strong Plus Weak" line stayed fairly constant. Biden did lose significant ground in the Barely category, though, which brought his overall numbers down to their lowest point in the race so far. Biden did then improve a bit at the end, though.
Three states wobbled for Biden, all in the right direction, but then they all wobbled back again by the end. This created the hump in the dark blue Strong line, as both Minnesota and Michigan moved into Strong Biden for a time, but then moved back to Weak Biden in the end. Arizona moved from Barely Biden to Weak as well, but also wobbled back to Barely later on. Ohio wobbled between Biden and Trump, moving from Barely Biden to Barely Trump but then right back to Barely Biden. This allowed Biden to recover from his lowest point, a total of only 305 EV, which he hit four days ago. With Ohio's total added in, overall Biden now stands at 323 EV.
Other states moved around as well. Nevada went all the way from Barely Biden to Strong Biden, while one poll out of Virginia moved it from Strong to Weak Biden. Biden lost Georgia to Trump while gaining North Carolina from him. But the biggest hit was Florida moving from Barely Biden to a perfect tie. Taken together with the loss of Texas to Trump last time around, this has had a significant impact on Biden's overall total, as the two states add up to 67 EV between them.
For the period, Biden increased his Strong number from 213 up to 239, but then it fell back again to finish at only 206. This is a little concerning, since it is the lowest point he's charted so far. But his Weak numbers improved over the same period, from 56 EV up to 69 EV. Biden's Barely total saw a falloff, from 84 EV at the start down to only 48 EV at the end. Overall, Biden moved from 353 EV total up to 368 EV, then briefly down to his lowest point ever at 305 EV, before recovering back up to 323 EV at the end.
But as always, the line I pay the most attention to is "Strong Plus Weak." Let's take a look at how Biden is doing historically, in this important category.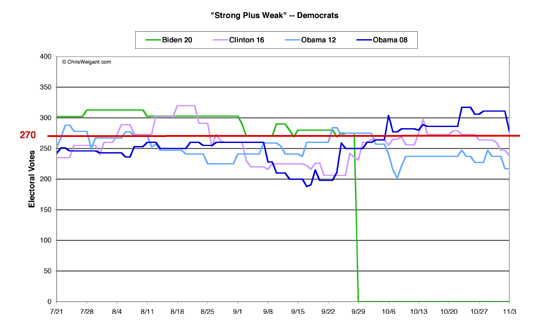 Ever since the start of the month, Joe Biden has been flirting with that 270 line. He stayed exactly at 270 for a period, rose a bit only to fall to 269 EV, which he hit on two separate occasions. He now stands just above the threshold, at 275 EV with the addition of Nevada's 6 EV. Obviously, things could be better for Biden, although there's one interesting footnote for those worried about an Electoral College tie (where both candidates get 269). The two districts in states that do not award all their EV to the statewide winner, in Maine and Nebraska, both are polling strongly for Biden right now. What this could mean is an extra EV added to Biden's column in the end. We've been ignoring this subtlety in these charts, since usually these districts wind up following the rest of their state -- so we've assumed Maine's will follow Maine's statewide result and the same for Nebraska. But if Nebraska goes for Trump while one district goes for Biden that could add a very crucial EV -- just something to keep in mind.
As you can see in the chart, Biden's really not doing all that badly in a historic sense. He's still doing as well or better than the last three Democratic candidates. He is currently tied with where Barack Obama was at this point in 2012, only the second time Biden hasn't been leading the pack outright.
As you can see, though, once we get into October and the impact of the debates starts to be felt, things can change. Biden did not have anywhere near as bad a "September slump" as the other Democratic candidates, so it'll be interesting to see what happens in October.
But please remember, this chart only shows the Strong and Weak categories. So with none of the battleground states included, Biden still has enough EV to win the race. That's important, to keep things in perspective.
Now let's take a look at how Donald Trump is doing in the polling.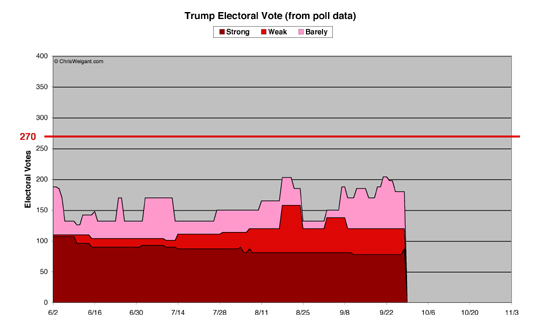 Trump's chart is a lot more stable, even at the low levels he's managing. In the Strong and Weak categories, Trump only saw one state move at all, as South Carolina firmed up for him right at the end. Otherwise, his numbers were completely flat for the whole period.
Instead, almost all the movement in Trump's chart happened at the margins, in the Barely Trump category. Trump started with 65 EV in Barely, which then dropped to 50 EV with the loss of North Carolina to Biden. This picked up to 68 EV as Ohio moved to Trump, but then by the end of the period it had moved right back out again. Trump hit a high point of 84 EV with the addition of Georgia, but it fell all the way down to 60 EV by the end, as Ohio went back to Biden and Iowa moved to a tie.
Overall, Trump's total moved from 185 EV up to his personal best of 204 EV for two days, but by the end Trump moved back down to 180 EV, an overall loss of 5 EV for the period.
Trump's numbers have stayed remarkably stable through the whole race, even with the fluctuations in the Barely Trump category. Normally this would be good news for a candidate, but Trump's problem is how low his ceiling appears to be. It is the end of September, and Trump has only cracked the 200 EV line twice in the entire race. By this point in the 2016 race, by comparison, Trump was not only solidly above 200 EV, he had even broken through the 250 EV barrier once.
Let's take a closer look at how Trump is doing, historically, with his Strong Plus Weak chart.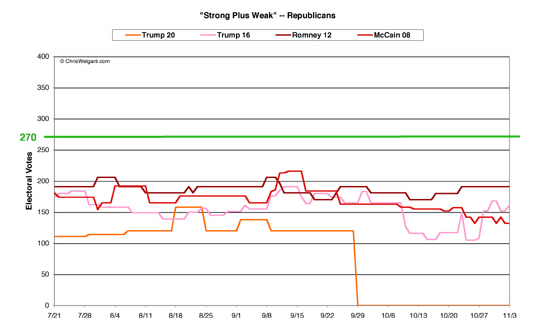 That's pretty dismal, you've got to admit. Trump has only once moved above 150 EV in Strong Plus Weak, and is currently at only 120 EV. This did not change at all this period, even though Trump did shore up his support in South Carolina from Weak to Strong.
Trump has only bested his own 2016 numbers once as well, during that same upward spike in mid-August. Since then, he's been almost completely flat in this category.
In fact, this is such a boring chart that there's really not a whole lot more to say about it.
My Picks
[I'm just going to cut and paste my introduction here from the last time around:]
Which brings us to the "gut feeling" part of the program, where I attempt to sort the states into the categories of "Safe," "Probable," and "Leaning" for both candidates, while leaving a few in the "Too Close To Call" tossup category. As usual, checking out Electoral-Vote.com's individual state graphs is crucial to see how much polling is being conducted as well as overall trends (rather than just taking the most recent poll as gospel). Also, there are full lists of states at the bottom of this column, so you can see where I've placed them all (together with their EV totals).
Likely States -- Biden
Safe Biden (17 states, 200 EV)
One state moved down from Safe Biden to Probable Biden, as a new poll out of Virginia showed the race tightening. All the previous polls have shown Biden with a very strong lead in what has now become a pretty solidly blue state, but Virginia polls are only reported about every two or three weeks or so, meaning we'll have to wait to see whether the most recent one was just an outlier or not. We did see the first poll out of Vermont from this election cycle, which showed exactly what everyone expected -- a strong Biden lead.
Probable Biden (6 states, 75 EV)
There were a lot of interesting things happening in the Probable Biden category this time around. As noted, Virginia moved down from Safe Biden. But the good news for Biden here is that Nevada moved up from Lean Biden, after one good poll showed a very strong lead -- much larger than the few other polls which have been taken here. In fact, an argument could be made to move Nevada all the way up to Safe Biden, but we're going to wait for at least one more good poll before we do so.
Three states in this category are also on the brink of moving up to Safe Biden -- Minnesota, Michigan, and Wisconsin. This would be notable, since they are all battleground states that Trump is desperate to win. Biden's got a strong lead in all three states, and is above the critical 50-percent mark in both Michigan and Wisconsin. But because they've been so crucial this time around, we're going to wait before moving them up.
The other state in this category is Pennsylvania, which didn't see much movement. Biden is holding his lead there, but it is smaller than in the other former "blue wall" states.
Likely States -- Trump
Safe Trump (13 states, 81 EV)
Trump finally added a state to his Safe Trump category, as a very strong poll came in from South Carolina. Democrats would really like to see Lindsey Graham defeated in his Senate re-election race here -- which is still a possibility -- but the likelihood that Trump is going to win the state now has to be seen as pretty strong.
Probable Trump (6 states, 39 EV)
Trump lost one state here this time around, but it was good news for him as South Carolina moved up to Safe Trump. The other states still in this category: Alaska, Kansas, Missouri, Montana, Tennessee, and Utah.
Tossup States
Lean Biden (2 states, 15 EV)
There wasn't a whole lot of movement among any of the tossup states this time around, as just two states had to be shifted. Biden lost a state from Lean Biden, as Nevada moved up to Probable Biden. Otherwise this category stayed the same.
Arizona seems to be tightening, with multiple polls coming in constantly. Biden held an early lead here, but the state is approaching the point where it is a complete tie. For now, we're going to leave it as a Lean Biden state, but this could easily change the next time around.
New Hampshire saw one close poll last time around, but all previous polls had shown Biden with a fairly big lead. So it could just have been an outlier, or it could reflect a closer race. But until we see further polling from the state, it has to remain as only Lean Biden for now.
Lean Trump (2 states, 44 EV)
The best news for Trump this time around was that he is now is showing a very slight lead in Texas. The state has been in the Too Close To Call category all along, but it now should be seen as at least leaning in Trump's direction. This normally wouldn't be considered remarkable, since Texas has voted Republican in most recent presidential elections, but the fact that it has even been this close is what is really notable. Texas is famous for building up Democratic hopes and dreams only to have them come crashing back to reality on Election Day (see: Beto O'Rourke), and this time around will likely play out exactly the same. Things could always change, of course, but for now Texas has to be seen as at least Lean Trump. Texas joins Arkansas as the only other state in this category.
Too Close To Call (5 states, 84 EV)
Texas moved out of the Too Close To Call category this time around, which leaves five other states so close that it's anyone's guess which way they'll go on Election Day: Florida, Georgia, Iowa, North Carolina, and Ohio. Polling in all of them has been almost constantly coming in, but neither candidate has shown a lasting edge in any of them. Biden did just see one strong poll in Ohio, but it will have to be considered an outlier until it is backed up by a few other polls.
Final Tally
On the eve of the first presidential debate, the race has gotten tighter. Joe Biden needs to flip some of those battleground states back to his column to shore up his margin of victory, while Donald Trump desperately needs a game-changing moment to give him any sort of chance at all. Whether either of those will happen tomorrow night is an open question, of course, and we likely won't know the answer for at least a week or two, as voters' reactions to the debate percolate down to individual polls.
The biggest improvement this time around was in the "Tied" category, which now stands at 35 EV (Florida and Iowa). Biden lost ground overall, but then so did Trump. Biden's downward slide was bigger, though.
Comparing the relative strength of both candidates, Biden is currently at 206 EV in the Strong category, to Donald Trump's 87 EV. In Strong Plus Weak, Biden is already over the winning line with 275 EV, while Trump doesn't even have half of this at only 120 EV. So even if every single state in both candidates' Barely columns and the two tied states went for Trump, Biden would still win the race. For Trump to even have a chance, he's got to move at least one state out of either Weak Biden or Strong Biden all the way over to his side. This is possible, of course (anything's possible in electoral politics), but time is running out for Trump to achieve this bold goal.
If Trump doesn't manage to sweep all the battlegrounds and both tied states, then the only thing in question will be how big Biden's margin of victory will be. Right now, Biden's got 323 EV in his column, while Trump only has 180 EV -- a full 90 EV away from victory. Even giving Florida and Iowa to Trump would only improve this to 215 EV.
This is a tighter race than before, however. Biden lost ground over the past two weeks, so if he turns in a decent debate performance perhaps he can move some of those states back into his column, as well as shore up his support in some of the closer states. Trump, on the other hand, has to have a truly breakout moment during the debate which would shift the dynamics of the race significantly.
Right now, Biden could lose all of the following and still win the Electoral College and the election: Arizona, Florida, Georgia, Iowa, New Hampshire, North Carolina, Ohio, and Texas. If he wins any one of them on the night of the election (especially Florida or Ohio), then it might not matter how many lawsuits Trump files because the election will essentially be over at that point. Trump has to not only win all of those states, he also has to flip at least one more state from Biden.
So while the race is indeed tighter, Joe Biden still has an enormous edge. Biden almost has too many paths to victory to be accurately counted, while Trump only has one -- to absolutely run the table in every single battleground state and flip a few states that now seem to be in Biden's pocket.
Tomorrow night's debate might be the last best chance Trump has at moving these numbers, so it will certainly be interesting to watch, that's for sure.
[Full Data:]
(State electoral votes are in parenthesis following each state's name. Washington D.C. is counted as a state, for a total of 51.)
Joe Biden Likely Easy Wins -- 23 States -- 275 Electoral Votes:
Safe States -- 17 States -- 200 Electoral Votes
California (55), Colorado (9), Connecticut (7), Delaware (3), Hawaii (4), Illinois (20), Maine (4), Maryland (10), Massachusetts (11), New Jersey (14), New Mexico (5), New York (29), Oregon (7), Rhode Island (4), Vermont (3), Washington D.C. (3), Washington (12)
Probable States -- 6 States -- 75 Electoral Votes
Michigan (16), Minnesota (10), Nevada (6), Pennsylvania (20), Virginia (13), Wisconsin (10)
Donald Trump Likely Easy Wins -- 19 States -- 120 Electoral Votes:
Safe States -- 13 States -- 81 Electoral Votes
Alabama (9), Idaho (4), Indiana (11), Kentucky (8), Louisiana (8), Mississippi (6), Nebraska (5), North Dakota (3), Oklahoma (7), South Carolina (9), South Dakota (3), West Virginia (5), Wyoming (3)
Probable States -- 6 States -- 39 Electoral Votes
Alaska (3), Kansas (6), Missouri (10), Montana (3), Tennessee (11), Utah (6)
Tossup States -- 9 States -- 143 Electoral Votes:
Tossup States Leaning Biden -- 2 States -- 15 Electoral Votes
Arizona (11), New Hampshire (4)
Tossup States Leaning Trump -- 2 States -- 44 Electoral Votes
Arkansas (6), Texas (38)
Too Close To Call -- 5 States -- 84 Electoral Votes
Florida (29), Georgia (16), Iowa (6), North Carolina (15), Ohio (18)
Polling data gaps:
Polled, but no recent polling data -- 6 States
(States which have not been polled since the beginning of August, with the dates of their last poll in parenthesis.)
Alaska (7/24), Arkansas (6/10), Connecticut (5/24), North Dakota (3/5), Mississippi (2/28), Tennessee (5/22)
No polling data at all, yet -- 10 States
(States which have not been polled so far this year.)
Hawaii, Idaho, Illinois, Louisiana, Nebraska, Rhode Island, South Dakota, Washington D.C., West Virginia, Wyoming
-- Chris Weigant
Follow Chris on Twitter: @ChrisWeigant