[ Posted Wednesday, October 30th, 2019 – 17:59 UTC ]
It's time once again to enter the Crypt, shine a flashlight up onto our face in the dark, and spin two ghastly tales of horror and mayhem for both sides of the aisle.
Gather 'round and prepare to quiver in fear, kiddies, because Hallowe'en comes but once a year. Think things are bad now? Hah! Think they couldn't possibly get any more spine-chilling or frightful? Think again!
As usual, we present these spooky bits of terror for both sides, one after the other. This year, the Republicans lost the coin toss and will go first, to be followed by a frightful experience for Democrats. Also as usual, we have carved some Jack O'Lanterns for the occasion, both of which we're happy to say came out pretty good this year. My thanks have to go to my lovely wife for lots of inspiration this year, not only for pumpkin designs but also for the stories themselves.
So, is everyone ready for a wild ride into two soul-searing possible futures? We'll begin with a fear that Republicans already surely must be having... that pretty soon now someone's going to really spill their guts....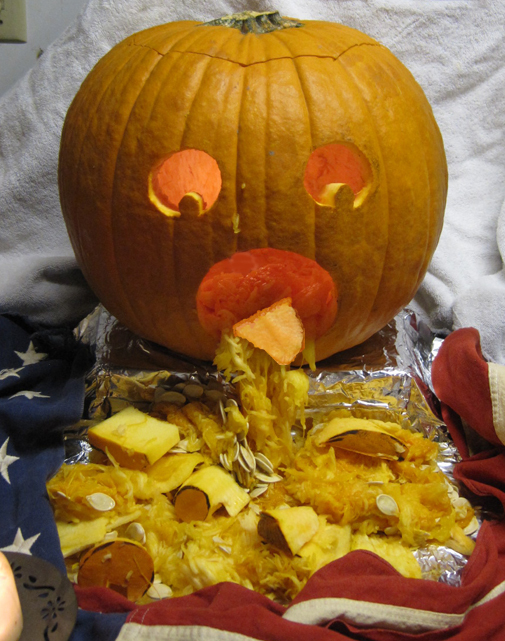 Republican Nightmare -- Bolton Spills His Guts
The House impeachment hearings hit a whole new level when John Bolton agrees to testify. Bolton is, of course, not exactly someone who can be smeared as some sort of lefty or even a "Never Trumper," since he served as President Trump's own national security advisor. Pretty hard to make the case that he's been a closet Democrat all along, in other words.
Bolton is currently shopping a book to publishers, and he knows full well the value of appearing as the key witness in the impeachment process. Politics makes strange bedfellows indeed, as Democrats begin singing Bolton's praises in anticipation of his testimony, while Republicans make the usual attempt to trash the witness. But again, Bolton's iron-clad conservative credentials make it pretty hard for even Fox News to come up with any remotely believable smears on him.
Trump, upon hearing the news, lashes out at Bolton on Twitter. His palpable fear is exposed for the world to see (once again), as he tweets: "John Bolton is a LOOSER and lies like a Rug -- who could trust anyone with such a ridikulous Mustashe?" This tweet is later removed, and then reposted with the spelling fixed.
The White House attempts to block Bolton's testimony, but both he and his lawyers laugh loudly and state that they'll appear as scheduled. Trump, in front of his Marine Corps One chopper, yells to reporters: "I've instructed Bill Barr to arrest John Bolton for crimes against the state, by which I mean me, Donald Trump, which many people are saying is the most American president of all time. Disloyalty to me is treason, plain and simple, and we're going to put a stop to it."
Horrified Republicans in Congress insist that Trump is joking. But he's not. F.B.I. agents arrive at Bolton's house to arrest him, but he's already moved to a secure undisclosed location (later revealed to be: sleeping on Bill Taylor's couch).
Bolton arrives at the Capitol and immediately begins to spill his guts. "You think the Ukraine mess is the worst thing Trump did?" he states in his opening remarks, "Boy, have I got news for you!"
He then proceeds to corroborate everything every previous witness has said about the Ukraine quid pro quo, even admitting that he did indeed scornfully call it a "drug deal." Bolton doesn't rely on secondhand quotes, since he was in the room when Trump directed his entire team to withhold the Ukrainian military aid until, as Trump put it, "Hunter Biden is led away in Ukrainian handcuffs."
But that's not even the most stunning part of his testimony. After laying out in painful detail the ineptitude of Trump trying to pressure Ukraine for dirt on the Bidens and the non-existent D.N.C. server, Bolton shifts gears. In answer to a Democrat asking him: "Did you see the president do anything else you might consider an impeachable offense?" Bolton answers: "How much time do you have? I mean seriously... I could go on for days."
Bolton then lays out in excruciating detail how just about every contact Trump has ever had with any foreign leader has been an unmitigated disaster. "You know that ultra-secret server the Ukraine call transcript was hidden on? There are dozens if not hundreds of other transcripts on there that are far worse. Maybe you should subpoena the transcript of what Trump said to Putin in Finland -- that'd keep you guys busy for months."
Bolton then reveals a long list of Trump's foreign policy blunders and his other missteps, including:
Trump tried to get Kim Jong Un to agree to build a "Trump Tower Pyongyang," for which favor Trump would permanently remove all U.S. military personnel from South Korea. Bolton quotes Trump as saying: "You can even keep your nukes -- I don't care about nukes as long as I can see my name in big gold letters high above your capital."
Trump desperately tried to get China to sign a deal -- any deal -- on trade, and offered to nationalize the N.B.A. and then sell it to China. He also suggested that he just send in the U.S. Marines to "stamp out the Hong Kong protests once and for all." The Chinese leader, intelligently, decided that Trump couldn't deliver on any of his increasingly-bizarre promises, and rebuffed him with: "We'll wait to cut a deal with the next president, sorry."
Trump tried to get NATO to agree to paying America a flat fee each year as "protection money." He seemed unaware of the negative connotations of the term, and flatly told Angela Merkel: "Nice little continent you got here... be a shame if someone invaded it, don't you think?"
Trump, on several different occasions, has ordered the Pentagon to launch nuclear missiles at various insane targets. The first time this happened, Trump wanted to nuke "all the shithole countries" so they would never send more immigrants to America. The generals collectively decided to pretend that they just hadn't heard Trump give this order, and by the next day he had forgotten all about it. When Trump ordered them to nuke sixteen other fanciful targets over the next few years, they began calling them "loose cannon drills," and reacted by splicing together footage of old aboveground nuclear tests in Nevada, so they could report each time to Trump that the target had successfully been eliminated. Each and every time, Trump would forget all about it by the next day.
Trump offered not only to buy Greenland, but also Cuba, Hong Kong, Ireland, Scotland, Madagascar, Antarctica, the Moon, and the Taj Mahal (promising to rename it "The Trump Mahal"). In each case, Trump presented to his cabinet a slick real estate brochure outlining how he would cash in on the new American territory. He even offered to name Newt Gingrich "Mayor of the Moon," in the most outlandish one of these. Luckily, Bolton had saved all the brochures Trump passed out, and introduced them all as evidence to the House committee.
Trump told Mitch McConnell that he wanted to force New York and California to be renamed "The State of Trump" and "Ivankaland." McConnell tried to explain why that was impossible, but Trump just got annoyed and threw him out of the Oval Office in a snit.
Trump not only gets a secret document each month from the Russian ambassador, in them Putin has gone as far as suggesting the scripts for political ads for Trump's campaign to run. This is in addition to all the more serious marching orders the Russians have been giving to Trump since his first day in office.
And finally, Bolton reveals that Vice President Mike Pence is actually an animatronic robot created by Disney years ago. When asked for comment, a Disney spokesman admitted it, saying: "We never thought he'd get as far as he did. The prototype was to build a used car salesman robot to see if he could blend in to some Midwestern state -- we never imagined he'd run for office or anything!"
Bolton ends his testimony by wheeling in an enormous crate stuffed full of documents, and stating: "The White House has instructed me not to share these, but the safety of our country is at stake, so I am ignoring them. I'd like to enter all of these into the record as documents which support each and every claim I've made today in the most minute detail. I swore an oath to protect the Constitution from all enemies foreign and domestic, and that is precisely what I am doing right now."
Bolton's literary agent immediately bumps up the price he's asking for Bolton's memoirs by a factor of ten. A bidding war ensues between publishers, guaranteeing that Bolton will never have to work another day in his life after he writes the book.
Meanwhile, back in Washington, Adam Schiff announces that the fact-finding phase of the impeachment inquiry is now over, and passes everything he's got over to the Judiciary Committee. They waste no time in drafting an eye-popping fifty-seven articles of impeachment, which is moved to the House floor for a vote.
For the first time in his presidency, Trump's approval among his hardcore base plummets. The multiple revelations of how Trump tried to sell out the country to line his own pockets is just too much for even the "MAGA hat crowd." Trump's job approval dips below 40, below 30, and then heads into the teens.
Congressional Republicans begin falling all over themselves to denounce Trump -- in fear of losing their own re-elections. The vote to impeach Trump is 382 to 12, with dozens of Republicans not even voting. A delegation of 25 Republican senators go to the White House to instruct Trump that it's over. They present him with the choice of being removed from office or resigning.
Trump, after a long phone call with Sarah Palin, announces in a statement from the Oval Office: "I have done everything I came here to do, I have been the most successful president of all time -- even better than Washington and Lincoln -- and because there is nothing at all left for me to do, I have decided to step down. I got done in three years what nobody else could in eight, so there's no need for me to continue."
When Republicans attempt to swear in Mike Pence as president, Democrats crash the oath ceremony and demand the chief justice of the Supreme Court verify that Pence is, in fact, human. "Only a human being can be president, so Pence can't be allowed to serve!" they cry. John Roberts orders the vice president to Walter Reed Hospital so that X-rays can be taken, but when Pence hears this he begins twitching and convulsing until the sounds of metal gears grinding to a halt is heard and smoke begins pouring out of his ears. Pence's last words are an attempt to sing the song "A Bicycle Built For Two."
Republicans then watch in abject horror as the next person in line is sworn in as president. Democrats have to hold an immediate vote to elect a new speaker of the House, because for the next year America will be ruled by President Nancy Pelosi.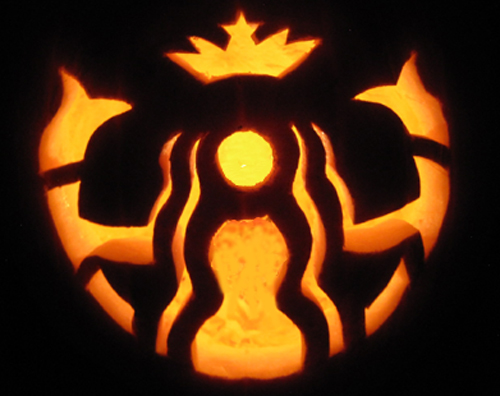 Democratic Nightmare -- A Tall Order
The Democratic presidential field tightens to four people, as all but Joe Biden, Bernie Sanders, Elizabeth Warren, and Pete Buttigieg fail to gain much support throughout November and December. In January, Biden is caught on a live backstage microphone saying: "I got the black vote in my pocket -- all I gotta do is keep saying 'Obama' and those poor fools aren't going to vote for anyone else!" This leads to a serious drop in his polling, as African-American voters in South Carolina and elsewhere begin to shop around for someone a little more respectful.
The race becomes a four-way heat, with no true leader. At the December debate, however, Pete Buttigieg viciously attacks Biden in relentless fashion. This "wins" him the debate, but it also turns off millions of Democratic voters, who still have a soft spot for Joe.
This leaves two weakened centrists fighting two unapologetic progressives, as the primaries begin. However, eight days before the Iowa caucuses, Bernie Sanders has another heart attack and is forced to recover in a hospital bed rather than campaigning for the home stretch.
In both Iowa and New Hampshire, Elizabeth Warren emerges as the clear victor. She then very narrowly beats Biden in South Carolina, while Nevada goes for Bernie (who is still recovering, slowly). However, Warren absolutely cleans up on Super Tuesday, making her the clear favorite to win the nomination. Buttigieg, after finishing no better than third anywhere, drops out of the race.
With Warren winning more and more delegates, the corporate-loving wing of the Democratic Party begins to seriously freak out. With Biden limping along and Buttigieg out of the race, they have to consider their own future under the presidency of a true economic populist, and they don't like what they see.
In a burst of energy (and millions of dollars), the big money Democrats break away and form the "Responsible Party," and through a monumental effort they get on the ballot in all 50 states. They then successfully talk Howard Schultz into becoming their presidential nominee.
Warren cruises to the Democratic nomination, and her supporters belittle what they call "the Starbucks Party" or "those overpriced-latte-sippers."
Schultz pours millions of dollars of his own fortune into the race, and most of his money is spent on direct attacks at Warren, and at progressives in general. The theme of all of these ads is: "It'll never happen! You'd be a fool to believe her! America just can't go through big changes anymore, and the voters should be happy when they get tiny incremental improvements!" This is not exactly an inspiring campaign theme, but there are plenty of voters who begin to get worried about Warren's chances.
Schultz does eventually run some ads against Trump, but they're fairly weak: "The idea of putting a businessman in the White House is actually a good one, but this time let's put a successful businessman there, not some failure with a string of bankruptcies!" Again, this isn't all that motivational a message, but it gets plenty of airtime because Schultz and his Wall Street buddies have an almost unlimited amount of money to spend.
Trump trains all his own fire on the campaign trail on Warren, berating her in the crudest imaginable language: "You really want her to run the country? I mean, like, she's not even a three -- even at her best she was never more than maybe a four-and-a-half! If America elects a woman president, she should at least be smokin' hot!" He then leads the crowd in a chant of: "Eight... Nine... TEN!" Trump doesn't even bother taking on Schultz much, other than to note that the two agree that a businessman should be in the White House: "Even Mister Coffee himself admits that I belong in the Oval Office!" Trump tells his cheering fans, who (of course) believe him.
The single general election televised debate is nothing short of a national embarrassment. Trump refuses to let Warren talk at all, and every time she begins to speak Trump does exactly the same thing: sticks two "feather" fingers up behind his head, pats his mouth, and loudly makes "Woo woo" noises. When the moderators finally cut off Trump's microphone in despair, Trump walks off the stage. The rest of the debate consists of Warren and Schultz mercilessly ripping into each other.
When Election Day rolls around, Warren actually wins the popular vote, with 45 percent. Trump pulls in 42 percent, while Schultz grabs the remaining 13 percent. However, just like in 2016, Trump wins enough razor-thin margins in enough swing states to give him the victory in the Electoral College (Schultz doesn't win a single state, of course).
Across the land, Starbucks are vandalized and occasionally burnt to the ground throughout the night in an explosion of rage from Warren's supporters. But when the sun rises on the smoking mocha ruins, America has elected Donald J. Trump to a second term.
Have a happy Hallowe'en everyone!
-- Chris Weigant
Follow Chris on Twitter: @ChrisWeigant