[ Posted Thursday, February 2nd, 2017 – 19:56 UTC ]
While I did not personally attend Donald Trump's Inauguration or the Women's March On Washington the next day, I am always a big fan of first-person reports of such events. So today I'm happy to introduce a guest author who did make the effort to protest Donald Trump's big day in person.
I was introduced to Teresa Johnson as a friend-of-a-friend, and told her I'd be happy to read her personal narrative of the experience of protesting Donald Trump's Inauguration. Eight years ago, I attended the swearing-in of Barack Obama, so I was interested to hear the differences between that happy day and what just took place in Washington, D.C. I was impressed with what she had written, and so decided to share it with my readers as well. I also asked her to write a paragraph to introduce herself to you, and here's what she wrote:
Teresa Johnson
(All photographs ©Teresa Johnson, 2017)
Teresa Johnson is an undergraduate student at the University of Maryland College Park as a journalism major with a concentration in women's studies. As a freelancer with her writing and communication skills, she became Editor-in-Chief of Psych2Go Magazine, a psychology-based publication for Millennials that she founded through social media in 2015. Teresa avidly explores networking and job opportunities in the communication and journalism fields.
So without further ado, here are Teresa Johnson's personal thoughts on what it was like to protest the Inauguration of Donald Trump as U.S. president.
-- Chris Weigant
Protesting The Inauguration: An Honest Reflection
Momentarily, the Internet is inherently screaming. A whirlwind of events has occurred within the last couple of weeks throughout the U.S. such as the Inauguration of Donald Trump, the Women's March, as well as other protests towards other governmental actions that are currently being put in place. Before I reflect on the Inauguration protest, in which I witnessed both violent and nonviolent action, I want to make it clear that I am a white woman and I am aware of my privilege. With that being said, I also think that as a young adult, and as a woman, it is my duty to participate in the loud, unapologetic statement that millions of Americans are making. Throughout this rollercoaster of events, it made me realize that it's important to be vocal and to stop stooping my views to those that don't necessarily agree with me just to create a rose-colored-glasses kind of unity. There is still so much wrong with the way society views marginalized groups and contentious issues, and along with many, I have chosen not to pretend that it's not a problem. Always fight for what you believe in. So many people contemplate the idea that "protesting does nothing," but I'm here to rebut that and say: "Yes, protesting does do something."
I woke up around 5:00 A.M. on January 20, 2017 in Maryland, the day of Donald Trump's presidential Inauguration. Getting to the Metro was easy -- absolutely no traffic. When I got onto the train, there were probably about ten people in "Make America Great Again" hats, scarves, or something red and white that placed value on the idea of a Trump presidency. But it wasn't crowded, instead I had two seats to myself as I awkwardly looked at the floor of the Metro car. The entire time I was genuinely afraid to make any kind of eye contact to the surrounding group. I felt like they were silently judging me, because I was dressed in colorful thrifted garb, ideally not looking like any kind of Trump supporter -- or at least anyone sitting on the Metro that day. It was uncomfortable for myself, a liberal lady, to be sitting across from a white man that was very much Republican and was so open about that "damn exciting" day (to quote what a supporter said). If I hadn't been a white lady sitting on that Metro that day alone, would I have been looked at differently? These thoughts occupy my mind because of the rhetoric and violence of the Trump campaign towards marginalized groups.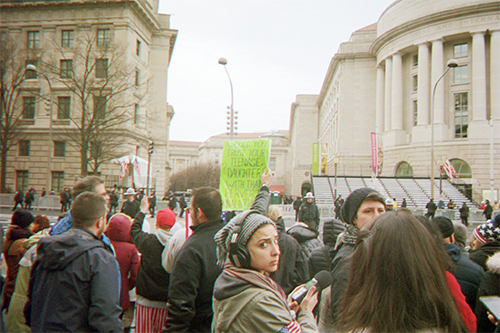 Beside Trump Tower in Washington DC, an anxious reporter records a candid moment of concerned protesters
I met up with John, my friend and fellow University of Maryland classmate, who was going to protest with me that morning. He sported a Bernie Sanders shirt which clearly represented part of the protesting resistance. We definitely knew who was a supporter and who wasn't, when someone said under their breath: "fucking hippie," as John and I walked through the checkpoint by the Trump Hotel near 12th Street. We laughed the comment off. At one point John turned to me and said: "I'd like to see one black Trump supporter," as a means of indicating that there was a sea of white and hardly any people of color sprinkled within the audience we were milling about, besides the groups of protestors that reflected more diversity. I kid you not, upon hearing this remark, a white man with a white Trump hat turned around and slyly said with a sarcastic grin: "I'm black." He then turned and walked away. I just stared him down in disbelief, biting my water bottle, trying not to yell. In my head I just wanted to scream: "Where?!" It was an uncalled-for response to make, and that moment, to me, represented a taste of ignorant white supremacy.
Across from Trump Hotel, a group of protesters chant, "Black Lives Matter" and other phrases that express concern with Donald Trump's presidency while standing next to Trump supporters
I wish I could speak differently on what I experienced, but I felt like I was on a different planet. D.C. felt like an uncrowded colony of cold shoulders. There was no expression of intersectionality nor empathy. The protesters were spread throughout the street towards the Capitol and were chanting: "Black Lives Matter!" every so often, or: "Immigrants are welcome here!" while Trump supporters taunted protesters saying they couldn't do anything about Trump or quipping back with "Blue Lives Matter!" and ignoring all the societal movements the protesters were standing up for. It seemed like not one Trump supporter there knew what the Black Lives Matter movement truly represented, or really cared to interpret the message of the concerns that protesters shouted very vehemently. It made me feel really depressed and divided among people that looked like me. It's obvious that the protesting resistance cannot do anything about the incoming presidency, but it's important to let the media know that many people are not happy with what's going on. Protesting makes this statement to media outlets so that the world has a way of knowing that people in disapproval aren't idly sitting by.
The two men pictured here are part of the resistance, as they spoke to the crowd of protesters
Later, I ventured off to 13th and K Streets, where I heard from another friend that people were starting to riot. I missed the destruction of a Starbucks, but found a group of people in favor of legalizing weed, as a marijuana joint was passed around a circle near a line of armed police. A male with a megaphone was passing the audio device around to other individuals so they could openly express their concerns.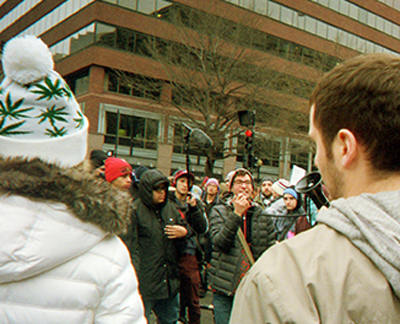 The megaphone was being passed around in a circle where people voiced their own concerns and motivated the crowd to stay strong together
Many people sported gas masks and bandannas to protect their faces from mace and tear gas. There was even some aftermath -- a few trashcans that had been lit on fire. This kind of action can bring up controversy in the grand scheme of protesting: some people are wary of destructive behavior because of the wrong kind of attention it displays in the media, but there are others in favor of it because they put in perspective that broken property can be fixed in a matter of weeks, but an oppressed individual's rights cannot. Even though views on violence in cases like these stir up the media's perception, both the peaceful and aggressive sides aim to accomplish the same goal in different responses -- even though destructive behavior is more consequential over maintaining peace.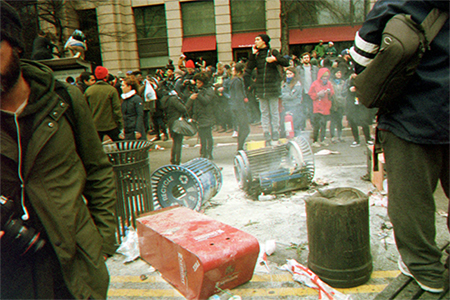 Aftermath of a few trashcans and newsstands
I met a few individuals from Indiana who traveled down to D.C. for the Women's March and Inauguration Protest, and I helped them hold a sign at some point along the way that said: "I wanna contribute to the chaos, I don't wanna watch and then complain," which are lyrics from a song called "Twin Size Mattresses," by the band The Front Bottoms. The lyrics were definitely fitting for the occasion that I was settled into.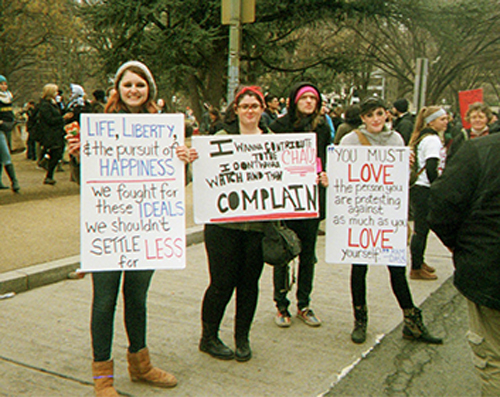 I became friends with a group of people from Indiana who came to D.C. for the protests
In the process of peacefully protesting, I was also able to make some cool new activist friends. We stood far enough away, but witnessed a limo catch fire and almost explode, as well as watching as police dropped several more rounds of tear gas onto onlookers and rioters.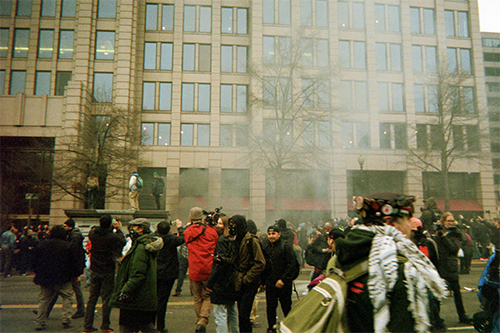 A limo parked outside the Washington Post building started to smoke
My group only coughed on some of the gas, but luckily we weren't severely affected. Medics were around the area to help those afflicted, and I observed an older Asian man getting help from a nurse because he had been hit with tear gas.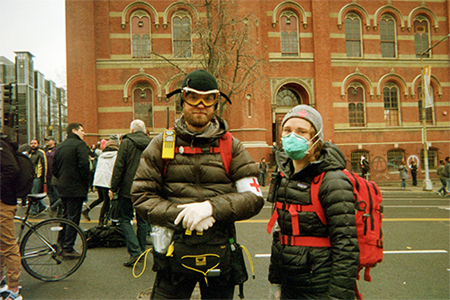 Medics were scattered throughout areas that incorporated rioting and they were prepared to treat those affected by tear gas and any other kind of violence
Not only was this an unforgettable day, but this was a time in my life where I felt like I needed to help change the country in, yes, a small way through protesting, but I felt like a part of something so much bigger. Remember, people won't always like what you do, or stand up for certain issues with you, but it's so vital to believe in positive change. A majority of Millennials seem to tackle the important idea of incorporating a progressive outlook in the constantly changing society we live in. It's not to say that there's any silver lining for the chaos that recent authorities in power have created, however, it should be a wake-up call to many in terms of paying attention to how the government can actively affect a population.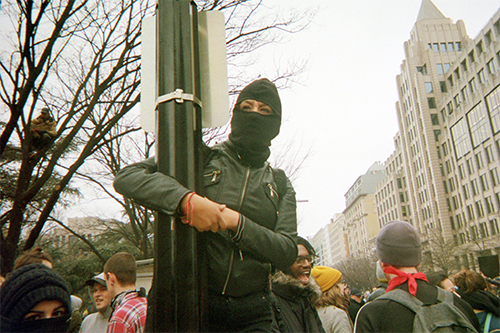 A powerful photo that captures an upset member of the resistance dressed in black clothing and wearing a mask as they look over the crowd
A word of advice: just remember if you choose to speak out against the current government, or issues that are affecting the world globally and at home, always be intersectional. Intersectionality was a term I fully grasped in women's studies classes I took in college. It means to be inclusive of all individuals that experience oppression, are affected racially, gender- and sexuality-wise, culturally, class-wise, and all other groups that don't receive the same amount of privilege. This is especially important to hear from people like me -- the white population of the world. Recognize privilege, and use it respectfully and in ways to help others. It's okay to be privileged, but it's about knowing how to use it to create inclusive change. Don't leave anyone behind, because they're in this with you together, and they matter.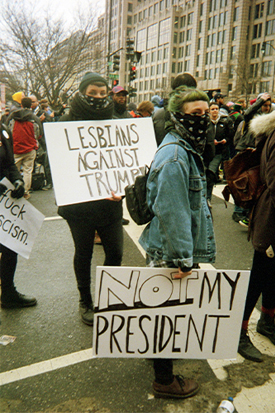 Two women held signs that made their message loud and clear that resistance was nigh
-- Teresa Johnson
Teresa can be found on LinkedIn:
www.linkedin.com/in/teresajohnso