[ Posted Thursday, August 18th, 2016 – 17:22 UTC ]
It is time to consider the future of the Big Blue Wall. The Big Blue Wall, for those who haven't heard the term before, is the list of states that have voted consistently Democratic in the past six elections. They voted for Bill Clinton twice, against George W. Bush twice, and then were part of Barack Obama's winning coalition twice as well. I've written about the Big Blue Wall previously in more detail, I should mention, for anyone interested.
The upshot is that any Democratic candidate for president starts with 242 Electoral College votes. Only 270 are needed to win the presidency, meaning Democrats only have to pick up 28 from all the battleground states (Florida, the biggest battleground, has 29 Electoral College votes). Here is a full list of all the Big Blue Wall states, with their respective Electoral College votes:
California (55), Connecticut (7), Delaware (3), Hawai'i (4), Illinois (20), Maine (4), Maryland (10), Massachusetts (11), Michigan (16), Minnesota (10), New Jersey (14), New York (29), Oregon (7), Pennsylvania (20), Rhode Island (4), Vermont (3), Washington (12), Washington D.C. (3), Wisconsin (10).
By comparison, the Republicans only have what I've called a "Small Red Picket Fence" to rely on -- adding up to a meager 102 Electoral College votes. Here's the Republican list:
Alabama (9), Alaska (3), Idaho (4), Kansas (6), Mississippi (6), Nebraska (5), North Dakota (3), Oklahoma (7), South Carolina (9), South Dakota (3), Texas (38), Utah (6), Wyoming (3).
That's a pretty hefty built-in advantage for Democrats, you've got to admit. The real problem for Republicans is that this list isn't going to stay static. It changes over time, in two ways.
The first of these has actually been helping Republicans. For both of Bush's elections, the Big Blue Wall states had six more electoral votes than they do now. The Census and congressional redistricting meant the loss of one vote in five states (Illinois, Massachusetts, Michigan, New Jersey, and Pennsylvania), the loss of two votes from New York, and only one additional vote for the state of Washington. Furthermore, all six of those votes moved directly to the Small Red Picket Fence states, with Utah and South Carolina each gaining one and Texas growing by a whopping four electoral votes.
That's the bad news for Democrats -- these population shifts are likely to change the total again after the 2020 Census, although this won't be a factor until the 2024 election, so it's still pretty far off. Also, six votes out of 242 isn't all that big a deal. The good news for Democrats is that they might be on the verge of adding some bricks to their wall.
Before I get to that, however, let's take a look at how solid the wall truly is. The weakest states -- those that might just get poached by a Republican, in other words -- are probably Michigan, Pennsylvania, and Wisconsin. Republicans have won statewide offices in all three, so the states are only really reliably Democratic when it comes to presidential elections. These three states were also, not coincidentally, the three states Democrats were most worried might go for Donald Trump. That doesn't appear to be happening, which means that a Republican candidate would have to cater even more to blue-collar white males than Trump to be successful in any of them (which is kind of hard to imagine, at this point).
If the Rust Belt states hold firm, then which states might get added to the bastion of Democratic support? I've identified three that might, and I'm not basing my picks on past performance at all. If you went down the list, there are three states which voted for the Democrat in five of the past six elections, but only one of them qualifies for my list. Iowa and New Hampshire both voted for Bush once, but have voted the other five times for Democrats. Neither one looks like a reliably Democratic state to me, though, because I think both of them enjoy their battleground status too much (as they enjoy their "first in the nation" primary/caucus designation). But New Mexico, the third state in the "five out of six" Democratic column, is now looking like it's pretty solidly in the Democratic camp for some time to come. Iowa and New Hampshire haven't appreciably gone through much in the way of demographic change, but New Mexico has, to put it another way.
Both of the two states who voted Democratic four times out of six (they voted for the winning candidate in each race, actually) are also probably still only battleground states at best. Neither Nevada nor Ohio is so clearly moving towards the Democratic direction that they could be considered safe states, at this point.
The other two states that I am seriously considering adding into my own calculations of the Big Blue Wall have much weaker voting records, but seem to now be almost demographically out of reach for an average Republican candidate. Colorado voted for Republicans in 1996, 2000, and 2004, but the shifts in population have now turned it pretty solidly blue. And the last state I would consider a possible new brick in the Big Blue Wall is kind of shocking to me, considering the state's history. But Virginia seems to have turned a fairly deep shade of blue as well. The growth of the Northern Virginia suburbs has outpaced the rural population in the state, which may have shifted it from reliably Republican to reliably Democratic for the foreseeable future. Virginia only voted Democratic in the past two elections, but it's looking like Hillary Clinton won't have too tough a time picking it up this year. Clinton has actually pulled all ads out of both Virginia and Colorado recently, because she considers them so safe.
If neither candidate bothers to advertise in a state and both sides know who it's going to vote for, then it is by definition not a battleground state any more. And at this point, I think New Mexico, Colorado, and Virginia all qualify (perhaps) for the new status of being added to the Big Blue Wall.
This should terrify Republicans. New Mexico has 5 Electoral College votes, Colorado has 9, and Virginia has 13. That is 27 more votes, which brings the Big Blue Wall total up to 269 -- only one shy of the winning amount. If these three states can now be considered to be firmly in the Democratic column, it means that any Democratic candidate will only have to win one other state to win the presidency. Any state -- of any size -- will do. It doesn't have to be a Florida or an Ohio -- New Hampshire or Iowa would be enough. Here's how this new map of Democratic states looks (map courtesy of 270toWin):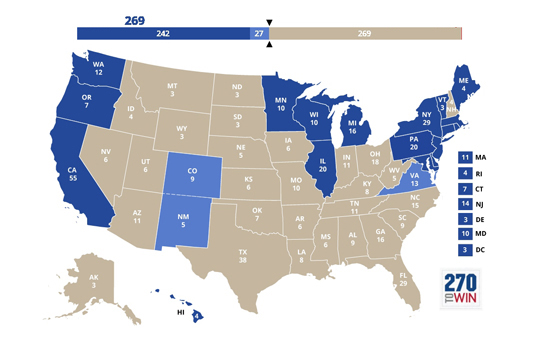 [Click on map to see larger-scale version.]
If this truly is the new map of reliable Democratic states, then Republicans might find themselves frozen out of the White House for longer than they might now realize. Democrats have been moving the map of the battleground states into red territory, and states that were formerly purple are now blue. Hillary Clinton is competitive in North Carolina, Arizona, and Georgia in the current race. Those states used to be reliably red (and at least two of them are still longshots for Clinton, to be fair). Republicans dream of moving the battleground map into the Rust Belt, but they have consistently failed to do so. They can fight in the traditional battlegrounds all they want, but if 269 becomes the number Democrats start the race with, then the best they'll ever do is a tie. Even to do that, they'd have to perfectly run the table of all the battlegrounds, which is a daunting task for Republicans to contemplate.
Donald Trump might just wind up being remembered in American political history for building a big, beautiful wall -- just like he's been promising all along. However, it might not actually be the wall he was thinking about.
-- Chris Weigant
Follow Chris on Twitter: @ChrisWeigant