[ Posted Monday, September 3rd, 2012 – 12:00 UTC ]
Program Note: All this week, ChrisWeigant.com will be covering the Democratic National Convention. We hope to bring you a varied picture of the convention itself, and to further this end, we will be featuring a special voice here. As you'll read below (and all week long), Malcom Fox will be one of the youngest people attending the convention. His reports will give valuable insight into how the youngest Democrats view the race, the candidates, and the convention itself.
One side note to make, as well -- during the next week, ChrisWeigant.com will become more of a traditional blog. By this, I mean that multiple postings can occur on any day, by multiple reporters. We cannot commit to posting on any sort of regular schedule, due to the chaotic nature of attempting to cover such events. As technology and time permits, we will strive to get the word out, so check back frequently during the week. Malcom's articles will be part of this mix, and should be appearing daily. Follow along all week with us, as we attempt to tell our stories of attending the 2012 Democratic National Convention.
-- Chris Weigant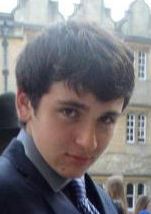 My Road to the Convention
I was five when President George Bush "beat" candidate Al Gore in the 2000 presidential election. At the time I had no clue about politics or party philosophy. However, I did know Al Gore received more overall votes in the election than George Bush, and then the members of Supreme Court voted on who would become the next president, and they elected Bush. The election was the first political event that I can remember clearly in my life, and although I was always bound to be a liberal (given the household I grew up in), that lost election established my anti-conservative opinion. I followed the Kerry/Bush election in 2004 with determination (or at least all the determination a nine-year-old can muster), thinking I could somehow impact the results of the election. Of course I was wrong.
Just watching the elections myself could in no way help the candidates I supported; instead I decided to learn the policies and approaches of each party. I listened to the news (I'm partial to Morning Joe and MacNeil/Lehrer), and although some may debate whether MSNBC is really a credible news source, as a liberal it made me happy. I enjoyed mocking Bush's policies in my elementary and middle schools, feeling incredibly smart because no one else did so. As 2008 rolled around, I wanted to get involved in electing a Democratic president -- the kind that that I felt this country needed. The country was a mess as a result of two wars that weren't paid for and a tax cut for the wealthiest Americans which resulted in an economic crisis that could only be compared to the Great Depression -- our worst economic condition in more than eighty years. I asked Mom how I could involve myself in an election and try to make a minuscule difference for the Democratic Party I supported.
So I hopped into a car with my mother and we drove to Philadelphia to campaign for candidate Obama. I had always supported Obama from the primary. He was young (relatively speaking, of course), exciting, and he talked in a manner that portrayed America as having the potential to be a better country. He talked of economic change and universal health care that could transition America into the modern world of social care for citizens. My mother, on the other hand, was a determined Hillary supporter, and she was really disappointed that Clinton was bypassed for the nomination. However, as a loyal party member she threw her full support behind Obama and we campaigned for Obama and cheered when he won the presidency on a chilly November night.
Unfortunately -- and I never want to repeat this -- I think my mother was right. In the last four years, like many other Americans, I have been disappointed. Obama ran on a platform of change in America, perhaps too boldly so, and he made promises that disappointed Americans when he couldn't fulfill them. Not to take away from his incredible accomplishment on health care, but ultimately he has not fixed the "Number One" problem with America: the economy. His inexperience in politics showed as he tried to compromise with conservatives on everything, instead of pushing through the policies that were needed to fix the country. He extended the Bush era tax cuts that gave the rich even more money, in order to appeal to conservatives, and he strived (naïvely, I think) for a bipartisan approach in Congress.
Regardless, I will support Barack Obama in this election because the alternative, Mitt Romney, appears to be more robot than man. Romney has pandered to the Republican nonsense that has flooded Congress for the last two to four years. He has questioned Obama's birth certificate and has lied about Obama's policies and stances on issues. More so than ever the upcoming election will be a vote for sanity. Americans will either vote for a candidate who will try to fix the economy, whose party supports the belief that no matter how poor a person is they deserve to be healthy, and that women should have rights over their own body -- or they'll vote for a candidate whose party would prefer a theocratic government in which civilians walk around carrying guns without any form of regulation.
I was presented with the opportunity to go to the Democratic National Convention by a program called the Junior Statesmen of America. I immediately showed my interest in the program, and a week later I was admitted. I want to attend the convention in order to assess the atmosphere of the Democrats attending and gauge the amount of support for Obama. In addition, the opportunity to witness people like Bill Clinton and Barack Obama may only present itself once in a lifetime -- and to miss such a chance would be insane. I hope to get a better sense of the direction Obama will take with the economy in his next four years (optimistically speaking), and to see how, and if, he responds to the Republican's negativity. Can the president can stay positive in his campaign and focus on policy instead of the bureaucratic banter Romney subjects people to? Regardless, I will get to experience history unfold in front of me in Charlotte, and I can't wait.
I enjoy talking about politics and encouraging opposing points of view. I hope to blog about my findings at the convention to induce discussions with people who don't agree with me. In addition, I want my blog to include interesting political points that may not occur to others, to spark conversation. I haven't been blogging for all that long, but I have thoroughly discussed politics for many years. As a result, I believe my commentary to be both insightful and helpful in discerning the various political speeches and statements made throughout the convention. Also, I would hope to continue the blog after the convention and commentate regularly on the complex and intricate nature of American politics.
-- Malcom Fox
Follow all of Malcom's convention reports: from his own blog.